The Villa Group's New Desert Spa
1 | 2 | Next Page: Villa del Arco Spa Services and Prices
A Merger of Desert and Sea

Imagine a stunning new spa that sits like a gleaming jewel in the Baja sun, a spa whose natural body treatments are derived from local native plants, a spa perfectly inset into Los Cabos' timeless merger of desert and sea.

You won't have to imagine any longer: newly opened, the Desert Spa is the fitting complement to Villa La Estancia, Villa del Arco, and the Villa del Palmar, the Villa Group's fabulous Los Cabos properties. The spectacular 31,000 square-foot facility fronts El Médano Beach in an exclusive setting.

A Full Spectrum of Amenities

True to the Villa Group's uncompromising approach to luxury and service, the Desert Spa features a wide variety of treatments and amenities, including expansive hydrotherapy centers for men and women, a spacious Jacuzzi, a cold-plunge pool, cold-pressure showers, a body-temperature pool, steam room, sauna and Swiss showers.

In addition, there are 17 treatment rooms, two exclusive VIP suites with private Jacuzzis and showers, and a full-service beauty salon. The facility's tranquil atmosphere is perfectly suited to the easy expertise of its professional therapists and practitioners, who will wrap, bathe and gratify guests with extracts of agave, lime, nopal, melon and vanilla, all herb and herb extracts native to the Baja California area. Guests who receive these pampering pleasures—whether signature facials, massages, body wraps or therapeutic services—feel stimulated, rejuvenated and fully alive.
Feel Your Cares Slip Softly Away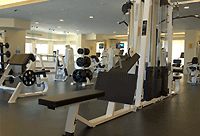 A significant segment of the beautiful spa is its fitness center. The state-of-the-art, 4,500 square-foot fitness center features seven treadmills, four elliptical bikes, three stationary bikes, 10 strength-training stations, a multi-purpose station, four free-weight stations, and a yoga/Pilates studio with classes, lockers and showers, all presided over by trained fitness professionals.
Designed in the Mexican hacienda style, the Spa complements its natural setting with earthy tones, ample natural light, and the scents and flavors of Baja. Its upscale environment, utmost attention to detail at every level and commitment to flawless service will ensure that your spa experience is an exercise in restorative indulgence. Fine-tune your mind, body and soul: order freely from the rich menu of Desert Spa services, and feel your cares slip softly away.
Give us a call to set up the most sensational
—and sensationally soothing—spa experience of your life.
1 | 2 | Next Page: Villa del Arco Spa Services and Prices
Previous Page: Villa del Arco Spa: A Merger of Desert and Sea | 1 | 2
DESERT FACIALS

The Desert Spa Signature Enzyme Facial (80 mins.) $153
Desert Rose Replenishing Facial (50 or 80 mins.) $111$/153

The Baja Bliss Facial (50 or 80 mins.) $111/$153

Instant Glow Facial (25 mins.) $69

Eye Treatment (25 mins.) $69
DESERT TOUCH

Relaxing Massage (50 or 80 mins.) $108/$142

Deep Tissue Massage (50 or 80 mins.) $108/$142

Muscular Release Massage Therapy (50 or 80mins.) $108/$142

The Signature Desert Spa Massage (50 or 80 mins.) $108/$142

The Desert Spa Hot Stone Massage (80 mins.) $142

Neck, Should and Back Massage (25 mins.) $69
SIGNATURE DESERT MOMENTS

Desert Spa Pina Colada Body Facial (80 mins.) $153

Espresso Limon Slimming Body Treatment (80 mins.) $153

Coconut Milk Immersion (80 mins.) $153

Cinnamon Vanilla Brown Sugar Scrub (80 mins.) $153

Sea of Cortez Body Scrub (25 mins.) $69

Desert Lime Body Scrub (25min.) $69
ROMANTIC DESERT ADVENTURES
Noche Romantica (50 or 80 mins.) $290/$359
Azucar Para Dos (approximately 80 mins.) $311
His and Hers (approximately 65 mins.) $260
Couple's Massage (50 or 80 mins.) $216/$284
Spa Suite Downtime (25 or 50 mins.) $74/$89

SOLO PARA CABALLEROS
Deluxe Hand Grooming for Men (35 mins.) $40
Deluxe Sport Pedicure (45 mins.) $50
The Deep Cleansing Facial for Men (50 or 80 mins.) $111/$153

DESERT BEAUTY
The Desert Spa Manicure (40 mins.) $44
The Desert Spa Pedicure (50 mins.) $54
Polish Change $16
Shampoo and Blow Dry $ 41/$51 (depending on length)
Style (straightening) $51/$62 (depending on length)
Haircut Men $27
Professional Makeup Application* $101
Hair Design (bridal or curling)* $101/$122 (depending on length)
Hair Design and Makeup* $193/$212 (depending on length)
WAXING
Full Leg $57

Half Leg $36

Full Arm $36

Half Arm $21

Under Arm $16

Back $42

Bikini $41

EXERCISE CLASSES*
One Hour Personal Training* $62
Group Classes* $12
*Advanced reservation is recommended

GENERAL INFORMATION
Prices include 16% tax
A 15% service charge will be automatically added to your bill. This amount is given to your service provider(s). Additional gratuities are appreciated but not expected.

Room charge and all major credit cards are accepted as a form of payment at the Desert Spa. As a company policy, cash is not accepted as a form of payment.

We request the courtesy of a six hour notice in the event you need to reschedule or cancel your appointment. Otherwise you will be responsible for 50% of the treatment charge.

The hotel will not be responsible for any lost or stolen objects during your visit to the Desert Spa. We strongly recommend that you do not bring valuables with you to the facility.

Fitness Center facilities are only available for those 16 years of age and older.


Hours of Operation:
Spa: 8am - 8pm Monday through Sunday
Fitness Center: 7am - 8pm Monday through Sunday
Previous Page: Villa del Arco Spa: A Merger of Desert and Sea | 1 | 2