Loreto Travel Guide
Located on the eastern coast of the Baja Peninsula, Loreto possesses an unforgettably tranquil location on the Sea of Cortez - worlds away from the bustle of Los Cabos. The warm, pristine waters around Loreto are legendary for sport fishing, with marlin, sailfish, dorado and numerous other species abundant among the offshore islands.
Once a sleepy and remote outpost visited only by a handful of hardy travelers, Loreto today is embracing thoughtful development that honors the history and ecology of this unique setting. Villa del Palmar at the Islands of Loreto is an excellent beachfront resort with magnificent views of the Sea of Cortez and great amenities.
Visitors fly into Loreto International Airport (LTO). Flights are available from Los Angeles International Airport (LAX). Driving time from Cabo San Lucas to Loreto is approximately 6.5 hours.
Loreto boasts a fascinating history as one of the oldest settlements in Baja. The enchanting colonial town offers an authentic glimpse of old Mexico and features a wealth of historical monuments including the 300-year old Mission of our Lady of Loreto, known as the "Mother of the Missions." Nearby, visitors can also explore the area's pre-Hispanic past by taking a guided tour of ancient native cave paintings.
Loreto has been recognized by the Mexican Secretary of Tourism as a "Pueblo Magico" (Magical Town), a designation reserved for those locales exemplifying an oustandingly rich cultural heritage.
Breathtaking scenery abounds, both on land and in the celebrated local waters. Divers can explore underwater caves, rock reefs and seamounts. Kayaking is an excellent way to explore secluded beaches and enjoy views of the cactus-studded hills. As the breeding and birthing ground for migrating whales, the Sea of Cortez offers remarkable and intimate whale watching opportunities. Loreto Bay Golf Club, a David Duval 18-hole signature course, offers a stunning setting. The new course Danzante Bay Golf Course offers a spectacular layout by Rees Jones and unbelievable views. Master architect Rees Jones let the stunning landscape shape the golf course into a marvel to challenge players of all abilities. Winding through beach, cliff, and canyon holes, each round reveals the genius of its creator while flaunting incredible views. The 17th hole, perched high above the Sea of Cortez, is already being called one of the iconic holes in all the game. Currently under construction with eleven holes completed, the remaining holes are scheduled to be completed in 2017.
What you need to know:
Resorts in Loreto, Mexico
Located in one of Baja California Sur's most magical and pristine settings, Loreto is a perfect getaway for nature lovers, Loreto is nestled on the Sea of Cortez with unspoiled beaches, desert mountains, scenic vistas and thriving marine life. The quiet, historic town of Loreto boasts a beautiful old mission dating to the mid-1700's. Villa del Palmar at the Islands of Loreto offers beachfront elegance while the Hotel Santa Fe is a convenient and comfortable retreat.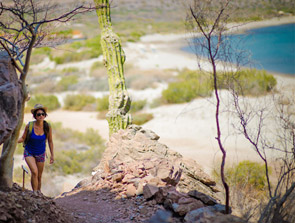 Top Things to Do in Loreto
With a delightfully tranquil pace, Loreto is a fantastic choice for visitors seeking eco-tours and authentic experiences. Visit a historic mission church, view ancient cave paintings, kayak in the Sea of Cortez or eat chocolate clams, a local delicacy. There are so many ways to explore Loreto, check out some of our favorite ideas. Read more...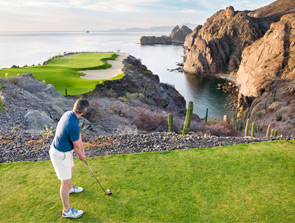 Loreto Allure: This Baja Gem Shines
Just a 2-hour flight from Los Angeles, Loreto feels worlds away. Overlooking the Sea of Cortez, this destination has captured the attention of eco-travelers, history buffs, golf aficionados, and those looking for a laid-back getaway with unique cultural and natural heritage. Read more...
To book your next vacation in beautiful Los Cabos, please call us at
1-855-745-2226
.