Reviews For Villa Bougainvillea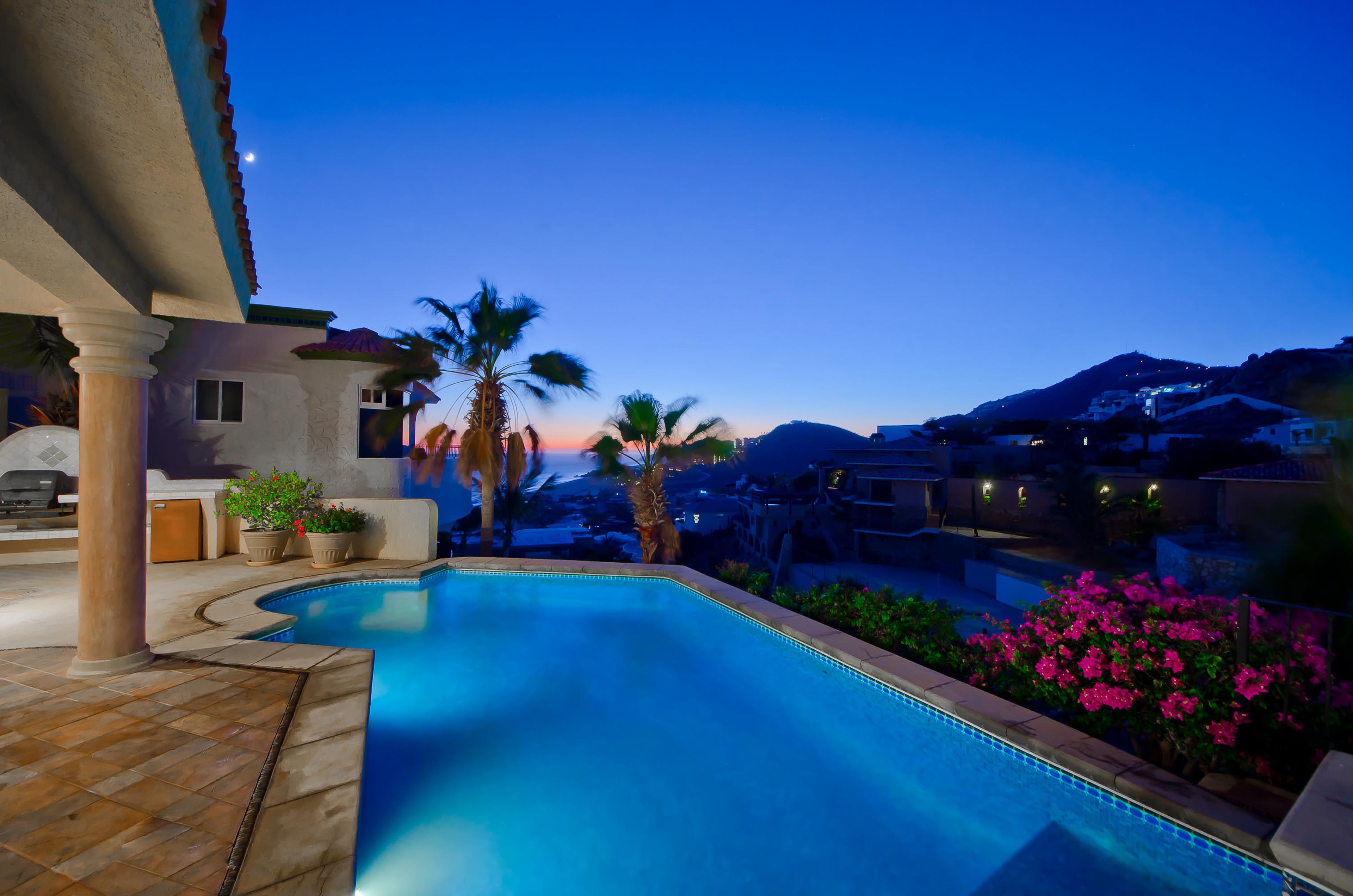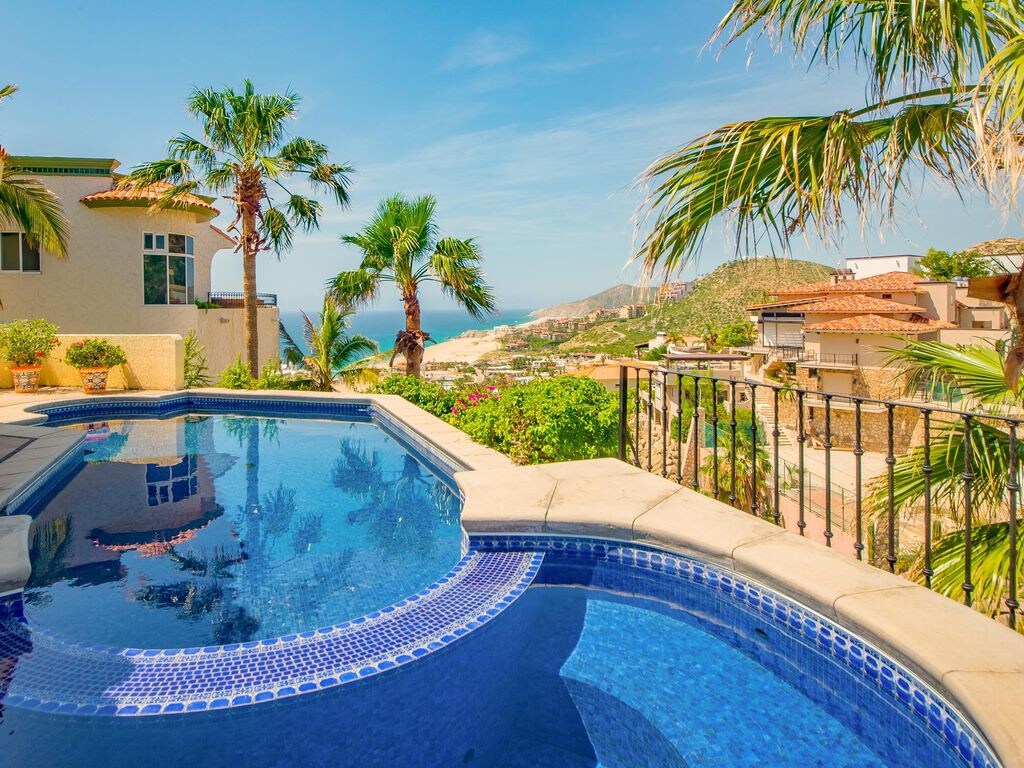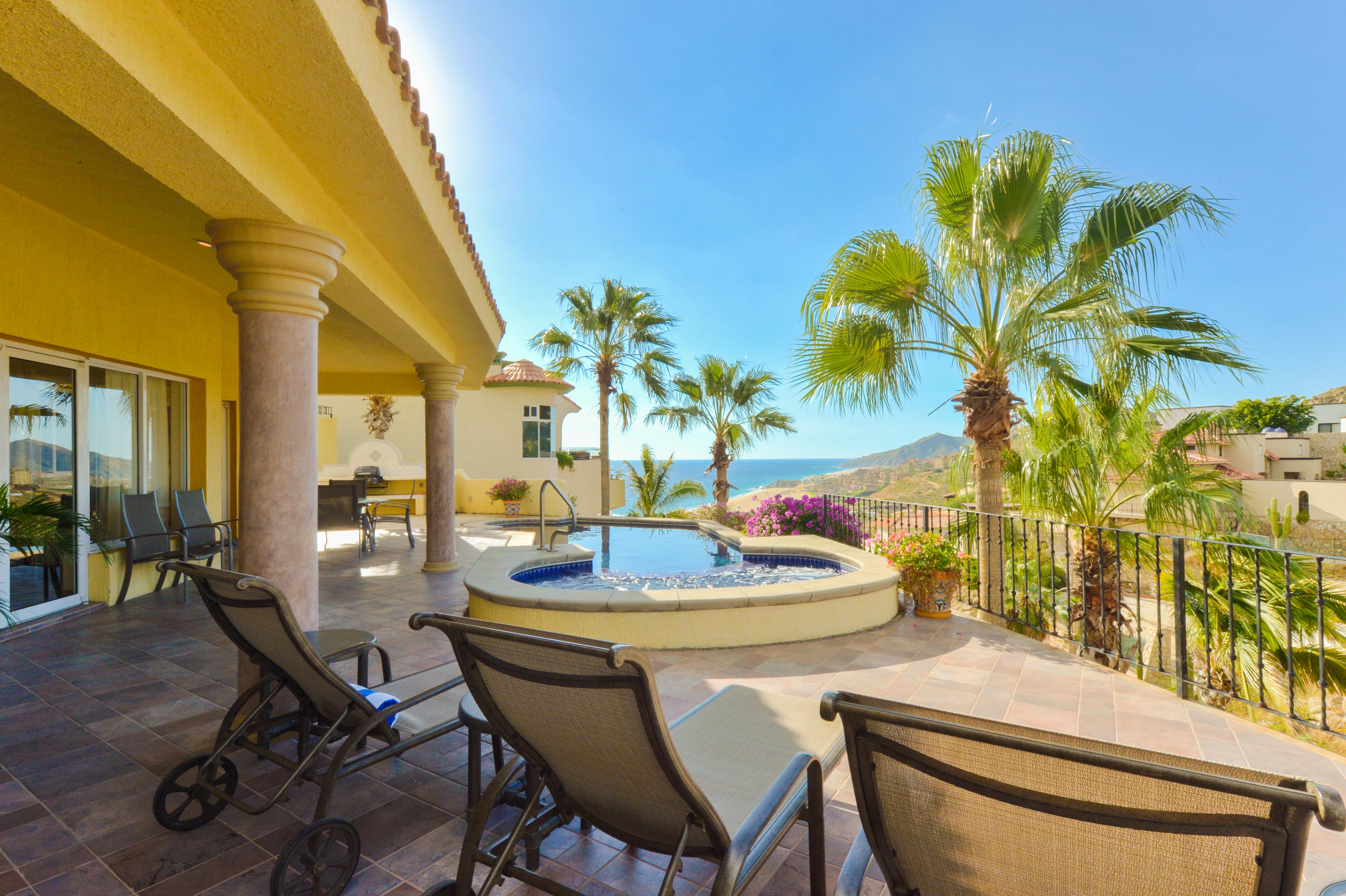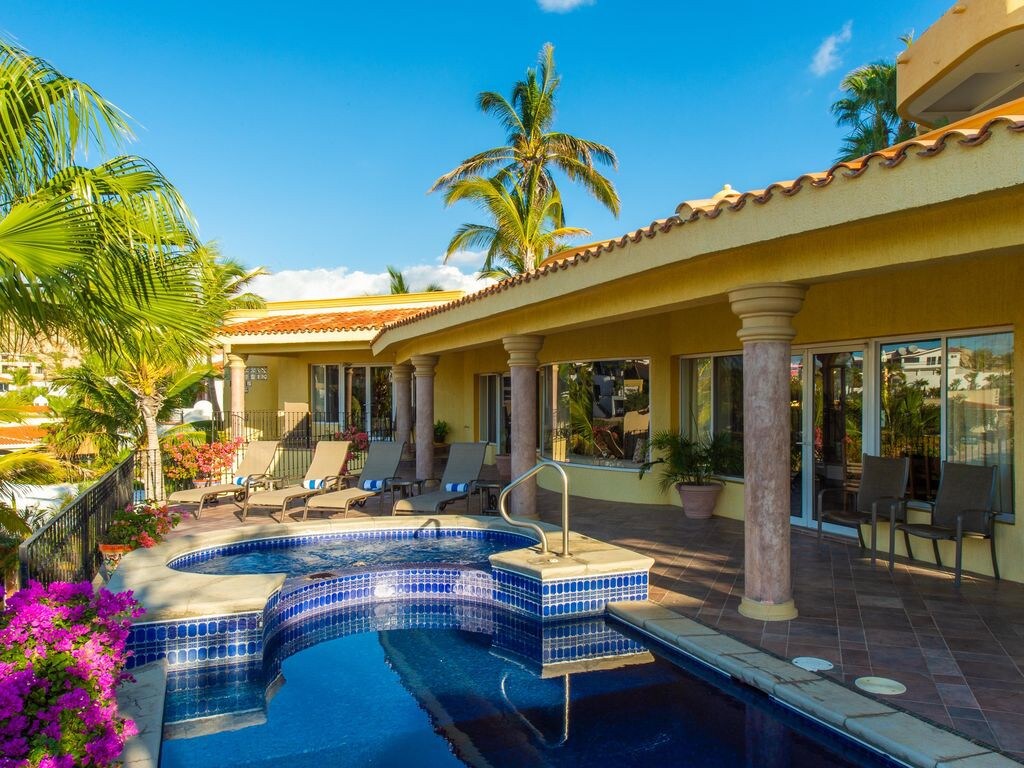 "Very nice villa - you'll enjoy your stay"

Villa Bougainvillea is a nice villa with plenty of space, good views and a good sized pool.
It's located on a street that dead ends so you won't be getting much traffic going by, if at all. The rooms are well appointed and the bathrooms are large. Lots of hot water and the water pressure is excellent. We come to Cabo for the fishing which is always outstanding but coming back to this villa is a nice way to end the day!
Bradley N, Sanford NC | September 2020
"Villa Bougainvillea"

Wow what an amazing stay!
This place is big and beautiful with an amazing view. The pool and hot tub were the perfect place to relax with your morning coffee. Our concierge Hector was full of local knowledge and facilitated some transportation to the different activities that we scheduled. The beds were comfortable, the AC worked great, the water in the showers stayed hot, and the daily cleaning was great. Pedregal is the best neighborhood to stay if you want to be in a quiet place, while also being less than 10 minutes from all the action. Thank you again for such an amazing place to stay and we hope to be back soon! Sincerely, Chris Tips: - I would recommend Uber instead of the local taxis. Taxis charge $20 USD to pick you up from the villa and bring you to town. Ubers cost less than 50 pesos (~$3 USD). Order the car like you usually wold on your app, then call the gate to tell them the make/model of the car and the name of the driver, and the name of your villa. Give yourself 20-30 mins for them to get there from when you call. - There's a Circle K and small grocery store very close to the entrance gate to Pedregal. We stocked up on everything we needed there.
Christopher S, Los Angeles CA | March 2020
Management Response
Thank you for the wonderful feedback! We don't recommend Uber because they are not regulated in Mexico, but we are happy to hear you were able to utilize the company safely. We hope to welcome you back to Los Cabos soon!
"Villa Bougainvillea"

Absolutely amazing view and beautiful home in Pedregal.
Very responsive host and helped with any resources we needed throughout our stay.
Randy V, Fortland FL | March 2020
"Fantastic Villa"

We thoroughly enjoyed our stay at villa bougainvillea.
It is a great value and has awesome views. We will definitely stay there again.
251jabarir | February 2020
Management Response
Thank you for staying with us at Villa Bougainvillea! This is a long-time favorite of our clients; a great place to sit and watch the sunset from your private deck! We hope to welcome you back to Los Cabos again soon!
"Great Value"

This is a great home at a great price.
Nice ocean view. Easily accessible. The welcome and housekeeping were perfect. We had a wonderful time.
Jreeves19, San Francisco, California | January 2019
Management Response
Thank you for staying with us at Villa Bougainvillea! We are glad to hear you enjoyed the home and had a wonderful time!

This house was amazing!
Lola was super responsive and we had our own concierge when we arrived at the house. The view and amenities were top notch. We felt very safe in the house. I would definitely stay here again.
Portia, San Francisco | April 2017

Perfect girls trip to Cabo!
Beautiful home, amazing views and very spacious (more than enough room for 8 adults). The concierge service provided by Hector was top notch, whatever we needed was only a phone call away; groceries, taxi, dinner reservations, maintenance, etc. Also, having maid service everyday was so nice. Amazing trip overall!
Crea, San Francisco | February 2017
"Incredible Villa with great views of the ocean and short drive into town"

I stayed at Bougainvillea with a group of colleagues over a long weekend.
The property is very spacious, nicely kept and well appointed villa in the heart of the private Pedregal neighborhood in Cabo San Lucas. We really enjoyed the pool/hot tub area, which has a lot of space for lounging around and enjoying a great view of the ocean and the beautiful neighborhood. Also, taxis into town were really easy to arrange and the trip is very short (<10 mins). In addition, the property managers at Cabovillas.com were extremely professional, helpful, and courteous; they made our stay truly pleasurable and stress-free.
Vik H | October 2016
"Great family vacation"

Bougainvillia offered everything I was looking for in this vacation.
It was roomy and we spent quality family time on the outside patio in and out of the pool and spa. Each bedroom had its own full bath. The views were great from the patio. We enjoyed a wonderful full breakfast the morning after we arrived. Very tasty! You can walk to downtown Cabo and back but you may want to get a taxi back. It's an uphill walk. You can also walk to the Pacific and walk the beach. The walk back isn't as strenuous as the walk back from Downtown Cabo. Although we enjoyed our stay there, the furnishings and bedding quilts are dated. We were able to overlook them because we were having a wonderful time. Amber at Cabo Villas was very helpful. Answered my questions promptly. I would use them again.
Krocean, Blue Bell, Pennsylvania | February 2016
Management Response
Hello, We are so happy that you enjoyed your stay and were able to experience the joy and beauty that is Cabo! There is no shortage of fun and exciting things to do while in the area, and staying in the exclusive Pedregal community puts you just a short distance away. Also, thank you for bringing the amenities to our attention. We want our guests to be provided the best accommodations and amenities possible. With your assistance we're going to take steps to ensure that the house items meet our guests expectations. Amber will love to hear from you in the future and assist you with your next vacation to beautiful Los Cabos. Have a great day!

Gorgeous villa, has all the amenities, spotless with nice views.
We had a very relaxing 15 days there, the private pool and spa were wonderful. Berta and her daughter came in every day and cleaned and Javier and his wife made us a wonderful breakfast. In a private gated community, felt very safe, yet only 5 minutes from the town in a car. Would recommend a car to get around in. Thank you, for sharing this well appointed villa.
Debra, New Jersey | September 2015
"A great girl's trip to Cabo!"

This was our 4th year to Cabo with ESSV.
The service is above top notch from the booking with Nik to the villa with Hector. The villa was roomy, clean and above all had excellent views. Hector met us and took care of us 24/7. Maid service was great as usual. The place was very clean. The bedding and some of the decor is a bit outdated, but fine for a vacation rental. The layout was perfect for our group of girls. We walked to town a few days. It is a hike, but we knew that from prior trips. We enjoy walking the neighborhood scoping out where we want to rent on our next visit. We also volunteered at the Humana Society one day and that was a great experience to get to walk the dogs and visit with the local volunteers that work there. I highly recommend Villa Bougainvillea. It is a good villa for friends or couples. The best part was they don't have vonage. They had another service provider that enabled us to have a strong connection 24/7 inside and on the patio. We would stay in this villa again.
rondat229, Frisco, Texas | June 2015
Management Response
We're so happy to hear that our team took excellent care of you before and during your vacation at Villa Bougainvillea in Cabo San Lucas. This villa is a favorite with our guests due to its great location in the private community of Pedregal, its comfortable accommodations and the enchanting views from the private swimming pool terrace. We strive to help our clients plan unforgettable vacations in Cabo, and it sounds like the trip was all you'd hoped it would be! We're eager to help you plan a return trip to Los Cabos in the future. Thanks for sharing your feedback.
"amaZing!"

beautiful spot!
We had a blast staying here over memorial weekend. Super clean. Close to town. Amazing chef.
hueneye, Montreal, Canada | March 2015
Management Response
Thanks for taking the time to share your feedback with us! Villa Bougainvillea truly does offer an outstanding location with easy access to all of the fun, dining and nightlife of downtown Cabo San Lucas! This lovely villa has a devoted loyal following of repeat guests and offers plenty of comfort and style, as well as an inviting private pool terrace with great Pacific Ocean views. We look forward to helping you plan another visit to Los Cabos in the future!

My entire experience with Earth, Sea & Sky vacations was a great one!
Kim Doane was a pleasure to work with. She was very personable, informative & accommodating to our requests & needs. We were picked up at the airport & greeted with margaritas & chips with salsa upon our arrival to the Villa. We were assigned a concierge with a 24 hour contact during our stay. Pre-stocking the villa with groceries is a must! Looking so forward planning our next trip to Cabo.
Jonell, Bellaire, TX | August 2014
"Villa Bougainvillea was fabulous with an amazing view!"

My entire experience with Earth, Sea & Sky vacations was a great one!
Kim Doane was a pleasure to work with. She was very personable, informative & accommodating to our requests & needs. We were picked up at the airport & greeted with margaritas & chips with salsa upon our arrival to the Villa. We were assigned a concierge with a 24 hour contact during our stay. Pre-stocking the villa with groceries is a must! Looking so forward planning our next trip to Cabo.
A FlipKey verified reviewer | August 2014
Management Response
Hello and thank you for your fantastic review of Villa Bougainvillea! We are so delighted that you were pleased with our services and with your ESSV agent, Kim, and with your personal Cabo concierge in the event that you had any problems during your stay. However, at a property with ocean views at every turn and just over a mile to downtown, it will be hard to find any problems arise during your stay. This is just one of the many reasons Bougainvillea is one of our current Top Villa Picks.
"Unbelievable - better than the pictures!"

We travelled with three other couples and were really looking forward to our stay.
We were blown away when we walked into Villa Bougainvillea. It was so beautiful! The house had everything we needed and was so clean. The pool and the views were so enjoyable. We hope we will be able to get back there soon.
A FlipKey verified reviewer | July 2014
"Lovely villa in paradise!"

The villa is well maintained, very clean!
Ample outdoor space in both sun and shade. Spectacular location and view. Could be improved by adding a music source for outside use ,and hairdryers in the bathooms.
A FlipKey verified reviewer | July 2014
Management Response
Villa Bougainvillea is centrally located, has amazing views from both outside and inside and is surrounded by lush greenery. This is 4-bedroom house is a fantastic choice for medium-sized groups and families looking to be close to the beach and downtown. Thank you for the feedback regarding the music and hairdryers; this information has been passed along to the owner. We always welcome guest feedback!

The villa was everything we expected based on the pictures from the website.
It was in very good shape and immaculate. Berta did a great job of cleaning and straightening the house daily (which we were not expecting.) The sunset view was spectacular every evening and the proximity to town was great. We have been to Cabo twice now and it has become our favorite winter vacation spot. Victor our on site rep was outstanding- whatever we needed he took care for us. We mostly ate at the villa because of our successful fishing trip. the evening our fishing trip we had Denni's catering prepare our fresh catch. We did this last year when we were in Cabo. They do an outstanding job for what I consider an excellent value. Thanks to everyone at ESSV. Our only hassle the entire trip was getting our complimentary shuttle from the airport to the villa. We arrived on Saturday like everyone else from the US and we had to wait quite awhile for a van.
Ralph, Louisville, KY | April 2014
"Amazing stay"

Stayed here with a group of 7.
Great private location beautiful space with great indoor/outdoor accommodations. The pool was beautiful and the hot overlooked the pacific. Really had no complaints and will be coming back again
A FlipKey verified reviewer, Peekskill ny | January 2014
"Our Get away"

Pedregal - From check-in (12/15) to check-out (12/22) our trip was fantabulous.
Beginnings set the stage for a trip. The private transportation from the airport to the villa and the welcome margaritas and appetizers set this stage. Adriana, our Essv destination specialist, met us at the villa with some smooth margaritas and appetizers and showed us the amenities of Villa Bougainvillea. The view of the Pacific was not disappointing; from either level. The heated pool and spa made them useful anytime of the day or night; the bedrooms are private; the kitchen well stocked with ware and the family area comfortable. Javier, the property manager, and Berta, the housekeeper, did a great job of making the villa comfortable and clean for us. And we were able to keep in touch with family and friends back home via the wireless internet connection. The villa is located in Pedregal a gated community with 24/7 security. A brisk 15 minute walk puts you on the beach to the Pacific. A quick walk down the drive from the rear of the villa allows one an unobstructed view of the beach and sunsets while a quick walk up the drive to the east from the front of the villa allows one an unobstructed view of the sunrises. The pre-stocking services were appreciated but, next trip we will most likely do the shopping ourselves and allow tailoring to our specifics. Trips back and forth to Cabo were made via taxi but, next trip we will probably rent an auto. Essv (Lori) was very helpful and knowledgeable about the villa and the area. Lori helped with the villa selection, airport transportation, pre-stocking, excursions, dining in town and other activities. Booking the villa, airport transfers and excursions through Essv allowed us to fully enjoy our get away. We look forward to our next trip to Villa Bougainvillea and recommend it to others. Thanks to the owners for opening their villa to us and thanks to Essv for their services.
david s, TX | January 2014
"Home away from home 4 stars but I could only get 3 to light up"

We go to Cabo San Lucas once or twice a year.
We just love it there. It is safe and comfortable and we have never had any big problems. We recently started using Cabo Villas to book our trip and everything runs smoothly and efficiently. We ordered one of the special food packages to enjoy upon our arrival and it had been left out and as a result it was cold and the hour of service that was included turned out to just be our concierge. We rented Villa Bougainvillea and we're disappointed to find out the oven didn't work, the stove had to be lit each time we used it and the barbeque was going to be fixed the following day. Our concierge made sure we got a toaster oven which suited us just fine, the barbeque was fixed before we needed to use it and the stove wasn't too inconvenient. The breakfast that is included was amazing as usual and the housekeeper this time was very respectful of our space. We will definitely book again but having the appliances not working is a bit unnerving. The view at this Villa is wonderful. We were walking distance to the beach and a very short drive to town. Three out of four rooms gave a view and the living room was comfortable and cozy for watching movies at night. The DVD player needs to be replaced. We had to use our computer to watch movies on the TV.
A FlipKey verified reviewer, Waterloo | December 2013
Management Response
Thank you for your review, and we here at Earth, Sea & Sky Vacations (CaboVillas.com) are very happy that overall you enjoyed your booking and villa experience. You are right in that Villa Bougainvillea has amazing views and is just a short (under 1 mile) walk to the warm waters of Cabo. We are going to speak with the owner about the problems with the appliances and the food vendor about the food package that you received. 01/06/14 UPDATE: While all prestock food that is ordered is cooked as close to guest arrival time as possible, the food doesn't always stay warm, depending on how far the destination is. Also, the oven, stove and BBQ are in the process of being replaced since the owners heard this feedback. It's feedback like this that helps keep our villas top notch! Thank you!
"Boys fishing trip"

We just returned from a 9 day fishing trip to Cabo.
The group included four men - two of which, including myself, have been to Cabo multiple times before. For the previous trips we stayed a few times at Solmar (the old Solmar) and a condo at Marina Sol. This was our first stay in Pedregal and Villa Bougainvillea was awesome. Although the villa is somewhat dated and does show some signs of its age, it was an amazing place to stay. Given the price and the items included (maid service every day, private transport from the airport to the villa, one breakfast, 7th day free), this villa can not be beat. The pool/hot tub amazing and the view from the pool patio was breathtaking (Pacific view). We did have some issues (front door lock/latch difficult to operate, ovens didn't work, grill gas knobs rusted/inoperable), most were handled in a timely fashion (and some problems are to be expected). Overall, the entire group loved the place and we look forward to our next Villa Bougainvillea stay. Also, the staff of Earth, Sea & Sky Vacations is very friendly, knowledgeable, and professional. It was a pleasure to do business with them.
Glen, NJ | October 2013
Management Response
Thank you for your valuable feedback! This is a fantastic villa in the Pedregal community. While it sounds like the small inconveniences you faced were dealt with, we will contact the villa management to confirm everything is in working condition. Thank you again for booking with Earth, Sea & Sky Vacations, and we look forward to booking your next stay at Bougainvillea! 10/17/13 UPDATE: The door latch was repaired by the property management as soon as it was reported, and the owners are currently at the villa this week and have replaced the BBQ and are fixing the oven, so these problems should not come up again.
"We had a great family vacation!"

The services that Earth, Sea, and Sky provide are wonderful (especially Jen) and we will certainly use them again!
Villa Bougainvilla was an older villa but clean and perfect for family use. Good view of the atlantic. Short walk to beach. Loved staying in Pedregal and being in town!
Laurel Page, TX | August 2013
"Always awesome!"

We visit Cabo annually and love to stay in Villa Bougainvillea in gorgeous Pedregal.
From booking the trip to leaving the villa two weeks later, all was perfect. Just 48 weeks more and we can do it again!
Tracy, DC | July 2013
Management Response
We love when repeat customers stay at the same villas, especially when they share great reviews like this! With 4 bedrooms, Bougainvillea is perfect for a romantic getaway or for a medium-sized group. The pool and Jacuzzi are sure to delight, especially when they look over the beautiful Pacific Ocean.
"This was the best 50 TH anniversary my wife and I have ever had!"

Our daughter, her husband, and another couple spent a great week in Bougainllea with my wife and me in February of 2013.
We really enjoyed the pool and hot tub, and the beautiful sunsets we were treated to every evening. We must have taken over 100 pictures. We got to do everything we wanted to do. We saw over 30 whales, fish from a glass bottom boat, visited the rock formations three times, bar hopped in town, ate really great food, caught the most tuna for the day, and enjoyed them the next night prepared by a recommended chef and her husband. This was truly a vacation to remember. It was also our 50 TH wedding anniversary. We are planning to come back for our 100 TH.
A FlipKey verified reviewer, ANDERSON INDIANA | February 2013
Management Response
We're so glad that your 50th anniversary was a success! We're also glad that your boating trip was fun! Remember, that we not only book villas and fishing trips, but also resorts, horseback riding and so much more! We at Earth, Sea & Sky Vacations are here to cater to every aspect of your Cabo vacation. We hope to see you again before your 100th! :-)
"A week in paradise"

I stayed at Villa Bougainvillea for a week with six girlfriends, and we had a ball.
The views from the house were stunning, and it was a quick (although) strenuous walk to the beach or the marina. Victor, our concierge, was incredibly available to help with everything. Breakfast was prepared for us one morning, and that was wonderful. I would definitely visit again!
marcyw, tx | August 2012
"Great value!"

Villa Bougainvillea is one of the most reasonably priced rentals in lovely Pedregal.
Each of the four bedrooms has a private bath. We love to spend time outside and the spacious deck includes areas of both sun and shade. The view of the beach from the lower deck is spectacular. We like it so much that we've visited for three years in a row!
A FlipKey verified reviewer, Washington DC | July 2012
"Staying in Paradise"

Renting a villa in Pedregal completed with pre-stocking of of food is always made easy with Cabovillas.
om The villa, the view, the service were great. Only complaint is that I had to purchase a hair dryer for the villa after I purchased one for the villa two years ago. Women want a hairdryer in the bathroom :). Wish I were still there!!!
Tracy, DC | July 2011
Management Response
We are so happy to hear that you had a fabulous vacation and enjoyed the villa, view and service! Regarding the hairdryer, we regret that the one you purchased 2 years ago went missing! We have forwarded your feedback to the owner of the villa and have requested a hairdryer to be provided permanently. Please note that our concierge team in Cabo has hairdryers on hand just in case a villa is missing one. During future travels to Los Cabos if you are in need of anything please check in with our concierge team so they can assist you. We look forward to working with you in the future!
"Fantastic five day vacation"

We loved our condo.
We had four couples on this trip and we golfed,shopped,and ate well. The gals had breakfast prepared for them. The highlight of the trip was riding Kawasaki mules, that seat two, out in the desert and along the beach. What a thrill. We also took a party cruise with Captain Elvis and we got to see the whales.
A FlipKey verified reviewer, Kansas | July 2009
"A Delightful & Relaxing Experience"

We stayed at Villa Bougainvilla with one other couple, but it could have easily accommodated 4 couples.
A comfortable & quiet location with a fantastic view of the ocean & sunsets. The villa itself was nicely furnished with a large kitchen & fabulous pool. 3 of the 4 bedrooms have a beautiful view too!
Celina & Brian, Washington | July 2009