Reviews For Villa Maria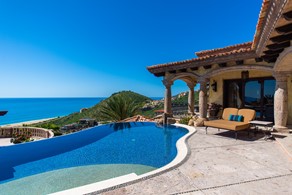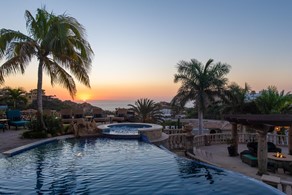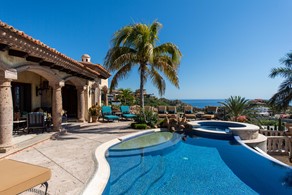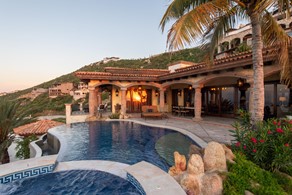 "An Oasis on a Hill to Get Away from the Cabo Madness!"

Our group of 12 women in our 30s had a fabulous stay at Villa Maria.
From the booking process with Kimberly to planning meals and stocking the house with the food, it put us at ease knowing we'd arrive to everything we needed. Upon arrival Luis the concierge was helpful with everything from delivering more water to booking us taxis. The house itself is beautiful and has more than enough room for 12 people. Each room has an ensuite bathroom and there was a cleaning service every day that made it feel like a hotel - even all of our breakfast dishes! The beds were really comfortable. Two of the rooms are detached from the house with a separate entrance which is good if you have people who go to sleep earlier / sleep in later. The pool deck gets plenty of sun and we were able to get the hot tub hot. The only downside was we couldn't get either of the gas fireplaces outside to work but we spent most of our time in the pool or around the table chatting so it was OK. The beach is about a 15 minute walk from the house and town is about 20-25. Totally doable though the house is at the top of a hill so you will want a taxi back! We will 100% be coming back to this villa exactly. It was a dream trip.
Jennifer A , Brooklyn, NY | April 2022
Management Response
Thank you so much for your review of your stay with us at Villa Maria, your feedback is so important to us! It sounds like this was the perfect villa for your vacation! Our team is here to assist our guests with all the vacation details. We're thrilled that you received excellent service from Kimberly and Luis, before and during your stay. Remember, our concierges are available 24/7 and you can call for assistance with any issues, like operating the outdoor fireplaces! We are so happy this was a dream vacation and we look forward to assisting you with your next unforgettable Cabo vacation!
"Cabo Villas are awesome"

I have stayed at homes managed by Cabo Villas 24 times.
Each time they have killed it. Staying at Villa Maria was no different. It's a beautiful home. I recommend
PocRoc | February 2018
Management Response
Thank you so much for your review! We look forward to welcoming you back soon!
"Most relaxing vacation ever!"

Our family of 12 enjoyed a week at Villa Maria in January 2018.
Chef Marco and housekeeper Olga took excellent care of us! Marco managed to please 10 adults and 2 kids with his fabulous cooking--and delicious margaritas! We wanted relatively healthy eating and there were a few sensitivities to deal with and he delivered beyond expectation! The villa was true to the photos--beautifully perched on a hill with magnificent views from dawn to sundown. The only cons were pathway lighting to the lower bedrooms was inadequate and we had 2 falls at night. No serious injuries thankfully. And the Wifi was virtually non existent in the bedrooms--I don't think there were any repeaters/extenders and the signal couldn't travel through the concrete walls. But these are things that can certainly be addressed! Pedregal is a lovely community--gated and secure. What a wonderful week we had at Villa Maria! We wouldn't hesitate to book again--especially if the stair lights and Wifi are improved!
foreverparis , Seattle, Washington | February 2018
Management Response
Hello and thank you for your feedback! We are glad that you had a wonderful week at Villa Maria!
"Amazing weekend getaway with friends!"

Everything about our experience with Cabovillas and Villa Maria was perfect!
The customer service from Cabovillas provided when looking to book something, to getting prepared for our trip, to the responsiveness when we were there was amazing. The house itself was beautiful and the onsite staff (chef, housekeeping, concierge) were the BEST! I will definitely be back to this house as it was one of my favorite most relaxing vacations ever. Thank you!
Danielle P | November 2017
Management Response
Hello Danielle! We are excited to hear that you had a great stay at Villa Maria! We look forward to welcoming you back in the future!
"Honeymoon in Cabo!~"

The house was amazing and so beautiful just as the pictures show on the web site.
Everything was in working order and the stuff was so helpful. Hector the concierge was right there when we ever needed a cab or ice anything and Olga was there everyday taken very good care of us with keeping things looking good in the house ! I wanted to bring her home with us. We will book again at Villa Maria .
Kevgio , Sacramento, California | July 2017
Management Response
We are thrilled to hear that you enjoyed Villa Maria, Hector and Olga. We pride ourselves on having the best Cabo team! We look forward to welcoming you back to Cabo SOON!
"Amazing Experience!"

My friends and I stayed for 4 days and had an amazing/relaxing time at Villa Maria.
Our staff (Olga-maid and Josue-chef) were everything you could have asked for and more. We are already going to book our trip for next April and will do this trip every year!
Luis R | May 2016
"Awesome! Will do it again!"

Villa Maria was beautiful!
We traveled with 5 other couples and all of us would love to stay here again. The Villa was beautiful, the view was spectacular! If there was an issue, Victor and Ishmael responded immediately. We arrived during Hurricane Norbert, so all the water heater pilot lights were blown out - Ishmael came immediately to relight them all. It was great that Villa Maria was located in Pedregal - we enjoyed the private beach and quiet neighborhood. As far as safety in Mexico, we never felt unsafe at any time - whether at the Villa, shopping, excursions, etc. We definitely recommend the airport pick-up service - this eliminated having to navigate unknown territory. This trip was a great memory that we will all have for years to come - hopefully, we can repeat it soon!
Laura I | October 2014
Management Response
Thank you for your review of Villa Maria. Sleeping up to 12 people in 6 bedrooms, this luxury 6-Star villa is a perfect choice for a medium to large group looking to enjoy upscale living in Cabo. We are glad to hear that the property manager and your ESSV concierge were helpful with any issues that arose. Please also know that your ESSV concierge can help you with anything from booking activities to simply giving you the name of a great local wine vendor.
"Perfect for our group!"

The villa, the views, the furnishings, the housekeeper: All fantastic!
I've stayed in many different houses in Pedregal but this was the best. We will be back! Thank you, Maria.
A FlipKey verified reviewer , Denver | March 2014
Management Response
We are very glad that you enjoyed your stay at Maria! We can't wait to book you again for your next stay at this beautiful villa.
"Wonderful vacation"

We really enjoyed our stay at Villa Maria.
It is on the top of Pedregal and offers stunning views of the coast. The common areas are comfortable and are a great for a family get together. Rooms are comfortable and the decor is quite beautiful. I would recommend this property without hesitation.
A FlipKey verified reviewer , Los Angeles | November 2013
Management Response
Thank you for your feedback on Villa Maria. This villa definitely has some of the best views of the ocean in the Pedregal and stunning inner decor to match. Sleeping up to 12 people, this house is perfect for almost any group looking to enjoy Cabo.
"Sun, Views, Relaxation, Fun Times"

We had a blast at this villa, the rooms were spacious, the sound system at the pool was great, and the kitchen and grilling areas were perfect for entertaining and eating under the hot Mexican sun.
Definitely plan to go back and keep the good times rolling.
A FlipKey verified reviewer , Santa Monica | July 2013
"Amazing Home! Amazing Trip!"

We rented this house for a birthday trip with 7 friends.
It is stunning, welcoming, luxurious and comfortable all at the same time. We had plenty of room, couldn't get enough of the pool/jacuzzi area (the privacy and view are fantastic!) and there are so many eating areas - we had a different dinner party almost every night. (Favorite was under the twinkle lights near the grill!) You get so much home for the cost - it was certainly a great value for us. And the team from Essv were fantastic -- we had our own concierge who made sure everything was taken care of and the assistance in cleaning every day made you feel like you were at a hotel -- such a treat! I can't recommend this highly enough. If there was one trouble spot - and it's super minor - it was that at the time of year we went -- late October/early November there were a ton of moths that flew in and out of the house. No fault of the property - just mother nature - but something to be aware of. Rent this property - you won't be sorry!
A FlipKey verified reviewer , Los Angeles | December 2012