Reviews For Villa Las Brisas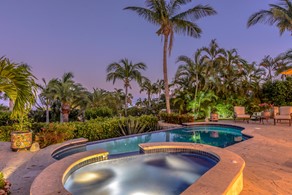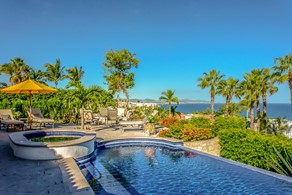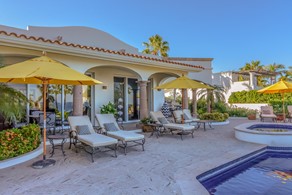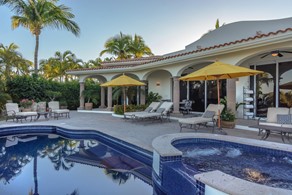 "Fantastic!"

Do yourselves a favor and stop searching.
Villa Las Brisas was incredible. We've been coming to Cabo for years and this was one of my favorite villas. Truly, the pictures do NOT do this place justice. The house is hacienda style so the 'main' house has 3 bedrooms and there are 2 casitas attached to the house. This is a wonderful way to have privacy yet be part of the main house. The beds were so comfortable. The linens fresh and comfortable. The kitchen is fully equipped. Plenty of supplies were provided. The pool and hot tub were easily heated to our liking. The location in the neighborhood is ideal. It's not ocean front but you have a beautiful view out to the ocean from throughout the villa. Our house cleaner Letty was a real gem. She quietly moved about the house each day cleaning and putting on fresh sheets and towels. Most days she prepared a breakfast or lunch for us. All delicious! She was such a highlight. The owners should be very proud of this home. The price was very fair. We also loved the neighborhood, beach access and feeling of security. The landscaping is simply incredible. Don't pass on Villa Las Brisas.
Amy H , Dillon, CO | December 2022
Management Response
We appreciate your wonderful feedback and recommendation of Villa Las Brisas. We are so happy that you and your guests enjoyed your stay and were impressed with the amenities and location. We're delighted that Letty was a highlight. We can't wait to welcome you back!
"Cabo trip"

The stay was amazing the house was amazing
Shaelishia S , Atlanta, GA | July 2022
Management Response
We're so happy to hear it and look forward to welcoming you back to beautiful Los Cabos again!
"10/10!"

Great place!
Superb views, cleaned every day, very responsive and helpful staff. 10/10!
Zachary S. | May 2022
Management Response
Thank you for reviewing your stay with us at Villa Las Brisas and appreciate your recommendation. We're so happy that you enjoyed your stay and received excellent service. We look forward to welcoming you back to Cabo again in the future!
"Overdue Family Holiday!"

The property was fantastic, the location perfect and the staffing absolutely amazing.
Hector was always on his game which made my vacation with my family very enjoyable. The food was top notch. Letty the house keeper was also amazing. All in all i am planning on going back with my family.
efurlano , King City, Canada | January 2020
Management Response
We are glad to hear you enjoyed your stay at Villa Las Brisas! We strive to provide our clients with the best service and top notch accommodations. We hope to welcome you back soon!