Reviews For Villa Haydee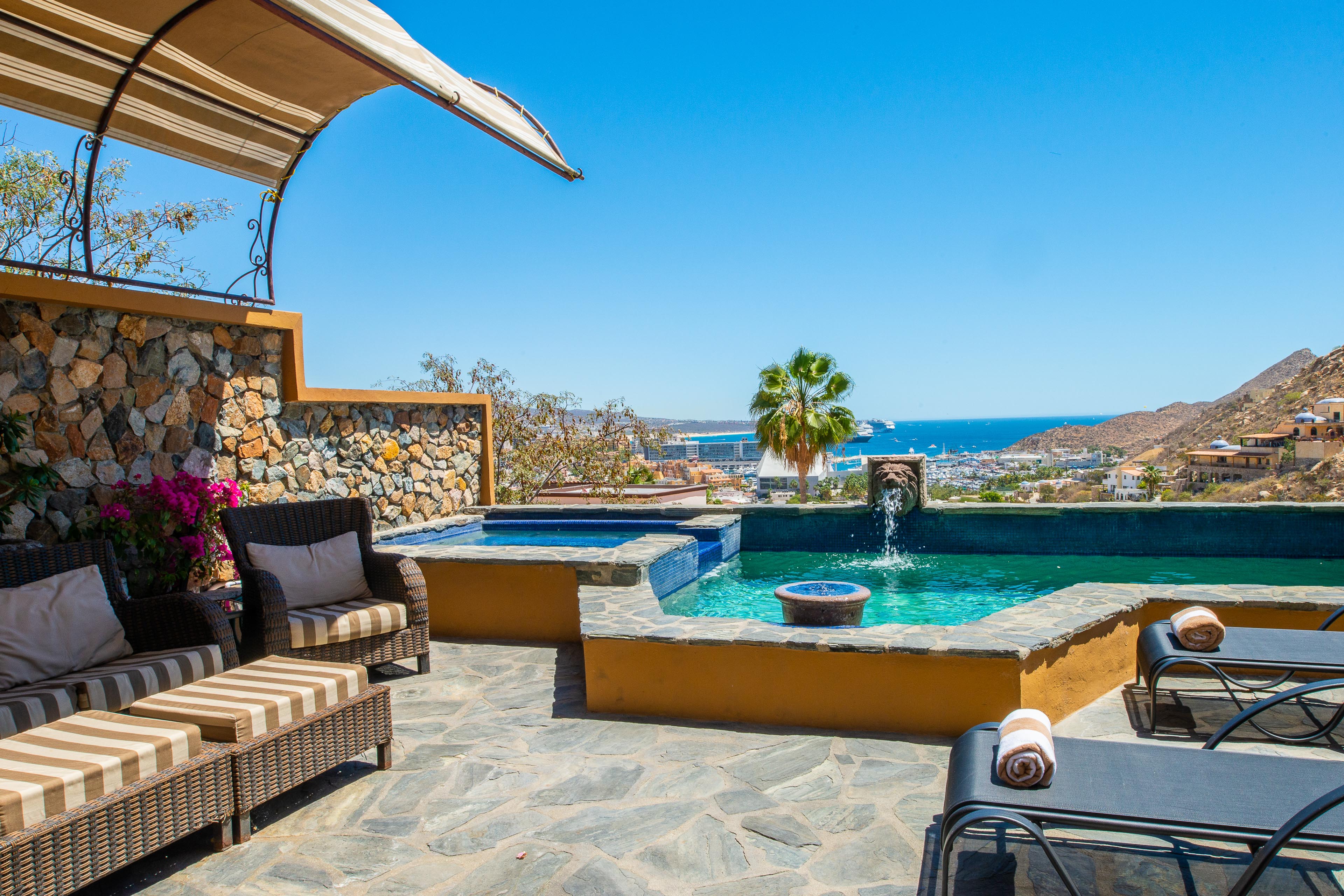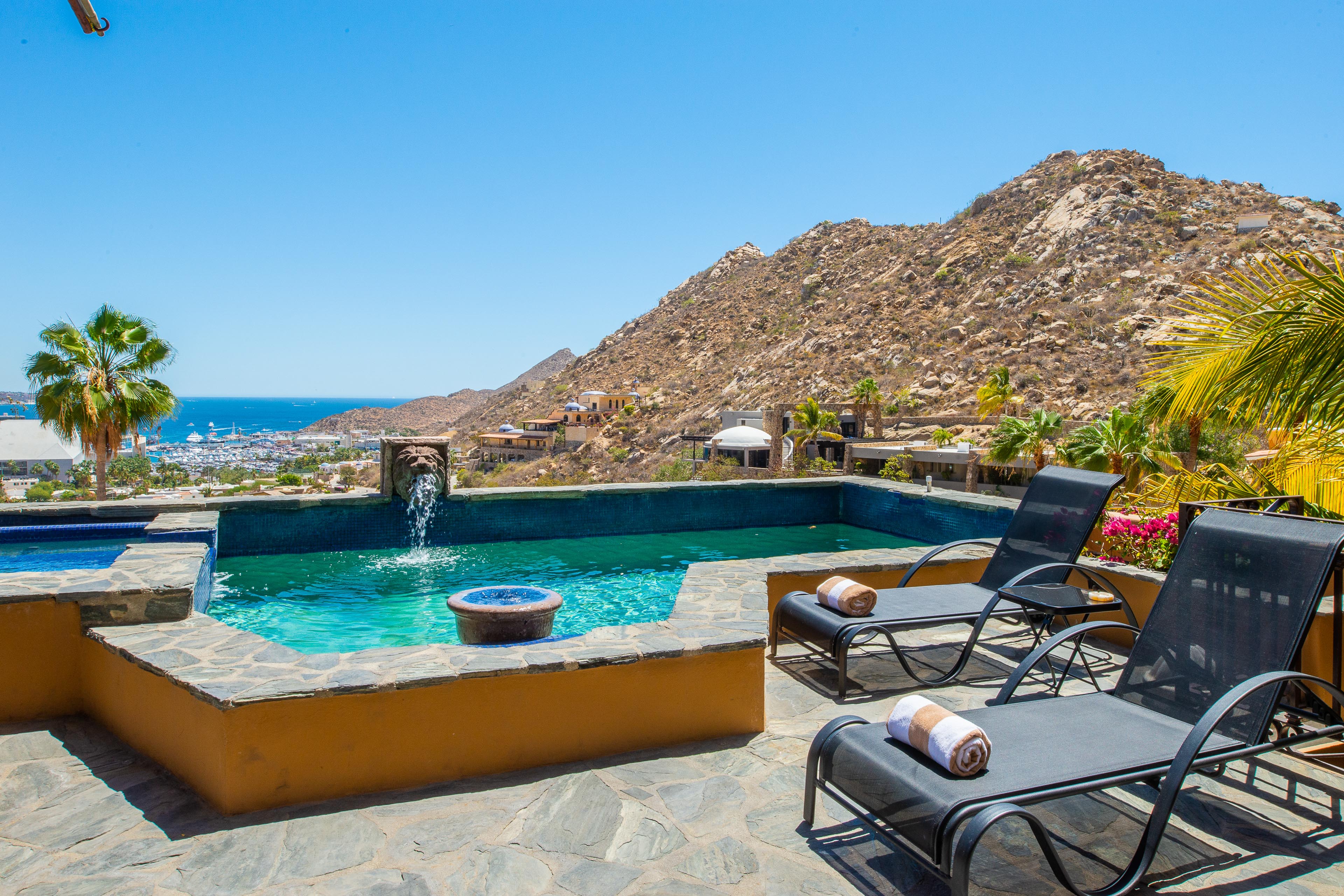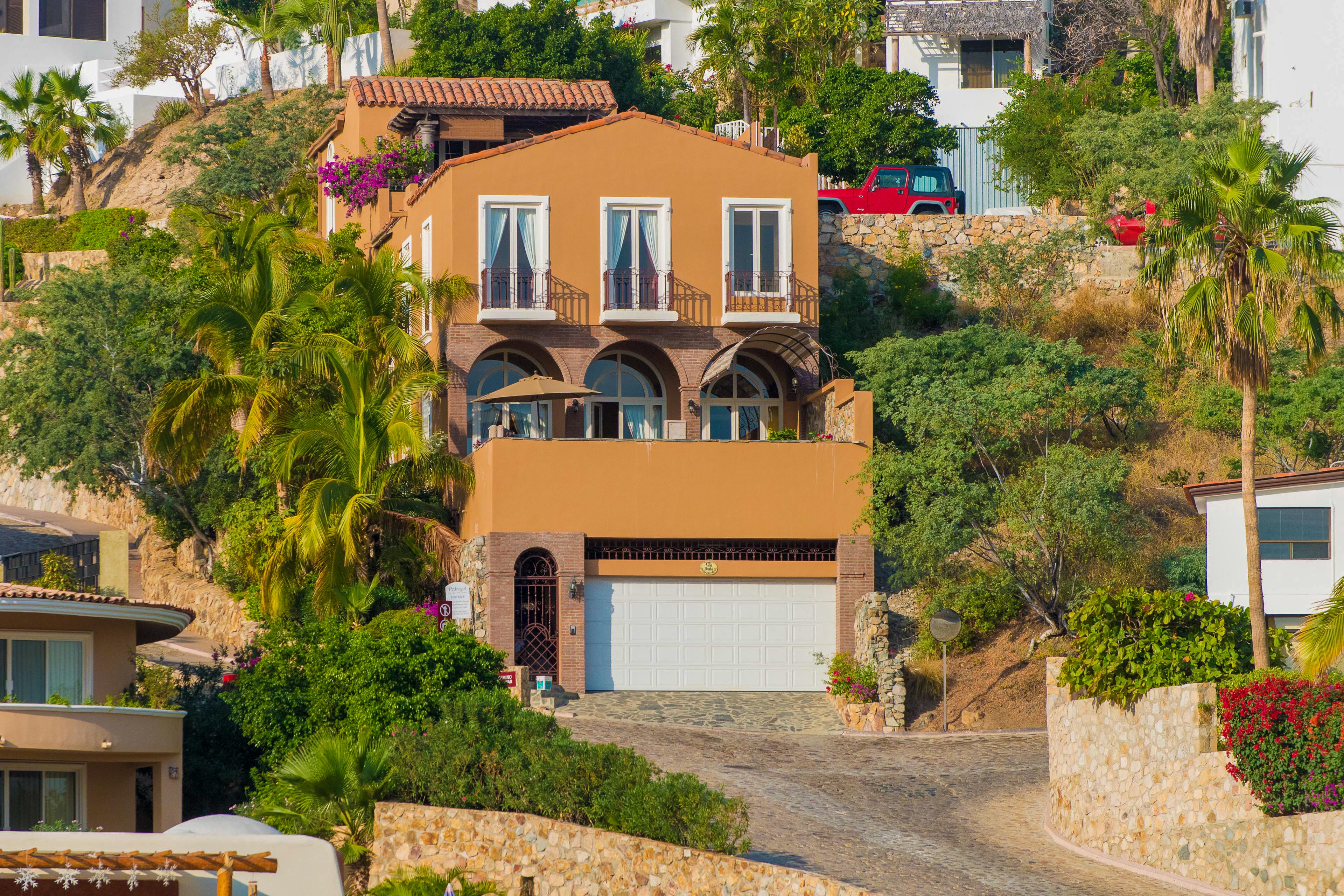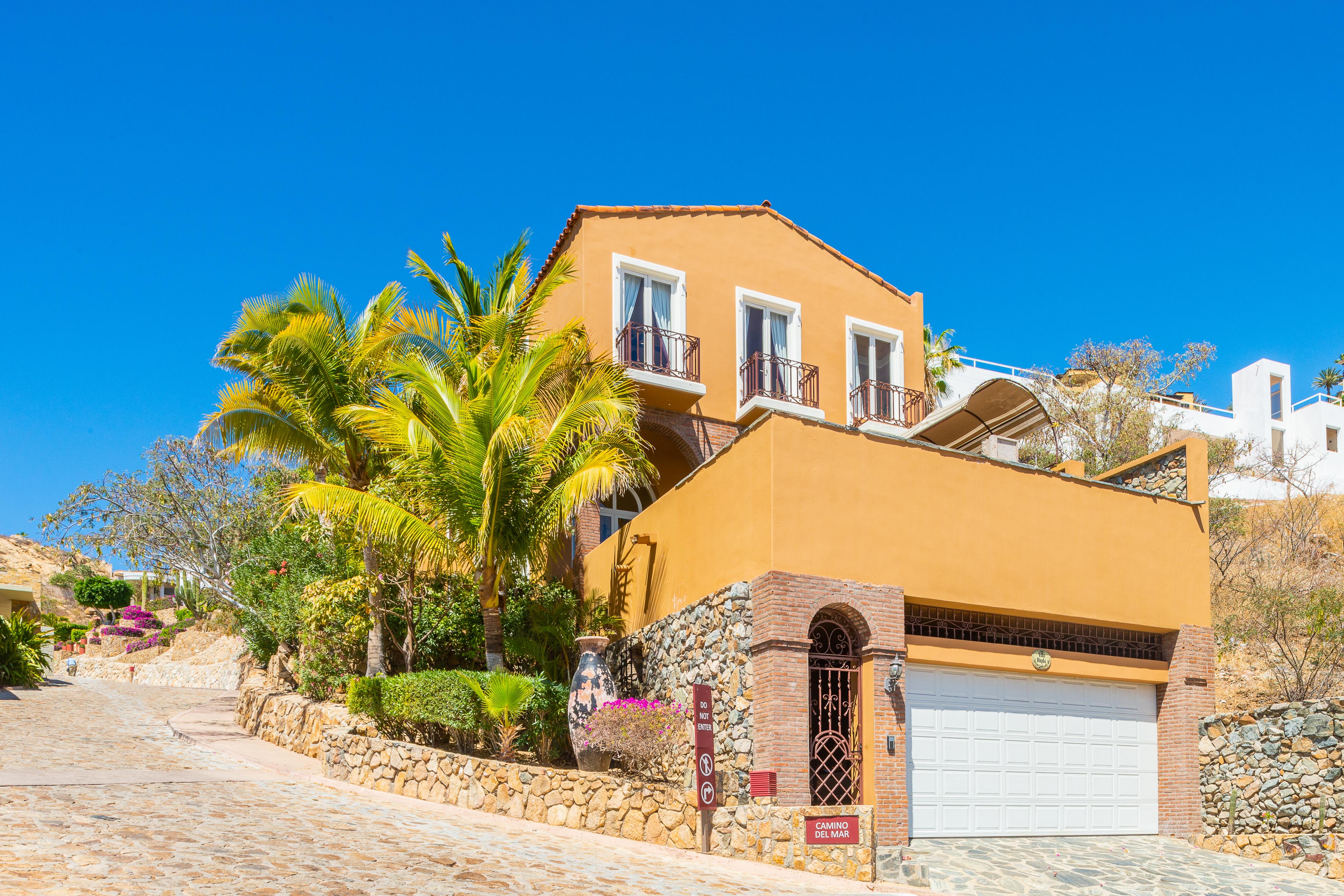 "Beautiful Villa, but Shady Concierge!"

The villa was a great size for our party of 6.
Everyone had their own space and I loved that each bedroom had an ensuite bathroom. The views were perfect, which made it hard for me to leave the villa. I could've sat on the deck the entire trip and been content with just the views. The villa was clean and well stocked with your everyday needs. The cleaning crew was nice, but they invaded our space by popping up when they wanted to and disrupting our day. It would be a good idea for them to call and see if cleaning services are needed. The one thing that rubbed me the wrong way was the shady concierge. He made it seem as if he was there to meet all our needs and make sure the stay was pleasant. He offered to go get us tacos and 2 cases of champagne and we would pay the price of the items plus a $20 delivery fee. That seemed fair, but when he returned he had 1 case of champagne and 10 tacos and told us that would be $407. After we paid him, he jetted off into the sunset and we did not see him until we were in the shuttle headed back to the airport. I highly recommend you do your own shopping and bargaining. We still enjoyed our stay in Villa Haydee, and I will recommend it to those who ask.
Franks F | February 2020
Management Response
We are glad to hear Villa Haydee was accommodating and fulfilled the expectations of our clients. Maid service is provided every other day and begins at 9:00am. They stay until the home and linens are cleaned and do their best not to intrude on the clients. Our concierges are an integral part of our award winning service. The client asked him for a specific brand of sparkling wine that is not widely available in Los Cabos. He was able to secure only 12 bottles at a cost of 6000 pesos ($323 USD) which he presented the receipt to the clients. Additionally, he brought 25 tacos and presented this receipt as well. Our concierges leave their business card, enter their direct phone number and set the clients up on WhatsApp. They are available 24/7 for any services needed. The client did not contact him during their stay.
"Beautiful Views & Lots Of Space, But..."

Overall, we had a really good stay!
Securing the home was my initial concern, as the patio doors don't have very secure locks, but the concern subsided quickly. The house was spacious, clean, and cool! The best part was the view of the city and marina! We watched ships, activities and the sun rise and set. The pool in the afternoon was top notch. If you're one for perfect social media photos, this is your place! The kitchen is well stocked with everything you'd need to prepare, cook, and serve any meal or entertain. The open concept provides great sound for music throughout the home. There were a few things to be aware of, however. First, there were lizards!!!!! I'm not sure how that could be prevented, but they (at least 5) vacationed with us. I was petrified! Secondly, our concierge didn't seem like the most honest guy. He offered to get our group local food and champagne. We were excited! Upon return, the costs were upwards of $400USD for 10 tacos and one case of champagne with NO RECEIPTS! We didn't see him again until our day of departure. Interesting? Next, either rent a car or prepare to pay about $4USD/pp for each ride, both, up and down the mountains of Pedregal. While there were a couple of things I'd change in Villa Haydee, the thing that stands out the most is cleaning service on day of departure. Our scheduled "check out " was 11am, yet the cleaning ladies were there at 9am, literally, cleaning around us. We were cleaned out of our private bathrooms, making a leisure departure almost impossible. While we understood there would be guests after us, allowing us time to gather our things, shower, and prepare to leave this beautiful city were equally as important! In sum, our trip was magnificent! Villa Haydee was a pretty smooth ride with a couple of bumps in the road along the way!
miss_cb905 | February 2020
Management Response
We are glad to hear Villa Haydee was accommodating and fulfilled the expectations of our clients. Maid service is provided every other day and begins at 9:00am. They stay until the home and linens are cleaned and do their best not to intrude on the clients. Our concierges are an integral part of our award winning service. The client asked him for a specific brand of sparkling wine that is not widely available in Los Cabos. He was able to secure only 12 bottles at a cost of 6000 pesos ($323 USD) which he presented the receipt to the clients. Additionally, he brought 25 tacos and presented this receipt as well. Our concierges leave their business card, enter their direct phone number and set the clients up on WhatsApp. They are available 24/7 for any services needed. The client did not contact him during their stay.
"Absolutely Recommend "

This was one of the most seamless and stress-free property rentals I've ever experienced.
Lola, Julie and Jessica were able to provide prompt, top-notch service and guidance for not only the property, but anything we wanted to do within Cabo. Absolutely recommend and plan on staying here again.
Shayan T, Los Angeles CA | February 2020
"Beautiful location! "

We hosted a bachelorette party here and had plenty of space for the 9 of us :) also the welcome home to margaritas and salsa was amazing!
Our concierge was also extremely responsive and helpful, and even ran out to grab us tape when we forgot it!
Anu P, Sunnyvale CA | January 2020
"Long Birthday Weekend With The Boys"

This is my sixth Villa I have rented in Cabo through Cabo Villas and Villa Haydee didn't disappoint.
Good location and I really like the security of Pedregal. Here are the Cons: the Villa is in the sun most of the day and sitting on the patio can be a little intense until the evening. There is some shade but not much. Lots and lots of stairs. The last room rental is a little dark and not very easy access. Not fun to walk back from town (but read the pros). Here are the pros: good for a large group of single people or couples. Has lots of space to hang out as a group. Beautiful views of town and the Marina. Easy to walk into town (be sure to use the exit out of Pedregal that is down the hill and not the main entrance). Well stocked Villa and the garage is a nice bonus if you rent a car. I was very impressed with the villa and would rent again. But wouldn't rent this with family who has trouble walking or a family with small children. This Villa is for couples (or birthday, bachelor and bachelorette gatherings) that are looking for something with close access to everything yet in the confines of a beautiful Villa in Pedregal.
bernco, Cabo San Lucas, Mexico | October 2019
Management Response
Thank you for the wonderful feedback! We hope to welcome you back to Los Cabos again!
"This house was amazing!"

We were greeted with homemade margaritas and chips!
Our group fell in love with the view that we had of downtown. We had a group of 10 and it was definitely helpful that all four bedrooms had a bathroom each. The distance from the villa to downtown is doable however, we found ourselves doing shuttle/cab most of the time due the house being on a steep hill. It cost about $3/$4 + tip per person. Our concierge was attentive and made sure that we had a ride each time we went out. We would definitely stay here again!
Jia L, Sacramento CA | September 2019
"Gorgeous!!"

Beautiful home with everything you might need.
The view is unbelievable. The kids enjoyed the pool so much.... it was the favorite part of their vacation. Just a quick walk to the marina and downtown area. I highly recommend Villa Haydee
Passport53495038813 | July 2019
Management Response
Thank you for staying with us! Villa Haydee is a delightful home and the views are fantastic. We are happy to hear you enjoyed your stay and hope to welcome you back soon.
"Very Helpful "

Lola was very helpful in the coordination and communication that led up to our arrival.
Julio L, Sacramento CA | July 2019
Management Response
Thank you for your feedback! We are glad to hear that Lola was helpful in planning your Los Cabos vacation.
"What a Location!"

Went to Cabo with a group of friends from New Zealand - Was definitely an eye opening experience.
The weather was absolutely stunning the whole time we were in Cabo. We stayed at Villa Haydee the entire time. It was awesome using this spot as our base while we ventured out exploring the region. The pool and hot-tub were a welcome luxury returning back every day. The house was spotless and the staff that tended to the property were extremely friendly and accomodating. The rooms are very large and us boys are not the small kind either. The views in the morning were amazing. Really appreciated having such a beautiful home to stay in.
LesJ130 | June 2018
Management Response
Thank you for your review! We are glad that your group enjoyed Villa Haydee and its wonderful amenities!
"Villa Haydee - yet another visit ! 1st class"

Hey hey hey !
Yet another visit to Villa Haydee ! This time with two new colleagues who have never been to this villa. These two were speechless... as they stood by the pool patio, with a stunned look on their faces ... taking in the city lights as the evening dusk turned to night ! Soon it was happy hour (s) poolside with prosecco and margaritas! An enjoyable evening at the well appointed villa ! The morning saw us telling tales in the spacious dining area, over a home cooked meal in the fully equipped kitchen! Après golf found us poolside relaxing ... recounting the numerous putts and tall stories of drives gone astray. This four bedroom villa is without a doubt one of the best deals around ... and made possible by the ever hospitable and caring folks at Cabo Villas ! Thanks again Ashley and crew! We will be back sooner than you think!!
chocolatethunder4, Calgary, Canada | November 2017
Management Response
Hello and thank you so much for your review! We are so glad to hear that your group had a great stay! We look forward to welcoming you back to the wonderful Villa Haydee!
"Great Villa"

Very clean, excellent staff upon arrival, will benefit from rental car as Pedregal is very hilly to walk to main strip.
Only suggestion is to cool home hours upon arrival in summer months and add televisions in all bedrooms. Overall very satisfied and would stay again.
Tomeka D | June 2017
Management Response
We agree - Villa Haydee really is a great villa in an excellent location. We appreciate the suggestion and will be sure to turn the A/C on a bit earlier for you next time (we do cool the homes before arrival). We will also consider adding televisions to the other bedrooms. Thanks for staying with us, we are so happy that you enjoyed the villa. We look forward to welcoming you back again in the future!

This house was amazing.
perfect location. Gorgeous view. We took advantage of some of the additional offerings like the pre-stocked groceries and would highly recommend it. I would definitely stay here again!
Jarred, Austin | April 2017
"Magnifico - mas fina ...mejor"

That is about the extent of my Spanish !
Folks .. this place is fantastic! Close to the main gate at Pedregal, so well within walking distance to the main drag and the marina ! A well kept, clean, secure and friendly villa with all the amenities for a small group of friends to enjoy! The view is spectacular ...especially in the evening ...from the hot tub .. with a cold Prosecco overlooking the marina ! The kitchen is well equipped and the beds are very comfortable. It's also nice not to have to share bathrooms !!! We were there on a golf excursion ... but ended up spending more time at the villa basking in the pool ... on the deck ...BBQ'ing.. Ashley at Cabo Villas set this up for us... and she was a delight to deal with ! No hassles and very accommodating of our hectic schedule arriving at Cabo. We are booked to go there again ... 2017 ... same group of friends....that speaks for itself !!!
chocolatethunder4, Calgary, Canada | October 2016
"Great Experience"

Villa Haydee was nice!
the space was great for a group of 8 and I loved having a private pool and hot tub!! cheers for a wonderful space and a great vacation! We had issues with the AC leaking in one of the bedrooms but the repair service was quick with repairing the issue. The bathroom was not the sparkling clean that I thought it would be... there was blonde hair in the shower upon arrival and still there after the cleaning crew left.. (I have brown hair) but we cleaned the space anyway. overall I had a great trip and would return to Los Cabos and will probably stay in Villa Haydee or one close by
Victoria C | August 2016
"We love it there"

This was our second trip to Cabo and Villa Haydee.
There were 12 of us sharing two houses. Both houses are beautiful and clean, with an amazing view of the town and the Sea of Cortez. Very convenient to town by taxi, and even a nice walk if you don't mind the heat. The property manager was extremely attentive and helpful with taxis and entertainment.
Josh L, Los Angeles, California, United States | September 2015
"One of our best stays in Cabo"

Villa Haydee was the perfect place for our party of six adults.
Lots of room with all the amenities we needed. The bedrooms were spacious with our own ensuites. Fabulous view of the marina from poolside. Unless you rent a car be ready for a lot of walking to get downtown or to the beach. The walk up to the house is a bit steep but you get used to it after a while. No weight gain on this holiday!! The representatives at Earth, Sea and Sky Vacations are great to work with and quick to answer any questions. Everything was very well organized and the house was ready for us upon arrival, including Margaritas, chips and salsa. My only recommendation is that return transportation to the airport should be built into the reservation. This was a bit of a hassle and although thinking that Hector (concierge) had made these arrangements at our request the transportation did not arrive so caused a bit of a panic. The staff at the guard house though we're very helpful.
Rhoda50, Lethbridge, Canada | March 2015
Management Response
We appreciate your review! The chips, salsa and margaritas upon arrival is always the perfect start to a Los Cabos vacation. We apologize that the Taxi Hector ordered on your behalf was late, we are working with the Taxi service to assure this does not happen again for our future guests. We always recommend arranging your return transfer in advance through our private transportation company to ensure timeliness. Villa Haydee is perfect for a group of your size, with wonderful views of the ocean and Los Cabos! We are so glad you had a great time and we look forward to helping you go back to Cabo soon!
"Would stay here again and again"

Can't say enough good things about Nik and the crew at ESSV.
From the beginning to the end, Nik was always there, answering my questions (big and small), and always ready to help. From dealing with the contract to arranging special transportation to offering good local advice, Earth Sea Sky Vacations are the best team to go with! Our local contact was helpful as well. Villa Haydee is situated on the hill going up into Pedregal. It's quite a hill. We walked it every day. If you don't want to walk it the local cabs will take you up for a small fee. We had 6 people and the cab ride from town was usually $15-20 total. It has a wonderful patio area! Love that feature. We relaxed in the hot tub or pool most every afternoon or evening. Sometimes mornings. Great view of the marina, cruise ships, fishing fleet, sunrise, etc. We wish we were there right now. The house is well designed for multiple couples or a group. Each bedroom had its own private bath. The kitchen was decently equipped and clean. The dishwasher didn't work the week we were there. We met the property owner a few times. They were trying to get it fixed. Maybe it'll be repaired when you are there :). This didn't hold us back. We just hand washed the dishes. A minor inconvenience. The washer dryer came in handy. We didn't watch any TV but it has those as well. We mostly stayed on the patio area and enjoyed the weather.
Buttsman, Atlanta, Georgia | January 2015
Management Response
We are so happy you enjoyed the lovely Villa Haydee. Nik and our team at ESSV are ready to welcome you back to Cabo SOON!
"Relaxing with a fantastic view"

The master bed was really comfortable.
If you want a firm bed, this is the one you want. The others weren't as firm. The cleaning lady was extremely thorough! We had a great trip and this was within walking distance of the marina for shopping, groceries, etc. We cooked most of our meals in the house and only went out once for dinner. The Crazy Lobster can't be beat! Would stay again at this house.
Adwardington, CA | May 2014
Management Response
Thank you so much for your review of Villa Haydee! This villa is just around a mile to downtown, the beach and the marina, so it's perfectly located for a group of vacationers looking for a good time in Cabo!

We had a wonderful relaxing week in Cabo San Lucas.
We booked our stay at the Villa Haydee in Pedregal through Earth, Sea & Sky Vacations (ESSV / CaboVillas.com). Kim, our travel coordinator did a wonderful job at scheduling our trip. There were no unexpected surprises. The Villa Haydee is a really nice home in Pedregal that overlooks the Sea of Cortez and the marina. Great house overall and very clean. There were 3 couples and we all felt we had our own space. The pool was much smaller than we anticipated. Given the view it would have been great if it were larger; however, the hot tub is adjoining to the pool so we had both which was great for our group. The house is walking distance to the marina, shopping and restaurants, but the streets are hilly getting there and back! We rented a car which was great for quick trips to the store (WM and Sam's). Highly recommend whale watching if you're there for the season and dune buggy riding. We had a blast those two days. We all enjoyed our stay in Cabo and will definitely visit again.
Renee, Rogers, AR | April 2014
"Great Home to Share with Family."

The proximity to town and the layout of the bedrooms and baths was perfect for us.
The views of the marina are awesome and the cleanliness was very good. Thanks for allowing us to stay at the Villa.
Jack, Colorado | April 2014

The whole process of booking to final stay was perfect.
Beautiful pool and view and perfect for our family with a young infant. Pick up from airport excellent wonderful marguerites on arrival. The maid was wonderful. I would suggest there needs to be a few more wine glasses of. Normal size and champagne glasses.
Katherine, Sydney, Australia | December 2013

This was our families first trip to Cabo.
We had such a wonderful time we just booked another week in July of 2014.
Kelly, San Jose, CA | November 2013

My girls and I stayed at Villa Haydee for 3 nights and we loved it!
Lets start from the beginning when I was doing research for my stay in Cabo. We were a group of girls wanting to stay in the same house because we wanted to stick together. After doing extensive research, I came across CaboVillas and looked at all the beautiful villas they had to offer. I clicked on "speak to a cabo specialist" and had a really nice conversation with Nik. He was super helpful and insightful throughout this whole process. Finally I decided to book the Villa. The villa we actually booked was a different one - but it had be flooded by the rainstorm, and we were moved to Villa Haydee which was nicer and bigger than the original one we booked! Villa Haydee was so beautiful! 4 rooms, and a bathroom in for each room - which is perfect for us girls getting ready all at the same time. There is a huge kitchen with all the appliances/utensils/etc that you should need. There are also 2 phones for you to use - one calls back to the US for free, and one is a local line. Our Concierge was a guy named Carlos - and he was such a joy to be around. He was so kind and helpful! We had housekeeping service for a day too, and she was really quick and non-invasive - she asked if she could go into our rooms before entering. Overall, its a pretty steep walk from the main road. It's about a 15/20 min walk to get to the main road, and 25/30 mins to get to main part of town. We walked it a few times during the day (with flats of course), but mainly took the taxi to and from (which you can call Carlos to call you a taxi to go into town). The house is beautiful and sits on a hill with gorgeous views. I definitely would love to stay here again if I return to Cabo.
Betty, San Rafael, CA | September 2013

What a WONDERFUL place to stay, Haydee Villa.
It's right in the center of everything, road a little steep but what a place. The view from the villa is spectacular!!!!!!! It is beautiful inside and yes the pictures of it are right on. People were so friendly and I seemed very safe. Took a fishing boat out and what a trip. I caught a tuna, marlin, and other fish. I was soooo excited. Took a cruise on a boat called Its All Good, we ate, we fished and caught another marlin, and we cruised around and had a wonderful time. Shopping was good and the restaurants were great. Alexander cooked our fish that we caught and oh so goooood!! We also road the dune buggies from Extreme Adventure, WOW!!! if you like riding buggies what a trip. It's a must!! Can't say enough about this place, would go back in a heart beat.
Gerald, Mesquite, TX | September 2013

This villa was spacious, clean, and well equipped.
We had a wonderful time with breathtaking ocean views and beautiful landscape. The villa is well decorated inside and out. I would love to come back.
Renee, Mesquite, TX | August 2013

The stay was great!
The house is beautiful and exactly what we needed for 9 girls ( bachelorette party). Felt very safe and the community is gated - very luxurious. The space was perfect and we never fought for the restroom. The only advice I could give is to try to keep the doors closed because after so much in and out we had some bugs and geckos come into the house but the location & view was great! The grill came very much in handy and the pool was a bit smaller but perfect for us all to get in and relax. I was glad that there was only 2 TVs that way we all got together and chatted. The wifi and vonage was great to contact home. We walked down to a couple of stores but it was too long of a walk to go downtown but the taxi was very cheap between the 9 of us and walking up was a great workout (very steep hill) Victor our concierge manager was very attentive and had great recommendations. Very smooth process and great trip!
Jennifer, San Diego, CA | July 2013
"This will now be an annual trip."

Everything from the booking process to departing was 5 star.
Victor has been our concierge both times I've stayed here, and the service he provides is excellent. Janna did an excellent job with making sure we had all the information we needed to get all members of our party on board for the trip. I don't even know how many people I have referred this villa to along with top quality service I have received, but I plan on bringing 3 new people on our trip this year. Thanks, Pat Geyer
A FlipKey verified reviewer, San Diego | July 2013
Management Response
We here at Earth, Sea & Sky Vacations are so happy that not only has Villa Haydee been a repeat stop for you, but that you also enjoyed our services from pre-travel all the way through to your stay in Cabo. We love to hear these types of reviews!

Villa Haydee was the perfect accommodation for our group (two couples).
Could have easily accommodated more but was not so large as to be too spacious for the four of us. The view from the house and patio area is incredible. The location is quiet and private, yet close to the marina and many restaurants/activities. The hill could be challenging for some but we managed pretty well even though we had one in the group recovering from foot surgery. (Take note the streets within Pedregal can be a little dark at night, however, so navigating the walk could be challenging for some after dark.) With the heated pool and hot tub being just steps outside the door, we used both daily. The patio/pool do became shaded mid-afternoon every day but we found that worked perfectly. We swam early in the day when we wanted sun, and after being out in the sun early, found the shaded pool refreshing. We also took advantage of the gas grill and stayed in two evenings to cook dinners which was fun. Everything was as advertised and then some. Although my husband and I are seasoned Cabo travelers and are comfortable navigating the town it was nice to have Victor available to help us when we wanted or needed help with dinner or activity reservations or cabs. He was at the house to greet us and give us a tour upon arrival as well as to see us off the morning of our departure. He provided us outstanding service – always answering the phone when we called (never once did we get voicemail). When we encountered a couple of very small hitches he addressed them immediately and graciously. We could not have asked for more. Nik with ESSV handled our reservation process which went very smoothly. He was able to answer questions we had in advance of the trip and provided us everything we needed. Villa Haydee was a nice change from the normal hustle and bustle of a hotel and made for a very relaxing vacation. We definitely hope to return. Recommended for: Girls Getaway, Families with Young Children, Romantic Getaway
Michelle, Oalathe, KS | April 2013

Our family of five (three children) stayed at the Villa Haydee for spring break.
When you first pull into Pedregal a gated community you are blown away by the beautiful landscape and spectacular villas built into the mountains. We were greeted by Carlos(a total sweetheart) who gave us a tour of the villa and definitely goes out of his way to make sure your stay is wonderful. The interior reminded me of homes in Spain with ratan furnishings-beautifully framed artwork & dark wood-Beautiful. All through the villa is spectacular views from many double window doors located everywhere. Very nice to wake up to! There is so much to do in Cabo-from parasailing to dinner cruises to whale watching and of course just hanging out by the beautiful pool with a view of Pedregal & Cabo. Definitely coming back to Cabo San Lucas-had a blast!
Cynthia, Illinois | April 2013
"We absoulutely loved it!!"

We travelled from Australia and stayed for 2 x weeks after San Fran and Vegas.
Very relaxing. I have read reviews about the steep hill. We didnt mind it. Only took around 7 or 8 minutes to walk down to the main road, which will take you to the Marina and restaurants. Only time we got a Taxi up the hill was when we had purchased groceries (Walmart). They had everything we needed. The Ice broke on the fridge. We rang the caretaker and it was basicall fixed within 8 hours. The Cleaner, Pool Man, Garnender wer all very nice. I would highly recommend Villa Haydee and would go back there again. .
Shari T, Cairns, Australia | March 2013
Management Response
Thank you for your review! We're glad to see that you enjoyed Villa Haydee and that the property management were so helpful. You're welcome back anytime!

The villa was very nice and clean.
It is 5 years old and kept up well. The view during the day and night is great. You are a quick taxi ride to city center. You can walk to the city but not back due to hills. The pool and patio are small but nice for adults. Do not bring kids due to height of villa and the ledge being high with no safety glass or rails. Kitchen was very clean and modern. Beds were very comfy. Showers were clean. No tubs. The laundry was a nice feature to wash a quick load if desired. The villa overall was very spacious and each room had a nice bath connected. The owner lives up above the villa and is a wonderful man to get help if needed. The outdoor space gets shade covered by mid afternoon in March and that is a downfall if you want full days of sun. For us we got ready and headed to the city. We got up really early so we could enjoy the full morning of sun. Bring a sweater or sweatshirt in March as the evenings get chilly. Take time to walk up the hill to view the Pacific and to see the sun set. This place sleeps 7-8 perfectly. The partial bathroom on the main level was nice for everyone to use during the day. Personal bathrooms in each room made getting ready to head out super fast for 7. Making breakfast, lunch or dinner at the villa was fun. The kitchen had plenty of dishes and gadgets to make meal prep fun and easy for 7 adults. The dishwasher was always running. The ice and water were safe to use and that was a bonus at this place. We bought groceries at Costco on morning of arrival and were set for all meals and drinks. We planned ahead. Be sure to visit El Arco and Lover's/Divorce Beach. Take time to go to Baja Brewing Company. Mi Casa has great blended margaritas. Get fish tacos at The Office. Taco Loco was quick and simple. Visit La Majestra Pizzeria for the best pizza in Cabo. It is a great pizza joint and everyone in our group thought it was great quality. Try whale watching with binoculars from the patio or take a $40.00 tour at the marina. We saw great whale activity
Chad, Zumbrota, MN | March 2013

The complimentory car from the airport was excellent after the long journey, the drinks and chips set out for us on arrival was perfect.
The villa itself was beautiful with magnificent views especially from the main bedroom, we walked into the village every day and enjoyed the local cuisine, booked a local fishing charter and swam with the dolphins. The mango bar was entertaining with great music & definately a party atmosphere. Some nights were spent enjoying the in house BBQ with a spa & swim in the pool. Great shopping, we purched some great jewellery and locally woven blankets.I would definately recommend the Villa Haydee to my friends & relatives. The cleaning lady was a delight & most helpful as was the owner,with any queries we had. We frequented Uncle Tonys and D'light restaurants & got to know them really well.I could live in San Lucas Cabo, When I win tattslotto!!!!! I'll be there. regards.
Faye | March 2013

We stayed in Dec 2012 and enjoyed Villa Haydee very much.
The main space is airy. The pool is small, but sufficient for cooling off and the hot tub was great. The beds were comfortable. Plenty of towels and bedding. The kitchen utensils and cookery are not the best, but on par for what you would expect in a vacation rental. The pictures on cabovillas.com are not as good; the villa looks better. The hill is steep and after a few days of trekking up it, we started to take taxis more. Not a deal breaker at all; taxis/vans are inexpensive and plentiful. Great value and would stay again and recommend.
Dave | December 2012