Reviews For Villa Descanso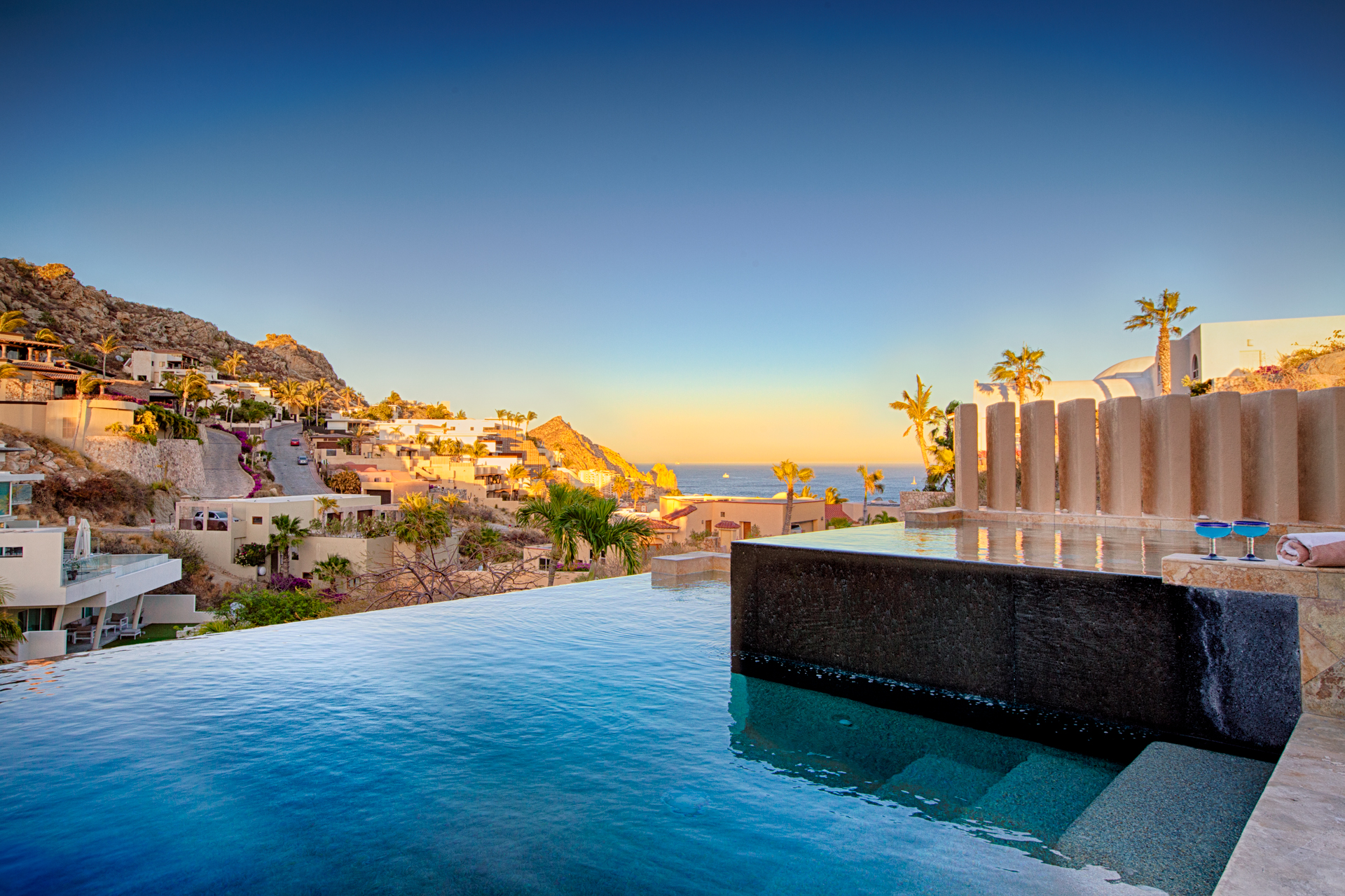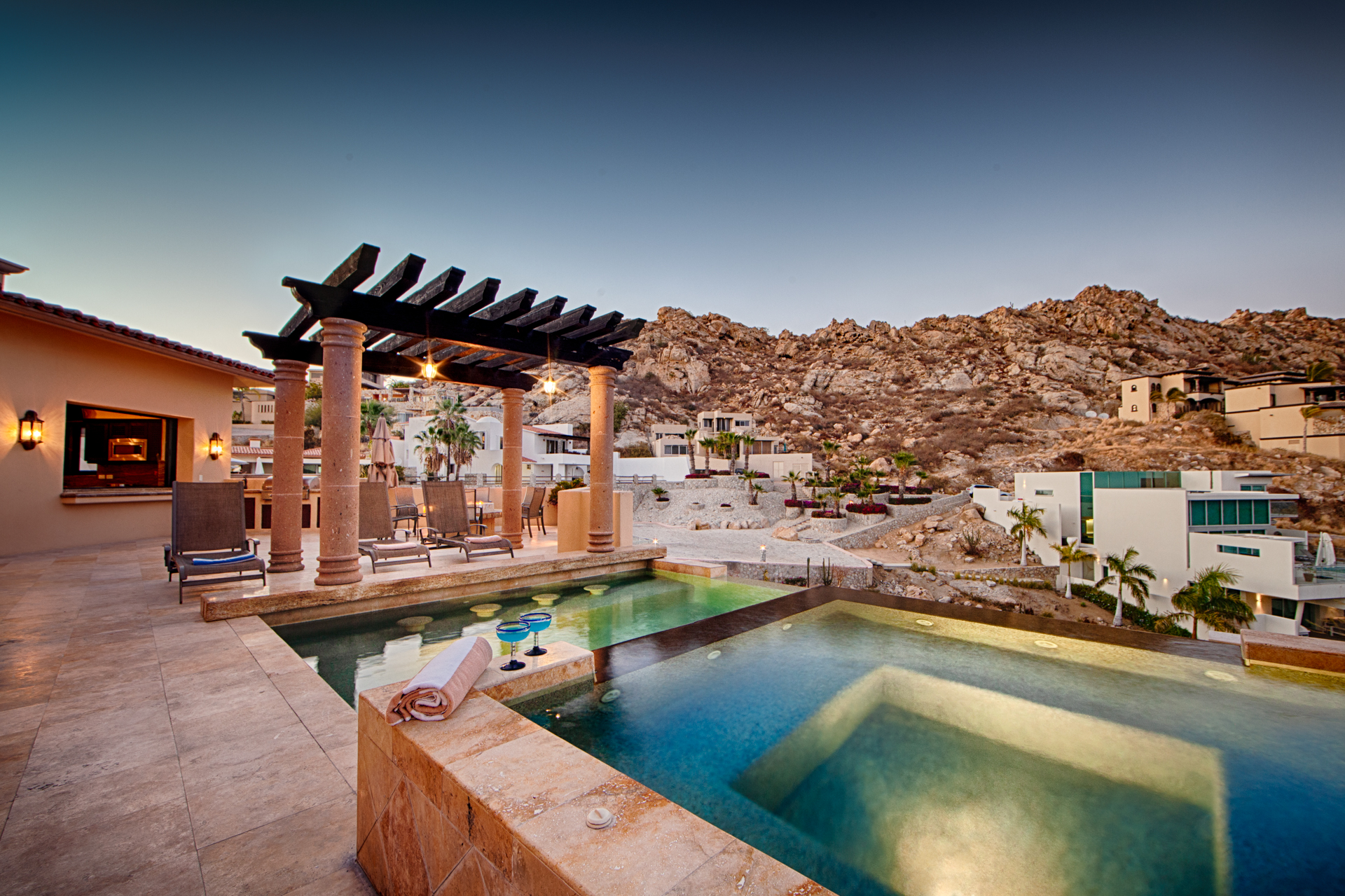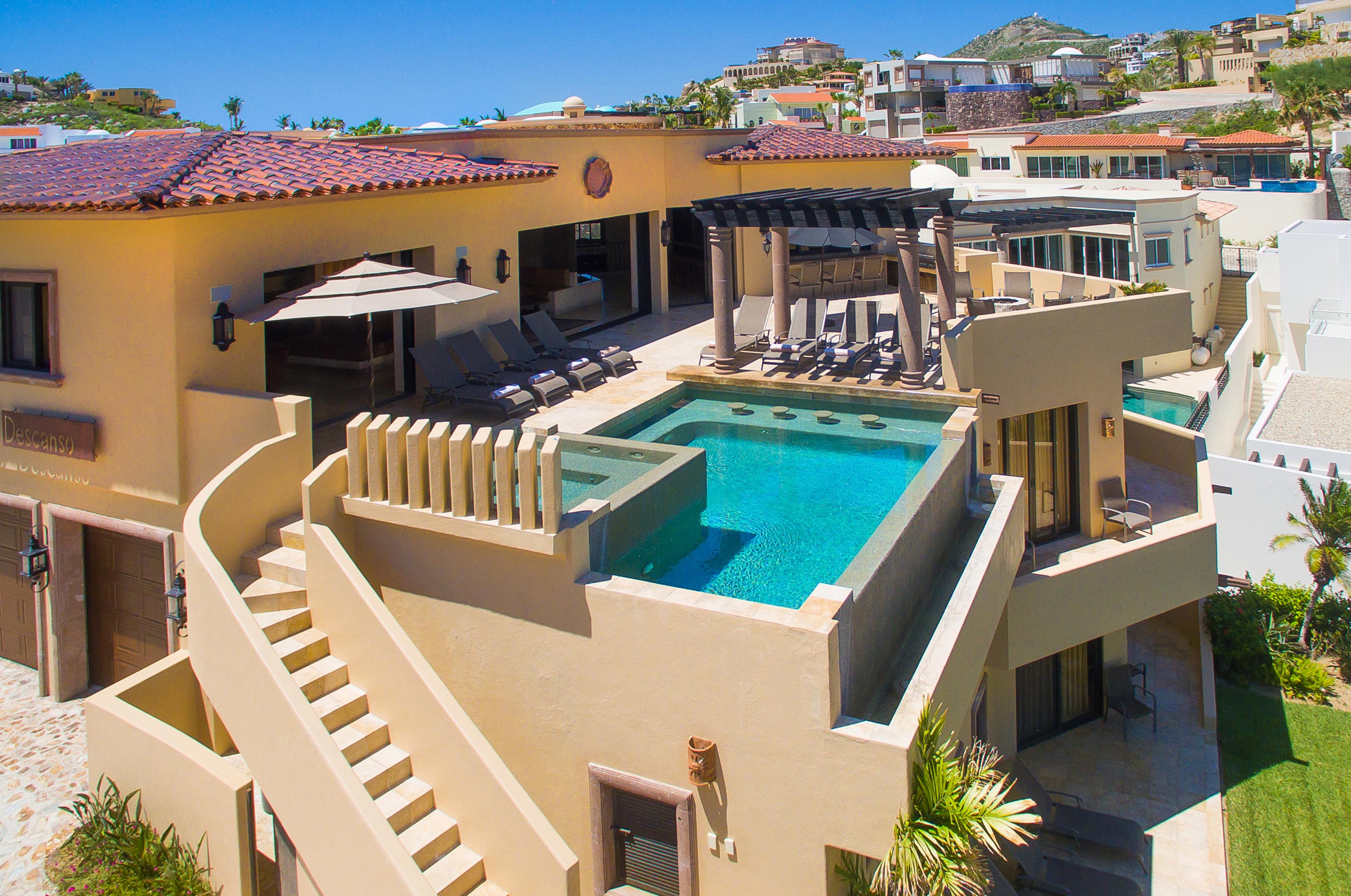 "Fantastic villa"

This is perfect for large groups of friends or family.
The house and pool are beautiful period every room has an ensuite bathroom. We thoroughly enjoyed our stay here and will likely rent this house again. It is also very reasonably priced.
251jabarir | March 2020
Management Response
Thank you for staying with us! We hope to welcome you back soon!
"THIS PLACE IS YUGGEEE! "

Amazing Villa, exactly as advertised.
Lola was a great host, and the onsite staff was very helpful as well. Great views of the coastline and ocean. The infinity pool is fantastic after a long hot day, or night out. The locals call this the "Beverly Hills of Cabo", and I think that is accurate. Pretty swanky neighborhood. We had a large group and everyone had plenty of space in the villa. The security is tight, and we did have some issues with getting Uber and other third party drivers through the front gate, but that probably had more to do with language barrier. Overall this was a fantastic space, and I would definitely stay here again. Thanks Lola!
Alan S, Tuscaloosa AL | September 2019
"Everything was perfect"

Everything was perfect.
Beyond amazing views, house, amenities and location. Absolutely amazing.
Jacob S | January 2019
"Amazing stay"

What a beautiful property this was for a group of 12 of us.
We truly loved the pool and the view was spectacular. Ton of room for the party of our size and we couldn't have been more happier.
Sightsee11155935475 | January 2019
Management Response
Thank you for the wonderful feedback! We are happy to hear you enjoyed your stay at Villa Descanso. We hope to welcome you back to Los Cabos soon!
"Spacious & Luxurious"

Beautiful pool.
Loved the property. Loved working with Alex Koenig at Cabo Villas - she took care of everything and was very responsive. Just a perfect experience all around.
jeffuken, San Francisco, California | March 2018
Management Response
Hello Jeff, we are glad to hear that you had a great stay!
"CABO SAN LUCAS PEDRIGEL"

Beautiful home with great service from the people associated with Cabo Villas.
9 bedrooms all beautiful. This was a golf trip and we all felt the accommodations were terrific and we will go back a third time to the same house next year.
cardiacb0b, San Diego, California | November 2017
Management Response
Hello, we are glad that you had a great stay at Villa Descanso! We look forward to having you for a third time!
"Phenominal Vacation"

I travelled to cabo with a group of 18 people.
The Villa was the highlight of the vacation. The house was spacious and very modern. It could be very difficult to get a taxi from the house so a rental is good to have, and I highly recommend a chef.
Tee1975, Los Angeles, California | August 2016
"Cabo Villas was excellent to work with"

A group of 16 of us rented a Villa from Cabo Villas.
The whole process was seemless and very pleasant. Amber, Julie and Frank were all a pleasure to work with. They helped us find the perfect house for a group that was there for a wedding. They gave us restaurant recommendations and also gave us info for local chefs. Overall it was a wonderful experiance and we will definitely use them again next time we're in Cabo.
Jackie S, Houston, Texas | January 2016
"Amazing house"

Went to cabo and stayed at villa descanso for my brothers bachelor party.
The house was amazing and the staff were great. We had chefs come to the House to cook us dinner which were excellent.
lauren g, New York City, New York | May 2015
Management Response
Thanks so much for sharing your feedback with us! Villa Descanso is such a wonderful property for groups with a spacious floor plan and lovely views of the Pacific Ocean. Many of our guests appreciate the convenient proximity to downtown Cabo as well! We are so glad that you enjoyed the villa and the staff! We hope to help you plan another amazing vacation to Los Cabos in the future.
"What a great place"

We travel often and come to Cabo 4-5 times a year .
This is one of the best villas in Pedregal . You can't beat the service. We have a private chef come in every night. It's spectacular !!!
A FlipKey verified reviewer | July 2014
"NOT FOR FAMILIES WITH SMALL CHILDREN !!"

We just returned from a week's vacation at Villa Descanso.
Granted Pedregal and the Villa are both gorgeous, but I am the mother of a 3 year old and was constantly ill at ease due to the safety concerns. The villa has a steep winding marble staircase from the top floor down to the bottom that gets very slippery and was even difficult and unsafe for my parents in their 80's. On our first day my son had a scary fall down the steepest part of the staircase, tumbling down nearly six steps. Thankfully he was okay and is fairly athletic, though we shudder to think what could have happened. He also slipped two times near the pool which is also very slippery when wet and my mother as well. We had to place towels all around to lower the risk of injury. There are no baths in the villa, only showers, so I had no place to bathe my toddler and 10 month old baby during our stay. Perhaps this is minor, but I think it should be noted for families looking for a villa. There were other issues that made our stay not as relaxing as we would have liked - the constant jackhammering from the construction right next door. Granted the owners make a disclaimer about possible construction, but it was so grating to hear a jackhammer from 9 - 5 everyday and nobody in our party could enjoy a siesta or a nap by the pool during those hours. Fortunado, his wife and Sylvia were amazing and the food was fantastic. The management - primarily Janna from Earth, Sand and Sky were less than on point with regards to our requests and never returned communication in a timely matter. Only after several requests were things accomplished and even after we arrived, we were left high and dry. We had requested a meal on our first night and even created a grocery list at Janna's request, only to learn we had done all that in vain. Hungry from our long travels, the staff were not made aware that they were to cook for us that evening. There seems to be a tremendous lack of communication between the management of the villa and the staff, but thankfully my sist
SarahDavis2014, New York City, New York | April 2014
Management Response
Hello and thank you for your feedback. At Earth, Sea & Sky Vacations we take these types of concerns very seriously. We regret that our customer did not give us the opportunity to resolve the issues while in travel. We were never notified of the issues. We are very sorry that the floors, staircase and areas around the pool were slippery when wet. We advertise that the house has Travertine marble flooring throughout. This definitely should have been taken into consideration before booking, with small children worries of this particular client. We have had many families with small children have a wonderful stay at Villa Descanso and this is the first complaint of this nature we have received. Had we been notified of the issue with this particular family, we would have gotten creative with floor mats and such to resolve it during their stay. We always recommend people of all ages to be extra careful in homes built with this type of flooring; make sure you dry off completely before entering the house and supervising small children. There is also a villa info booklet made available for guests; one section states that the floors can become slippery when wet and to wipe up wet spots to reduce dangers of falling. Construction noise is only a temporary inconvenience of which we can never know when construction will begin in a residential community. Unfortunately, we were not aware that a new construction project began the week of this guest's arrival. Had we been informed by the guests of this inconvenience we certainly would have offered to move the customer to another villa away from the construction (and assisted in moving them). We know how irritating nearby construction can be and how quickly it can ruin an otherwise wonderful vacation so we try to resolve the issue immediately, if we are made aware. The comment about the TVs is correct. The villa's satellite service from the US which provided service to many homes in the Los Cabos area went out of business at the end of February affecting many properties throughout Cabo. The situation has since been resolved and the TVs are now in working order. Again, had we been aware that this was a problem during our client's stay; we would have worked to remedy the situation. We are very sorry that this guest was unhappy with our agent's communication; we were the middle man awaiting responses from a vendor that we don't contract with for cooking services. We strive to provide the best service possible and do have catering companies that we contract with to ensure that service level is met. We have a grocery list that we offer to our clients and a process in place to ensure pre-ordered groceries are delivered and stocked in the houses. Unfortunately, this customer's requests were outside of our normal process and very last minute. There was a human error made in arranging the request and it was overlooked. We did our best to resolve it as quickly as possible and make it up to our mutual customer. One of the highlights of this great house is that the staff is available for services and they do an excellent job. We are available to our customer's by phone 24/7 for any customer service needs, as indicated on all documentation given to all of our clients. If used, we can solve just about any issue that arises.
"AWESOME, FABULOUS, AMAZING...need I say more!"

I just returned from an amazing vacation in Cabo at Villa Descanco, and if it weren't for the need to get back to the daily grind of work, kids, etc.
I would hop back on a plane and fly back to Cabo and Villa Descanso in a heartbeat! This place is AMAZING!!!! We traveled with 8 other couples for an extended 40th birthday celebration for several folks in our group, and Villa Descanso was the perfect place for us all to relax, unwind, feast, drink, dance, and simply enjoy a few days and nights in paradise. From the moment we arrived, the owners were so accommodating in getting us in touch with transportation from the airport directly to the Villa (it's about a 45 minute drive from the airport to Pedregal in Los Cabos). Our driver was kind enough to stop at a market so we could purchase some snacks and drinks for our ride. Once we arrive at the villa, Fortunado, the care-taker, greeted us warmly with some ice cold drinks! The rooms are very spacious and you really can't go wrong in any of the rooms. We arrived a day after the majority of our group so weren't there for the initial room selection, but the room we were given was HUGE! We had Suite #9 - king bed, own bathroom, and two twin beds presumably for any kids or other folks to use. The only challenge with this room in particular is that it doesn't receive much natural light because of it's location in the villa. It does have an additional outside entrance that leads to a walkway to an outdoor patio, but you don't really get any natural light in the room itself. The room does have lots of light fixtures and two ceiling fans which more than accommodate for providing enough light. The kitchen was HUGE, there are tons of flat screen TVs throughout the entire house, a pool table, HUGE dining table (we actually sat 16 people comfortably at this table for breakfast and dinner). The outdoor area has a HUGE grill and firepit, and a great pool and spa for hours of enjoyment and we certainly took advantage of everything! Biggest benefit of this fabulous rental has to be having Futunado there to assist with anything and everything. He and his lovely wife
tj6604, Wilsonville, Oregon | October 2011
"Our Experience"

While the villa was very nice, what made the experience exceptional was the service that was provided us.
Being able to call Fernando anytime day or night (which we sometimes did) was amazing. Having him coordinate things like a chef to come into the villa and cook dinner for us was amazing. It was a great time.
A FlipKey verified reviewer, Sandy Utah | July 2011
"Amazing Villa that Everyone Should Experience!!"

My friends and I rented this amazing villa and the pictures don't do justice for how amazing this house really is!
I would recommend this villa to anyone and the community is great. This villa has all the amenities (DVD, Satellite TV, iPod Hookup, Stereo in every room, Stereo outside, Free calls back to US and more..) and close to downtown. The resort staff was friendly and keep the place clean everyday. All I have to say is stay here if you can, we are coming back!!
A FlipKey verified reviewer, Chicago | May 2010
"Awesome!!"

There was tonnes of room!
The pictures don't do it justice. The weather was beautiful. The pool was deep so the kids got lots of swimming done!! A costco and wal-mart near-by to get all our groceries!!
A FlipKey verified reviewer, Canada | March 2010
"Perfect for a Family Reunion"

We had a wonderful stay at the Villa Descanso in Cabo San Lucas.
The house was beautiful and fully accommodated our large group. The bedrooms are their own private sanctuaries, all with their own bathrooms, TV/Sterio/IPOD players. The common area is enormous and conducive to group eating and gatherings. We particularly loved the outdoor deck and pool area. Some of our group arrived later in the evening, and had a difficult time finding the Villa in the dark. I would suggest more specific directions from ESSV or the owner for those who are arriving on their own. The roads in Pedregal are bumpy and steep with hairpin turns. The Villa is not well marked from the road and difficult to see at night. Those of us who were lucky to arrive by ESSV van, were greated at the Villa by an ESSV representative as well as the caretaker, Fortunado. We were given a formal tour and tried very hard retain all of the electronic instructions, etc. We were relieved that the owner also provides a detailed instruction booklet! We had a few difficulties with the Satelite TV and the fire-pit, which were remedied promptly. The house was very clean and in perfect condition. The floors are all beautiful natural stone. The furniture is very sturdy and beds and sofas were built in. We were pampered by daily cleaning visits from Fortunado and his wife Lulu. The kitchen was fully equipped. We did have to ask for paper towels and napkins, which were promptly provided. The house is designed with 3 main levels requiring considerable stair climbing to the bedrooms and main level. I would imagine this is an issue with many of the homes in Pedregal, since it is built on the side of a mountain! We took advantage of the 2 community tennis courts and our favorite beach for walking was the one right in Pedregal. We recommend a car and made good use of our vehicles to travel into town for food and shopping and to explore other beaches for wonderful snorkeling (Chileno Bay is the best!).
slg2010, FL | January 2010
"Bachelor Party in Cabo"

The house and view is amazing!
Perfect house for entertaining with the pool, hot tub, pool table, integrated sound system, etc, etc. I highly recommend this house for both a group of couples or single guys/girls. Little bit of a journey (10 minutes up/down a steep cobblestone road) into town but it was always easy to get a taxi promptly.
A FlipKey verified reviewer, Los Angeles | November 2009