Reviews For La Casa Bendecida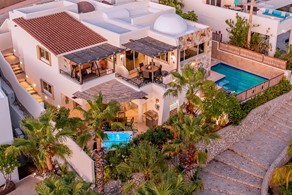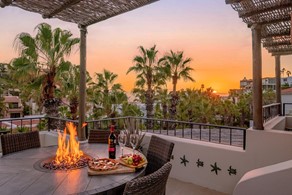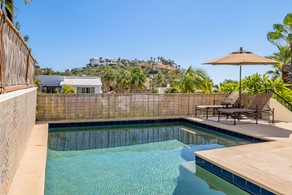 "Must Experience this "Blessed House"!"

The individuals, in particular our Concierge Host- Pablo, who assisted us at La Casa Bendecida- The BLESSED House- all provided top tier services for our Family Celebratory- Birthday trip!
! Again, the staff was fantastic and the food & drinks were all delicious. The Villa is simply beautiful! The pictures nor the videos do not reflect how beautiful this Villa and property truly are. We all plan to return, stay a little longer & bring more of our favorite people to enjoy this spectacular experience soon. #BeverlyHillsofCabo
Anedtra H , Edmond, OK | October 2023
Management Response
Thank you so much for your wonderful feedback! We're thrilled to hear you had such a fantastic experience at La Casa Bendecida. Pablo and our team are dedicated to providing top-tier service, and we're delighted it made your celebratory trip so special. We can't wait to welcome you back for an even longer stay with your favorite people!
"Great house!"

Everything was as expected, house was great!
Chris F. | June 2023
Management Response
Thank you for sharing with us! We're delighted that you enjoyed your stay at La Casa Bendecida and hope to welcome you back again soon!
"Girls trip in Paradise"

The overall experience could not have been better.
Cabovillas made our stay SO easy and had everything we needed, just a text away. I highly, highly, HIGHLY recommend this place. Already telling my friends and family. We will be back soon! Thank you, Giovanni and Oscar, you were amazing.
Shiva R , Saratoga, CA | May 2023
Management Response
We appreciate your review and recommendation of La Casa Bendecida! We are so happy that you had an incredible experience and received excellent service from our team. We look forward to welcoming you back for more amazing memories in paradise!
"La Casa Bendecida "

Beautiful home in the "Beverly Hills" of Cabo.
We had an amazing time enjoying all of the amenities and convenience of the location.
Jestine W , Houston TX | April 2023
"Beautiful villa!"

La Casa Bendicida is the most beautiful home we have stayed in.
A virtual museum of Mexican art and sculptures. Everyday we discovered something beautiful to look at. To say we were impressed us an understatement. The owner's eye for interior is unmatched. Thank you for letting us enjoy the beauty of "the house of the blessed."
Scott W. , Cosmopolis, WA | March 2023
"Loved my stay at this enchanting villa!"

There are many villas in Cabo - but I am so glad we ended up at La Casa Bendecida!
From the moment I arrived, I could feel the love that the owners put into this home. I loved being surrounded by such beautiful Mexican artwork - statues, Mexican prints, handpainted mirrors, unique sinks, Mexican tapestries, and hanging star lights outside near the jacuzzi. This villa exudes a warmth that is luxurious without being pretentious. It's so inviting, vibrant, welcoming, and also cozy! No detail was overlooked - the kitchen is incredibly equipped with anything and everything you could want or need, including a drip coffee maker and a Keurig - AND coffee pods. Even the two downstairs bedrooms have their own Keurigs! I have some great memories of sitting at the table with the firepit, enjoying meals with my group, watching the sunset over the ocean from the porch swing, swimming in the pool, and sitting in the jacuzzi under the stars. It was the perfect place to celebrate my birthday with my loved ones. I can't wait to go back!
Kristi B , Stockton, CA | February 2023
"Perfect Getaway"

We had a group of 6 and this house was the perfect setting for everything we needed.
The house is in a great location (Pedregal), updated/clean, and had lots of space for us. Giovani was wonderful and quick to respond when it came to anything we needed. We also used the catering and spa services which I highly recommend and 10/10 would do again. We are all already talking about when we can come back and visit again!
Arezou G , Santa Barbara, CA | February 2023
Management Response
Thank you for sharing with us! We're so happy that La Casa Bendecida was the perfect villa for your special occasion and you received excellent service from Giovani. The catering and spa services always add the perfect touch to any vacation. We can't wait to welcome you back to Cabo for more amazing memories!
"Impeccably Beautiful Villa!!"

I stayed at La Casa Bendecida in November with my sister and niece for my sister's birthday.
It was amazing!! Whoever designed the villa has impeccable taste and a passion for the local art. The pictures do not do this villa justice! Each room had a theme and was set up to be very comfortable. The downstairs suites each have their own keurig and mini fridge even. We loved sitting at the firepit table to eat and look out at the view, especially during sunset. Having our own pool and hot tub was really fun and just the right size for us. Since this was a celebratory trip, we booked massages and pedicures in the villa and had a chef come and prepare a special dinner. It was truly an experience to remember! Delicious food and we were soo relaxed!! The location was perfect and easy to grab transportation through our concierge to town, beaches, local art galleries, restaurants and shopping. Our concierge was very helpful and really nice. He greeted us with margaritas, special local chocolates and a bottle of tequilla when we arrived. Oh, and the kitchen was beautiful! I really enjoyed cooking in that kitchen and hope I can have one like it someday. Overall, we felt very welcomed and comfortable. We would love to come back again soon!!
Mindy C , Rocklin, CA | November 2022
"Gorgeous traditional Mexican"

This is an amazing house and no detail has been spared.
The traditional Mexican artwork and design style is out of this world ! It is a beautiful home, that has a traditional esthetic but all the modern comforts of home. The house also features a great hot tub and pool and I particularly love the outdoor seating areas for meals or a cocktail at sunset. The location, inside the coveted private Pedregal community is a convenient to the harbor and downtown Cabo. The gated community has 24/7 security, so I felt very safe. Thanks for an incredible stay and I can't wait to return !
Liz M , Huntington Beach, CA | November 2022