Reviews For Villa Carolina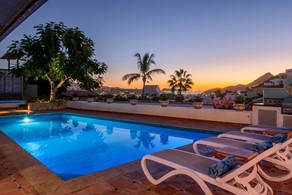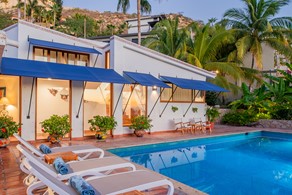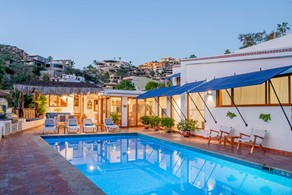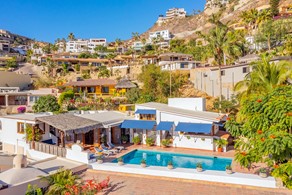 "Villa Carolina"

We had an incredible stay at Villa Carolina, our best stay yet!
From the minute we were greeted by Hector, until the transportation arrived to take us back to the airport, we had a wonderful stay. The villa is the perfect size for our group of four, with a large pool, jacuzzi, and outdoor area. The inside of Villa Carolina was incredible clean, very well maintained and had everything you could possibly expect. We look forward to staying at Villa Carolina on our next visit to Cabo San Lucas. Thank you Cabo Villas for another amazing trip, and making it worry free!
William F , Dryden, MI | October 2023
Management Response
We're absolutely thrilled to hear about your incredible experience at Villa Carolina! It brings us great joy to know that Hector and the villa's amenities made your stay so special. We can't wait to welcome you back for another worry-free trip in paradise!
"Perfect!"

We had an amazing time and the house was perfect!
Michael T. | April 2023
Management Response
Thank you for your feedback! We're so happy you loved your stay at Villa Carolina and look forward to welcoming you back to beautiful Cabo again in the future!
"Top Notch!"

Top Notch!
Cabo Villas was so efficient, professional and made everything easy and pleasurable.
Leigh B , fairfield, CA | April 2023
Management Response
Thank you so much for sharing your positive feedback with us! We are so happy to hear that you enjoyed your stay at Villa Carolina and received exceptional service from our wonderful team. We can't wait to welcome you back for another memorable Cabo vacation!
"Everything we hoped for"

Villa Carolina was everything we had hoped for!
A beautiful well- appointed Villa with a great pool on the hillside facing the Sea of Cortez. Alex Koenig did a great job helping us plan our visit. Giovanni, our concierge was welcoming and attentive to our every need. The only drawback was the daily construction noise, but we know that was something you couldn't control. Thank you for all your help!
Maria L. | December 2022
Management Response
Thank you for wonderful feedback. We're so happy that you loved Villa Carolina and received excellent service from Giovani and Alex! We look forward to welcoming you back in the future!
"Great stay!"

We enjoyed a very fun week at Villa Carolina.
Marlin fishing, dining, and swimming at the beaches.
Matthew K. , Sacramento, CA | November 2022
Management Response
Thank you for sharing with us! We're so happy that you enjoyed your stay with us at Villa Carolina. We look forward to welcoming you back to beautiful Cabo again soon!
"Great villa and location!"

Awesome home!
! Close to the marina and town very secure. We will definitely return!! Thank you!!
Terri M. , Southlake, TX | May 2022
Management Response
Thank you for reviewing your stay with us at Villa Carolina! We are so happy that you loved the villa and convenient location. We look forward to welcoming you back for another unforgettable stay!
"Perfect home and location for three couples!"

We are three couples, lifelong friends, who all loved our week at Villa Carolina.
The home is well stocked with modern appliances, comfortable spaces , 3 king bedrooms each with en-suite bath (one BR is twins assembled to be a king), great kitchen and the best pool and view!! Beach chairs and umbrella. Beach towels, comfy linens, great concierge. We loved that it's right up the hill from town and you can walk there and to the marina. We rented a car from Cabo villas and it all went smoothly. Had dinner at the Waldorf next door (where our daughter was married last year), went on several great water excursions. Also had lovely dinner at Flora and Seven Seas (need to drive closer to San Jose) and one of the best dinners we cooked fish for ourselves. On site caterer was great for the one dinner, lovely service and meal but they did overcook our steak so maybe need oversight if you use them.
Cheryl M , Herndon, VA | March 2022
Management Response
We are so happy that you and your lifelong friends loved your week together at Villa Carolina. It sounds like more incredible memories were made together in Cabo and this was the perfect villa for your vacation. The location of this charming villa, combined with the pool deck and views can't be beat. We hope to welcome you back and try for that perfect steak next round!
"Villa Carolina was great!"

We stayed at Villa Carolina in Dec 2021 while visiting for a family wedding.
The house was wonderful - we had 6 guests (2 couples and 2 individuals) and we had plenty of room! We loved that we could easily walk down the street to be in the downtown area, while also feeling very secluded at night. The pool and outdoor patio area are great! We made breakfast and sat outside every morning. Pablo was AMAZING while we were in town - he was helpful with anything we needed (even when we accidentally locked ourselves out at 10pm!!). Truly a game changer while traveling. I would easily stay at Villa Carolina again!
Eden E , Charleston, SC | December 2021
Management Response
Thank you for reviewing your stay with us at Villa Carolina in the Pedregal! This villa has a great location for guests to be able to walk to town. We're happy you loved the pool and outdoor area, another fan-favorite here. We'll be sure to share your compliments with Pablo and look forward to welcoming you back to Cabo again!
"Amazing Villa"

We just loved Villa Carolina.
The property is absolutely gorgeous and beautifully decorated. The location is also extremely walkable to the harbor and other stores. The pool is so refreshing - perfect water temp & deep, which was nice. The pictures on this listing are very pretty, but they do not do it justice as when you first see it. Very quiet (beyond the construction noise next door). We loved our stay and will be back.
Michele B , Dallas, TX | November 2021
Management Response
Thank you for reviewing your stay with us at Villa Carolina! We're so happy that the villa was even better in person and that you loved the pool and convenient location. We are excited to welcome you again!
"Amazing time at Villa Carolina"

Had an amazing stay here, lots to love about this place!
Ryan P , Irvine CA | January 2021
"Villa Carolina"

Really beautiful house.
Will be back!
Beau B , Nashville TN | January 2021
"Great way to do Cabo"

After dozens of Cabo visits, this was first time to rent a villa.
LOVED it! Villa Carolina was so comfortable and well appointed. And all the cabovilla.com team were fantastic. Having a concierge avail anytime was awesome for the few restaurants we booked and transportation to / from the marina and golf. We used pre stocking for food and drink and it was perfect. Easiest and most relaxing trip. And villa Carolina A/C worked great and the sparkling pool at the end of each long day fishing was exactly what our group needed. I'll do Cabo w a villa from now on.
John T , Dallas TX | August 2020
"Amazing! "

We had an amazing time!
Manny P , Indio CA | July 2019
"Even nicer in person than in photos!"

Beautiful interior, grounds (with our own private pool), and view of the sea from the patio.
There is plenty of privacy without feeling isolated. Staff were very professional and attentive. Walking distance to many restaurants and shops. Also, it is easy to access many activities (e.g. water sports, fishing, tours). We look forward to booking again in the future!
Tourist67913105258 | June 2019
Management Response
Thank you for staying with us at Villa Carolina! We hope to welcome you back to Los Cabos again soon!
"Amazing. Highly Recommend."

The pictures don't do this villa nearly justice.
It was even more amazing. Beautiful layout, huge beds, amazing view of the sea and in a very safe area. The best part about this place was Ivan, our concierge. He was available to us 24/7, made sure that everything we had ordered was provided, he went out of his way to make sure we were safe getting around town and really made our experience absolutely amazing. I highly recommend this villa.
Lo T , San Diego, California | March 2019
Management Response
Thank you for staying with us at Villa Carolina! We are delighted to hear that you enjoyed the villa and our staff exceeded your expectations.

Our family of five enjoyed a week's stay at Villa Carolina.
The house was lovely and the staff took good care of us. The location close to town was good for access but can be noisy on weekend nights. We would stay here again....and hope to!
Meg , San Francisco | April 2017
"Incredible as promised!!!"

This place was absolutely perfect!
! The Villa was clean and very well cared for. At every turn we were suprised at the 24/7 service from Cabo Villas----From Booking with Lola to our outstanding Concierge service with Giovanni. It was an easy walk to the Marina shops and Bars even for my 70 year old Mother. The pool area and outdoor cooking area was our central hangout area with great views of the ships and harbor!!! We will do this trip again soon.
Greg R | February 2017
Management Response
We are thrilled that Lola was able to find you the perfect spot for your vacation! Villa Carolina really is a special place in a very convenient location. Lola, Giovanni and the entire team of Cabovillas looks forward to welcoming you back to Cabo again SOON!
"Three Fantastic Days at Villa Carolina!"

Just returned from a wonderful 3 days at Villa Carolina!
Our group of friends travels to Cabo regularly and this was our first time staying in Pedregal. Needless to say, we were very impressed. Upon arrival, we were greeted by our gracious host Giovanni with margaritas and a tour of the Villa. The Villa was beautiful with an authentic Mexican vibe and a pool that is one of the best in Pedregal. We spent countless hours outside enjoying the bbq and view of the ocean. It was a refreshing change from our usual visits to the hotels. The accommodations were comfortable with all the amenities including a washer & dryer. (big plus!) The proximity to town & the marine was also a bonus and you just can't beat the price. Lastly, the manager Giovanni really made the trip spectacular. He was always available and attentive, having food, drinks & transportation provided upon request. A really great guy! We will definitely be back!
Christian H , Burlingame, California | May 2016

Villa Carolina - Excellent !
š š š š š We stayed at the Villa Carolina for 7 weeks. This property, it's location and all it had to offer was the highlight of our visit. The staff were superb, Angel, Maria, Tino, Antonio and Agrepino our faithful gardener were the best ever. We were faced with a bit of an emergency and Angel responded instantly and we had a Doctor on site within 15 minutes. This is a very comfy place with a lot of character, with the BEST pool we've experienced. From my initial discussions with Jessica Felts to departure mid-March this was a great experience.
Dee , Baysville | March 2016
"Sorry to be leaving"

what a wonderful time we have had, really sorry to be leaving.
The pool is great, really good for swimming, with very nice surrounding patio, plants and a wonderful shady area for those very hot days.The villa may need a bit of updating, but nothing major. We always had plenty of hot water, the air con.worked brilliantly when we needed it, usually just to cool the bedrooms down for a few mins. Dishwasher, washing machine and BBQ worked very well. Our housekeeper (Maria)and pool guy ( Antonio) were excellent and Tino the property manager very helpful and charming. We are normally in San Jose for these weeks, but due to last years hurricane our hotel is still not open. What a wonderful find Villa Carolina was. Only thing to watch is the walk down the hill when going to town in the evening, it is very dark and uneven, take a torch is the best remedy. Thank you for a really lovely 2 weeks.
Susan J | March 2015
"Beautiful large pool, close to town with a view."

Lovely large, deep pool.
Nice kitchen and beautiful outdoor covered patio with great grill. Most folks won't stay long enough to notice any shortcomings. We stayed for a month and there were a few things we would have different if we could have. Everything here is sturdy but old. Particularly the uncomfortable living room furniture and 25 year old TV. The appliances were nice to have but also old. The bedding was also from 1980, but the beds were firm. We didn't need air conditioning during our stay but there are disconcerting signs threatening unrepairable breakdowns if used over 77 degrees. Don't get me wrong now this place is nice. Perfect for a family for sure. But in our case, we were quite disappointed to find construction right next door overlooking pool for the entire month. We endured 5 days a week of slicing noise from tile cutters and constant pounding. I guess there's nothing you can do about that but had I known I would have at least asked and might have gone with another villa had I been aware. The homes here are very close together so noise from parties and adjacent homes plus people looking at you is common and should be anticipated. Aside from those items which would likely not be an issue for most folks looking to enjoy Cabo for a week this place is a good bargain for the money and once again the pool is magnificent. Finally , the staff is really attentive. They tried or succeeded at resolving all problems we had instantly and graciously. The pool and outdoor staff is very efficient and kind and the house staff and manager are both very good at their jobs and pleasant to be around. The Cabo villa staff was also VERY helpful as well from the office staff to the onsite concierge.
jollyfox , Chico, California | February 2015
Management Response
We were so appreciative of this feedback and have passed it along to the owner. While some of the furnishing are older, it is in great working condition and does not diminish the excellent value of this home. The pool and outdoor area are a definite highlight of this marvelous Villa! Had we been notified that the construction was a problem we would have done what we could to work with the construction crew to limit their noise during this extended stay. In some cases when we are notified and the noise is a problem, we will assist in relocating guests at no expense to them. We are so glad that despite the noise next door, this was an enjoyable vacation at Villa Carolina!

We have been coming to Cabo for several years now.
Love it but always love it better when Victor Martinez is geeting us. He is very good and what he does and very personable. Also always happy when Tino and Maria are taking care of property. They make everything very pleasant. Villa Corolina was beautiful and very well maintained. Everything about it was perfect.
Jeff , Eagle River, WI | March 2014
"Outstanding in every way."

Our stay at Villa Carolina was excellent.
The villa is maintained beautifully and has all the amenities you need. The bedrooms are all very comfortable and quiet. The pool and patio are fantastic with great views of town and the rest of Pedregal. We had great service from property management as well as adriana from Cabo Villas. The 15 minute walk to downtown is no problem. We would absolutely stay at Villa Carolina again.
Jason K. , CA | November 2013
Management Response
We are so glad that you enjoyed Villa Carolina! Sleeping up to 6 people, this villa is great for families, small groups or couples. It has fantastic views and a beautiful outside patio. We here at Earth, Sea & Sky Vacations (CaboVillas.com) look forward to booking your next stay at Carolina!
"Lots of room, private, and close to the action"

My brother and I took my dad to Cabo to celebrate his 70th birthday and stayed three nights at Villa Carolina.
A great spot that worked perfectly for us. What we liked: - three good sized (large) bedrooms each with their own bathroom - very good condition and clean - large in ground pool that is well maintained - views from the deck/pool of the ocean and town (you're on the side of a hill looking down); we actually could see whales breach in the distance! - well stocked and functional kitchen - a 10 minute walk to downtown shopping, restaurants, bars, marina, etc. - concierge, maid and pool service was good - I.P. phone for free long distance calls in North America - gated community and very safe What could have been better: - wifi was very slow, but worked - tv/stereo very old and moderately functional (can't use ipod). That said the satellite tv was good. - the walk back to the house is uphill, so if you have someone that's not in reasonable walking shape this might be a problem (we often took a cab home). Recommendations: - have the preorder drinks/groceries so you can start your holiday without delay - the limo service organized by the rental company was very reasonable and professional - if you like Italian each at Romeo and Juliette's, which is very close to the house.
Tom D , Delray Beach, Florida | March 2013
Management Response
Thank you so much for your great review! This is an absolutely fantastic villa in a great location. We also would like to thank you for mentioning the WiFi and tv/stereo concerns, so that we could advise the villa owners to resolve these matters. For future consideration, WiFi unfortunately is rather slow all around Cabo, and there is actually a cord attached to the stereo for use with an iPod. The owner plans to leave better instructions for this for future guests. Thank you once again for your review!
"The perfect place"

This place is ridiculously special.
Sure, it's in the best location with only a 5 minute walk to town. Importantly that means you barely get winded as you saunter back from the 'best night ever.' Yes, it has a refreshing pool that you can float in for hours to beat the heat. Of course it has an outdoor bar with built in grill and palapa like shade, because when you land the big one, you need a magically delicious place to enjoy your hard earned catch. Imperatively it has the biggest king beds i've ever slept in and that means a great night of sleep every night. But better than all of the amenities that make it feel like the home I wish I could call home every day, it's the place I love to vacation again and again. I've stayed at Villa Carolina 3 times now and can't wait for the next holiday.
A FlipKey verified reviewer , Sausalito | October 2012
"Location, views, charm, and more..."

I have nothing but outstanding feedback for Villa Carolina.
My husband and I have now stayed there three times and each time wants us coming back for more! We just left last week, but we are already dreaming about the colors, the stools at the kitchen counter top, the outdoor bbq, the views, the poolside lounging, the short walk to down, the crooked necked giraffe, the greatest living ever. It is the best that Cabo has to offer in terms of charm, convenience, views, and more. We have been coming to Cabo for over 10 years and stayed in many houses, hotels, resorts etc and we can't wait to come back and book a stay at Villa Carolina very soon!
A FlipKey verified reviewer , Sausalito | October 2012
"The Goldilocks Villa Experience"

From the first moment I walked through the door of Villa Carolina, the place immediately felt and remains for me the "just right" pad for a stay in Cabo.
Everything about it is welcoming and just so comfortable that every time I go back (and yes I like it so much I have been back several times) it feels like coming home. The layout is open and lightfilled with plenty of room to spread out in the common places or retreat to one of the 3 bedrooms. The patio and pool are spacious and inviting with a lovely view of the harbor in front and hills behind. A recent remodel also fixed an annoying "curb" around the pool so no more stubbed toes. As we love to cook, we also appreciate the kitchen which is a pleasure to work in and has all the amenities you could ask for to prepare a fine meal with the local fare. As you are not too high up the hillside, walking to and from town or up to the tennis courts and spa is equally a snap. Tino, the manager, is terrific and very responsive and guest oriented, resolving the few issues we encountered quickly with minimal to no disruption to our time at the property. All in all, I love this place and plan to return again. Give it a try - I think you'll dig it as well.
A FlipKey verified reviewer , San Francisco | October 2012
"Cabo is a fun, relaxing and exciting venue for vacationing."

Villa Carolina was a wonderful home with many amenities.
Loved the big kitchen with bar and grill! It had everything necessary to make simple meals. The villa location is great with a phenominal view down the hill and over the harbor. The service people were nice and very accomodating. The town of Cabo is filled with wonderful and reasonably priced restaurants. Getting around is easy and though we had a car, much of it can be done on foot. We traveled to San Jose for some shopping and sight seeing along the shore on the way. Earth, Sea, and Sky arranged a whale watching trip for us and it was one of the best things I've ever done. They took care of all the arrangements and we saw many whales, close up and personal! I will use Earth, Sea, and Sky every time we want to return to Cabo.
Connie , Florida | March 2012
"great location, view and villa!"

Clean, roomy, walk to town, well equipted and maintained.
Gated neighborhood close to fishing charters. no car needed.
TT , DC | November 2010
"Great Place!"

This villa absolutely amazing.
Great rooms, great open area and everything you needed was included. The villa could use a few more lawn chairs outside to sunbathe on but other than that, it was great. As a side note, the concierge will pop in without notice and this can become awkward. Also as a tip, go out and find deals for activities yourself; sometimes what the concierge tells you is a lot higher than what you would have to pay. I would definitely recommend Villa Carolina for any vacation in Cabo. Well worth it.
A FlipKey verified reviewer , New Jersey | March 2010