Croc Experience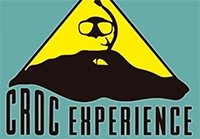 Experience the thrill of an underwater encounter with a crocodile in a state-of-the-art tank while safely protected in a shark diving cage. This is a once-in-a-lifetime opportunity to view these magnificent predators up close. Croc Experience provides each visitor a memorable and educational encounter. Through practical demonstrations, education-based programs about species conservation, and interactive shows, each visitor will have the opportunity to gain an unforgettable memory.
Croc Experience arises from working hand-in-hand with organizations responsible for relocating rescued species from various parts of the country. The main purpose is to provide high quality care to each of the species that are part of the park by trained veterinarians, including caring for each with a specialized diet. Some animals will be eventually reintegrated back into their natural habitat if possible. This is a unique place where you can interact with exotic creatures and gain knowledge and awareness of their special conservation issues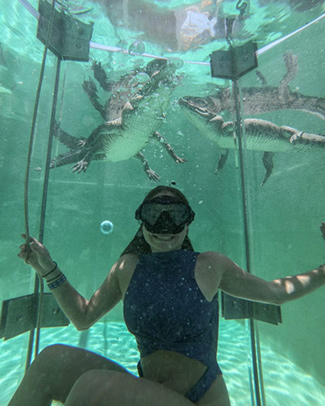 Tour Details:
Immerse yourself, for 15 minutes per couple, in a specialized 2-inch acrylic cage (built for immersion with sharks) protecting you from any danger and look face to face with these majestic creatures. Interact and learn about baby crocodiles, lemurs, and kinkajou.
Tour Duration:
2 Hours
Tour Operates:
Daily 9:00am, 11:30am, 1:50pm, 4:10pm
Adults:
$175.00 (age 12+)
Children:
$145.00 (age 5-11 requires adult supervision)
Tour Includes:
Roundtrip Transportation*, Interactive information, Immersion in tank, 1 Drink, Interaction with crocodiles, lemurs and kinkajou
Note: 10 people maximum per tour
Prices include IVA/sales tax
Small artesian restaurant available at additional cost

*Roundtrip Transportation to/from Resorts only