A Matter of Taste Catering
Chef Services & Catering in Los Cabos
A Matter of Taste provides private in-villa chef services, gourmet catering and full special event coordination designed exclusively for each client. No guest list is too large or too small.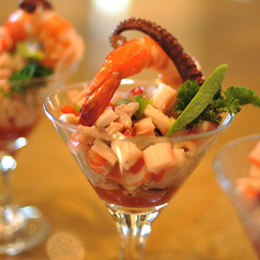 Whether your event is a casual get-together with family at your villa, a business luncheon or a black tie gala, we will take care of all your dining needs. Each and every occasion created by A Matter of Taste is tailored to your personal style, preferences and budget. Our passion for artful presentation will dazzle and delight you. Whether your tastes run to big & bold or light & delicate, we can personalize a perfect menu for your needs. Outstanding service and innovative cuisine will make your in-villa dining experience one to remember.
We look forward to helping you plan a perfect menu for your event, destination wedding or villa vacation. Contact our team at to get started.
Allergy-free menus available, contact us for more information!
Planning a dinner party? Check out optional Party & Event Décor Options...
A Matter of Taste Catering has earned the Punto Limpio designation for enhanced cleaning & hygiene.
Special:

Free 1 hour margarita bar with the purchase of the Taco Bar dinner.
Contact us for more details.
The Appetizer Tables below are all drop-offs with no staffing included, please let us know if you require staff (Prices per person, minimum order of four)
Full-Service Lunch Options
Seasonal Tasting Menus
As the holiday season approaches in Los Cabos, we are delighted to introduce our new seasonal menus. Our "Chef Creativo" has meticulously crafted these tasting experiences, incorporating the finest seasonal ingredients sourced from local vendors. Featuring both four-course and seven-course selections, these menus exemplify the thriving culinary scene of Cabo. Elevate your dining experience by opting for our premium Mexican wine or tequila pairing, curated by our sommelier.
Seasonal Dinner Menus
Complementing our chef's tasting menus, we are excited to introduce the following culinary creations, which can be tailored to suit your preferences. Elevate your dining experience further with our optional wine or tequila pairing service.
International Dinner Menus
Mix and match options are available to create your own specialized menu! Contact us to get started!
Kids' Menu
Wedding Menus
Contact us to discuss customized wedding catering packages.
Holiday Menus
Enjoy a beautiful holiday dinner with family and friends. Packages include dinner only or dinner plus the added option of a custom table setting for your Los Cabos Villa rental!
Staff Member
Hourly Rate
Holiday Rate (hr)
Chef
$50
$99
Chef's Assistant
$31
$62
Bartender
$31
$62
Wait Staff
$31
$62
Tequila Expert
$50
Sommelier
$50
Mixologist
$50
Event Coordinator
$50
Butler
$50
Margarita Bar
$28/person, per hour (max 3 margaritas per person; contact us for details)
Holiday Dinner Party Décor
Make your holiday villa dining experience even more special and memorable with seasonal table scape packages offering a variety of designer accents for your celebration. Whether you are looking for a warm autumn color palette and pumpkin accents for Thanksgiving dinner, or sparkling decorative touches for your Christmas or New Year's Eve gathering, we can create the perfect ambiance for you. Dinner Party Decor Packages...
---
* All prices are per person, 4 person minimum (An 18% Administration fee will be added to all packages. 16% IVA taxes & gratuities not included). All prices are subject to 3.75% booking fee. Pricing for all passed hors d'oeuvres are based on two pieces per person per appetizer. Additional $50 service fee for East Cape/San José villas will apply. Drop off service only for Christmas Eve/Day. Customized menus are available. Contact your Cabo specialist for options and pricing. Allergy-free menus available, contact us for more information! Staff normally arrives 30-45 minutes prior to scheduled service time.