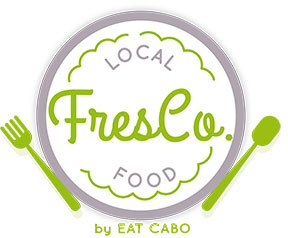 All-Inclusive Villa Dining Packages, Catering & Drop-Off Menus
FresCo. By EAT Cabo Catering has a distinguished reputation in Los Cabos, offering gourmet catering and great service. We have teamed up with EAT Cabo Catering to provide convenient villa dining packages to make your vacation memorable-and delicious! Our all-inclusive villa dining packages make it easy to enjoy a range of meals, snacks and beverages in your villa. Let us bring wonderful cuisine right to you!
Eat Cabo Offers Several Kinds of Menus:
Drop Off - Ideal for your privacy
All-Inclusive Packages - Allow you to enjoy international flavors throughout the day!
Welcome Packages
Meals only
Open bar
Cooking classes
How Our Menu Options Work:
Reserve your package & select items.
Your meals are prepared & served (with cleanup included) in-house by a talented chef and experienced staff.
Kick back and enjoy!
Prices are per service, per person unless noted otherwise. 16% tax, 15% service charge and gratuity additional. Chef and cleaning staff included in the price except for drop-off menus. Minimum 4 people package. Staff normally arrives 30-45 minutes prior to scheduled service time.
Viva Mexico
$60 /4 people drop-off
$85 w/1 hr butler
Mexican Salsa
Guacamole
Quesadillas
Mini Chicken Tacos
Poblano and Cheese Turnovers
Margarita Cadillac
Los Cabos
$80 /4 people drop-off
$100 w/1 hr butler
Roasted Corn and Chipotle Sauce
Guacamole
Seabass and Mango Ceviche
Cocktail Shrimp with Marinara Sauce
Chipotle Chicken Empanadas
Margarita Cadillac
Tapas
$80 /4 people drop-off
$100 w/1 hr butler
Prosciutto and Manchego Crostini
Grilled Vegetables and Goat Cheese
Mini Quiche Lorraine
Serrano Ham Croquettes
Tomato and Mozarella Brochette
Margarita Cadillac
Deli Table
$90 /4 people drop-off
$110 w/1 hr butler
Chicken Breast
Prosciutto
Turkey Breast
Salami
Peperoni
Crudite
Baguette
Focaccia
Olives
Gouda, Monterrey and Manchego Cheese
Honey Mustard, Chipotle and Jalapeño Dressing
Margarita Cadillac
Kid's Welcome Package
$55 /4 people drop-off
Chicken Fingers
Quesadillas
Spaghetti Marinara
Brownie
Drop Off Breakfast Options:
Drop Off Breakfast 1
$16.50
Breakfast burrito
Orange Juice
Seasonal Fruit w/natural yogurt and granola
Scrambled eggs, bacon, ham, refried beans, Monterrey jack, Mexican sauce
Drop Off Breakfast 2
$17.50
Scrambled eggs, Canadian bacon, cheddar cheese
Orange juice
Seasonal fruit w/natural yogurt and granola
Carrot or banana muffins
English muffin (2)
Drop Off Breakfast 3
$19.00
Smoked salmon, hardboiled egg, capers, red onion and green salad
Orange juice
Seasonal fruit w/natural yogurt and granola
Bagel and lox
Breakfast served 6:00 am - 10:30 am
Drop Off Lunch 1
$19.50
Club sandwich
Caesar salad
Brownie
Drop Off Lunch 2
$21.50
Smoked turkey panini or grilled vegetables and goat cheese panini
Tomato and panela salad
Apple tart
Drop Off Lunch 3
$21.50
Philly steak sandwich or pepito
Mixed green salad
Flan
Drop Off Lunch 4
$21.50
Fettuccini au pesto
Stuffed chicken breast w/ potato salad
Cheese cake
101 - Home-style chicken chilaquiles served with roasted guajillo and pasilla salsa, fresh cheese, and refried beans. $22.00
Breakfast Burrito - Scrambled eggs with bacon and cheddar cheese and Bean burritos served with machaca, pico de gallo and a roasted chili salsa wrapped in a fresh flour tortilla. $22.00
Egg Choice - Fried, scrambled, rancheros you choose, farm potatoes and refried beans.$22.00
Enchiladas - With red or green sauce, your choice of cheese or chicken enchiladas accompanied with refried beans. $22.00
Benedictine - Eggs Benedict with our traditional Hollandaise sauce, farm potatoes and arugula salad, flap jacks, orange juice, grape fruit juice, seasonal fruit. $25.00
The River - Smoked salmon omelette, with grilled asparagus and cherry tomatoes, pancakes with homemade fruit compote, scones, seasonal fruit plate, orange and grape fruit juice. $25.00
Hacienda - Lobster Benedictines with chipotle Hollandaise, farm potatoes, grilled asparagus, Mexican bread, French toast, seasonal fruit, orange juice. $25.00
Breakfast served 6:00 am - 10:30 am. All breakfasts include: orange or grape fruit juice, Mexican sweet bread, bread toast, coffee and seasonal fruit.
Brunch Menu Option:
$38.00
Coffee & tea
Milk and orange juice
Eggs station (your choice of eggs)
Fresh fruit platter
Sweet rolls
Pancakes or French toast
2 Sides (sausages, potatoes, ham, bacon, refried beans)
Chicken, beef, shrimp or fish tacos
Guacamole, salsa Mexicana & chips
Brunch served 10:00 am - 2:00 pm
Norteño
$35.00
Mixed green salad with queso fresco
Beef, shrimp or chicken fajitas
Rice pudding
Chilango
$31.00
Tomato and panela salad
Fried chicken taquitos
Churros with cajeta
Pool Party
$33.00
Caesar salad served in a parmesan basket
Beef or chicken hamburgers and French fries
Brownie with vanilla ice cream
Fitness
$35.00
Caprichosa salad (Sliced tomato with panela cheese and vinaigrette)
Grilled fish or chicken breast with wild rice and vegetable bouquet
Fruit sorbet
Barriles
$35.00
Baja shrimp cocktail (fresh shrimp served with our signature tequila and horseradish cocktail sauce)
Baja burrito (choice of beef, chicken or shrimp fajitas)
Guacamole, rice and refried beans
Tres leches cake
All menus include: Mexican sauce, guacamole and chips
Dinner Menus:
Special Promotion: All our dinner menus include 1 hour of complimentary Margaritas and Mojitos
Taco Bar
$33.00
Appetizers: guacamole and chips; Mexican sauce
Tacos: Beef, grilled chicken, La Paz style fish tacos; served in handmade tortillas, salsa bar, Mexican rice, refried beans
Dessert: Churros with cajeta
Mexican Dinner
$47.00
Appetizers: Chicken tacos; seabass and mango ceviche; chorizo sopes; tortilla soup
Mexican sampler: grilled flank steak, chile relleno and chicken enchilada
Dessert: Flan
Sonora Grill
$47.00
Appetizers: Grilled vegetables bruschetta; Chicken mini tostadas; Quesadillas with tomatillo sauce
Beef, chicken or shrimp fajitas
Salad: Santa Fe salad
Dessert: Apple Tart
Parrillada
$58.00
Appetizers: Mixed green salad; potato salad
Main Course: Whole chicken in rosemary rub; rib eye; flank steak; chorizo; grilled vegatables
Dessert: Chocolate Cake
Caduaño Dinner Menu
$59
Cocktail Appetizers:
Cochinita Chimichanga: Avocado pudding, chipotle aioli and cured onions
Cured marlin miniature tostadas
Calamari tacos "La Paz" style
First Course:
Roasted Turnip Salad: Heirloom tomato, arugula, goat cheese and a chipotle-honey-mustard vinaigrette
Jumbo Shrimp on butter, epazote herb and guajillo chile served with zucchini blossom risotto, prosciutto sheets and baby spinach
Migrino Dinner Menu
$59
Cocktail Appetizers:
Seared tuna tostaditas with chipotle dressing, pico de gallo, black olives and fried leek
Brie puffs with walnuts, fig marmalade and morita chile
Jicama tacos filled with freshwater crab, veracruz style served with a cabernet and tamarind reduction
First Course:
Los Cabos Salad: organic lettuce mesclun, with cherry tomatoes, asparagus, macadamia nuts, and honey-cilantro vinaigrette
Beef Fillet in date sauce, mushroom risotto and glazed baby veggies
Piña Colada mousse with roasted coconut and añejo rum sauce
Loreto Bay Dinner Menu
$69
Cocktail Appetizers:
Brie cheese brioche with green apple, walnut and fig marmalade
Confit duck taco with tamarind mole, onion, cilantro and green salsa
Chicken satay in tomatillo sauce
First Course:
Arugula and grilled beet salad with goat cheese, pecan and vinaigrette
Royal Lemon Ice Shave
Angus beef fillet with organic coffee butter and rosemary sauce & lobster tail in tortilla ashes served in mushroom risotto, sautéed spinach and green organic zucchini
Chocolate symphony: dark chocolate dome, with hazelnut cake and pistachio crunch in maracuya (passionfruit) sauce
All menus include: Mexican sauce, guacamole and chips
Mexico 101
Guest will learn to cook a full Mexican meal
Mexican Sauce
Guacamole
Tortilla Soup
Chile Relleno
$45/person, minimum 4 people. Includes recipes.
Mexican Fiesta
Guest will learn to cook a typical Mexican fiesta meal
Mini Chicken tacos with tomatillo Sauce
Beans and Panela Sopes
Chicken Tamales
Churros and Buñuelos
$45/person, minimum 4 people. Includes recipes.
Breakfast and Lunch Package
If you want to rest the whole day and get ready for the night, we offer this breakfast and lunch package where the only thing you need to do is relax.

Breakfast & Lunch

$49.00

With 2-hour domestic open bar

$79.00

With 2-hour premium open bar

$110.00
Day & Night Package
Leave your villa after a tasty breakfast and come back just in time for a spectacular dinner under the stars, beginning with an hour of appetizers followed with a wonderful dinner.

Dinner

$60.00

With 2-hour domestic open bar

$90.00

With 2-hour premium open bar

$120.00
All Day Package
If you just want to relax in your villa, this package is perfect for you. Start with a nice breakfast, continue with lunch and beverages in the pool or terrace, and finish your day with a delicious dinner.

Breakfast, Lunch and Beverages

$110.00

With full-day domestic open bar

$182.00

With full-day premium open bar

$260.00
Thanksgiving Menu Options:
Thanksgiving Dinner:
$355 Delivery Only; $450 Full Service
White bean cream soup with garlic crouton and pesto
Spinach and goat cheese salad
Baked turkey
Sausage and bread stuffing
Cranberry sauce and turkey gravy
Sweet potato & carrot casserole; roasted garlic mashed potato
Pumpkin pie and rustic apple tart
Chef or Staff Services Only
NOTE: 16% tax additional. Cost of food additional + 15% service fee. Chef's assistant required for 6+ guests.
Chef service by the hour: $35.00/hour (Min. 2 Hours)
Chef: $180.00 (8 Hours) / $120.00 (4 Hours)
Chef's Assistant by the hour: $22.00/hour (Min. 2 Hours; additional assistant is required for every 9 guests)
Chef Assistant: $110.00 (8 Hours) / $75.00 (4 Hours)
Chef & Butler by the hour: $75.00/hour (Min. 2 Hours)
Chef & Butler $300.00 (12 Hours)
Open Bar
Open bar prices include alcohol and 1 bartender. If the group is more than 8 people, additional server will be required for each 8 guests. 16% tax and 15% service fee additional.
First 1-2 Hours
Domestic: $15.00/person, per hour
International: $22.00/person, per hour
Premium: $26.00/person, per hour
Each additional hour after 2 hours
Domestic: $10.00/person, per hour
International: $14.00/person, per hour
Premium: $17.00/person, per hour
Margarita and Mojitos Bar (2 Hours)
$30/person, 4 person minimum