Club Campestre San Jose Golf Course

Photos courtesy of Questro Golf

Club Campestre San Jose, designed by the world-famous Jack Nicklaus Signature enterprise, is home to 18 picture-perfect, championship-style holes of golf.
With spectacular views of the Sea of Cortez, canyons and mountains, Club Campestre San Josť invites you to enjoy the incredible panoramic views, dramatic elevation changes, and undulating championship greens of a first-rate Mexico golf club. Created with masterful precision and challenging elegance, this unique Mexico golf course is nestled in the foothills of the Sierras and allows the golfer to enjoy breathtaking ocean views from every hole on the course.
Club Campestre is the first course to use the saltwater-resistant "Paspalum" grass, which means that its maintenance is more effective at local latitudes and under local desert conditions. This revolution in golf course design will make for a brilliantly maintained golf course, year round.
With spectacular views of the Sea of Cortez and desert mountains, Club Campestre will offer anyone who plays a fantastic golf experience.

Temporary Hours and Course Information:

- Tee times from 8:00am to 1:30pm, daily. All carts need to be off the course by 6:00pm.
- Reservations to be made 7+ days in advance.
- Golf Shops will be open 7:00am to 5:00pm and Driving Range open 7:30am to 4:00pm.
- All courses are taking safety precautions to promote social spacing. This includes sanitized golf carts, not removing flags, 15 minute interval tee times, employee temperature screening and antibacterial gel.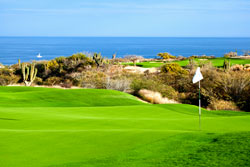 GOLF PASS PROMOTIONS:
05/16/21-06/31/21
3 Rounds Golf Pass: $525.00/per person
2 Rounds Golf Pass: $387.50/per person
07/01/21-10/31/21
3 Rounds Golf Pass: $393.75/per person
2 Rounds Golf Pass: $300.00/per person
2 and 3 Rounds Promo can be played at any Questro Courses including Cabo Real, Puerto Los Cabos* and Club Campestre.
*For rounds played at Puerto Los Cabos there is an additional Food & Beverage fee of $25 per person per round.

RATES
05/16/21-06/30/21
Morning Rate: $160.00 (7:00am - 11:50am)
Early Twilight Rate: $145.00 (12:00pm - 1:20pm)
Twilight Rate: $120.00 (after 1:30pm)
07/01/21-10/31/21
Morning Rate: $140.00 (7:00am - 12:20pm)
Twilight Rate: $100.00 (after 12:30pm)
All prices and times are subject to change without notice.

Aerification Schedule:
09/07/21-09/08/21: CLOSED
09/09/21-09/29/21

Rates include green fee, shared golf cart, GPS, range privileges, bottled water & taxes

For groups of 13 or more please contact us for rates and terms.
Ride along (non-golfer): $35.00
Junior Rates available (15 and under with ID)
Golf Club Rentals: $55.00 Taylor Made
Dress Code (players and riders): Appropriate golf attire is required. No swimwear, cut-offs, halter tops or tank tops, blue or denim jeans. Collared is required, pants or bermuda, soft spikes only (no metal) tennis shoes are allowed.
Players may not bring their own food and/or beverage to the club house or golf course. If a player or group wants to introduce food or beverages, there will be a penalty of $50.00 per player. Food and beverages must be purchased at the course.

Line Instruction available for $100/hour. Groups larger than 20 players require 2 instructors.
---
Great Villas & Resorts for Golf
Villa Sun Guadalupe
Set in the corridor's Costa Azul region, this home offers dazzling Sea of Cortez views. 3BR-2BA.
Royal Solaris
Relax in your comfortable suite as you gaze at the lovely views of the Sea of Cortez at this all-inclusive resort.