Special Offer! 30% off Last Minute Reservations 01/05/2021 - 01/04/2022
Top Villa Pick
Family-Friendly
Villa Cristina
Cabo San Lucas - Cabo San Lucas - Corridor , Cabo Bello 4.5-Star Deluxe Rating
3 Bedrooms

2 Bathrooms, 1 Half Bath
Sleeps 3 couples or 4 singles
2,750 sq ft
Maid Service: Every other day except Sundays
Villa is cleaned and sanitized by professional staff to the highest standards to ensure your comfort and safety.
Details
Inviting & Stylish Villa with Private Pool Terrace
Clean, contemporary lines and casual elegance make for comfortable living at Villa Cristina, a newer villa in the pleasant Cabo Bello neighborhood a few miles outside Cabo San Lucas. Nestled along a hillside greenbelt, the villa gives offers tantalizing glimpses of the gleaming Sea of Cortez.
The modern interior offers an airy floor plan flooded with crisp Baja light. The stylish furnishings, Travertine flooring, granite countertops and comfortable suites welcome you to settle in for an unforgettable holiday. Step outside and your private terrace is the perfect place to revel in the sunshine and the warm sea breezes drifting up from the Sea of Cortez. Take a dip in your private swimming pool or relax in one of the lounge chairs with a snack from your gourmet kitchen – either way, Villa Cristina will quickly become your own luxurious piece of paradise.
When you're ready to explore, a wonderful beach is just a short walk away. Shared with the neighboring Welk Sirena del Mar resort, this inviting cove offers great swimming, snorkeling and boogie boarding. Palapas offer a shady spot to relax out of the sun. Plus, you're just 4 miles to all the hot nightlife, exquisite dining and exciting activities of Cabo San Lucas.
MAIN FEATURES
3BR/2.5BA
Partial ocean views
Sleeps 3 couples or 4 singles maximum
2,750 Square Feet Inside
2 Levels
Villa built in 2006
Primary Suite: King bed, private bath with double sinks and large spa shower, 42" flatscreen television
Second Suite: Queen bed, shared bath
Sirius XM Radio with speakers in every room and patio
Third Suite: Queen bed, shared bath
Queen Aerobed
Non Smoking Property
Maid service: Every other day except Sunday (Note: Maids do not work on Mexican Holidays)
OUTDOOR FEATURES
Swimming pool (4.5' deep)
Outdoor sofa and oversized chairs
Outdoor dining for 6 people plus sofa and oversized chairs
4 Lounge chairs
Hot tub
Gas Fire pit
BBQ area with Gas BBQ, granite counters, sink, ice maker, refrigerator, 4 bar stools, built in sofas
Shade structure
INDOOR FEATURES
Full kitchen with top of the line cookware and knives
Travertine flooring throughout
Granite & Travertine countertops
Polycom Business IP Telephone (free calls to US + wireless phones for local calls)
Wireless Internet access
Satellite television (50" in Living area, 40" in Primary)
DVD/CD player
Water purification system
Washer & Dryer
Iron/Ironing board
Kitchen and dining area seats 8
Main dining has seating for 8
8 Ceiling fans
Air conditioning in bedrooms and living areas
In-house safe/Lock box
Deluxe 4.5 Star Rating
The deluxe rating indicates a nice and well-kept property in a good location. Furnishings and amenities are of good quality. Their ocean views may be limited. Guests can arrange for services on-site or find them nearby.


TERMS AND HOUSE RULES
By booking a reservation you agree to sign our Rental Agreement within 24 hours and to all terms and conditions listed in rental agreement. Total guests at any time restricted to contract. Must disclose all guests. High School, College spring break, bachelor/ette groups not permitted without approval (fee). Excessive noise not allowed at any time. Quiet time 10pm–10am. NO EVENTS unless pre-authorized & fee paid. NO SMOKING indoors . See full
Terms & Conditions
Check-in: 3:00 pm
Check-out: 11:00 am
Minimum age of primary renter: 25
• Primary Suite
: 1 king
- Private bath with double sinks and large spa shower
• Suite 2
: 1 queen
- Shared bath
• Suite 3
: 1 queen
- Shared bath
• Common Space
: 1 air bed
- Size: Queen
Guest Reviews for Villa Cristina
"Stylish Villa with Private Pool: Villa Cristina"
San Diego, CA September 2021

House was very spacious and our family really enjoyed the pool/jacuzzi. It's a short drive to downtown area, but very nice beaches to visit nearby. Luis was very helpful during our stay and gave us some really good recommendations on dining. We were greeted with margaritas and chips with salsa, that was a plus.
"Stylish Villa with Private Pool: Villa Cristina"

The villa looked even better in person it was so nice and clean my concierge Ivan was super helpful and answered all my questions i would definitely book again Cabo villas
Harned, Kentucky July 2020

This was an absolutely beautiful villa. There was plenty of room for several people to stretch out, relax and enjoy the home. We had the pantry and refrigerator stocked by a local company before we got there and it was wonderful. While we were there, the Covid pandemic was still underway and no restaurants were open. We had plenty of food for breakfast, lunch and dinner. We would take drinks and food daily down to the pool area and typically grill out for lunch. I would highly recommend getting the skirt steak if you have a company stock it with food. It was absolutely amazing! There are lots of stairs in this home so be aware of that. Regardless of whether you go outside or inside, to get from the top level to the pool area, you will climb/descend approximately 30 steps. The steps outside are pebbled to prevent slippage. The entire inside of the Villa is tile, so you need to be cautious if you have socks on or your feet are wet. Definitely familiarize yourself with where all of the steps are, so you do not trip. At night, we would leave a couple of lights on throughout the Villa, especially on the staircase, to prevent anyone from slipping/falling if they got up during the night. There are extra bath towels, beach towels, blankets, and pillows in the closets of bedrooms one and two. The Villa also has a washer and dryer with detergent and dryer sheets should you decide to do laundry while you are there. The kitchen was fully stocked with cookware, utensils, glassware, storage bowls and some seasonings. The bar area at the pool also has plastic plates and cups, as well as a blender and some grilling utensils. To the left of the grill there is a small sink which is really handy. There are speakers throughout the house that you can download an app and play your music on (Sonos). Within the app, you can control which room/rooms you want it to be played in. We would take the speaker from the master bedroom off of the pool area daily down to the bar and play music outside. The pool & hot tub were very nice. The stone patio area around the pool and hot tub does get very hot in the afternoon. We would open the umbrella by the fire pit and move it around to try and keep some shade for when you got out of the pool. We never used the fire pit, due to it being extremely warm while we were there. Getting into the pool as well as out, is a little bit of a challenge. It has a seat ledge around approximately half of it, but it is a pretty good drop down, so you have to sit on the edge of the pool and then step in. This did not cause a problem at all for us, just be aware there are no steps into the pool. There is a beautiful private beach that is about a 15 minute walk from the Villa. However, the water is rough, there are lots of rocks, and the outgoing current is very strong since it is in a cove area. Also, the sand is very rough… It is more of a gravel texture. With that being said, it is a very gorgeous and relaxing place to go and sit. There is only one television throughout the Villa, and it is in the living room upstairs. Keep this in mind if you are traveling with children/teenagers that typically watch a lot of TV. Our stay was a week long. There were three of us (me, my husband & our 17 yr old son) & the only time we left the Villa was to visit the beach one day. We had a wonderful relaxing time. We were very happy that we chose to stay here, it definitely met our expectations! You will not be disappointed if you choose to stay at Villa Cristina! The Shain Family
Management Response
Thank you for the wonderful review of Villa Cristina! We are delighted to hear you enjoyed the home.
Specials
12-Hour Transportation Special
Book your personal transportation service and leave the driving to us!

10 people - 12 Hour Toyota HiAce Open Service: $300.00 Promo Code: Hiace-PROMO
14 people - 12 Hour Ford Transit Open Service: $350.00 Promo Code: Transit-PROMO
17 people - 12 Hour Sprinter Open Service: $370.00 Promo Code: Sprinter-PROMO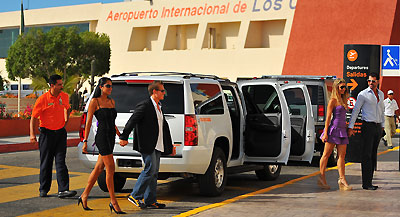 Valid 08/28/20-12/31/21 for open transportation service in destination. No itinerary needed! Service is valid for 12 hours and must be used on same day and cannot be split during stay. Gratuities are additional and recommended..
For bookings made within 7 days of arrival date. This offer is subject to owner confirmation and is not valid for re-rentals. This special is not combinable with any other promotions. Please call us for details.
About the Area: Cabo Bello
Cabo Bello is on the Corridor, overlooking the Sea of Cortez. The neighborhood is within a few miles of downtown Cabo San Lucas; most properties have a view of Land's End. The area has a swimmable beach, with a protected cove, also called Cabo Bello. Large stores like Costco, Home Depot and Wal-Mart are nearby. The Cabo Bello neighborhood is three miles from Cabo San Lucas.
Rate Detail
3 night minimum stay required.
Additional person charge applies after 6th guest.
Holiday Surcharge December 15 - January 5.
First 2 children under the age of 12 stay at no extra charge.
Best Price Guarantee
- The Best Price Guarantee allows us to match any lower published, verifiable rates for the same property, travel dates and number traveling. The Best Price Guarantee and any specials advertised on our site apply only to new reservations and is not applicable toward already booked reservations.
When you book this villa with us, you'll get $600 worth of FREE extras:
$200
Cabo Expeditions
credit good toward select activities
1 Complimentary private airport to villa transfer
Free chips, salsa and margaritas on arrival
Free villa delivery of your AVIS car rental
Free airport and villa arrival services
24/7 customer service
A dedicated local concierge during your stay
Airport transfer limited to 10 persons, upgrades available. Substitutions may apply. Free delivery valid for 3+ day Avis car rental purchases.