Casa del Mar Condominiums
Cabo San Lucas - Corridor , Cabo Real Deluxe Resort
Resort utilizes the highest professional cleaning standards to ensure your comfort and safety.
Beautiful Ocean Sunsets & Inviting Condos
An oasis of tropical gardens with tropical charm awaits you at the Casa del Mar Condominiums, one of the Corridor's finest luxury resorts.
Hacienda-inspired architecture and a sunny color palette create a warm, welcoming ambiance. Savor the shimmering aquamarine views of the Sea of Cortez. The atmosphere here is filled with the promise of sun-filled days and warm, exotic nights.
One of the world's finest golf resorts, Casa del Mar is surrounded by the Corridor's championship courses. Enjoy a round of golf or a tennis match, take a dip in the pool, or soak up the sun as you stroll along the pristine sandy beach.
Condos are comfortably and tastefully furnished. A variety of floor plans feature magnificent vistas of the Sea of Cortez.
Appealing architecture, casual sophistication and the true spirit of Mexican warmth and hospitality make the Casa del Mar Condominiums a great vacation destination. The possibilities for recreation and relaxation are endless.
NOTE: Facilities use at the complex is divided by room type. Phase 1 guests use pools and tennis facilities in Phase 1. Phase 2 guests use pools and tennis facilities in Phase 2.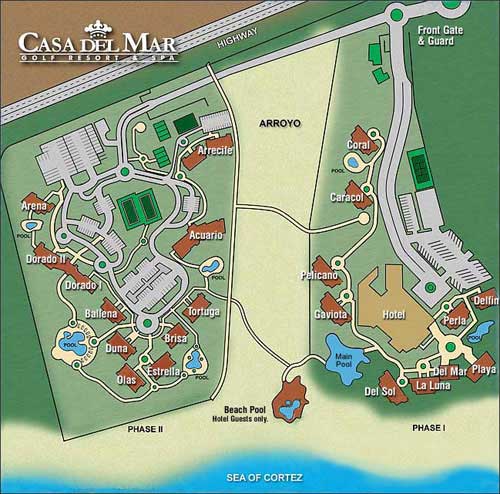 RESORT FEATURES
Beachfront Location
Large swimming pools
Jacuzzi (must be 12+ to use Jacuzzi)
Lighted Tennis Courts
18 Hole Cabo Real Golf Course on-site
Wireless Internet for $5 a day or $25 a week (resort may need to provide a password)
Access to Zoetry Casa del Mar Los Cabos:
Resort Fee: $30/condo per day (Requires payment at check-in at the resort for the entire stay)
Includes access to Main Restaurant, Pool side snack bar, Beach Club, Main Bar, Gym and Spa
Free use of wireless internet in the hotel lobby area
Free boarding pass printing
Pool side towel service
Front desk concierge services
Pets not allowed
Note: Gym and Spa services are available at an additional fee
Must pay resort fee to purchase food or beverages at the resort
ROOM DESCRIPTIONS
Full Kitchen
Living Room
Dining Room
Terraces with patio furniture
Laundry Room
Marble bathrooms
Central Air Conditioning
Satelite TV
CD player
Phone service
Daily maid service (except Sunday)


Bedding Configuration and Occupancy:
Studio OV - 1K or 2Q, sleeps 2
1BR OV - 1K or 2Q, sleeps 4
1BR OF - 1K, sleeps 4
2BR OV - 1K+2T or 2K or 1K+2Q, sleeps 6
2BR OF - 1K+2Q or 1K+2T, sleeps 6
3BR OV - 2K+2T, sleeps 6
3BR OF - 1Q+2D, sleeps 6
3BR PH - 2K+2T, sleeps 6
Deluxe Resort Rating
The deluxe rating indicates a nice and well-kept property in a good location. Furnishings and amenities are of good quality. Their ocean views may be limited. Guests can arrange for services on-site or find them nearby.


Guest Reviews for Casa del Mar Condominiums
Shelton, WA February 2023

We loved our Cabo stay! Thank you.
Management Response
We look forward to welcoming you back!
Portland, OR February 2023

Beautiful location and setting. Wonderful condo. People working there were fantastic, friendly & helpful. Highly recommended!
Management Response
Thank you for sharing! We're so glad you loved your stay at the Casa Del Mar Condominiums and received exceptional service. We look forward to welcoming you back!
"Spacious Condo with Beautiful Views"

We loved our stay at Casa Del Mar! The Cabo Villas team was so helpful and made reserving the condo and our rental car easy. The condo was spacious and bright. It was perfect for our family! And, the Zoetry resort was beautiful, and the staff made us feel like honored guests. It was our best family vacation yet!
Management Response
Thank you for sharing your review and feedback with us! We couldn't be happier to hear our team provided excellent service for a seamless vacation experience. We're so glad you loved the property! We love hearing this was your best family vacation yet! We look forward to assisting you with your next best Cabo vacation as well!

About the Area: Cabo Real
Cabo Real is another splendid Los Cabos neighborhood, distinctly associated with high-end recreational activities, with world-class golf as its focal point. The centerpieces of the 2,800-acre gated community are the classically designed Robert Trent Jones II championship course and the Jack Nicklaus-designed private El Dorado course. Area residents enjoy miles of secluded beaches and beautiful desert vistas, with stunning views of the Sea of Cortez to fill out those riches. Cabo Real includes the Las Ventanas, Casa del Mar and Dreams Los Cabos Resorts. It also host to Cuadras San Francisco Horseback riding adventures within its own ecological reserve.
Cancellation/Change Policy
Once a reservation is under deposit, there is no additional CaboVillas.com penalty to cancel or make changes to the reservation beyond any property-specific penalties imposed by the resort directly. Most hotels charge 1 night cancellation inside 72 hours, please refer to your invoice for specific penalties. Cancellation and change penalties vary by resort and dates of travel. Ask your Cabo Specialist for more details about your reservation.
Best Price Guarantee
- The Best Price Guarantee allows us to match any lower published, verifiable rates for the same property, travel dates and number traveling. The Best Price Guarantee and any specials advertised on our site apply only to new reservations and is not applicable toward already booked reservations.
Environmental Sanitation Tax
Hotel reservations made from June 1, 2022 onward are required to pay a daily Environmental Sanitation Tax small fee under $5 per person. The fee will be collected directly by the resort at check out. This fee supports local sustainable tourism efforts.