Meet Our Team!
We're proud of the incredible people who make up our family! Every member of the CaboVillas.com team is dedicated to sharing our love of Los Cabos and our commitment to providing the absolute best customer service you could expect! Specializing in Los Cabos travel for over 30 years, we remain a family-owned business and the local expert.
Contact us to plan your Cabo getaway | About Us | Why Vacation With Us
Don Hirschaut
|
President
Don's extensive history in environmental studies and deep-seated love of the Baja Peninsula came together 30 years ago when he started Earth, Sea & Sky Vacations (ESSV). Don spent his early career working for NOAA and the USGS, with projects focused on charting nautical maps in Alaska, studying near-shore wave environments and researching marine canyons. In between seasonal jobs at NOAA, a friend suggested to Don that he start setting up formal eco tours since he always seemed to be doing it anyway—and history was made.
While the company originally focused on the Monterey Bay area of California, Don was also organizing weeklong treks to Baja California Sur. During one such excursion in 1988, Don picked up his first home in Cabo San Lucas (7 years before he'd buy a home in the U.S.). While in line at the bank to borrow money for the deal, a woman in line behind him declared, "I really wish I had a place to spend the summer in Los Cabos"—and his first vacation rental was struck. Over subsequent years, Don's knack for networking with local villa owners and resorts in Cabo rapidly expanded the company's offerings. Today, Earth, Sea & Sky Vacations (CaboVillas.com) represents over 110 villa rentals and 45 resorts in Baja.
Michelle Hoffman
|
Chief Financial Officer
Michelle has been with ESSV since 1993 (when she met the man of her dreams, who happens to be the company's president). While she oversees the Accounting Department, she also has a hand in many areas of cross-departmental day-to-day operations.
"ESSV offers amazing service. We take the time to get to know our clients so that we can make their trip the most amazing trip of their lifetime. The diversity of Cabo makes it a great destination for everyone. I've been traveling here for over 20 years and still find new and exciting places of interest. On my most recent trip, High Tides Los Cabos Tours took me to a hot springs in a local rancher's back yard!"
Michelle is an avid traveler whose passion for exploring the world began during her childhood when she visited Haiti with her parents, who became very involved in charitable fund-raising for health services for the island. After college, Michelle lived in the Caribbean. In 1991, she traveled through Baja with a 4-wheel drive vehicle and kayaks—igniting her love for the region.
Rick Allen
|
Vice President
Rick joined ESSV in 2005 as Marketing Communications Associate, and thereafter assumed the role of Vice President. He brings over 20 years of leadership experience spanning five industries; including retail, customer service, production and distribution. Rick holds a Bachelor Degree in International Affairs and Commerce and an MBA in Marketing.
"For me Cabo represents the best of all worlds - you can go from relaxing days on secluded beaches to the fun-filled nights of downtown. Cabo can be almost anything you want to takeaway from it; the choice is really yours."
Rick is an avid traveler, having lived in France, Ireland and Germany and visiting over 25 countries. He likes to spend time with his kids at the beach, drawing/painting/illustrating, and running.
Julie Byrd
|
Vice President of Sales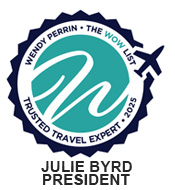 Julie Byrd has been with ESSV for over 15 years and oversees client service, resort and villa owner relationship management and sales. Having worked in the travel industry for over 20 years, Julie knows the ins and outs of providing exceptional vacation services intimately. In fact, she's been recognized for her skill and professionalism by Condé Nast Traveler as one of the leading villa rental specialists in the world for 8 consecutive years. She's also been listed on the "WOW List of Trusted Travel Experts" by well-known luxury travel advocate, Wendy Perrin. Her creativity, energy and enthusiasm for Los Cabos is readily evident to everyone she meets. Julie also is personally available to address in-travel service requests 24/7 as part of her dedication to providing a perfect vacation for every client.
"I made travel my career because I feel that providing outstanding vacations makes the world a happier place. Generally, people who have great vacations carry that happiness with them for at least a year…or until their next vacation! We like to provide an excellent experience so that they come back to real world relaxed and happy."
Julie is the definition of "life of the party," a wine connoisseur and mom to a very rambunctious pup named Rocco.
(831) 768-8037
Robert Trama
|
Creative Director
Robert's lifelong passion for photography and travel proved to be the perfect prerequisites for his original role as Marketing Manager when he joined ESSV 14 years ago. As our Creative Director, Robert oversees our brand image and helps keep the creative juices flowing. He is also a professional tourism and fashion photographer and frequently travels to Cabo to keep our photography looking fresh and up to date.
"As a lover of fine cuisine, the fresh and delicate flavors of Cabo's world-class dining options always keep my stomach craving more when I get back to the States. And what better backdrop is there to enjoy such wonderful cooking than in one of our breathtaking villas?"
Having traveled extensively throughout Latin America and Europe, Robert is a seasoned world traveler who selects his vacation destinations based primarily on their reputation for fine food and wine. In his free time, Robert loves to entertain his family and friends by spending hours slaving away in his kitchen. He also loves to play guitar and is a big movie buff.
Ryan Velasco
|
Sales Manager
Ryan has been with Earth, Sea & Sky Vacations since 2007 and manages our incredible sales team. Ryan was looking for a company that really cares about its employees and feels ESSV was the perfect fit. Ryan came to ESSV with a background in the travel industry and feels what sets the company apart is the fact that we are truly Cabo specialists. Ryan and his team are dedicated to providing exceptional customer service in every interaction—whether it's a young couple looking for the perfect honeymoon resort or a large family reunion seeking an incredible villa rental with all the bells and whistles.
"I've always said that it doesn't matter if a company is selling paperclips so long as I love what I do. But, it's a huge perk having Cabo as a product instead of paperclips! Cabo is unique by comparison to any other Mexican destination."
Ryan is the reigning champion of office ping pong, avid baseball player, and diehard metal music guitar player!
Ercilia Medeiros
|
Senior Marketing Manager
Ercilia has an extensive background in marketing communications, content writing, project management, and graphic design. She has been with our team for over 10 years. Ercilia oversees our external brand messaging, including serving as the primary writer and editor for our annual Los Cabos Vacation Guide, coordinating our email campaigns, blogging about Cabo, overseeing our social communities including Instagram, Facebook and Twitter, and creating exciting new web content. She loves sharing our team's extensive regional knowledge with our online communities and clients. Ercilia is a graduate of the University of California, Santa Cruz.
"Los Cabos is an incredibly fun destination to sell, with gorgeous vacation properties and a different celebrity sighting every week!"
On her free time, Ercilia likes to paint, drink wine, hang out at the beach and enjoy time with her cute baby girl and awesome husband.
Jessica Felts
|
Cabo Specialist
After graduating from Cal Poly with a degree in tourism and recreation, Jessica worked for years at a coastal resort doing everything from sales to wedding planning. Joining ESSV is a perfect marriage as she loves to help people plan for the perfect vacation, trip, or event.
"Nothing beats the satisfaction of a client that is happy with your service 100%."
Jessica loves living in the Santa Cruz, CA area because of all the opportunities for outdoor fun. She is an active runner and paddle boarder.
Contact Jessica to Book Your Getaway: (855) 202-8890
Amber Horowitz
|
Cabo Specialist
As part of our sales department, Amber brings a fun-loving spirit to the team. She loves the travel industry, Mexico and working in a vibrant environment.
"I'm a huge lover of Cabo which has come to feel like a second home. I love how the small town feel lends itself to an easy and carefree vacation where you can access everything you want within a short walk or drive."
Amber loves playing guitar, attending live music events, traveling and hanging out around a river or lake.
Read Amber's Cabo Luxury Trip Report!
Contact Amber to Book Your Getaway: (888) 976-0472
Kimberly Zamora
|
Cabo Specialist
Kimberly offers fun-loving energy and helpful professionalism to our clients. Born in Southern California, Kimberly has also lived in New Mexico and Sacramento before moving to the Central Coast.
"Who doesn't love talking about Cabo all day? I feel planning a wonderful vacation with our clients is very fulfilling."
Kimberly is an empty nester with two wonderful grown kids. She enjoys running by the beach, spending time with friends, cooking and secretly loves junk food.
Read Kimberly's Cabo Trip Report
Contact Kimberly to Book Your Getaway: (844) 252-0506
Lola Mitchell
|
Cabo Specialist
Lola brings an extensive background in travel to our team and CaboVillas.com is by far the favorite company she's worked for in the industry. She chose travel as her profession because she believes travel enriches lives and helps people realize what a precious gift this beautiful earth is! She enjoys personalizing Los Cabos travel packages for each guest to help them fulfill their ideal vacation vision.
Contact Lola to Book Your Getaway: (855) 674-1474
Alexandra Koenig
|
Cabo Specialist
Alex comes to our sales team from a background in hospitality sales working at a beautiful resort on the California coastline. She has a passion for travel, especially to places by the ocean which makes working at CaboVillas.com a perfect fit! In her free time Alex loves all things outdoors and enjoys being in the sunshine, whether it's hiking in the woods or swimming in the sea.
Contact Alexandra to Book Your Getaway: (844) 833-2211
Julianne Warriner
|
Los Cabos Destination Director
With a long background in hospitality, Julianne is the head of our Los Cabos concierge team and an indispensable part of the ESSV family. Julianne and her team make sure our guests are well cared-for from the moment they arrive at their villa rental and throughout their stay, addressing any concerns, and helping plan activities and catering. Julianne is also the head of A Matter of Taste Catering, one of the area's leading in-villa catering and event planning companies.
"I can't think of any place I'd rather live than Los Cabos. Being part of the ESSV family means I get to share my love for the destination with happy visitors."
Originally from Canada, Julianne has lived in Los Cabos for 15 years. She loves the beautiful Baja weather and her latest passion is stand up paddle boarding—she gets out almost every weekend on those pretty Los Cabos waters. She also really likes small cuddly dogs.
Giovani Barrios
|
Destination Specialist Manager
Giovani was born in Morelia Michoacán. Growing up in a popular tourist city with vast cultural diversity and of such historic importance to the country of Mexico, Giovani was drawn to the tourism sector. He studied Travel and Tourism at the University of Sciences in Michoacán. In 2006 Giovani came to Los Cabos on holiday and, as he tells it, nearly 9 years later he feels like he's still vacationing! Prior to joining our Earth Sea & Sky Vacations team, Giovani worked in the hospitality and customer services department of the Gran Regina for 8 years. He spends his free time with his family and he loves to snorkel.
Rodolfo Ramirez
|
Destination Specialist
Born and raised in Cabo, Rodolfo is a lifelong resident who has worked with ESSV for over seven years and is one of our top go-to people on the ground. Prior to joining our team, "Rodo" worked several years for some of Los Cabos finest hotels, making him one of our most knowledgable Cabo experts. When not helping our clients with their concierge needs, he enjoys spending his free time with his wife and beautiful baby daughter.
"I love living and working in Cabo and I get great satisfaction helping our clients enjoy their vacation to the fullest! "
Always a favorite with our clients, Rodo is also a talented jack of all trades and can fix almost anything he gets his hands on!
Hector Campa
|
Destination Specialist
While Hector was born in Mexico City, ever since his parents came to visit Los Cabos for the first time in 1987 they wished to return and make the destination their home. That dream came true in 1998 when Hector was 14 years old. Hospitality is his passion and Hector has worked in numerous local hotels including Solmar, Playa Grande, Marquis Los Cabos, Westin and Grand Regina. He has held many different roles in customer service with a focus on developing his career in hospitality.
"It is a big satisfaction for me when i see people smiling and enjoying their vacations in Cabo!"
Hector likes to travel around México and loves to visit the Pueblos Magicos to learn more about and enjoy traditional Mexican culture.
Angel Campa
|
Destination Specialist
I was born in Mexico City but I decided to come to Cabo for an adventure... and I am still on one! I studied Industrial Management and I thought I would be working behind a desk. When I started to work in customer service, I knew I was made for it and decided to be with the best! I have more than 13 years of experience in customer service, 6 of them with the One&Only Palmilla and 4 with Diamante Golf Course - both at the top on of their own markets and now with CaboVillas.com, which is at the top, too!
"It is really gratifying to see the client's sincere and big smile at the end of the day."
My hobbies are martial arts, boxing and spending time with my kids (both boys) - they teach me a lot of things!
Luis Alcantar
|
Destination Specialist
Luis was born in a small town in Guanajuato, Mexico and then moved with his family to Illinois at the age of 8 where he resided for 16 years. Having attended high school in the United States and college classes at Spoon River College, Luis is fluent in English. Eventually, Luis made his way to Los Cabos where he began his career in the hotel industry. Immediately, he knew that hospitality and customer service were a perfect fit for him. Luis has worked at numerous resorts in Los Cabos, including the Grand Regina, Secrets Puerto Los Cabos and Cabo Azul Resort & Spa. He is happy to have joined our team of destination specialists where he can deliver personalized service to our guests.
"It is really gratifying to me when our guests leave with a great big smile on their faces and don't want to leave because they fell in love with our destination and our service."
On his free time, you'll find Luis spending time at the beach.
Ivan Barrios
|
Destination Specialist
Ivan has joined our expert team of destination specialists to provide exceptional concierge services to our villa guests in Los cabos.
Morgan Findsen
|
Reservations Support/Contracts Manager
Morgan has been with ESSV for 13 years and oversees our Contracts and Support Team. Morgan's professional skills help ensure our resort and villa partnerships are a success. Personalized, friendly and professional attention is at the cornerstone of her service.
"Cabo has something for everyone...regardless of your age. You can take a nice relaxing vacation with your family or go out for a wild night with your friends. If you are fishing, golfing or on spring break – Cabo is the perfect destination."
Besides being an indispensable part of our family, Morgan loves to spend time with her family and is currently working on her Business Degree.
Allison Solano
|
Quality Control
Allison's been a key member our team for over 10 years. Her role in quality control for the Sales Support Department ensures that our guests' reservations are in order well before they leave. Her keen eye for detail is part of the reason our clients enjoy amazing vacations in Los Cabos.
"My dream vacation in Los Cabos? Villa Tranquilidad would definitely be my top pick."
When she's not working, she's spending time with her family, including watching her son play baseball, taking the kids camping, barbecuing or fishing.
Ana Alvarez
|
Confirmations
Ana helps our Sales Support department provide the highest quality service and assistance to our clients. Her cheerful attitude and meticulous follow-through are an asset to our team.
"We have the very BEST villas and accommodations that are offered by anyone out there!"
On her free time, she loves hanging out on the beach, running and dancing.
Monica Rios
|
Sales Support Assistant
Having been with ESSV since 2008, Monica assists our sales team with a host of administrative and client support duties. Having previously worked in sales for a prominent radio station as well as accounts receivable for a real estate firm she easily transitioned to the more laid-back atmosphere at ESSV.
"I really enjoy working at ESSV because its fulfilling to know I'm helping people plan the vacation of a lifetime. And, I especially like working with our great team. Los Cabos is a beautiful destination!"
Tish Mello
|
Customer Service Representative
After having been a retail manager for 6 years, Tish joined our team with a finance degree. Tish grew up in the Aptos, CA area and brings a friendly demeanor and attention to detail to our team. As a Customer Service Representative, she is dedicated to providing outstanding professional service to our guests and colleagues to ensure a great experience.
Tish loves limonadas, beaches and sunshine - making Cabo the perfect match!
Geneva Rocha
|
Contracts Assistant
Geneva works diligently with the Sales Support team helping them fulfill crucial tasks behind the scenes to ensure our clients enjoy great vacations and that our business runs smoothly.
"I was originally attracted to this position because the company specializes in Cabo. Who doesn't love Cabo!?"
In her free time, Geneva loves to play sports, restore furniture and bake for fun.
Lisa Johnson
|
Controller
Lisa helps our day-to-day operations as an integral member of our accounting team. Her professionalism and friendly demeanor make her a beloved and indispensable part of the ESSV family.
"I like working here because of the friendly work environment. Everyone who works here has great experience that makes ESSV a well rounded and successful business!"
On her free time, Lisa is an awesome mama.
Crystal Meihl
|
Bookkeeper
With an extensive background in the travel industry, Crystal joined our team with impressive expertise planning Mexican vacations for clients. Her attention to detail is an extremely valuable asset for our team. She now serves as Bookkeeper in our Accounting Department.
"I love that we specialize only in Los Cabos and that the company is family-owned."
Crystal enjoys spending her time with her family, going to the beach, bowling and traveling to new destinations.
Matt Rollins
|
IT/Marketing Assistant
Matt has a rare combination of technical talent and love of working with people that found a great fit at ESSV as a IT/Marketing Assistant. He helps David with local desktop support, and with Rick and the marketing team to ensure anything we put on the web is the best it can be.
"I'm very excited to learn more about Cabo, and to make a big impact at ESSV – a local, family owned business. I can't wait to learn the ropes and to be a part of making it even better to help more people discover and visit our wonderful properties!"
Previously Matt worked at Big Creek Lumber supporting the software that they ran their business on, where he found that working with a local family-owned business can be extremely rewarding. When he's not working you can find him in and around Santa Cruz enjoying everything there is to do with a young family.
David Hite
|
Systems Administrator
David keeps our network up and running, internally and externally. David's background spans the continental United States. Originally from Charlottesville, VA, he spent two years studying computer science in New York, and then jaunted off to Orlando, FL to attend a digital media university. He made a move to Los Angeles after getting his degree, and worked in the IT and graphics fields, including work for MTV, Cartoon Network, Six Point Harness, and Nickelodeon.
"Working at Earth, Sea & Sky Vacations is much like visiting Cabo San Lucas. Both have provided me with a warm and welcoming environment. I am proud to play my part in showing the world what a great place Cabo is, and to be around a team who work toward that same goal."
David has a passion for animation and visual effects, and some of his work can be seen in The Andy Milonakis Show, Fosters Home of Imaginary Friends, El Tigre, and in 3D work for THQ's Frontlines video game.
His hobbies include photography, animation, design, 3D, geeking out on computers, watching Star Wars, and riding his bike. His dream vacation would be Australia (and Cabo of course), but he loves beaches and mountains in general.
Free Vacation Guide
and Enter to Win!
Sign-up for our FREE Los Cabos,
Mexico Vacation Guide and Enter to Win!
Win 3 nights at one of our outstanding Los Cabos Resorts!
Click Here...
How Can We Help?
(USA & Canada)
01-831-724-5800 (International)
Low Price Guarantee No Booking Service Fees! 24/7 Client Service