Please send me more information on Golfing in Cabo!
Cabo del Sol | Cabo Real Resort | Cabo San Lucas Country Club | Club Campestre San Jose | Puerto Los Cabos | Palmilla Course
Photos courtesy of Questro Golf

Golfers may prefer the pleasures of the emerald fairways to the temptations of the sapphire sea.
At Puerto Los Cabos, inspiring views of mountains and sea are the backdrop for golf courses designed by true legends of the game.
The Jack Nicklaus signature design is certain to rank among one of the most sought-after courses in Los Cabos. And the Greg Norman Signature course also delivers the quality experience expected from this Major championship winner. Each championship-length course will take advantage of the stunning setting and elevation changes to provide dazzling vistas from each hole.
The opening 18 holes are a composite par 73 design consisting of 9 holes from the Jack Nicklaus design and 9 holes from the Greg Norman design. This unique opportunity will allow guests to experience the difference in design philosophies and enjoy a "sneak-peek" of the future development to come.
In addition to the spectacular 40,000 square foot clubhouse, whose sophistication and elegant design reflect the commitment to the highest standards of quality and style, Puerto Los Cabos golf courses also offer the following services and amenities:
Driving ranges
Practice facilities
Professional instruction
Pro shop
Men's and women's locker areas
Meeting facilities
Lounges and restaurants with panoramic views of the golf courses.
Course opens at 8:30 am.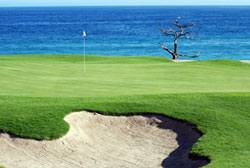 PROMOTIONS:
12/26/15-05/31/16
3 Rounds Golf Pass: $619/per person
2 Rounds Golf Pass: $438/per person
Fore for Four Pass: $800/four players (valid only after 11:00am)
06/01/16-10/31/16
3 Rounds Golf Pass: $432/per person
2 Rounds Golf Pass: $313/per person
Fore for Four Pass: $600/four players (valid only after 11:00am)
11/01/16-12/25/16
3 Rounds Golf Pass: $544/per person
2 Rounds Golf Pass: $400/per person
Fore for Four Pass: $700/four players (valid only after 11:00am)
2 and 3 Rounds Promo can be played at any Questro Courses including Cabo Real, Puerto Los Cabos and Club Campestre. Foursome Promo must be played at the same tee time and date
Prices:
12/26/15-05/31/16
Daily Rate - $265.00
Twilight Rate - $185.00 (after 1:30pm)
06/01/16-10/31/16
Daily Rate - $195.00
Twilight Rate - $135.00 (after 1:30pm)
11/01/16-12/25/16
Daily Rate - $230.00
Twilight Rate - $160.00 (after 1:30pm)
Rates and twilight times subject to change
Aerification Schedule:
07/11/16-07/12/16 - CLOSED
07/13/16-07/26/16
07/27/16-08/02/16
09/12/16-09/13/16 - CLOSED
09/14/16-09/27/16
09/28/16-10/04/16

Rates include food & beverage, green fee, shared cart, range privileges, bottled water & taxes
For groups of 12 or more please contact us for rates and terms.
Junior Rate: $135.00 (16 and under with ID)
Ride along (non-golfer): $45.00
Golf Club Rentals:
$55.00 Taylor Made: woods r11 & irons 2.0 burner
$40.00 Taylor Made burner
Dress Code (players and riders): Appropriate golf attire is required. No swimwear, cut-offs, halter tops or tank tops, blue or denim jeans. Collared shirts are required, pants or Bermuda shorts are acceptable and soft spikes only (no metal) or tennis shoes are required.
Players may not bring their own food and/or beverage to the club house or golf course. If a player or group wants to introduce food or beverages, there will be a penalty of $50.00 per player. Food and beveraged must be purchased at the course.
---
Great Villas & Resorts for Golf
Villa Estero
This elegant beachfront villa features a stunning design and a perfect location in Puerto Los Cabos. 5BR-5.5BA
Villa Tranquilidad
Step into luxury at this spectacular oasis set just steps to a scenic stretch of beach. 7BR-7+BA
Villa las Piedras
Discover a world of refinement and magnificent vistas at this stunning new villa in the Puerto los Cabos. 5BR-7BA
Secrets Puerto Los Cabos
A breathtaking vacation getaway awaits at this resort offering "Unlimited Luxury".
Hotel El Ganzo
This stylish boutique-style luxury resort overlooks the spectacular marina at Puerto Los Cabos.
Golf Course Map
2016 Summer Villa Sale
Book a select villa for travel by 10/17/16 and get a FREE Avis Car Rental, 7th Night Free,
1 Free Massage, Free Chef, 2-for-1 Activities and more! PLUS over $200 in free extras!