Pueblo Bonito Rose

Cabo San Lucas, Medano Beach

5-STAR

LUXURY RATING

Add to Favorites
Info

Distance to Town:

0.9 miles

Distance to Beach:

0.1 miles

Nearest Marina:

0.8 miles

Distance to Airport:

27.1 miles
Property Description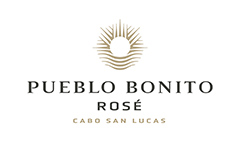 Unwind and lose yourself in the elegant haven that is Pueblo Bonito Rosé Resort & Spa. Located right on Cabo's best swimming beach, this recently upgraded resort offers stunning views of the azure Sea of Cortez and El Arco, the iconic rock formation at Land's End. This Italian Riviera-style resort offers a state-of-the art fitness center, a beautiful full-service spa, tennis, water sports and a variety of delightful dining options, including the award-winning Fellini's, one of Mexico's finest restaurants.
Stroll into town, relax on your private balcony or take a leisurely walk along the beach. A refined atmosphere and warm hospitality await you. The Mediterranean-inspired architecture of Pueblo Bonito Rosé embodies the charm and grace of a bygone era. Unique artworks grace the lobby and swaying palms surround the lagoon-like beachfront pool. Each of the resort's suites offer spacious, stylishly decorated interiors, kitchenettes and private balconies or terraces. When you're ready for an extra bit of pampering, The Spa at Rosé offers relaxing spa treatments and beauty services.
Pueblo Bonito Rosé is just steps from the many exciting activities, nightlife and dining options of Cabo San Lucas.

CONSTRUCTION NOTE: Restaurant Mare Nostrum is being expanded and will be temporarily moved to an area adjacent to the Pool. All menus will remain the same. Hours of operation: 9am - 5pm.
Luxury 5 Star Rating
The luxury rating represents very high quality properties in prime locations with fabulous ocean views. Their superior furnishings and amenities are in excellent condition. These properties offer a very high level of service.


Property Amenities
Modern Elevators
Doorman/Valet Parking
24-Hour Security
Gym, Sauna, Massage
Full European Spa
Beautiful Gourmet Restaurants
Poolside and Beachside Service

Beautiful Free-Form Pool
Sport fishing, Diving
Tennis Courts and Pro
Activities Desk
Free wireless internet in pool area
Computers available for use in Business Center ($5/15 minutes)
Total Air Conditioning
Direct-Dial Telephones
Free Satellite TV
Private Balconies
Full-Menu Room Service

Purified Running Water
Kitchenette
In-room safe
Ironing board
Enjoy 7 different dining options plus daily theme parties, and 4 different bar options (including the Restaurants and Bars of the next door PB Los Cabos.
Breakfast/Brunch
Rose – Mare Nostrum (buffet) 7am-12pm
Rose - Sunday Champagne Brunch at Mare Nostrum 8am-2pm
Los Cabos – Las Palomas (a la carte) 7am-12pm
Snacks/Lunch
Rose – Pool Grill & Bar (a la carte) 10am-6pm
Rose – Mare Nostrum (a la carte) 12pm-5pm
Rose – Sunsets & Sushi Bar (a la carte) 1pm-10pm
Rose – Sunsets & Sushi Bar (Saturday) 1pm-6pm
Los Cabos - Pool Grill & Bar (a la carte) 10am-6pm
Los Cabos – Cilantros (a la carte) 12pm-5:30pm
Dinner
Rose – Fellini's (chef's special menu, reservations required) 6pm-10:30pm
Los Cabos – Casa Mexicana (chef's special menu, reservations required) 6pm-10:30pm
Los Cabos – Cilantros (a la carte) 6pm-10:30pm
Theme Nights (buffet)
Rose –Monday: Pizza, Pasta & Wine (Mare Nostrum) 5:30pm-10:30pm
Rose – Tuesday: Kebab Night (Mare Nostrum) 6pm-10:30pm
Rose – Wednesday: Grill Night (Mare Nostrum) 6pm-10:30pm
Rose – Thursday: Asian Night (Mare Nostrum) 6pm-10:30pm
Rose – Friday: Mexican Night (Mare Nostrum) 6pm-10:30pm
Rose – Saturday: Carnival Night (Mare Nostrum) 6pm-10:30pm
Rose – Sunday: International Night (Mare Nostrum) 6pm-10:30pm
Los Cabos – Monday: Fajitas Night (Casa Mexicana Grill) 5:30pm-10:30pm
Los Cabos – Tuesday: Mexican Party (Casa Mexicana Grill) 6pm-10:30pm
Los Cabos – Wednesday: Surf & Turf Night (Casa Mexicana Grill) 6pm-10:30pm
Los Cabos – Thursday: Kebab Night (Casa Mexicana Grill) 6pm-10:30pm
Los Cabos – Friday: Shrimp Festival (Casa Mexicana Grill) 6pm-10:30pm
Los Cabos – Saturday: A la Carte (Casa Mexicana Grill) 6pm-10:30pm
Los Cabos – Sunday: Taco Night (Casa Mexicana Grill) 6pm-10:30pm
Bars
Rose – Sunsets & Sushi Bar 10am-12am
Los Cabos – Pool Grill & Bar 10am-6pm
Los Cabos – Las Palomas 7am-11pm
Suite Service
Rose/Los Cabos - $5 delivery charge per order 7am-1am
Reviews for Pueblo Bonito Rose
"We spent the Thanksgiving holiday in Cabo and stayed at the Pueblo Bonito Rose for 4 days and 3 nights." Jake
December 1, 2014
First: We used Cabovillas.com to book and they were great. They booked us in a private van to/from the airport for $150, which was a great deal with TransCabo. Now to the Rose: Pros: -Location! Right on Medano Beach, which is totally swimmable and terrific -Price: Not too expensive and not too cheap -All-inclusive. Food prices are crazy so the all-inclusive was a great deal -Food: Food was quite good in the restaurants. Not as good by the pool or on the beach. -Other properties: The property on the Pacific side is beautiful with a ton of great pools. With the all-inclusive package, you can eat there for free, too. To get there, there's a free shuttle every hour or a $14 taxi ride. Also, the kids pool at the Pacific resort is very cool. Note that you cannot swim in the Pacific Ocean because of dangerous currents. Cons: -Service: this is a big one and a shocker to us. The folks at Rose act like they are doing you a big favor every time they get you something or even give you directions. Want to order a drink at the beach? okay, jeez, if we HAVE to get it for you now, we will. Want to make dinner reservations? Okay, big sigh, I guess we can do that for you. You need extra towels? No way. Can't help you there and we can't really give you a reason. The odd thing about the service problem is that it seems to be isolated to the Rose. The Pueblo Bonito property by the ocean is the opposite! Everyone there was extremely helpful and nice. Want a drink at the pool? Immediately! Need a snack. We'll get it to you in under 5 minutes! -Check-in: We had paid in advance. So, they checked our passports, gave us keys and told us to go to another lady for our towel cards. We go to the woman with the towel cards and she tried (very hard) to sell us a timeshare. No one ever told us where the restaurants were, they never told us about the other properties, they never gave us a resort map. Frankly, a little odd. We've stayed at other Cabo resorts and this was a really weird experience. -The bill: We had a big issue with the bill at the end. Apparently not all of the restaurants are included in the all-inclusive. No one tells you this (see "check-in"). We ate at the golf course steak restaurant and had a wonderful dinner. Really fantastic. We asked several times if it was included. The answer was always yes. But, there was a $30/pp charge. Surprise! (At the time of our visit, the restaurant was brand new). Note that there are multiple signs advertising the steak restaurant around the resort and none of the signs includes language about the $30 charge. Misc: -Beach Vendors: you need to understand that there are a lot of beach vendors. They're all nice but they are there. They walk up and down Medano beach selling their wares. You may even buy something (haggling needed). -Reserving beach chairs: you need to go put your belongings on some beach chairs by 730a. This is true at most resorts, so I can't really count it against the rose. Conclusion: -We would do it again! Nice resort for sure. I hope they get the service issues fixed. Whoever is helping the employees at the Pacific resort should train the employees at Rose.
"The highlights of the trip were the relaxed atmosphere of the Pueblo Bonito Rosé, the pool was fabulous, access to the beach and restaurants/bars was just walking 10 minutes down the sand, the activities staff, the beautiful landscape and cleanliness of the resort." Colleen
I'd come back for sure!
"We got a great deal on our accommodations and Marsa was awesome!" Tracy
Pueblo Bonito Rose was a beautiful destination!
Specials
WEDDINGS AND OTHER SPECIAL EVENTS
Holiday surcharges apply. Rates do not include 10% Hotel Service Charge.
Additional Room Type and Rate Information
click here
Call us at to request availability and rates on additional room types.
Junior Suite: $257-$417/night
Luxury Suite: $293-$489/night
Occupancy is based on two people per room.
Extra person charge is $50-$71/night each.
Two children 12 years of age and under are free with existing bedding.
Rollaways are not available.
ALL-INCLUSIVE DETAILS
Jr. Suite ROH AI* - $186-$422/night
Luxury Suite AI* - $197-$457/night
Child (5-11) 2013: $74/night
Junior (12-17) 2013: $130/night
(per person including tax, not including gratuity)


All Inclusive Option Includes:
•Restaurants and bars of Pueblo Bonito Rose and adjacent sister resort, Pueblo Bonito Los Cabos; totaling 7 restaurants and bars
•Room Service from 7am - 2am (select alcoholic and non-alcoholic beverages are only served with meals)
•Well drinks, beer and house wine from 7am - 2am (Restaurant Mare Nostrum and Pool Bar)
Includes tax and service charge
Extra charge applies for "Seafood Theme Night" and Fellini's Restaurant
Does not include premium liquor or prime cuts of meat/seafood

Not Included:
Kids Club, banquet and meeting facilities, tours and excursions, certified wedding planners and wedding ceremonies, currency exchange, car rental, laundry and dry cleaning services, beauty salon, deli and market, tobacco shop, internet business center, telephone calls, spa, tennis court and in-room water, coffee snack and mini-bar.

Wedding Packages from $2,104 (plus location fee and gratuity)