Pueblo Bonito Rose
Cabo San Lucas, Medano Beach

5-STAR LUXURY RATING

Add to Favorites
Info

Distance to Town:

0.8 miles

Distance to Beach:

0.1 miles

Distance to Marina:

1.8 miles

Distance to Airport:

30.4 miles

Click to Talk by Phone!
Property Description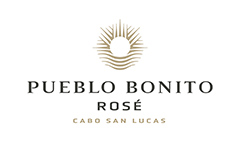 Unwind and lose yourself in the elegant haven that is Pueblo Bonito Rosé Resort & Spa. Located right on Cabo's best swimming beach, this recently upgraded resort offers stunning views of the azure Sea of Cortez and El Arco, the iconic rock formation at Land's End. This Italian Riviera-style resort offers a state-of-the art fitness center, a beautiful full-service spa, tennis, water sports and a variety of delightful dining options, including the award-winning Fellini's, one of Mexico's finest restaurants.
Stroll into town, relax on your private balcony or take a leisurely walk along the beach. A refined atmosphere and warm hospitality await you. The Mediterranean-inspired architecture of Pueblo Bonito Rosé embodies the charm and grace of a bygone era. Unique artworks grace the lobby and swaying palms surround the lagoon-like beachfront pool. Each of the resort's suites offer spacious, stylishly decorated interiors, kitchenettes and private balconies or terraces. When you're ready for an extra bit of pampering, The Spa at Rosé offers relaxing spa treatments and beauty services.
Pueblo Bonito Rosé is just steps from the many exciting activities, nightlife and dining options of Cabo San Lucas.
Luxury 5 Star Rating
The luxury rating represents very high quality properties in prime locations with fabulous ocean views. Their superior furnishings and amenities are in excellent condition. These properties offer a very high level of service.


Property Amenities
Modern Elevators
Doorman/Valet Parking
24-Hour Security
Gym, Sauna, Massage
Full European Spa
Beautiful Gourmet Restaurants
Poolside and Beachside Service

Beautiful Free-Form Pool
Sport fishing, Diving
Tennis Courts and Pro
Activities Desk
Free wireless internet in pool area
Computers available for use in Business Center ($5/15 minutes)
Total Air Conditioning
Direct-Dial Telephones
Free Satellite TV
Private Balconies
Full-Menu Room Service

Purified Running Water
Kitchenette
In-room safe
Ironing board
Breakfast/Brunch
Rose – Mare Nostrum (buffet) 7am-12pm
Rose - Sunday Champagne Brunch at Mare Nostrum 8am-2pm
Los Cabos – Las Palomas (a la carte) 7am-12pm
Snacks/Lunch
Rose – Pool Grill & Bar (a la carte) 10am-6pm
Los Cabos - Pool Grill & Bar (a la carte) 11am-6pm
Rose – Mare Nostrum (a la carte) 12pm-5pm
Rose – Sunsets & Sushi Bar (a la carte) 1pm-6pm
Los Cabos – Cilantros (a la carte) 12pm-6pm
Dinner
Rose – Mare Nostrum (a la carte) 6pm-10pm
Rose – Sunsets & Sushi Bar (a la carte) 6pm-10pm
Rose – Grill at Rose (a la carte) 6pm-10pm
Rose – Fellini's (chef's special menu, reservations required) 6pm-10pm
Los Cabos – Casa Mexicana (chef's special menu, reservations required) 6pm-10pm
Los Cabos – Cilantros (a la carte) 6pm-10pm
Theme Nights (buffet)
Rose –Monday: Mariachi Night 6pm-10pm
Rose - Monday: Mexican Buffet 6pm-10pm
Rose – Tuesday: Ceasar's Grill 6pm-10pm
Los Cabos – Tuesday: Mexican Flair 6pm-10pm
Los Cabos – Wednesday: Tex-Mex Night 6pm-10pm
Rose – Thursday: Asian Night 6pm-10pm
Rose – Friday: Mediterranean Night 6pm-10pm
Rose – Saturday: Carnival Night 6pm-10pm
Los Cabos - TexMex Night 6pm-10pm
Bars
Rose – Pool Grill & Bar 10am-6pm
Rose – Sunsets & Sushi Bar 10am-12:30am
Los Cabos – Pool Grill & Bar 10am-6pm
Los Cabos – Las Palomas 7am-10pm
Suite Service
Rose/Los Cabos - $5 delivery charge per order 7am-2am


The last shuttle from the Pueblo Bonito Rose to the Pueblo Bonito Sunset Beach at Pueblo Bonito Pacifica leaves at 10:30pm.
Reviews
"The highlights of the trip were the relaxed atmosphere of the Pueblo Bonito Rosé, the pool was fabulous, access to the beach and restaurants/bars was just walking 10 minutes down the sand, the activities staff, the beautiful landscape and cleanliness of the resort." Colleen
I'd come back for sure!
"We got a great deal on our accommodations and Marsa was awesome!" Tracy
Pueblo Bonito Rose was a beautiful destination!
"We had a great time." Mary
.what more can we say?! We had a group of over 50 that gathered from around the USA for a fun-filled week at the Pueblo Bonito Rose. Transportation from the airport was great - clean and first-class. Our hotel was very good, and I think it was the best location for walking downtown. The hotel concierge, Martin, was outstanding. I liked being able to have a meal on the beach, at The Office, Tabasco's, Edith's, etc. The family even hit the Hard Rock Cafe for burgers! Our Rehearsal Dinner was at DeNito - what a beautiful view overlooking the bay, rock formation and city as the sun went down. The Bridesmaid's Luncheon was for 30 ladies at the Iguana, downtown facing the dock and in the middle of the crossroads. Just a hole in the wall upstairs. We wanted something traditionally Mexican. Open, views of bay, town and mountains. Some of our guests having been visiting Cabo for 20 years and stated this was the best food they've had! We all took the sunset cruise - approx 40 passengers on one of the party boats. I left for Cabo feeling like I had visited with a friend who had pointed me in the right direction. I came back knowing we had done the right thing! Thanks for our family vacation of a lifetime! Warm regards.
Specials

WEDDINGS AND OTHER SPECIAL EVENTS
Rate Detail
Holiday surcharges apply. Rates do not include 10% Hotel Service Charge.
Additional Room Type and Rate Information click here
Call us at to request availability and rates on additional room types.
Junior Suite: $257-$417/night
Luxury Suite: $293-$489/night
Occupancy is based on two people per room.
Extra person charge is $50-$71/night each.
Two children 12 years of age and under are free with existing bedding.
Rollaways are not available.
ALL-INCLUSIVE DETAILS
Jr. Suite ROH AI* - $186-$422/night
Luxury Suite AI* - $197-$457/night
Child (5-11) 2013: $74/night
Junior (12-17) 2013: $130/night
(per person including tax, not including gratuity)


All Inclusive Option Includes:
•Restaurants and bars of Pueblo Bonito Rose and adjacent sister resort, Pueblo Bonito Los Cabos; totaling 7 restaurants and bars
•Room Service from 7am - 2am (select alcoholic and non-alcoholic beverages are only served with meals)
•Well drinks, beer and house wine from 7am - 2am (Restaurant Mare Nostrum and Pool Bar)
Includes tax and service charge
Extra charge applies for "Seafood Theme Night" and Fellini's Restaurant
Does not include premium liquor or prime cuts of meat/seafood

Not Included:
Kids Club, banquet and meeting facilities, tours and excursions, certified wedding planners and wedding ceremonies, currency exchange, car rental, laundry and dry cleaning services, beauty salon, deli and market, tobacco shop, internet business center, telephone calls, spa, tennis court and in-room water, coffee snack and mini-bar.

Wedding Packages from $2,104 (plus location fee and gratuity)