Pueblo Bonito Rose

Cabo San Lucas, Medano Beach

5-STAR

LUXURY RATING
Info
Distance to Town:
0.9 miles
Distance to Beach:
0.1 miles
Nearest Marina:
0.8 miles
Distance to Airport:
27.1 miles
Click to Talk by Phone!
Property Description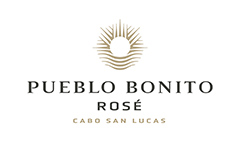 Unwind and lose yourself in the elegant haven that is Pueblo Bonito Rosé Resort & Spa. Located right on Cabo's best swimming beach, this recently upgraded resort offers stunning views of the azure Sea of Cortez and El Arco, the iconic rock formation at Land's End. This Italian Riviera-style resort offers a state-of-the art fitness center, a beautiful full-service spa, tennis, water sports and a variety of delightful dining options, including the award-winning Fellini's, one of Mexico's finest restaurants.

Stroll into town, relax on your private balcony or take a leisurely walk along the beach. A refined atmosphere and warm hospitality await you. The Mediterranean-inspired architecture of Pueblo Bonito Rosé embodies the charm and grace of a bygone era. Unique artworks grace the lobby and swaying palms surround the lagoon-like beachfront pool. Each of the resort's suites offer spacious, stylishly decorated interiors, kitchenettes and private balconies or terraces. When you're ready for an extra bit of pampering, The Spa at Rosé offers relaxing spa treatments and beauty services.

Pueblo Bonito Rosé is just steps from the many exciting activities, nightlife and dining options of Cabo San Lucas.

CONSTRUCTION NOTE: Restaurant Mare Nostrum is being expanded and will be temporarily moved to an area adjacent to the Pool. All menus will remain the same. Hours of operation: 9am - 5pm.
Luxury 5 Star Rating
The luxury rating represents very high quality properties in prime locations with fabulous ocean views. Their superior furnishings and amenities are in excellent condition. These properties offer a very high level of service.


Property Amenities
Modern Elevators
Doorman/Valet Parking
24-Hour Security
Gym, Sauna, Massage
Full European Spa
Beautiful Gourmet Restaurants
Poolside and Beachside Service

Beautiful Free-Form Pool
Sport fishing, Diving
Tennis Courts and Pro
Activities Desk
Free wireless internet in pool area
Computers available for use in Business Center ($5/15 minutes)
Junior Suites: The Junior Suites feature over 540 square feet of living space, Two Double beds (can be made into CalKing - based on availability), an open living area with table and chairs, a large bathroom, and a full accessorized Kitchenette with service for four. The private balcony or terrace will have a pool and a garden view, and ocean view can be requested. Junior Suites can accommodate up to 4 Adults or 3 Adults + 1 Child.
Luxury Suites: Offering more than 715 square feet of floor space, the Luxury Suites have a private bedroom and are perfect for families and guests who simply enjoy extra room to roam. The bedroom has two Two Double beds (can be made into CalKing - based on availability) and its own TV armoire. The stylish living room is furnished with a Queen-size Sofa Sleeper, and the large bathroom can be entered from the bedroom or hallway. The dining area is furnished with a dining table and chairs, and the Kitchenette is fully equipped with service for six. Luxury Suites can accommodate up to 3 Adults + 2 Children or 4 Adults + 2 Children.

Standard In-Room Amenities:
Balcony or Patio
Blackout Drapes
Cable/Satellite Television with premium channels
Clock Radio
Coffee/Tea Maker
Electronic Check-Out
Electronic/ Magnetic room keys
Housekeeping twice daily
In-Room Safe (accommodates laptop)
Iron and Ironing Board
Kitchenette: Refrigerator, cook top, coffee maker, toaster, microwave, blender, dishes, eating and serving utensils
Multiple line telephone
Private voicemail
Rollaways are not available

Premium Bed & Bath Amenities:
Feather-top Mattress
Pillow Menu
Hairdryer
Complimentary Toiletries
Plush Bathrobes
Bathroom Telephone
Premium towels and linens
Rollaways are not available
Enjoy 7 different dining options plus daily theme parties, and 4 different bar options (including the Restaurants and Bars of the next door PB Los Cabos.
Accommodations of your choice
Housekeeping twice daily
Breakfast, Lunch and Dinner options at on-site Restaurants and poolside bars
Wide variety of cocktail and beverage options
Room Service from 7am - 1am (select beverages are only served with meals)
Private beach access to El Medano Beach
State of the art fitness center
Access to Restaurants and Bars at Pueblo Bonito Los Cabos
Access to outdoor swimming pool
Daily activities including Spanish lessons, ping pong and tennis
Daily pool and beach activities and water aerobics
Valet parking

Terms & Conditions
Extra charge applies for "Seafood Theme Night" and Fellini's Restaurant
A minimum purchase of three consecutive days is required.
Not valid at LaFrida, Sunrise Coffee, Pueblo Bonito Sunset Beach, Pueblo Bonito Pacifica and Cibola Restaurant at Montecristo.
Guests will receive a Deluxe AI Meal Plan Bracelet and must be worn during the length of program acquired.
All guests sharing Suite must purchase the meal plan.
Usage of AI Plan begins at 12 noon on day of purchase and ends at 11am on day of check-out.
Theme Nights may change without notice.
Your dinner reservation will have a tolerance of 15 minutes, otherwise the reservation will be given to guests on the waiting list.
Does not include in-room mini bar, premium liquor or prime cuts of meat/seafood
Breakfast/Brunch
Rose – Mare Nostrum (buffet) 7am-12pm
Rose - Sunday Champagne Brunch at Mare Nostrum 8am-2pm
Los Cabos – Las Palomas (a la carte) 7am-12pm (closed Tuesdays)
Snacks/Lunch
Rose – Pool Grill & Bar (a la carte) 10am-6pm
Rose – The Grill (a la carte) 12pm-5pm
Rose – Sunsets & Sushi Bar (a la carte) 2pm-9pm
Los Cabos - Pool & Beach Service (a la carte) 10am-6pm
Dinner
Rose – The Grill (a la carte) 6pm-10:30pm
Rose – Fellini's (chef's special menu, reservations required) 6pm-10:30pm
Los Cabos – Palomas (closed Tuesdays) 6pm-10:30pm
Los Cabos – Cilantros (a la carte) 6pm-10:30pm

Theme Nights (buffet, reservations required)
Rose –Monday: Mediterranean Night (Mare Nostrum) 5:30pm-10:30pm
Rose – Tuesday: Grill Night (Mare Nostrum) 6pm-10:30pm
Rose – Wednesday: Seafood Night (Mare Nostrum) 6pm-10:30pm
Rose – Thursday: Asian Night (Mare Nostrum) 6pm-10:30pm
Rose – Friday: Mexican Night (Mare Nostrum) 6pm-10:30pm
Rose – Saturday: Carnival Night (Mare Nostrum) 6pm-10:30pm
Los Cabos – Tuesday: Mexican Party (Casa Mexicana Grill) 6pm-10:30pm
Bars
Rose – Pool Bar 10am-6am
Rose – Sunsets & Sushi Bar 10am-12am
Los Cabos – Pool Bar 10am-6pm
Los Cabos – Las Palomas (closed Tuesdays) 7am-12pm
Suite Service
Rose/Los Cabos - $5 delivery charge per order 7am-1am
Map
About the Area: Medano Beach
The beloved beachfront of Cabo San Lucas, Medano is an energetic blend of spectacular beach, beautifully azure swimmable waters, activities and of course people. Hot beach clubs, beautiful resorts and fun restaurants line the beach. Hang out at the Mango Deck, Billygan's Island or The Office where you can enjoy happy hour with your toes in the sand. The gentle waters of the Bay are a beautiful backdrop for kayaking, jet skiing and parasailing. While soaking in the sun on the beach, you'll encounter a host of local hawkers selling anything from jewelry to chewing gum. If you're interested, bargaining is expected; if not, ignore them. If you're looking for a hot mix of action and natural beauty, Medano is the place to be. Depending on where you're staying on Medano Beach, you're either just a short cab ride or walk to downtown.
Guest Reviews for Pueblo Bonito Rose
Review from Jake

| Seattle, Washington

December 1, 2014

We spent the Thanksgiving holiday in Cabo and stayed at the Pueblo Bonito Rose for 4 days and 3 nights. First: We used Cabovillas.com to book and they were great. They booked us in a private van to/from the airport for $150, which was a great deal with TransCabo. Now to the Rose: Pros: -Location! Right on Medano Beach, which is totally swimmable and terrific -Price: Not too expensive and not too cheap -All-inclusive. Food prices are crazy so the all-inclusive was a great deal -Food: Food was quite good in the restaurants. Not as good by the pool or on the beach. -Other properties: The property on the Pacific side is beautiful with a ton of great pools. With the all-inclusive package, you can eat there for free, too. To get there, there's a free shuttle every hour or a $14 taxi ride. Also, the kids pool at the Pacific resort is very cool. Note that you cannot swim in the Pacific Ocean because of dangerous currents. Cons: -Service: this is a big one and a shocker to us. The folks at Rose act like they are doing you a big favor every time they get you something or even give you directions. Want to order a drink at the beach? okay, jeez, if we HAVE to get it for you now, we will. Want to make dinner reservations? Okay, big sigh, I guess we can do that for you. You need extra towels? No way. Can't help you there and we can't really give you a reason. The odd thing about the service problem is that it seems to be isolated to the Rose. The Pueblo Bonito property by the ocean is the opposite! Everyone there was extremely helpful and nice. Want a drink at the pool? Immediately! Need a snack. We'll get it to you in under 5 minutes! -Check-in: We had paid in advance. So, they checked our passports, gave us keys and told us to go to another lady for our towel cards. We go to the woman with the towel cards and she tried (very hard) to sell us a timeshare. No one ever told us where the restaurants were, they never told us about the other properties, they never gave us a resort map. Frankly, a little odd. We've stayed at other Cabo resorts and this was a really weird experience. -The bill: We had a big issue with the bill at the end. Apparently not all of the restaurants are included in the all-inclusive. No one tells you this (see "check-in"). We ate at the golf course steak restaurant and had a wonderful dinner. Really fantastic. We asked several times if it was included. The answer was always yes. But, there was a $30/pp charge. Surprise! (At the time of our visit, the restaurant was brand new). Note that there are multiple signs advertising the steak restaurant around the resort and none of the signs includes language about the $30 charge. Misc: -Beach Vendors: you need to understand that there are a lot of beach vendors. They're all nice but they are there. They walk up and down Medano beach selling their wares. You may even buy something (haggling needed). -Reserving beach chairs: you need to go put your belongings on some beach chairs by 730a. This is true at most resorts, so I can't really count it against the rose. Conclusion: -We would do it again! Nice resort for sure. I hope they get the service issues fixed. Whoever is helping the employees at the Pacific resort should train the employees at Rose.
Review from Colleen

| Long Beach, CA

The highlights of the trip were the relaxed atmosphere of the Pueblo Bonito Rosé, the pool was fabulous, access to the beach and restaurants/bars was just walking 10 minutes down the sand, the activities staff, the beautiful landscape and cleanliness of the resort. I'd come back for sure!
Review from Tracy

| Thousand Oaks, CA

We got a great deal on our accommodations and Marsa was awesome! Pueblo Bonito Rose was a beautiful destination!
Specials
WEDDINGS AND OTHER SPECIAL EVENTS
Holiday surcharges apply. Rates include all taxes and hotel service charges.
ENTER TO WIN
and get a
Free Cabo Vacation Guide!
2016 Summer Villa Sale
Book a select villa for travel by 10/17/16 and get a FREE Avis Car Rental,
7th Night Free,1 Free Massage, Free Chef, 2-for-1 Activities and more!
PLUS over $200 in free extras!