Pueblo Bonito Los Cabos
Cabo San Lucas, Medano Beach

4.5-STAR DELUXE RATING

Add to Favorites
Info

Distance to Town:

0.9 miles

Distance to Beach:

0.0 miles

Distance to Marina:

1.8 miles

Distance to Airport:

30.1 miles
Property Description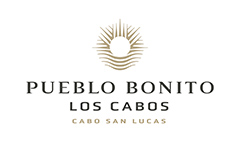 Delight in the casual luxury of Pueblo Bonito Los Cabos—the perfect combination of pampering service, fine accommodations, and a setting of breathtaking beauty. This charming resort, with its beautiful gardens surrounding a free-form swimming pool, is situated right on the clean golden sands of a safe swimming beach, overlooking the azure waters of the Sea of Cortez and the famous Arch at Land's End. Two gourmet restaurants serve fine Mexican and international cuisine, and the shopping and nightlife of downtown Cabo San Lucas are just a ten-minute stroll away.
The elegant Mexican colonial architecture features white adobe punctuated with blue trim. The magnificent pool, fronting the beautiful stretch of beach, is surrounded by palm trees swaying gently in the sea breezes. Inside your plush suite, you'll find everything you need for a comfortable stay including a kitchenette and cheerful décor. Step out onto your private balcony to enjoy panoramic views of the sea.
Hang out at the pool and catch some rays as you gaze at the brilliantly blue waters, or enjoy a soothing spa treatment. Whatever your vision of the perfect warm-weather getaway, Pueblo Bonito Los Cabos proves you truly can have it all.
Deluxe 4.5 Star Rating
The deluxe rating indicates a nice and well-kept property in a good location. Furnishings and amenities are of good quality. Their ocean views may be limited. Guests can arrange for services on-site or find them nearby.


Property Amenities
Doorman/Valet Parking
24 Hour Security
Gym, Sauna, Massage
Full Spa
Beautiful Gourmet Restaurants
Poolside and Beachside Service
Full Menu Room Service

Beautiful Free-Form Pool
Sport fishing, Diving
Tennis Courts
Activities Desk
Free wireless Internet in pool area
Computers available for use in lobby Internet Center ($4/30 minutes)
Junior Suites: Luxurious Junior Suites feature over 525 square feet of living space with spectacular ocean views. Perfectly sized for up to four guests, junior suites feature top-of-the-line amenities, two double beds, open living space and a kitchenette stocked with a full complement of dishes and utensils for four.
Luxury Suites: Sophisticated beachside living is the essence of the Luxury Suites. The spacious floor plan features 750 square feet of oceanview living space, including a private bedroom and bathroom and separate dining area. The modern kitchenette is fully equipped with essential appliances and a complement of dishes and utensils for six people.

Amenities: Blacony/patio with ocean views, blackout drapes, cable/satellite TV, childcare ($), coffee/tea maker, hairdryer, twice daily housekeeping, in-room safe, iron/ironing board, complimentary high-speed internet access, fully-equipped kitchenette, microwave, refrigerator, voicemail, and clock radio
Reviews
"Thank you so very much." Dorine
The Pueblo Bonito is absolutely beautiful! Tim and I are having a wonderful time. You were right--this is a very romantic place.
"Katrina - I wanted to let you know that we had a great time in Cabo last week." Suzi
Everything went well with the shuttle to and from the airport, and the resort was great! My girls and I have decided we are going to go back to Cabo again next year, and I will be sure to contact you when we figure out when we're going. I appreciate all of your help, and I look forward to working with you again in the future.
"My experience with Colleen (ESSV reservation agent) over the past 5 days, 10 hotels and room styles: • A thorough knowledge of the area • A soothing and reassuring voice • A wonderful laugh • She was very, very good." Todd
Thank you!
Specials

WEDDINGS AND OTHER SPECIAL EVENTS
Rate Detail
Holiday surcharges apply. Rates do not include 10% Hotel Service Charge.
Additional Room Type and Rate Information click here
Call us at to request availability and rates on additional room types.
Junior Suite: $257-$343/night
Luxury Suite: $329-$415/night
Occupancy is based on two people per room.
Extra person charge is $50/night.
Two children 12 years of age and under are free with existing bedding.
Rollaways are not available.

Wedding Packages from $2,104 (plus location fee and gratuity)
ALL-INCLUSIVE DETAILS
Jr. Suite AI* - $283-$559/night
Luxury Suite AI* - $319-$623/night
Child (5-11) - $74/night
Junior (12-17) - $130/night
(*Per person including tax, not including gratuity)


All Inclusive Option Includes:
•Restaurants and bars of Pueblo Bonito Los Cabos and adjacent sister resort, Pueblo Bonito Rose; totaling 7 restaurants and bars
•Room Service from 7am - 2am (select alcoholic and non-alcoholic beverages are only served with meals)
•Well drinks, beer and house wine
Includes tax and service charge
Extra charge applies for "Seafood Theme Night" and Fellini's Restaurant
Does not include premium liquor or prime cuts of meat/seafood

Not Included:
Kids Club, banquet and meeting facilities, tours and excursions, certified wedding planners and wedding ceremonies, currency exchange, car rental, laundry and dry cleaning services, beauty salon, deli and market, tobacco shop, internet business center, telephone calls, spa, tennis court and in-room water, coffee snack and mini-bar.