Pueblo Bonito Los Cabos

Cabo San Lucas, Medano Beach

4.5-STAR

DELUXE RATING
Info
Distance to Town:
0.9 miles
Distance to Beach:
0.0 miles
Nearest Marina:
0.8 miles
Distance to Airport:
27.1 miles
Click to Talk by Phone!
Property Description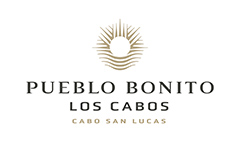 Delight in the casual luxury of Pueblo Bonito Los Cabos—the perfect combination of pampering service, fine accommodations, and a setting of breathtaking beauty. This charming resort, with its beautiful gardens surrounding a free-form swimming pool, is situated right on the clean golden sands of a safe swimming beach, overlooking the azure waters of the Sea of Cortez and the famous Arch at Land's End. Two gourmet restaurants serve fine Mexican and international cuisine, and the shopping and nightlife of downtown Cabo San Lucas are just a ten-minute stroll away.

The elegant Mexican colonial architecture features white adobe punctuated with blue trim. The magnificent pool, fronting the beautiful stretch of beach, is surrounded by palm trees swaying gently in the sea breezes. Inside your plush suite, you'll find everything you need for a comfortable stay including a kitchenette and cheerful décor. Step out onto your private balcony to enjoy panoramic views of the sea.

Hang out at the pool and catch some rays as you gaze at the brilliantly blue waters, or enjoy a soothing spa treatment. Whatever your vision of the perfect warm-weather getaway, Pueblo Bonito Los Cabos proves you truly can have it all.
Deluxe 4.5 Star Rating
The deluxe rating indicates a nice and well-kept property in a good location. Furnishings and amenities are of good quality. Their ocean views may be limited. Guests can arrange for services on-site or find them nearby.


Property Amenities
Doorman/Valet Parking
24 Hour Security
Gym, Sauna, Massage
Full Spa
Beautiful Gourmet Restaurants
Poolside and Beachside Service
Full Menu Room Service

Beautiful Free-Form Pool
Sport fishing, Diving
Tennis Courts
Activities Desk
Free wireless Internet in pool area
Computers available for use in lobby Internet Center ($4/30 minutes)
Junior Suites: Luxurious Junior Suites feature over 525 square feet of living space with spectacular ocean views. Perfectly sized for up to four guests, junior suites feature top-of-the-line amenities, Two Double beds (can be made into CalKing - based on availability), open living space and a kitchenette stocked with a full complement of dishes and utensils for four. Junior Suites can accommodate up to 4 Adults or 3 Adults + 1 Child.
Luxury Suites: Sophisticated beachside living is the essence of the Luxury Suites. The spacious floor plan features 750 square feet of ocean view living space, including a private bedroom and bathroom and separate dining area. The modern kitchenette is fully equipped with essential appliances and a complement of dishes and utensils for six people. Two Double beds (can be made into CalKing - based on availability) + pull out sofa bed. Luxury Suites can accommodate up to 3 Adults + 2 Child or 4 Adults + 2 Children.

Amenities: Blacony/patio with ocean views, blackout drapes, cable/satellite TV, childcare ($), coffee/tea maker, hairdryer, twice daily housekeeping, in-room safe, iron/ironing board, complimentary high-speed internet access, fully-equipped kitchenette, microwave, refrigerator, voicemail, and clock radio. Rollaways are not available.
Enjoy 7 different dining options plus daily theme parties, and 4 different bar options (including the Restaurants and Bars of the next door PB Rose.
Accommodations in luxury ocean view suites
Breakfast, Lunch and Dinner options at family-friendly restaurants and poolside bars
Non-Alcoholic Beverages, Domestic Cocktails, House Wine and Beer
Room Service from 7am - 1am (select beverages are only served with meals)
Access to Restaurants and Bars and Pueblo Bonito Rose
Daily activities including bingo, Spanish classes, bar tending and cooking classes
Access to outdoor swimming pool
Private Beach access
Wake up calls
Valet parking

Terms & Conditions
Extra charge applies for "Seafood Theme Night" and Fellini's Restaurant
A minimum purchase of three consecutive days is required.
Not valid at LaFrida, Sunrise Coffee, Pueblo Bonito Sunset Beach, Pueblo Bonito Pacifica and Cibola Restaurant at Montecristo.
Guests will receive a Deluxe AI Meal Plan Bracelet and must be worn during the length of program acquired.
All guests sharing Suite must purchase the meal plan.
Usage of AI Plan begins at 12 noon on day of purchase and ends at 11am on day of check-out.
Theme Nights may change without notice.
Your dinner reservation will have a tolerance of 15 minutes, otherwise the reservation will be given to guests on the waiting list.
Does not include in-room mini bar, premium liquor or prime cuts of meat/seafood
Breakfast/Brunch
Rose – Mare Nostrum (buffet) 7am-12pm
Rose - Sunday Champagne Brunch at Mare Nostrum 8am-2pm
Los Cabos – Las Palomas (a la carte) 7am-12pm (closed Tuesdays)
Snacks/Lunch
Rose – Pool Grill & Bar (a la carte) 10am-6pm
Rose – The Grill (a la carte) 12pm-5pm
Rose – Sunsets & Sushi Bar (a la carte) 2pm-9pm
Los Cabos - Pool & Beach Service (a la carte) 10am-6pm
Dinner
Rose – The Grill (a la carte) 6pm-10:30pm
Rose – Fellini's (chef's special menu, reservations required) 6pm-10:30pm
Los Cabos – Palomas (closed Tuesdays) 6pm-10:30pm
Los Cabos – Cilantros (a la carte) 6pm-10:30pm

Theme Nights (buffet, reservations required)
Rose –Monday: Mediterranean Night (Mare Nostrum) 5:30pm-10:30pm
Rose – Tuesday: Grill Night (Mare Nostrum) 6pm-10:30pm
Rose – Wednesday: Seafood Night (Mare Nostrum) 6pm-10:30pm
Rose – Thursday: Asian Night (Mare Nostrum) 6pm-10:30pm
Rose – Friday: Mexican Night (Mare Nostrum) 6pm-10:30pm
Rose – Saturday: Carnival Night (Mare Nostrum) 6pm-10:30pm
Los Cabos – Tuesday: Mexican Party (Casa Mexicana Grill) 6pm-10:30pm
Bars
Rose – Pool Bar 10am-6am
Rose – Sunsets & Sushi Bar 10am-12am
Los Cabos – Pool Bar 10am-6pm
Los Cabos – Las Palomas (closed Tuesdays) 7am-12pm
Suite Service
Rose/Los Cabos - $5 delivery charge per order 7am-1am
Map
About the Area: Medano Beach
The beloved beachfront of Cabo San Lucas, Medano is an energetic blend of spectacular beach, beautifully azure swimmable waters, activities and of course people. Hot beach clubs, beautiful resorts and fun restaurants line the beach. Hang out at the Mango Deck, Billygan's Island or The Office where you can enjoy happy hour with your toes in the sand. The gentle waters of the Bay are a beautiful backdrop for kayaking, jet skiing and parasailing. While soaking in the sun on the beach, you'll encounter a host of local hawkers selling anything from jewelry to chewing gum. If you're interested, bargaining is expected; if not, ignore them. If you're looking for a hot mix of action and natural beauty, Medano is the place to be. Depending on where you're staying on Medano Beach, you're either just a short cab ride or walk to downtown.
Guest Reviews for Pueblo Bonito Los Cabos
Review from Dorine

| Acworth, GA

Thank you so very much. The Pueblo Bonito is absolutely beautiful! Tim and I are having a wonderful time. You were right--this is a very romantic place.
Review from Suzi

| Dublin, CA

Katrina - I wanted to let you know that we had a great time in Cabo last week. Everything went well with the shuttle to and from the airport, and the resort was great! My girls and I have decided we are going to go back to Cabo again next year, and I will be sure to contact you when we figure out when we're going. I appreciate all of your help, and I look forward to working with you again in the future.
Review from Todd

| Newark, New Jersey

My experience with Colleen (ESSV reservation agent) over the past 5 days, 10 hotels and room styles: • A thorough knowledge of the area • A soothing and reassuring voice • A wonderful laugh • She was very, very good. Thank you!
Specials
WEDDINGS AND OTHER SPECIAL EVENTS
Holiday surcharges apply. Rates include all taxes and hotel service charges.
ENTER TO WIN
and get a
Free Cabo Vacation Guide!
2016 Summer Villa Sale
Book a select villa for travel by 10/17/16 and get a FREE Avis Car Rental,
7th Night Free,1 Free Massage, Free Chef, 2-for-1 Activities and more!
PLUS over $200 in free extras!