CABO SAN LUCAS, MEXICO
CITY GUIDE
Cabo San Lucas Travel Guide
Located at the tip of Mexico's Baja Peninsula where the Pacific Ocean meets the Sea of Cortez at the iconic stone arch of Land's End ("El Arco"), Cabo San Lucas (also known simply as "Cabo") is all about non-stop action, hot nightlife, celebrity sightings, gorgeous sunny beaches, world-class sportfishing and spectacular golf courses designed by some of the world's most legendary professional golfers. All of this is complemented by luxurious amenities and the breathtaking natural beauty of turquoise ocean waters and the striking surrounding desert landscape dotted with cacti.
In part, Cabo San Lucas has become a hot vacation destination for its convenience; it's just a quick flight from most U.S. cities and English is widely spoken in the resort areas. And of course, there are the luxurious accommodations including magnificent private villa rentals and spectacular resorts. Whether you're planning a stay in an oceanfront vacation rental with family and friends, or are looking for a relaxing getaway in an all-inclusive resort, you're sure to discover the perfect spot for an unforgettable escape in Cabo San Lucas.
The city's action is centered around Cabo's world-class marina where beautiful luxury yachts dock and fishing charters head out in search of marlin, dorado, tuna and other big-game species. In the surrounding downtown streets you'll find a lively scene teeming with restaurants, nightclubs and shops selling everything from handmade souvenirs to designer clothing. And for people watching, nothing beats Cabo's beautifully swimmable Médano Beach where you can sip a margarita with your toes in the sand at one of the beachfront restaurants or clubs. Médano Beach is also a great spot to hop on a jet ski. To visit Cabo's famous El Arco and Lover's Beach, it's eay to catch a water taxi or glass-bottom boat from the marina or Médano beach.
Cabo San Lucas Weather
Feels Like: 84°F/29°C Humidity: 69% Wind: South at 5mph Visibility: 10.0 miles

CURRENTLY





81° Clear

Fri 19





Clear

Sat 20





Clear

Sun 21





Clear

10%

Mon 22





Partly Cloudy

10%

Tue 23





Chance of Rain

50%
Top Vacation Rentals in Cabo San Lucas, Mexico
A villa rental is a perfect choice for families and groups in Cabo San Lucas, offering exceptional privacy, comfort and vacation value. A villa can also be an excellent choice for a destination wedding or other special celebration.
All-Inclusive Resorts in Cabo San Lucas, Mexico
Cabo's luxury resorts line the warm sands of Médano Beach as well as the long stretch of Pedregal and Solmar beaches facing the Pacific. Many guests enjoy the convenience of an all-inclusive resort vacation.
Top Activities in Los Cabos
There's no excuse for boredom with the sensational variety of tours and activities in Cabo San Lucas. Whether it's parasailing, snorkeling, a desert off-road adventure, kayaking, stand up paddle boarding, whale watching, scuba diving along a coral reef, or golfing some of the world's most beautiful courses, there's something for everyone.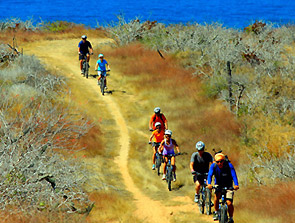 Bike Adventures
Whether you are an experienced cyclist or a first-time biker, the Mountain or Electric Bike Adventures are an enjoyable way to experience the scenic desert outback of Los Cabos. Hit the trails accompanied by experienced guides as you bike along rugged tracks on the way to a breathtaking Pacific beach. End your trip with an authentic Mexican feast and celebratory drink.
From

$

79/person
More Info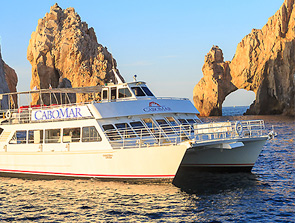 Cabo Mar Catamaran Tour
Put on your dancing shoes and head out on this great catamaran tour in Cabo! Cabo Mar was built in 2005 and is a 65 foot, double-decker super power catamaran comfortably holding up to 150 passengers. Cruise to Land's End to see the spectacular soaring stone arch that has made Cabo famous. The "Cabo Mar" and its Latin rhythms will have you swaying to the beat, cool cocktail in hand as the sun goes down and the evening stars begin to twinkle above Cabo San Lucas Bay.
From

$

65/person
More Info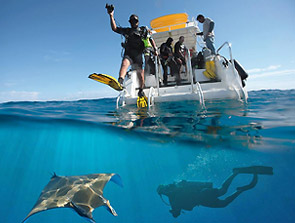 Manta Scuba Diving
Located in Cabo San Lucas, the Manta Scuba Diving program provides outstanding services and a close-up view of Cabo's unspoiled underwater beauty. Their highly trained team provides scuba diving certification classes, equipment rentals and a full range of diving tours to the most famous sites in Los Cabos, including Cabo Pulmo, the Gordo Banks, Pelican Rock, Land's End, Santa Maria Bay, Chileno Bay and more.
From

$

60/person
More Info
Fishing Charters in Cabo San Lucas
The waters around Cabo San Lucas provide some of the finest fishing in the world with a variety of species and year-round abundance of marlin. In fact, Cabo has earned the title of "Marlin Capital of the World" for its outstanding populations of striped, black and blue marlin. A sportfishing trip to Cabo is adventure travel indeed! Charter boats provide an excellent way to tackle the true Los Cabos fishing experience.
Our Top Restaurant Picks
Cabo San Lucas is becoming a true foodie destination offering everything from authentic Baja fish tacos in local eateries to gourmet dining with celebrity chefs and farm-to-table organic restaurants. You'll discover that you can eat your way through Cabo while sampling international cuisines in a variety of breathtaking scenic ocean-view restaurants.
Located at the Hacienda Beach Club & Residences overlooking Médano Beach, Hacienda Cocina y Cantina offers a magical waterfront setting overlooking Land's End. The menu offers upscale Mexican cuisine spanning tantalizing regional offerings. Enjoy a tropical ceviche with sea bass, jicama, cucumber and pineapple. Then, move on to lush mole, Oaxaca-style beef medallions with ancho chile, slow-roasted pork carnets, or adobo-marinated snapper. The delightful signature cocktails are pretty alluring, too!

A casual, inexpensive local taqueria with delicious fish and shrimp tacos, shrimp cocktail, ceviche tostadas and so much more. Always delicious.

Las Gardenias

Near the intersection of Paseo de La Marina & Camino Real

Some of Baja's very best fish tacos can be found at this casual eatery on a side street in Cabo San Lucas. This simple taqueria offers wonderful, fresh food. A favorite with visitors and locals alike.
Free Vacation Guide
and Enter to Win!
Sign-up for our FREE Los Cabos,
Mexico Vacation Guide and Enter to Win!
Win 3 nights at one of our outstanding Los Cabos Resorts!
Click Here...
How Can We Help?
(USA & Canada)
01-831-724-5800 (International)
Low Price Guarantee No Booking Service Fees! 24/7 Client Service
Before You Go...
Tell Us Where To Send Our
Latest Specials, Exclusive Properties and More