LOS CABOS, MEXICO
CITY GUIDE
Los Cabos City Guide
Los Cabos, located at the tip of Mexico's Baja Peninsula, encompasses two distinct towns: action-packed Cabo San Lucas and charming San José del Cabo. Between the two lies the sunny beaches of the Tourist Corridor.
One of the world's premier resort destinations, Los Cabos offers luxury accommodations including vacation villa rentals and beachfront resorts, hot nightlife, fine dining, outstanding sportfishing, exciting tours and activities, and modern amenities. In addition to Spanish, English is commonly spoken in most resorts. Outside Los Cabos, a number of Baja Sur destinations also offer plenty of vacation wonders including the East Cape, La Paz, Todos Santos and the more remote (but wildly beautiful) Loreto.
More information on Los Cabos Neighborhoods.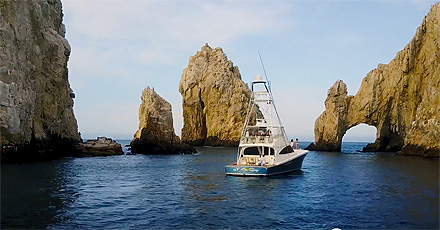 Experience Los Cabos, Mexico
Cabo San Lucas
video
|
map
The town of Cabo San Lucas sits at the tip of the Baja California peninsula, where the Pacific Ocean meets the Sea of Cortez. A popular port of call for cruise ships, Cabo has an excellent marina, a fine swimming beach offering a range of watersports, and a lively, compact downtown area easily explored on foot.
More...
Pedregal video | map
The Pedregal is the grande dame of private, residential communities in Cabo San Lucas. The great ocean breeze makes the Pacific side cooler in the summer months; it's somewhat quieter than the Bay side, with lovely sunsets and whale watching. Luxury vacation rentals offer glorious ocean views.
San José del Cabo
video
|
map
The quiet side of Los Cabos, San José del Cabo features a charming downtown area with 18th-century architecture, a relaxed pace, and old-fashioned hospitality. Savor the pleasures of small-town life as you stroll through its spacious town square surrounded by intimate courtyard cafés, galleries and boutiques.
More...
The Tourist Corridor
video
|
map
The 20-mile oceanfront Tourist Corridor between the two towns boasts dramatic views of the Sea of Cortez. The area has found new fame for its oceanfront championship golf courses, designed by some of the biggest names in golf. Stunning luxury resorts and private villa rentals offer exceptional vacation retreats.
More...
Puerto Los Cabos
map
Just outside of San José del Cabo, the luxurious new devlopment of Puerto Los Cabos is home to boutique hotels, a world-class marina and gorgeous vacation villas overlooking the Sea of Cortez in a setting of natural beauty.
More...
East Cape
map
The East Cape is some 50 miles north of Los Cabos, on Bahía de Palmas, stretching nearly a hundred miles along the Sea of Cortez from San José. It's considered the area's fishing mecca because of the everyday abundance of marine life.
More...
La Paz
map
Further north lies La Paz, the capital of Baja California Sur, and a thriving city of more than 200,000 people. Its marine as well as terrestrial species make it a center for eco-tourism as well.
More...
Loreto
map
Located on the eastern coast of the Baja Peninsula, Loreto possesses an unforgettably tranquil location on the Sea of Cortez – worlds away from the bustle of Los Cabos.
More...
Todos Santos
map
Todos Santos is a unique town on the west coast of Baja California Sur, with spectacular views overlooking its white sand beaches and the Pacific Ocean.
More...

Where would you like to spend your Cabo vacation? No one knows Los Cabos better!
Call CaboVillas.com today at .
Free Vacation Guide
and Enter to Win!
Sign-up for our FREE Los Cabos,
Mexico Vacation Guide and Enter to Win!
Win 3 nights at one of our outstanding Los Cabos Resorts!
Click Here...
How Can We Help?
(USA & Canada)
01-831-724-5800 (International)
Low Price Guarantee No Booking Service Fees! 24/7 Client Service