Cabo Real Golf Course

Photos courtesy of Questro Golf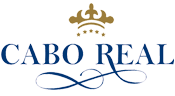 Home to two Senior Slams and a host of other prestigious golf tournaments, the 7,037-yard championship Cabo Real Golf Course is situated midway along the coastal corridor between San Josť del Cabo and Cabo San Lucas, at the Melia Cabo Real Hotel. Designed and built by the Robert Trent Jones Jr. team, acclaimed for their championship resort layouts around the world, this 18-hole course features both seaside and mountain holes laid out over more than 7,000 yards, and contains numerous sand traps and arroyos. Robert Trent Jones, Jr. designed this course so that "every hole features vistas of the sea." Cabo Real provides a real challenge for low handicap golfers, but is still suitable for beginners. Be sure to stop at the clubhouse near the 9th hole for a refreshing snack.
Temporary Hours and Course Information:
- Tee times from 8:00am to 1:30pm, daily. All carts need to be off the course by 6:00pm.
- Reservations to be made 7+ days in advance.
- Golf Shops will be open 7:00am to 5:00pm and Driving Range open 7:30am to 4:00pm.
- All courses are taking safety precautions to promote social spacing. This includes sanitized golf carts, not removing flags, 15 minute interval tee times, employee temperature screening and antibacterial gel.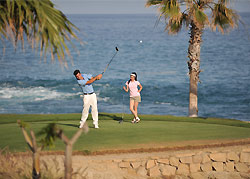 GOLF PASS PROMOTIONS:
11/01/21-05/15/22
3 Rounds Golf Pass: $619.00/per person
2 Rounds Golf Pass: $450.00/per person
05/16/22-06/30/22
3 Rounds Golf Pass: $544.00/per person
2 Rounds Golf Pass: $400.00/per person
07/01/22-10/31/22
3 Rounds Golf Pass: $413.00/per person
2 Rounds Golf Pass: $300.00/per person
2 and 3 Rounds Promo can be played at any Questro Courses including Cabo Real, Puerto Los Cabos* and Club Campestre.
*For rounds played at Puerto Los Cabos there is an additional Food & Beverage fee of $25 per person per round.

Prices*
11/01/21-05/15/22
Morning Rate: $245.00 (7:00am - 11:50am)
Early Twilight Rate: $200.00 (12:00pm - 1:20pm) Twilight Rate: $175.00 (after 1:30pm)
05/16/22-06/30/22
Morning Rate: $210.00 (7:00am - 11:50am)
Early Twilight Rate: $175.00 (12:00pm - 1:20pm) Twilight Rate: $150.00 (after 1:30pm)
07/01/22-10/31/22
Morning Rate: $180.00 (7:00am - 12:20pm)
Twilight Rate: $125.00 (after 12:30pm)
*Prices and twilight hours are subject to change without notice.
Aerification Schedule: The aerification process is performed during the two days that the course is closed, and we extend the special rates during the period that the greens are recovering.
06/28/21-06/29/21: CLOSED
06/30/21-07/13/21: $107
07/14/21-07/20/21: $132
09/20/21-09/21/21: CLOSED
09/22/21-10/05/21: $107
10/06/21-10/12/21: $132

Rates include 18 holes, green fee, shared golf cart, GPS, range privileges, bottled water & taxes

For groups of 13 or more please contact us for rates and terms.
Ride along (non-golfer): $35
Junior Rates available (15 years and under presenting photo ID)
Golf Club Rentals: $55.00 Taylor Made: woods r11 & irons 2.0 burner
Dress Code (players and riders): Appropriate golf attire is required. No swimwear, cut-offs, halter tops or tank tops, blue or denim jeans. Collared is required, pants or bermuda, soft spikes only (no metal) tennis shoes are allowed.

Players may not bring their own food and/or beverage to the club house or golf course. If a player or group wants to introduce food or beverages, there will be a penalty of $50.00 per player. Food and beverages must be purchased at the course.

Line Instruction available for $100/hour. Groups larger than 20 players require 2 instructors.
Great Resorts & Villas for Golf
Villa Delfines
Villa Delfines is in the beautiful beachfront development of Villa del Mar and offers lovely views. 5BR-5BA
Villa de la Playa
You'll love this villa's expansive views, the large patio, and beach access. 6BR-6.5BA
Casa del Mar Pelicano 301
Delight in this intimate luxury resort with breathtaking Sea of Cortez views. 2BR-2BA
Villa Costa Brava
This villa is a masterpiece of hacienda-style architecture in a spectacular beachfront location. 3BR-2BA