Cabo Private Jet Charters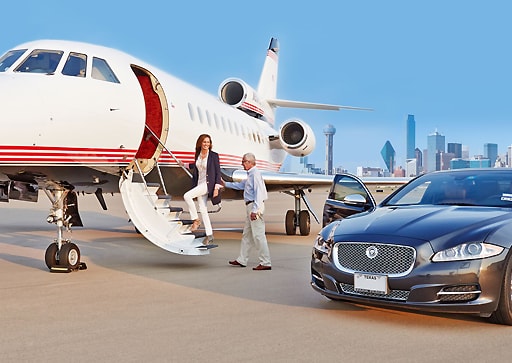 For your next Los Cabos vacation, skip busy commercial terminals and travel in luxurious style aboard a state-of-the art jet.
A private jet charter offers you unparalleled flexibility, amenties and comfort. An expert team will discuss your preferred itinerary and requirements to design a customized flight experience just for you and your guests. Our exclusive rates offer an exceptional value for a group traveling to Cabo San Lucas.
Our partners at Meregrass offer the most flexible fleet of charter aircraft in the world; providing short, medium, and long range aircraft - impeccably appointed, expertly maintained, and professionally flown. Their fleet is designed to accommodate almost any group's needs. All aircraft are maintained by in-house mechanics and are meticulously cared for to the highest safety standards.
A variety of luxurious private jets are available to suit every client's needs, accommodating both small and larger groups of passengers. Make your next trip to Los Cabos, Mexico even more memorable by enjoying exceptional personalized service while flying in incomparable style. Choose your own schedule while enjoying a personalized flight experience complete with professional pilots and crews. Arrive at the private jet terminal in Cabo San Lucas refreshed from your unforgettable flight.
Personalized service
Choose your own schedule
Variety of jets available
Expert pilots and crews
Contact us for quote
Select Your Perfect Meregrass Aircraft
FALCON 50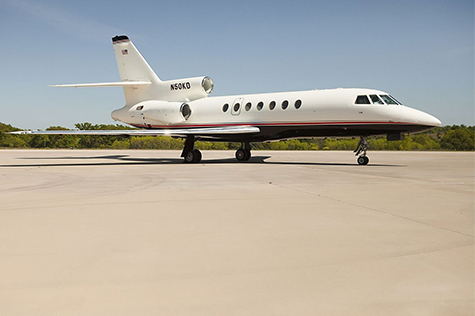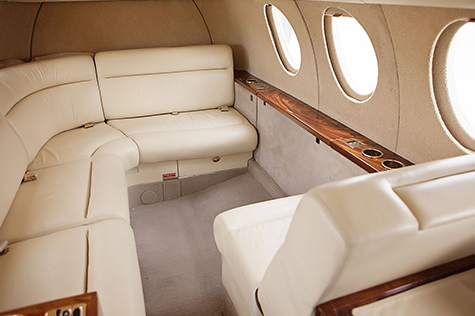 Seats 9
The Falcon 50 is the finest and most versatile "super mid-size" business aircraft ever built. The stand-up (5'9") cabin seats nine people. The entertainment system features two large screen video monitors, DVD/CD player, Sirius Satellite Radio, and Airshow 400 with moving map and nose camera. The interior was completely redecorated in 2014 with all new leather goods, beautiful mahogany cabinetry, and super soundproofing.
FALCON 900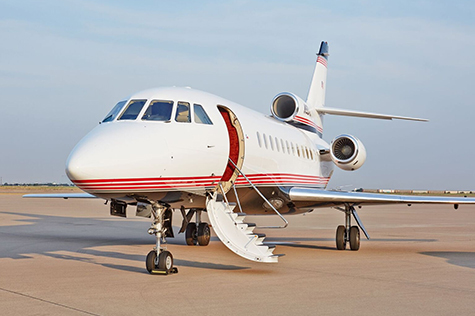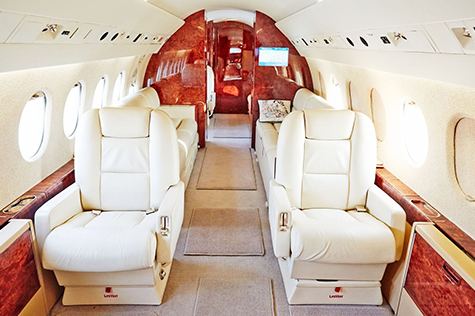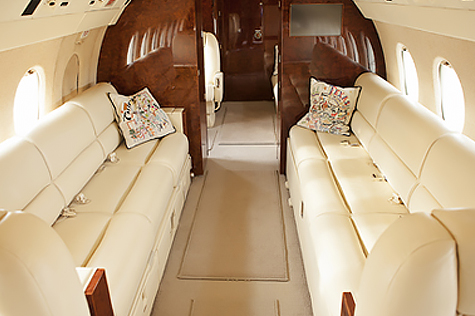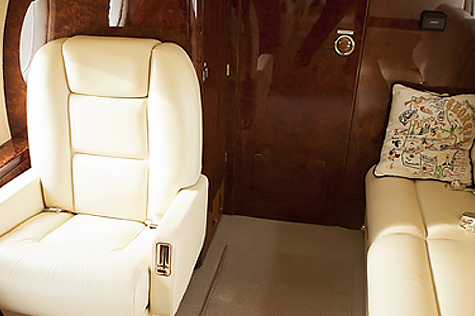 Seats 15
The Falcon 900 is arguably the most versatile large cabin corporate aircraft in the field. Its' three engine design allows it to operate out of fields as short as 4,000 feet, boasts a 4,000 nautical mile range. The interior was completely refurbished in 2015, appointed with beautiful burled walnut cabinetry, all new leather goods, and super soundproofing providing an unparalleled travel experience.The stand-up (6'2") cabin seats 15 people. Entertainment is provided by three large screen video monitors, a custom sound system with two DVD/CD players, Sirius Satellite Radio, and WI-FI in the cabin enabling on-line access, text, and talk..
SAAB 2000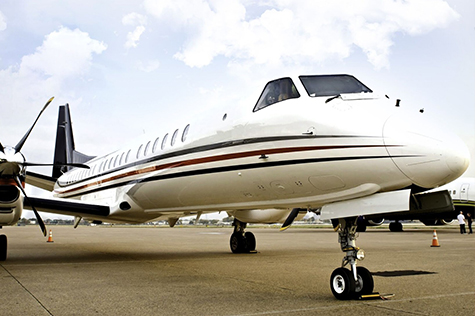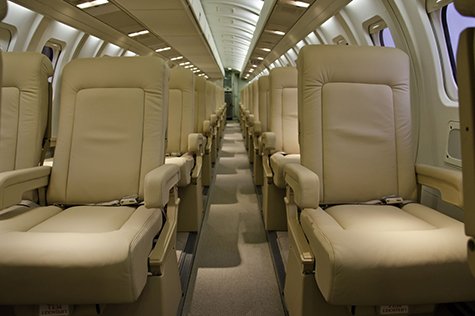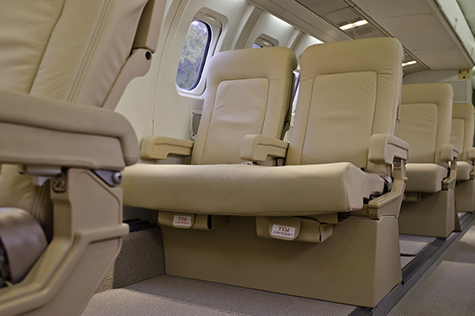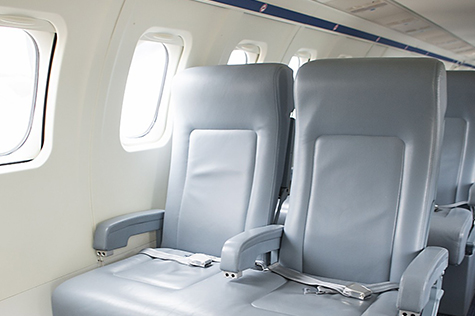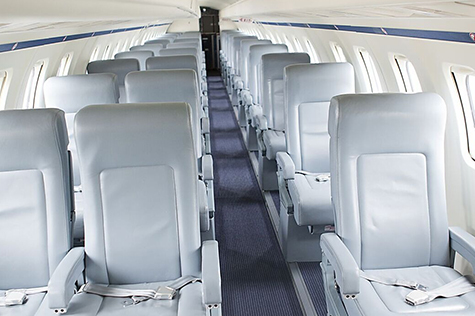 Seats 30
The Saab 2000 is a very modern, high-speed turboprop. It seats 30 passengers in a cabin designed to accommodate 50. Consequently the seat pitch (distance between seat rows) is over 5 feet, providing more than ample legroom for even the tallest passengers. The cabin measures 6 feet in height, 7 feet in width and 55 feet in length and is equipped with a full, airliner style galley providing hot meals if desired. There is a full lavatory forward. The exterior cargo hold is a massive 300 cubic feet - supplemented by another 52 cubic feet in the interior overhead bins. The interior was completely refurbished in 2013 and compares favorably with our Falcon jets..
Exclusive Discounted Rates for CaboVillas.com Guests
Prices are subject to change without notice.
From Texas
Dallas, Houston, Austin, San Antonio or El Paso
Saab 2000 - 30 seater
$45K inclusive for 3-4 nights
$48K inclusive for 5-7 nights
Falcon 900 - 15 seater
$40K inclusive for 3-4 nights
$43K inclusive for 5-7 nights
Falcon 50 - 9 seater
$35K inclusive for 3-4 nights
$38K inclusive for 5-7 nights
From Phoenix or Tucson
Saab 2000 - 30 seater
$58K inclusive for 3-4 nights
$61K inclusive for 5-7 nights
Falcon 900 - 15 seater
$50K inclusive for 3-4 nights
$53K inclusive for 5-7 nights
Falcon 50 - 9 seater
$45K inclusive for 3-4 nights
$48K inclusive for 5-7 nights
From Los Angeles
Saab 2000 - 30 seater
$63K inclusive for 3-4 nights
$76K inclusive for 5-7 nights
Falcon 900 - 15 seater
$55K inclusive for 3-4 nights
$58K inclusive for 5-7 nights
Falcon 50 - 9 seater
$50K inclusive for 3-4 nights
$53K inclusive for 5-7 nights
From Bay Area
Saab 2000 - 30 seater
$67K inclusive for 3-4 nights
$70K inclusive for 5-7 nights
Falcon 900 - 15 seater
$59K inclusive for 3-4 nights
$62K inclusive for 5-7 nights
Falcon 50 - 9 seater
$54K inclusive for 3-4 nights
$57K inclusive for 5-7 nights