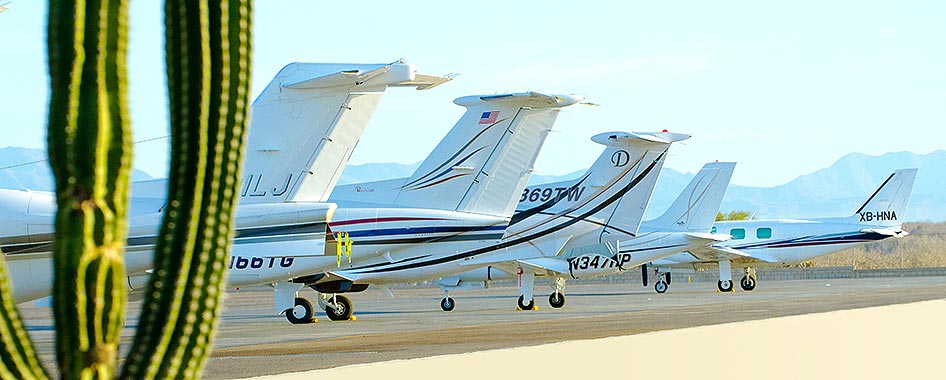 Cabo Jet Charters
For your next Los Cabos vacation, skip busy commercial terminals and travel in luxurious style aboard a state-of-the art jet. A private jet charter offers you unparalleled flexibility, amenties and comfort.
An expert team will discuss your preferred itinerary and requirements to design a customized flight experience just for you and your guests.
A Sample of Luxurious Jets
Very Light Jets
Previously known as a microjet, is a category of small jet aircraft approved for single-pilot operation, seating 4-8 people, with a maximum take-off weight of under 10,000 pounds (4,540 kg).
PAX (Comfy): 4
Avg. Speed 390 MPH
Avg. Range 1,000 Mi.
Light Jets
Light jets have been a staple of the business jet industry since the advent of the Learjet 23 in the early 1960s. They provide access to small airports and the speed to be an effective air travel tool.
PAX (Comfy): 6
Avg. Speed 430 MPH
Avg. Range 1,000 Mi.
Mid Size Jets
Travel in style aboard these aircraft suitable for longer-range travel such as transcontinental flights and for travel with larger passenger capacity requirements.
PAX (Comfy): 6
Avg. Speed: 450 MPH
Avg. Range 1,800 Mi.
Super Mid Size Jets
These jets feature wide-body cabin space with ample room for comfort, high-altitude capability, speed, ultra-long range and transatlantic capability.
PAX (Comfy): 8
Avg. Speed 490 MPH
Avg. Range 3,100 Mi.
Large Cabin
Large cabin private jet charters are ideal for longer trips lasting five (5) or more hours. These spacious jets boast plenty of room for your group to enjoy a comfortable flight.
PAX (Comfy): 10
Avg. Speed 490 MPH
Avg. Range 5,000 Mi.
Heavy Jet
This is the most expensive type of private jet, as it provides the greatest space and capabilities. Contact us for full details on passenger capacity and other features.
Avg. Speed 520 MPH
Avg. Range 8,000 Mi.
Free Vacation Guide
and Enter to Win!
Sign-up for our FREE Los Cabos,
Mexico Vacation Guide and Enter to Win!
Win 3 nights at one of our outstanding Los Cabos Resorts!
Click Here...
How Can We Help?
(USA & Canada)
01-831-724-5800 (International)
Low Price Guarantee No Booking Service Fees! 24/7 Client Service
Before You Go...
Tell Us Where To Send Our
Latest Specials, Exclusive Properties and More