ME Cabo
Cabo San Lucas - Beachfront , Medano Beach 4.5-Star Deluxe Rating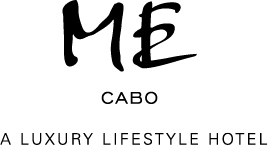 Resort utilizes the highest professional cleaning standards to ensure your comfort and safety.
Stylish & Fun-Filled Getaway on Médano Beach
ME Cabo: More than a Place to Stay. A Place to Be.This stylish lifestyle resort is situated on the only swimmable beach in Los Cabos, overlooking the famous El Arco. It is just a short walk from Cabo's marina, shops, bars and restaurants.
At the southernmost tip of Mexico's Baja Peninsula, ME by Meliá continues to rewrite the rules through bold design at ME Cabo. Enjoy both your private and social sides at this unconventional resort where balance is achieved through the principles of yin and yang.
Find balance through wellness programs, spa recovery treatments, beach yoga and more, while indulging in sophisticated daytime and nightlife experiences. A fashion and social hub for a discerning local and international clientele, ME Cabo pulses with a distinctive vibe that hints of Ibiza and a bit of New York. Indulge in the lavish beach club, noteworthy cuisine and bars that offer signature cocktails.
ME Cabo embodies the best of both worlds with its dedication to creating a sophisticated getaway that blends elegance, great vibe, creativity and local culture. Incorporating patterns of the local nature, hues of light blue, grey, white and accents of Bordeaux and Champagne, ME Cabo seamlessly blends elegant and contemporary aesthetics with the true essence of ME by Meliá. Savor the sun or slumber the day away in a shaded poolside bed, all to DJ grooves drifting on the ocean breeze at the world famous Beach Club Blue Marlin Ibiza
An Experience beyond Accommodation: The 162 rooms and suites of ME Cabo, including 72 deluxe accommodations, offer every imaginable comfort and luxury, and then some. Habit-forming amenities from premium personal grooming products to integrated room technologies conspire to enrich every moment of your stay.
Member of the International Gay & Lesbian Travel Association (IGLTA)



NOTE: Resort atmosphere may not be suitable for children or families.
RESORT FEATURES
162 Rooms and Suites
Majority of rooms have breathtaking ocean views
Adult Oriented Resort
24-hour Room Service
Concierge Services
Complimentary WiFi throughout hotel
Two Heated Swimming Pools
Poolside Bali Beds
YHI Spa
ME+ Experience
Mediterranean-Style Beach Club
Complete Water Sports and Beach Activities
Meeting Rooms
Fully equipped fitness center
Pet friendly ($150 + taxes, 25 lbs max)
Laundry and Dry Cleaning Services (fee)
Daily Maid Service
Member of International Gay & Lesbian Travel Association
ROOM DESCRIPTIONS
Aura Room: 413 Sq Ft, Features stunning views of the resorts' beautiful dessert gardens and large pools. Decorated in sleek furnishings with one king or 2 double beds and private balcony. Sleeps 3 Adults max. (King: 12 Rooms / Double: 11 Rooms)


Vibe Room: 413 Sq Ft, Features magnificent views of the Sea of Cortez. Decorated with contemporary furnishings with one king or 2 double beds and private balcony. Sleeps 3 Adults max.


Petite Suite: 413 Sq Ft, These spacious rooms are part of the ME+ and offer private furnished terraces overlooking the Sea of Cortez. Decorated with contemporary furnishings with one king bed or 2 double beds. Upgraded VIP amenities. Minimum age required for this suite is 18 years old. Sleeps 3 Adults max.


Passion Suite: 569 Sq Ft, These spacious suites are part of the ME+ and offer private furnished sun deck with unparalleled Cabo oceanfront views. Decorated with modern art and furnishings with one king bed. Upgraded VIP amenities. Minimum age required for this suite is 18 years old. Sleeps 2 Adults max.


Amenities:
LCD Satellite TV
Direct-line Telephone
iPod Connectivity
300 Thread-Count Bedding
Mini bar
In-room Safe
Iron and Ironing Board
Vanity Mirror
Rain Shower
Bathrobe and Slippers
Premium Bath Amenities
ADDITIONAL INFORMATION
Guests eligible for ME+ may use the following exclusive services:
• Private Check-In and Check-Out
• 24 Hour Personalized attention from the ME+ Team
• Special welcome amenity prepared with you in mind
• Personal Music just for you to download
• PlayStation, Nintendo Wii with games of your choice (upon request)
• Complimentary Wireless Internet
• Personal packing and un-packing
• Ironing service of one item of clothing per guest
• In-Room Bar set up personalized to your liking (Suite ME only)
• Personalized reservations in outlets and bars by your ME+ Manager
• Complimentary pet amenity for four-legged guests
• Personal "Event Planner" to arrange your in-suite social gathering
• Personal pool/beach experience
• Personalized turn-down service
RESTAURANTS AND BARS
BLUE MARLIN IBIZA LOS CABOS BEACH CLUB: Savor the sun or slumber the day away in the shade of a poolside bed, all to international DJs grooves wafting on the ocean breeze. Enjoy classy Pool and Beach parties with bottle service, live performances and more.
Hours: 7am to 6pm
BLUE MARLIN IBIZA RESTAURANT: Fresh, healthy and organic products are essential elements of Blue Marlin Ibiza's modern Mediterranean cuisine with Asian influences. Premium ingredients of the highest quality and fresh local fish are at the core of our mouthwatering restaurant and beach menu.
ROSE BAR: An electic fusion of entertainment. Start the night with a live jazz band, move on to a DJ spinning vinyl tracks and end the evening with a Digital DJ mix.
THE DECK: Sun, sand, ocean waves, and the best fish tacos in Cabo can only mean you're dining at The Deck. Located in front of the hotel and just steps from the water, The Deck is the perfect option for lunch serving a large menu of sandwiches, sushi, tacos, guacamole, and cocktails.
Hours: 10am to 6pm
THE WET BAR: Infamous daytime pool parties filled with fun, beautiful people, bottles and bubbly, all make for a beach bacchanal on weekends and this water bar is immersed amongst all the revelers. During the week guests can sip the day away at this relaxed swim up bar.
MAIN BAR: A solid drink and some light conversation with strangers- turned friends? This is the place to do it. ME's Main Bar serves an international menu of cocktails.
Deluxe 4.5 Star Rating
The deluxe rating indicates a nice and well-kept property in a good location. Furnishings and amenities are of good quality. Their ocean views may be limited. Guests can arrange for services on-site or find them nearby.


Specials
12-Hour Transportation Special
Book your personal transportation service and leave the driving to us!

10 people - 12 Hour Toyota HiAce Open Service: $300.00 Promo Code: Hiace-PROMO
14 people - 12 Hour Ford Transit Open Service: $350.00 Promo Code: Transit-PROMO
17 people - 12 Hour Sprinter Open Service: $370.00 Promo Code: Sprinter-PROMO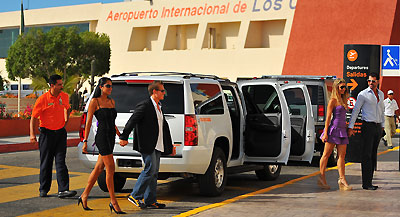 Valid 08/28/20-12/31/21 for open transportation service in destination. No itinerary needed! Service is valid for 12 hours and must be used on same day and cannot be split during stay. Gratuities are additional and recommended..
WEDDINGS AND OTHER SPECIAL EVENTS
Honeymoon Package Includes:
Petite Fours & Bottle of Sparkling Wine
Proof of marriage will be required
About the Area: Medano Beach
The beloved beachfront of Cabo San Lucas, Medano is an energetic blend of spectacular beach, beautifully azure swimmable waters on the main beach area, activities and of course people. Hot beach clubs, beautiful resorts and fun restaurants line the beach. Hang out at the Mango Deck, Billygan's Island or The Office where you can enjoy happy hour with your toes in the sand. The gentle waters of the Bay are a beautiful backdrop for kayaking, jet skiing and parasailing. While soaking in the sun on the beach, you'll encounter a host of local hawkers selling anything from jewelry to chewing gum. If you're interested, bargaining is expected; if not, ignore them. If you're looking for a hot mix of action and natural beauty, Medano is the place to be. Depending on where you're staying on Medano Beach, you're either just a short cab ride or walk to downtown. Note that the further you get from the Marina, the water can become rougher and may be unsuitable for swimming (to the northeast.)
Cancellation/Change Policy
Once a reservation is under deposit, there is no additional CaboVillas.com (ESSV) penalty to cancel or make changes to the reservation beyond any property-specific penalties imposed by the resort directly. Most hotels charge 1 night cancellation inside 72 hours, please refer to your invoice for specific penalties. Cancellation and change penalties vary by resort and dates of travel. Ask your Cabo Specialist for more details about your reservation.
Best Price Guarantee
- The Best Price Guarantee allows us to match any lower published, verifiable rates for the same property, travel dates and number traveling. The Best Price Guarantee and any specials advertised on our site apply only to new reservations and is not applicable toward already booked reservations.