Special Event Décor

Villa Special Event Décor Options
Whether you want to plan a unique dinner party with private chef services for your friends at your Cabo villa rental or a one-of-a-kind destination wedding, we offer a range of party and event décor options that can be customized just for you!
Impress your friends and family with a stylish cocktail party at your villa, plan a personalized Mexican fiesta accompanied by authentic colorful accents, or let us help you plan the wedding of your dreams. We work with the excellent team of Cabo Linens, Things & More to provide an impressive selection of options including linens, dinnerware, centerpieces, floral arrangements, decorative accents and more to make your villa event special and different. We'll help you personalize your event to your vision, design, color scheme and budget.
Completely customized proposals are available. We also offer the optional services of a professional party hostess or a full party planner at additional cost. Please contact us for details.

Share Your Inspiration!
When you work with a member of our team to plan your villa dinner party, birthday celebration, anniversary or destination wedding, we'll take your inspiration as a starting point to personalize décor for you.
If you've been busy building your Pinterest board of favorite colors and themes, we'd love to see it and suggest a totally unique décor package for you!
Contact us for more information.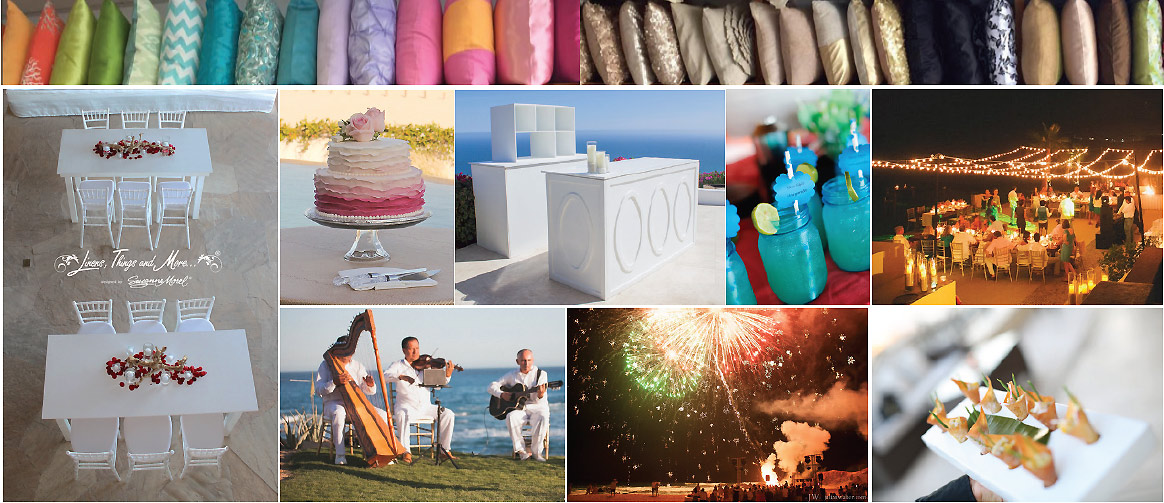 More Event Décor Options!
Completey personalized proposals are available for your villa dinner party, cocktail party, special celebration or destination wedding in Los Cabos.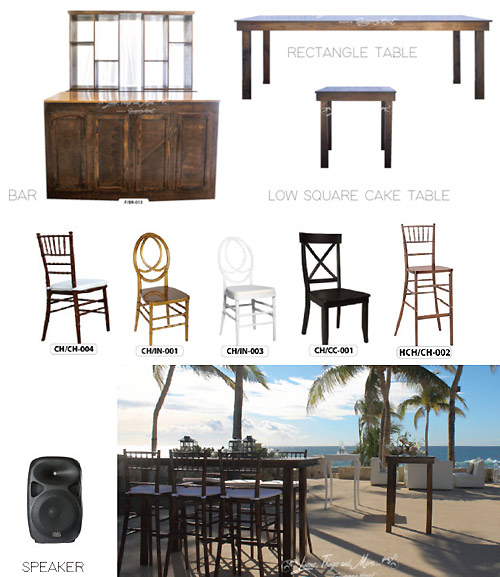 Extra décor items available for upgrade:
Chairs (brown, white or gold)

Rectangular dinner table (96"x43"x30")

High chairs (brown or white)

High cocktail table (71"x30"x41") or (27"x27"x41")

Low square cake table (33"x33"x30")

Bar (brown or white)

Assorted pillows to complete the look

Bistro ball lights or string lights (depending upon the villa)

Speaker
We can help you organize the evening with:
Party hostess

Photographer

Catering or private chef

Floral arrangements

Birthday, wedding or anniversary cakes

DJ, Guitarist, Musical Trio, Fireworks
Free Vacation Guide
and Enter to Win!
Sign-up for our FREE Los Cabos,
Mexico Vacation Guide and Enter to Win!
Win 3 nights at one of our outstanding Los Cabos Resorts!
Click Here...
How Can We Help?
(USA & Canada)
01-831-724-5800 (International)
Low Price Guarantee No Booking Service Fees! 24/7 Client Service
Before You Go...
Tell Us Where To Send Our
Latest Specials, Exclusive Properties and More