Special Celebration Décor

Whether you want to plan a unique dinner party with private chef services for your friends at your Cabo villa rental or a one-of-a-kind destination wedding, we offer a range of party and event décor options that can be customized just for you!

Impress your friends and family with a stylish cocktail party at your villa or a personalized Mexican fiesta with colorful accents. We work with the team of Cabo Linens, Things & More to provide a variety of options including linens, dinnerware, centerpieces, floral arrangements, decorative accents and more to make your villa event unique. We'll help you personalize your event to your personal vision, design, color scheme, theme and budget.
Pricing varies by options and number of guests. Contact us for a personalized proposal for your villa dinner party.
Villa Special Celebration Décor Options
Let's Celebrate Décor Packages (PDF)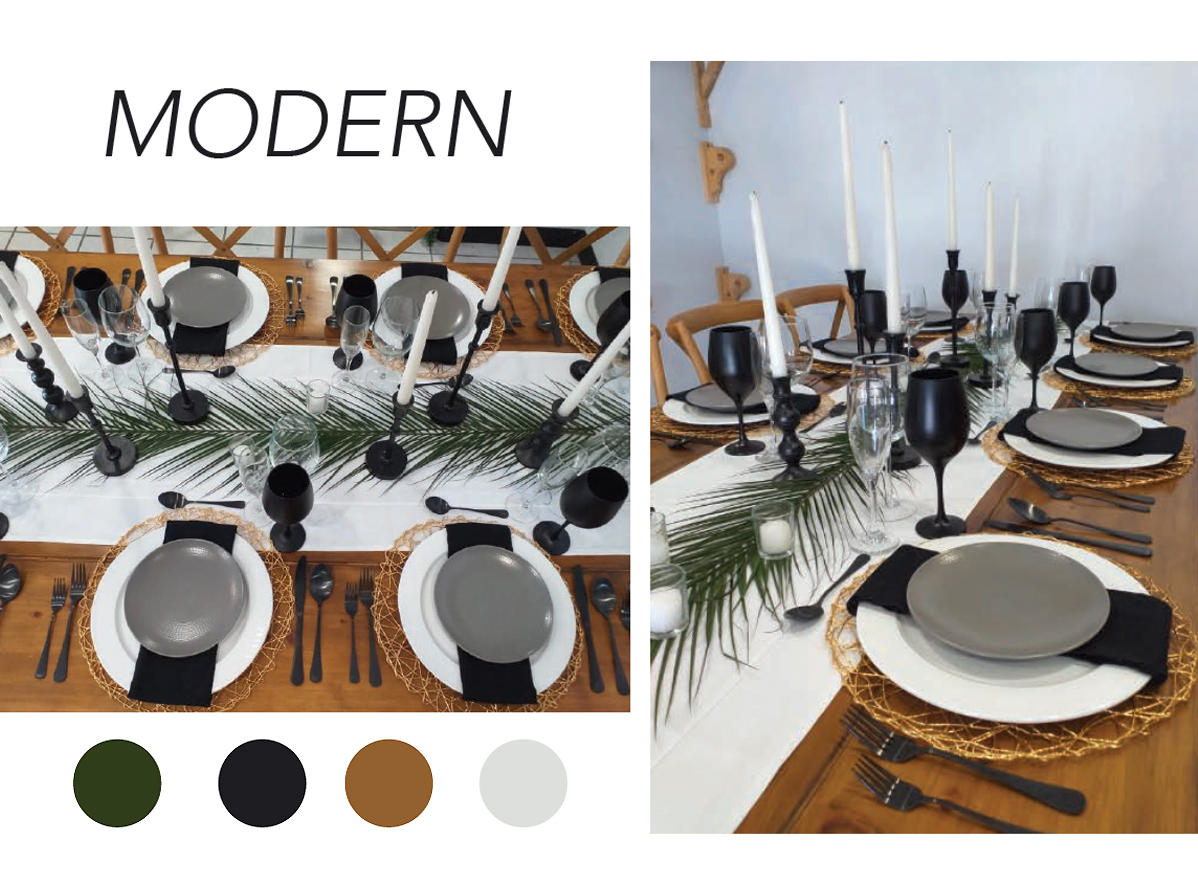 Modern
Includes: black napkins, gold chargers, black candle holder with taper candles, clear votives, black water glass, black cutlery, small grey ceramic plates, cotton runner, palm leaves as centerpiece.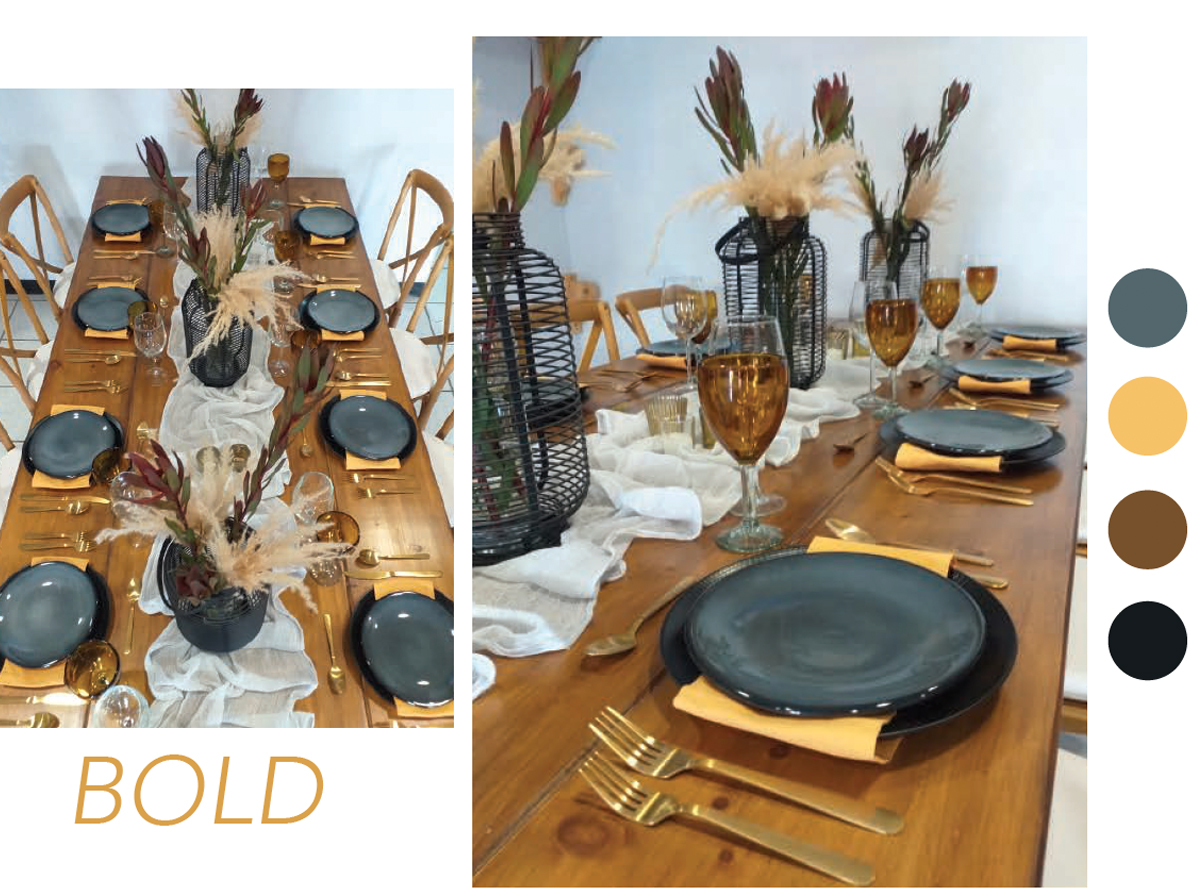 Bold
Includes: mustard napkins, black plates, smoke grey ceramic plates amber water glass, gold cutlery sets, gauze grey running, black centerpieces with pampa and greenery, gold mercury votives, clear votives.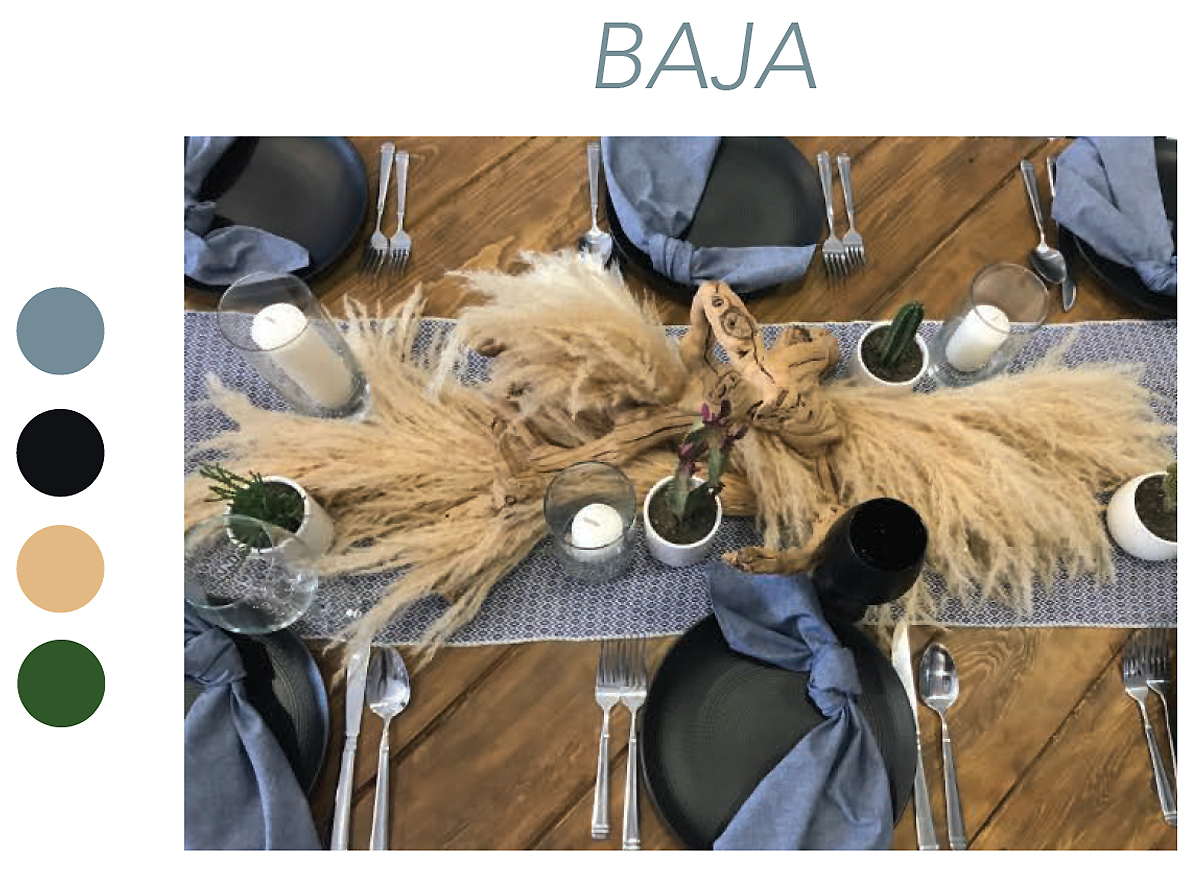 Baja
Includes: set of clear cylinders (10", 8", 6"), driftwood with papa grass as a centerpiece, black plates, white cactus pots, denim napkin, table runner, black water glass, clear votives.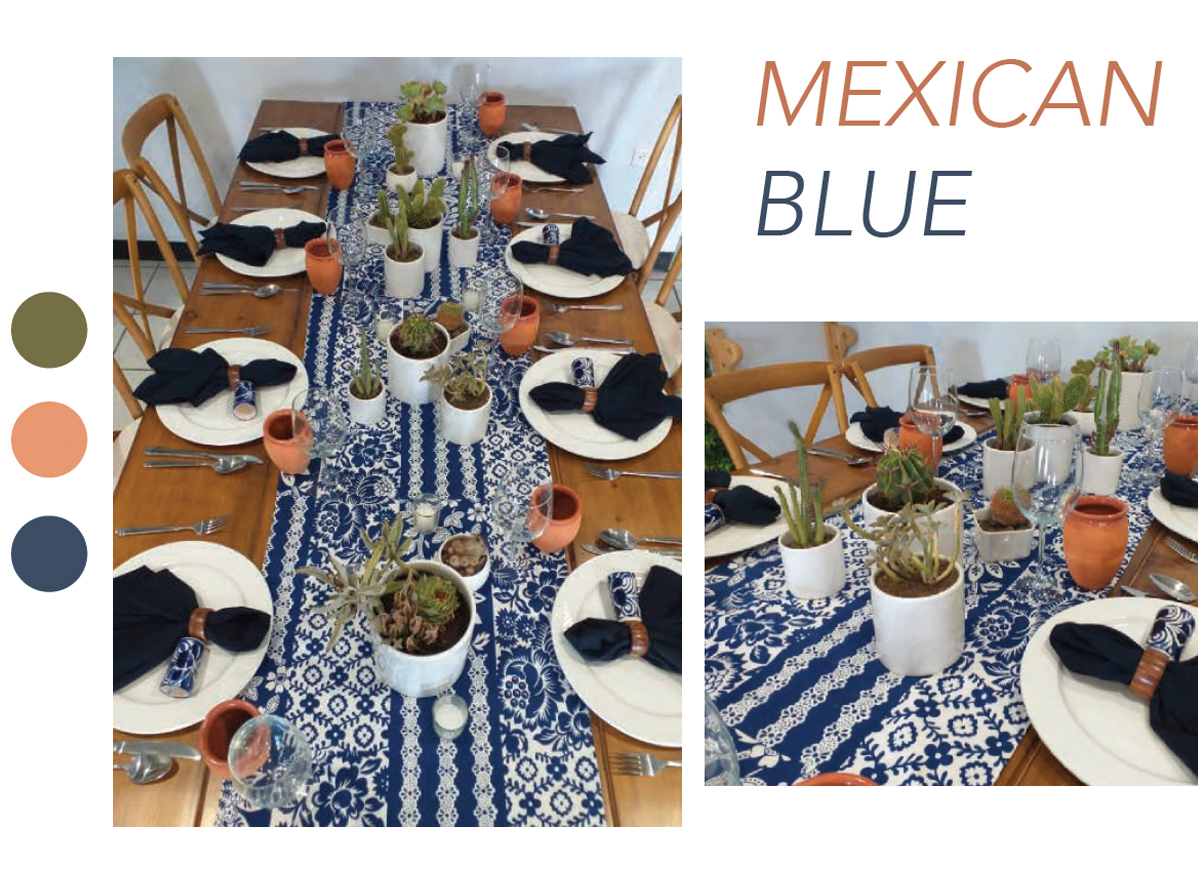 Mexican Blue
Includes: tequila shots, blue napkins with wood ring, terracotta water glass, clear votives, blue/white table runner, white cactus pot as a centerpiece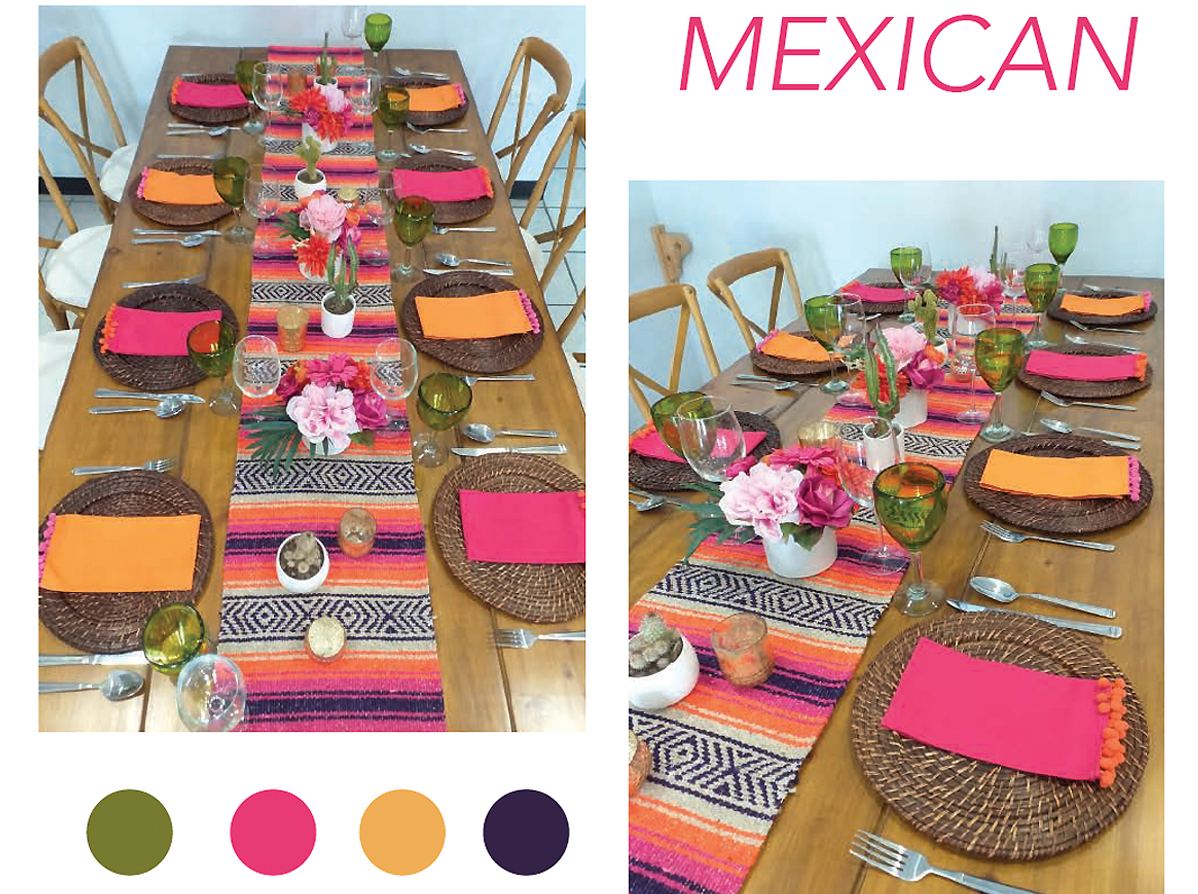 Mexican
Includes: yellow napkins with pink pompom, pink napkins with yellow pompom, small floral centerpieces with colored flowers, white potted cacti, rose gold mercury votives, Mexican table runner, green water glass, wicker chargers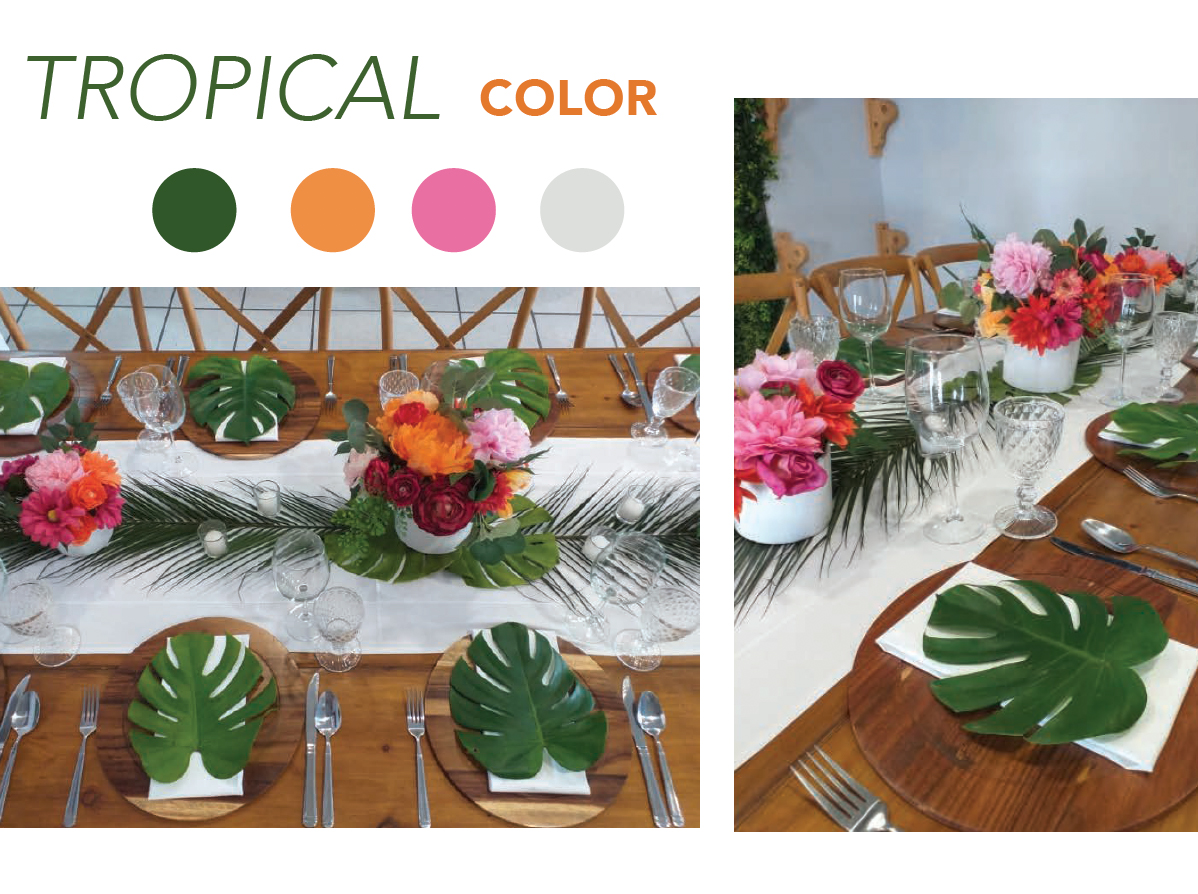 Tropical Color
Includes: flower centerpieces (2 small and 1 medium) with colored flowers and tropical leaves as a runner, white cotton table runner, clear votives, vintage clear water glass, white cotton napkin, monstera leaves for the napkin, wood chargers
Organic
Includes: wooden centerpieces with tropical leaves, geometric centerpiece with votives, aqua vintage votives, napkins with wood ring, beige table runner, amber water glass, clear votives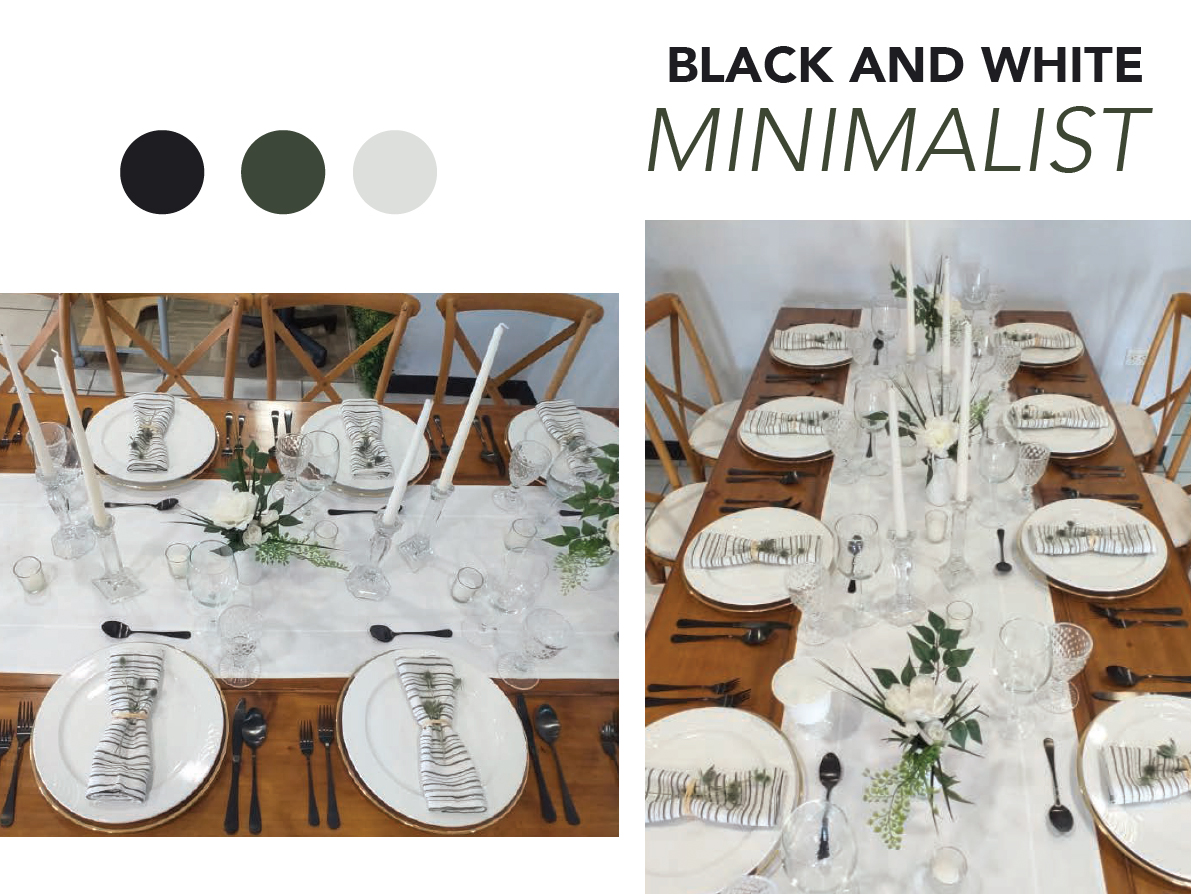 Black and White Minimalist
Includes: Cotton napkins, clear charger with gold rim, clear candle holder with taper candles, clear votives, vintage clear water glass, black cutlery sets, small white centerpieces with flowers and greenery, greenery for the napkins, white cotton runner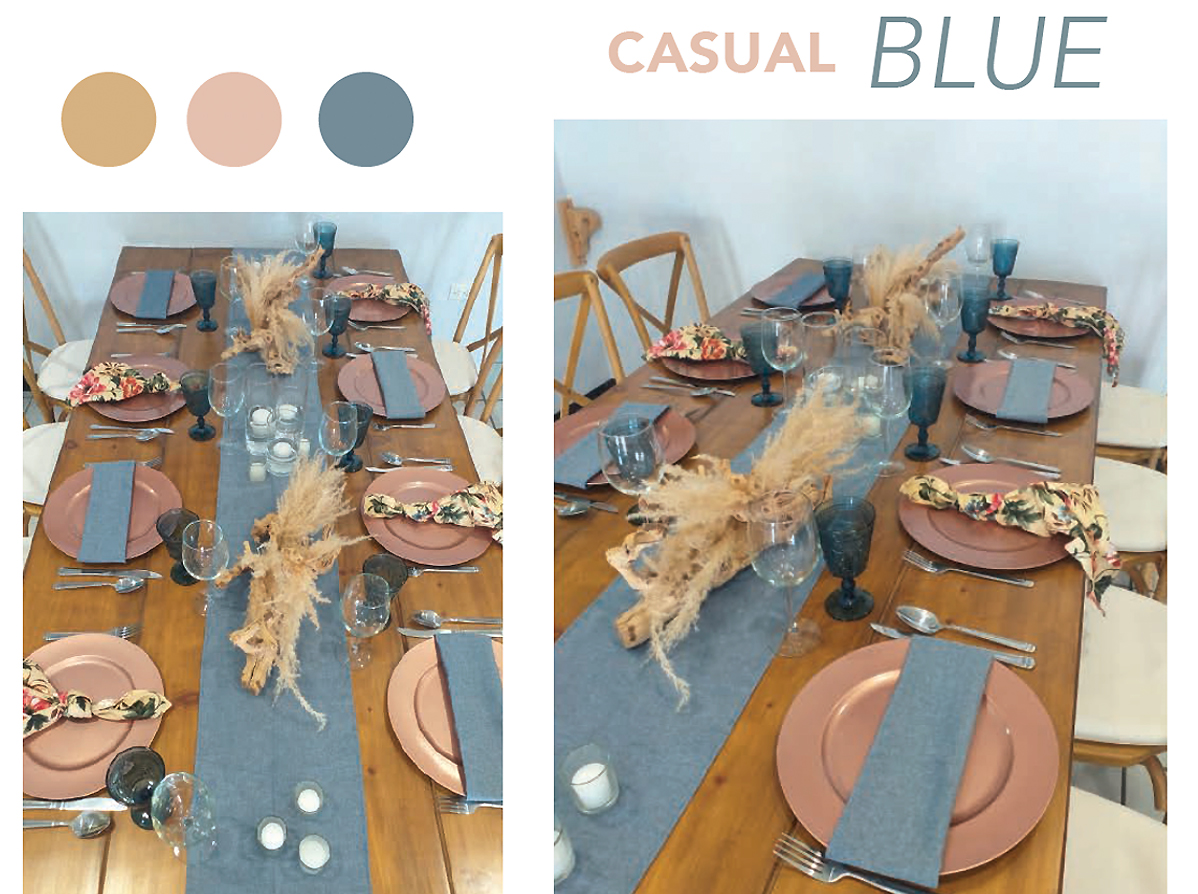 Casual Blue
Includes: set of clear cylinders (10", 8", 6") with floating candles, small driftwood with pampa grass as a centerpiece, rose gold chargers, denim napkin, floral napkin, denim table runner, blue vintage water glass, clear votives
Personalize Your Cabo Birthday Party
Let us help you plan your birthday celebration in a creative way. Personalize your sign, cake, decor, photo booth and more for a party to remember.
We can help you organize your special event with:
Party hostess
Professional Photography
Birthday, wedding or anniversary cakes
DJ, Guitarist, Musical Trio, Fireworks
Holiday Season Dinner Party Décor Options
Make your holiday villa dining experience even more special and memorable with seasonal table scape packages offering a variety of designer accents for your celebration.
Whether you are looking for a warm autumn color palette and pumpkin accents for Thanksgiving dinner, or sparkling decorative touches for your Christmas or New Year's Eve gathering, we can create the perfect ambiance for you.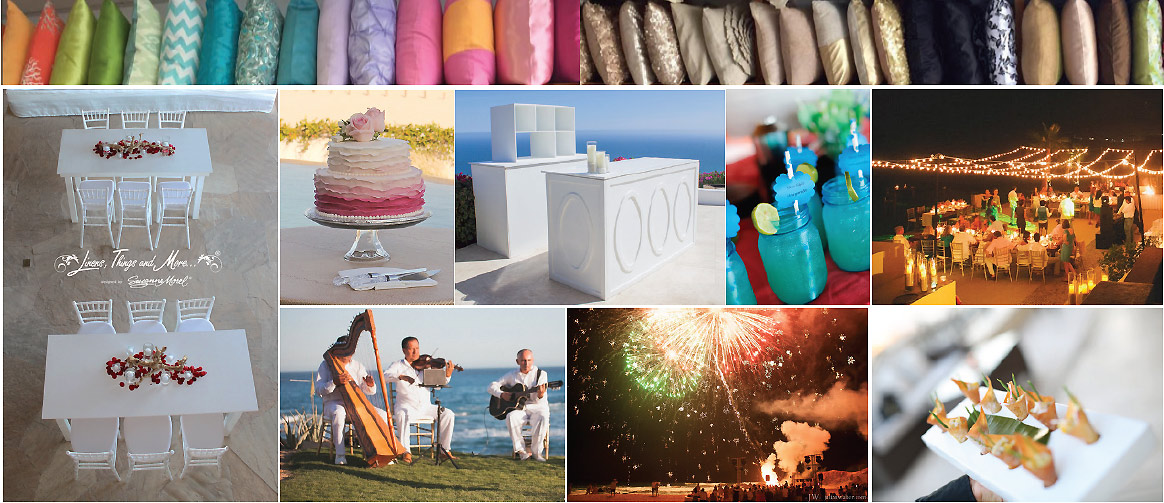 More Event Décor Options!
Completey personalized proposals are available for your villa dinner party, cocktail party, special celebration or destination wedding in Los Cabos.
Extra décor items available for upgrade:
Chairs (brown, white or gold)
Rectangular dinner table (96"x43"x30")
High chairs (brown or white)
High cocktail table (71"x30"x41") or (27"x27"x41")
Low square cake table (33"x33"x30")
Bar (brown or white)
Assorted pillows to complete the look
Bistro ball lights or string lights (depending upon the villa)
Speaker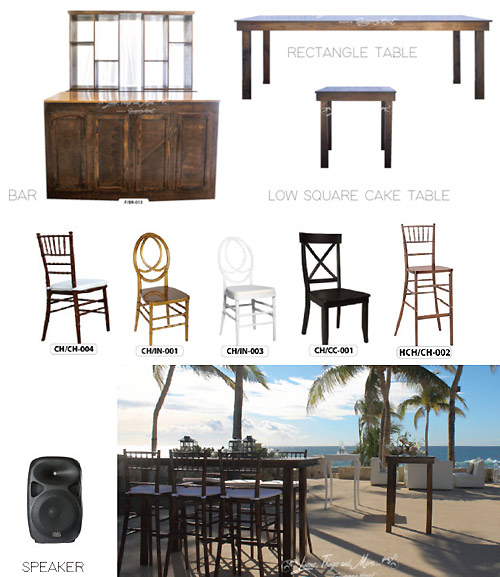 FEATURED VENUE
Private Gatherings and Events
Set on 52 acres of pristine oceanfront property, The Pacific is the quintessential location for unforgettable family events, private retreats or a breathtaking outdoor wedding.
With an expansive sandy beach, a backdrop of dramatic desert dunes, and the enchanting Pacific Ocean surf as the soundtrack, this exclusive private property is a setting like no other for celebrations.
Learn More...