Todos Santos Travel Guide
Just 45 minutes from Cabo San Lucas on the Pacific coast, Todos Santos is a charming oasis nestled between white sand beaches, the Sierra de La Laguna mountain range and the stunning desert landscape north of Los Cabos. Surrounded by lush fruit orchards and natural palm groves, the town is a haven for surfers and artists.
Once a sugar cane milling town, Todos Santos has been designated a "Pueblo Mágico" (Magical Village) by Mexico's Secretariat of Tourism for its natural beauty and cultural riches. You'll find art galleries, boutique hotels, restaurants, historic architecture and a relaxed bohemian vibe that's worlds away from the bustle of Cabo San Lucas. Breezes from the Pacific provide a respite during the hot summer months.
There's a little here for ecotourists, history buffs art lovers alike. In the winter, migrating whales come incredibly close to the shore and can easily be viewed from the beach. For experienced surfers, the local waves are legendary.
History buffs will enjoy the old mission church and the Hotel California. For fans of fine art, the many galleries, the annual Todos Santos Music Festival (January) and annual Art Festival (February) are a big draws. The sparkling beaches are perfect for sunbathing but generally not safe for swimming.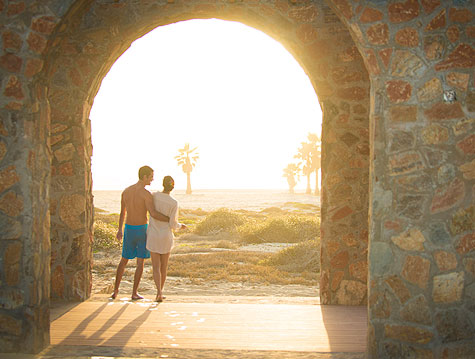 5 Reasons to Experience Todos Santos
Cabo's vibrant beachfront and marina certainly have their appeal. But, when you're ready to venture beyond the busy heart of Cabo San Lucas and get a taste of old Baja, hit the road to Todos Santos. About an hour north of Cabo San Lucas on the Pacific Ocean, this destination deserves a day trip - if not several blissful unplugged days! Here are 5 reasons to experience Todos Santos...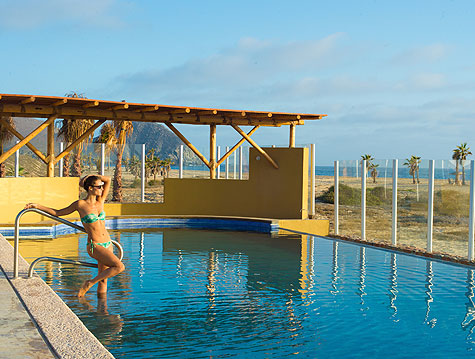 Accommodations
Set in the captivating historic town of Todos Santos nestled among a natural palm oasis, the Hotel California offers a taste of old-world charm in an incredibly romantic setting. The Guaycura Boutique Hotel offers the historic charm of downtown and access to its Beach Club & Spa just a few miles away. Worlds from the bustle of Cabo San Lucas yet just an hour away on the Pacific coast, Todos Santos boasts art galleries and courtyard cafés set along pleasant streets with traditional colonial architecture. More...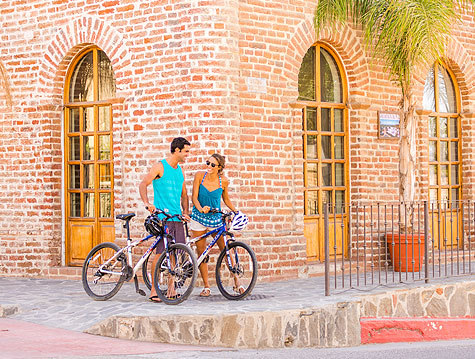 Activities
If you're staying in Los Cabos, a day-trip to Todos Santos is a perfect excursion. Explore historical buildings, a fascinating anthropological museum, a stop at the Hotel California, art galleries and a real Baja California Sur ranch. More…
Shopping
With dozens of art galleries and charming boutiques, Todos Santos is a great shopping spot for unique treasures, from paintings by local artists to one-of-a-kind, hand-crafted jewelry pieces.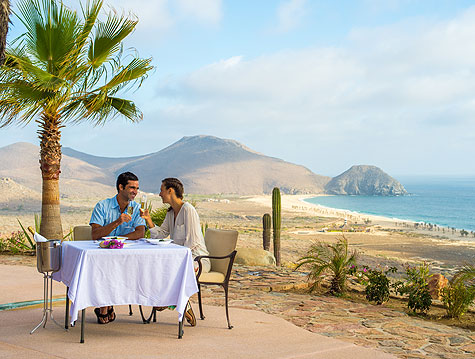 Dining
While the Corridor doesn't have the profusion of restaurants you'll find in Cabo San Lucas and San José del Cabo, you will find a number of exquisite dining options. Beautifully designed resort restaurants and local favorites tempt the taste buds with a range of international cuisines.
To book your next vacation in beautiful Los Cabos, please call us at
1-800-745-2226
.