High Tide Los Cabos - Sea Tours

Known for its pristine waters and abundant sea life, the Sea of Cortez has been called "the World's Aquarium." No trip to the sunny tip of the Baja Peninsula is complete without taking in the unforgettable sights and sounds of Cabo's unique marine environment. From catching a wave at one of the area's best surf spots to admiring the colorful fish aboard a fun glass-bottom kayak, the team of High Tide Los Cabos will take you on a fun and memorable adventure.
High Tide Los Cabos provides quality outdoor experiences to people from all over the world. Using the highest quality outdoor equipment, all activities are facilitated by highly trained and fully qualified guides. A wealth of knowledge and experience in delivering high quality activities ensures that all of our participants will have the opportunity to safely experience the natural beauty of Los Cabos.
TOUR OPTIONS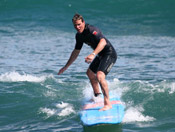 Surf Lesson in Costa Azul
Summer and fall are the best seasons to catch waves in Cabo, with the water at optimal temperature for surfers. These months are Baja's busiest and best surf season. No previous is experience required to take lessons.
A professional instructor will guide you closely in order for you to ride your first wave at this popular surf break on a beautiful stretch of Sea of Cortez beach!
Tour times are 9am or 2pm. Total surf time approx 3 hours. Available March 16 - November 14
$95 per person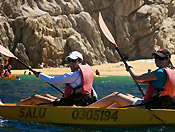 Glass Bottom Kayak and Snorkel to the Arch
The iconic rock arch ("El Arco") at Cabo's Land's End is an ideal habitat for marine birds and multicolored fish. Baja's famous landmark also has overwhelming beauty and amazing rock formations. We'll head out together toward the arch over the brilliantly aquamarine waters for a fantastic excursion aboard glass-bottom kayaks, allowing you breathtaking views of the marine life below.
You'll also have the opportunity to snorkel, observe the sea lion colony as well as enjoy a nice walk on "Lover's Beach."
Tour times are 9am or 2pm. Total tour time approx 3 hours.
$80 per person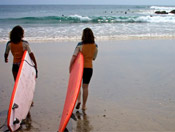 Surf Lessons in Playa Los Cerritos
Playa Los Cerritos is beautiful, sweeping expanse of pristine beach and a world renowned surf spot. It is exposed to the west swells that can light up and has clean conditions. Playa Los Cerritos is a great surfing spot for all skills levels, from beginner to expert.
Spend some time in the water with an experienced surfer and know what it's like to crave the wave.
Tour Times - 9am. Total tour time is 7 hours. Available November 15 - March 15
$140 per person.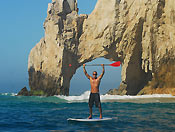 NEW! Stand Up Paddle & Snorkel at the Arch
Let experiences guides teach you the art of stand up paddle, the hottest new water activity taking Los Cabos by storm. Lessons take place on one of the most scenic bays of Los Cabos and host the perfect view of the Arch. During the course of the lesson you will be able to enjoy some snorkeling at Pelican Rock which is well known for its abundance of marine life. Should you choose not to snorkle, you may sunbathe and relax on a beautiful secluded beach.
The combination of these two activities makes for the perfect tour.
Tour time - 9am. Total tour time is approx. 3 hours.
$95 per person.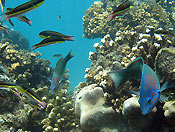 NEW! Guided Snorkel Tour
Let local guides take you to all the best kept secret spots at our two favorite bays and make the most of its great experience. Santa Maria and Chileno Bay are two of the safest swimming bays in Los Cabos where the depth of the sea is ideal for snorkel enthusiasts. View an abundance of sub-tropical fish and marine life in their natural habitat among stunning coral and rock formations.
Tour times are 9am or 2pm. Total tour time is approx. 3 hours.
$70 per person.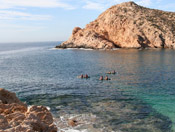 Glass Bottom Kayak and Snorkel at Two Bays
Playa Santa Maria and Chileno Bay are not only stunning to look at but are also the best for swimming and snorkeling. Playa Santa Maria is surrounded by craggy cliffs that make an ideal setting for a snorkel suite. A short kayak ride to Chileno Bay to explore tidal pools. The finger reef provides calm and shallow waters for snorkeling.
See tropical fish, eels, sea stars, urchins or maybe a turtle!
Tour times are 9am or 2pm. Tour time is approximately 3 hours.
$80 per person.
TOURS INCLUDE :
Round trip transportation in an air conditioned van

All necessary gear

Rashguard or wetsuit

Bilingual guide

Shaded camp

Refreshments and snacks

WHAT TO BRING :

Beach towel

Beach sandals

Sun block

Sun hat

Sunglasses

*Prices include tax and insurance
Prices do not include gratuities for guides
Private tours available; contact us for pricing