Cabo Sails
For sailing enthusiasts, it's hard to beat the romance and adventure offered by Cabo Sails with 15 years of experience providing their guests exceptional quality and service. Charter your very own private sailboat and enjoy your time however you wish…sailing, whale watching, snorkeling and sightseeing all on your own schedule while you discover this extraordinary paradise.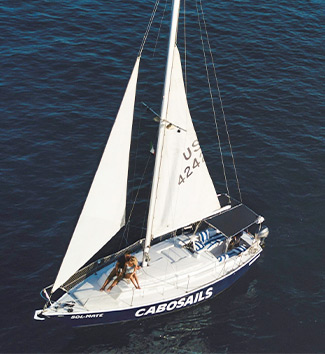 You will enjoy sailing in the Pacific Ocean, Sea of Cortez and Cabo San Lucas Bay and seeing the magnificent rock formations of Land's End, Lover's Beach and Cabo's most famous landmark, El Arco (Land's End Arch). Experience the thrill of sailing at the tip of the Baja Peninsula where the cool westerly winds of the Pacific Ocean meet the warm waters of the beautiful blue Sea of Cortes. If you would like enjoy some time snorkeling, this activity is offered at Pelican Rock in the Cabo San Lucas Bay near Lover's Beach. The snorkeling equipment is on board and is included.
Los Cabos is one of the most spectacular whale watching destinations in the world. Cabo Sails offers private Eco whale watching tours in a fun and respectable environment mid-December through March.
Available for special occasions, birthdays, bachelorette parties, engagements, anniversaries and more!
Cabo Sails has earned the
Punto Limpio
designation for enhanced cleaning & hygiene.
Available Tours:
Sailing Cruise

Whale Watching (Dec 15 - Mar 31)

Snorkeling

Sunset Tour


Duration:
Departure times:
Sailing Cruises: 9am, 9:30am, 12:30pm, 1pm (Feb 25 - Nov 3)

Sailing Cruises: 9am, 12:30pm (Nov 4 - Feb 24)

Whale Watching: 9am, 12:30pm

Snorkeling: 9am, 12:30pm

Sunset Cruise: Between 4pm-6pm (Depending on the season)


Sailing Cruises: 3 Hours

Whale Watching: 3 Hours

Snorkeling: 3 Hours

Sunset Cruise: 2.5 Hours

Extra Hours:

Alegria, Sol Mate & American Express: $100/hour

Ave Maria, Espiritu Santi: Based on # of guests

Note: Extra hour charges are paid directly upon check-in.

All Charters Include:

Private sailboat with knowledgeable, bilingual and hospitable crew

Mexican combination platter (appetizer size beef burritos, cheese quesadillas, Mexican chicken salad, fresh guacamole, salsa and chips) and fresh fruit and vegetable platter

Premium open bar (Don Julio white tequila, Absolut Vodka, Johnnie Walker Red, Bacardi Rum, Captain Morgan's Rum, Margaritas, Cabernet Sauvignon & Sauvignon Blanc Wine, Pacifico, Corono, sodas, juices and bottled water)

Snorkeling gear

All sailboats have engines for motoring, restrooms, music, MP3 or iPod connections and life vest for guest 5 and older.

Check-In:
Arrive at the Cabo Sails office located in Plaza Mexicana (previously named Plaza Gali, behind OXXO Market) 30 minutes prior to tour.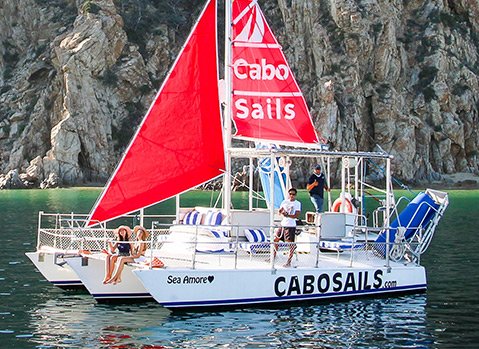 Boats & Rates:
A particularly wonderful experience is to enjoy sailing on board this 100% solar-powered electric 44' Espiritu Santi sailboat which offers you an eco-friendly experience that creates a peaceful ambiance as you help keep Los Cabos waters blue and pristine.


44' Espiritu Santi (100% Solar-Powered Electric Coronado)

$690 for 2-4 guests

Additional guests: $100 per person (18 guests maximum)

2 paddle boards, large wet mat available

Note: Not available for Whale Watching
37' Ave Maria Catamaran
$990 for 2-6 guests

Additional guests: $100 per person (20 guests maximum)

2 paddle boards, large wet mat available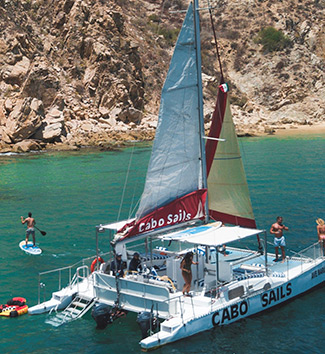 35' Sea Amore (Trimoran Motorboat)
$990 for 2-6 guests

Additional guests: $100 per person (16 guests maximum)

2 paddle boards, large wet mat available

Note: Not available for Sailing or Whale Watching

33´Alegria (Hunter)

$600 for 2-6 guests

Additional guests: $100 per person (6 adults + 2 children maximum)

30' Sol Mate (Islander)

$600 for 2-6 guests

Additional guests: $100 per person (8 adults and two children maximum)

Children (age 0-12) are complimentary (max 5 free). $100 per child after the 5th child.
Small breed dogs allowed on board $50 per dog (life vests available)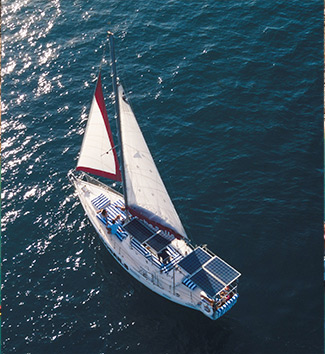 Additional Information:
Please bring your towels.

Prices are in US dollars and include tax.

Wet suits are offered upon request only for no additional cost.

Vegetarian and Gluten Free food options available. Cabo Sails can accommodate any food allergies or special requests.

Beverages served in stainless steel insulated cups (no plastic)

Cabo Sails operates on Sundays only during a major Holiday week

Public tours available. Call for details

Gratuities for the crew are not included and are most appreciated.

Your safety is the number one priority. Cabo Sails specializes in a smooth sailing experience and not extreme sailing. Cabo Sails has all of the permits, insurance, licenses and safety equipment required. They also have life line netting all around the decks of the sailboats for additional safety, especially for children.

All tours subject to 3.75% booking fee.