Please send me more information on Cabo Adventures Tours!
Cabo Dolphins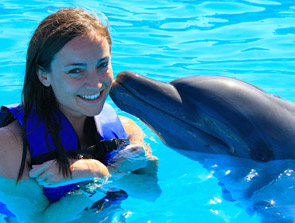 Guests of all ages can enjoy a rare opportunity to swim and play with beautiful Pacific Bottlenose dolphins while visiting Cabo San Lucas. These educational programs are fun for the whole family. Learn about the biology and conservation of these wonderful marine mammals.
---
Bike Adventure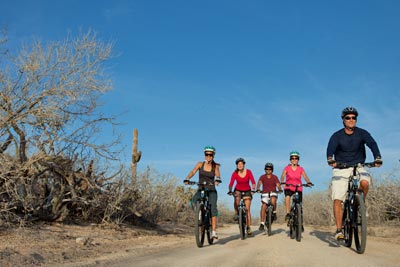 Whether you are an experienced cyclist or a first-time mountain biker, the Bike Adventure is an enjoyable way to experience the outback of Cabo. With our expert guides, you will be set-up on modern, all-terrain bikes, fitted just for you, and taken on an enjoyable ride down cactus-lined tracks to a stunning hidden beach overlooking the Pacific. Your ride ends with an authentic Mexican feast and celebratory drink.
---
Sea Tours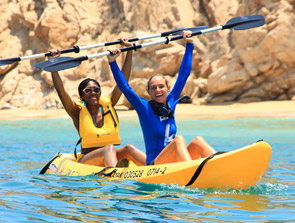 Offering exciting power snorkeling, kayaking, scuba diving and whale watching tours in Los Cabos, Cabo Adventures is one of the area's most popular activity providers. Hop aboard for an unforgettable day experiencing the amazing sea life of the Sea of Cortez.
---
Outdoor Adventures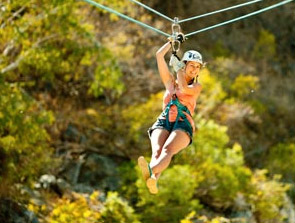 The Outdoor Adventure is the true summit of high adventure, taking you on a series of thrilling canyon "flights." Experienced guides will be there every wild whoosh of the way, to ensure your safety as well as your thrills.
---
Outback & Camel Safari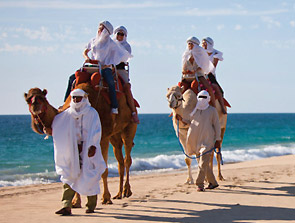 Combining an exciting off-road excursion aboard 4X4 vehicles, an easy nature walk and an unforgettable beach camel ride, this unique adventure gives you a taste of the wild, majestic beauty of Baja's desert landscape, letting you observe native flora and fauna as well as amazing ocean vistas.
---
3 for 2! – pay for 2 adventures and third is free!

• Guests must reserve all the tours on the same booking (special only valid for single adventure booking - can't use same special more than once)
• Each guest must take all three tours (not transferrable to other family members or guests)
• Once booked package is non refundable
• Not valid with any other promotion
• Cheapest of the three tours is free
Free Vacation Guide
and Enter to Win!
Sign-up for our FREE Los Cabos,
Mexico Vacation Guide and Enter to Win!
Win 3 nights at one of our outstanding Los Cabos Resorts!
Click Here...
How Can We Help?
(USA & Canada)
01-831-724-5800 (International)
Low Price Guarantee No Booking Service Fees! 24/7 Client Service