Please send me more information on Hydro Flyboard Los Cabos!

HYDRO FLYBOARD LOS CABOS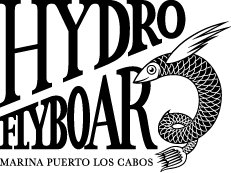 FlyBoarding in Cabo is a real treat and one of the top things to do in Los Cabos. Private, personal and professional hydro flight lessons inside the exclusive and uncrowded Marina at Puerto Los Cabos are designed to provide an exciting jet pack experience. Your trainer will take you step by step to learn how easy it is to use a FlyBoard and surf the sky in paradise!
San Jose del Cabo FlyBoard service is an outdoor activity suitable for all ages and abilities, from complete beginners to those who have tried it before and wish to master the surfing jetpack. You will not believe how much fun it is!
Hydro Flight lessons include the FlyBoard rental, as well as specialized gear and one-on-one tutoring. Based on experience, our planned basic FlyBoard sessions included in the price is a 30 minutes of briefing and setup + 30 effective minutes on the FlyBoard. Just the right amount of time to learn how to take off, fly and try some tricks, without rushing.
Single Flight
Discover the FlyBoard experience with a certified international trainer who will personalize your lesson to ensure safety, fun and progress. The tour will begin with 30 minutes of briefing followed by 30 minutes on the FlyBoard. The FlyBoard is powered by a personal Hydro JetPack which operates on a board with boots (hands-free) with forward propulsion. Connected by a hose to a personal watercraft, it uses the power of water from the watercraft to raise the flyer above water. The activity is carried out with 2 people (certified instructor + participant). The instructor will regulate the water pressure which affects the height of hydro flight based on the ability of the client.

Rate

Single Flight: $199.00

Duration

1 Hour: 30 minute briefing + 30 minutes in water

What is included?

Bottled water, helmet, life jacket, FlyBoard, personal watercraft, gear, on-site free parking, showers to rinse off after lesson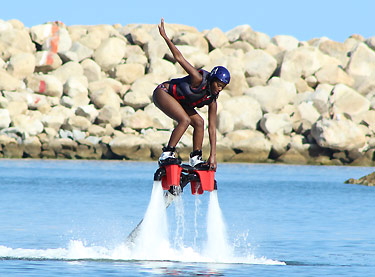 What to bring?
Sunblock, Towel, Swimwear/Wetsuit, ID, cash or credit card for drinks/snacks

HD GoPro recording available for additional fee

Rates include taxes

No experience required to fly
Minimum weight 80 pounds
Maximum weight 350 pounds
Children under 18 must have parental consent
Assisted flight (tandem) is available upon request for small adventurers under 80 pounds and/or people with disabilities
Contact your Sales Agent for group rates for 4+ guests
Closed during the month of September (low season)
Tour located at the Puerto Los Cabos Marina
Note: 5% fee for using Visa or MasterCard in Cabo directly (American Express not accepted)

Medical Restrictions: Pregnancy, recent fractures, operations or unhealed wounds, hernias or back problems, lung or heart conditions, people who experience convulsions, anyone taking medication that can affect balance, and people who are intoxicated.
Pueblo Bonito Los Cabos 1BR Luxury Suite
Available New Years!
One-bedroom Suite Overlooking Land's End and Médano Beach
Book 5+ nights and recieve a $300 activity credit. From $245/night
Sleeps 6 people • 750 sq feet • 180° Sea of Cortez views
How Can We Help?
(USA & Canada)
01-831-724-5800 (International)
Low Price Guarantee No Booking Service Fees! 24/7 Client Service
Before You Go...
Tell Us Where To Send Our
Latest Specials, Exclusive Properties and More