Villa Services
Would you like more information?
More Pre-Stocking Options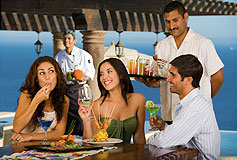 Food Pre-stocking Packages

GRILLING PACKAGE
$135
/order
Hamburger buns (12 pieces)
Hamburger patties (12 pieces)
Hotdog buns (12 pieces)
Hotdogs (12 pieces)
Tomato (1lb)
Onion (1lb)
Lettuce (1 head)
Cheddar cheese (1lb)
Ketchup (1 lg bottle)
Mayonnaise (1 bottle)
Mustard (1 bottle)
Relish (1 bottle)
Frozen French Fries (5 lb bag)
ROMANTIC PACKAGE $178.50/order
1 Bottle of Veuve Clicquot Champagne Brut
Champagne bucket
1 Bag of purified ice
6 Chocolate covered strawberries
2 Champagne flutes
1 Dozen red roses
Salsa Mexicana
Guacamole
Corn Tortillas Chips
KIDS' BREAKFAST PACKAGE
$48
/order
Waffles (12)
Hot cakes (12 pc)
Syrup and butter
Assorted juice boxes (12)
Assorted cereal boxes (12)
Milk (half gallon)
Assorted juice boxes (12)
Hot dog buns (8)
Turkey sausages (8)
Ketchup (1)
Mayonnaise (1)
Frozen french fries (2lb)
Popcorn (2)
Crackers (1 box)
Macaroni and cheese (2 box)
Bag of chocolates
SMOKED SALMON PACKAGE $91.50/order
Assorted Bagels (6)
Tomatoes (2)
Onion (1)
Smoked salmon ( 1.5lb)
Cream Cheese (1 lb)
Capers

Villa Beverage Pre-stocking Options
Must be 21+ years to order. Limit one bottle of hard alcohol (40+% alcohol) per person.

BEER PACKAGE
$122
/order
12 Coronas
12 Pacificos
12 Dos Equis
12 Tecates
12 Modelos
MARGARITA PACKAGE $178.50/order
Cuervo 1800 reposado (3 bottles)
Cuervo margarita mix (3 bottles)
Limes (12)
Salsa Mexicana (1 liter)
Guacamole (1 liter)
Bag of tortilla chips
Purified ice (1 bag)
Salt
TOP SHELF LIQUOR PACKAGE
$318
/order
Corona Beer (24 cans)
Bacardi White Rum (1 liter)
Don Julio Reposado Tequila (3/4 liter)
Absolut Vodka (3/4 liter)
Jack Daniels (3/4 liter)
Damiana Liquor (1 liter)
Margarita Mix (1 bottle)
Piņa Colada Mix (1 Bottle)
Kahlua (1 liter)
Coke (12 cans)
Cranberry juice (2 liters)
Tonic Water (12 cans)
Limes (12)
Purified ice (2 bags)
Note: An additional $20 per trip delivery fee applies to all pre-stocking services ($50 delivery fee for East Cape/San Jose villas) and is subject to 16% IVA Mexican sales tax and 15% administration fee. Tax, fees and gratuities not included in listed pricing. There will also be an additional pre-stock option service charge for Villa Cerca del Cielo. Additional service fees apply for New Years Eve/Day and East Cape/San Jose villas.
Same-day orders unavailable. 72-hour notice (business days) recommended to ensure availability of prestock items. Orders must be placed at least 24 hours in advance on business days (M-Sat) with earliest delivery available the next business day. Allergy-free menus available, contact us for more information.

Previous Page | 1 | 2 | 3 | Next Page: Villa Staff and Service Options
Free Vacation Guide
and Enter to Win!
Sign-up for our FREE Los Cabos,
Mexico Vacation Guide and Enter to Win!
Win 3 nights at one of our outstanding Los Cabos Resorts!
Click Here...
How Can We Help?
(USA & Canada)
01-831-724-5800 (International)
Low Price Guarantee No Booking Service Fees! 24/7 Client Service