La Isla
La Isla Pelicano
This scenic cruise experience is like none other in the unique Sea of Cortés. Enjoy the perfect mix of luxury and adventure during what is sure to be a fantastic day on the water. Explore Baja's spectacular coast, Lover's Beach and The Arch dropping anchor off scenic Pelican Rock to enjoy snorkeling around hundreds of tropical fish. This newly launched luxury vessel is essentially a posh beach club on the water. Amenities include a private chef, hand crafted cocktails, lounge chairs on the decks, and an array of water toys, kayaks, SUP boards, floating mats, and more!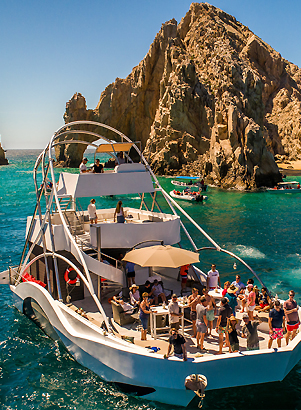 Rates
La Isla Pelicano Private Tour: $2090 (1-12 People), $2640 (13-24 People), $3960 (25-50 People)

Ceviche Menu: $35/person (Includes tuna tar tar, assorted ceviche, shrimp agua chile, shrimp cocktail and all the fixings)

Mexican Menu: $35/person (Includes steak and chicken fajitas, chorizo and mushroom quesadillas, refried beans, rice and assorted salsas)

Cabo Menu: $37/person (Includes Baja fish, grilled shrimp and octopus tacos, stuffed giant Catalina clams and jicama rolls)

Open Premium Bar: $75/person (Includes a mix of beer, tequila, rum, vodka and mixers) Note: not unlimited

Open Domestic Bar: $52/person (Includes a mix of beer, tequila, rum, vodka and mixers) Note: not unlimited

Contact your Cabo Specialist for complete menus and for rates and information on special decorations or catering!

Duration

4 Hours

Departure

Departure times are flexible (Note: Morning tours must depart by 11am & Sunset tours must depart after 5pm)

Departs from Dock G at the Marina, 20 yards from Lorenzillo's Restaurant

Tour Includes

Cruise around The Arch, Lover's Beach and Pelicano Rock

SUP, Snorkel Gear and Watermat

Sound System

Chips, salsa and guacamole

Soft drinks, bottled water and ice


---

La Isla Grande

La Isla is an experience like no other! This custom 40-foot catamaran features stylish lounge furniture, 2 bathrooms, a full kitchen, ice coolers, an excellent sound system, 60" TV, paddle boards and snorkeling gear. Whether you choose to spend a day cruising to some of the best snorkeling spots in Cabo San Lucas Bay or reserve La Isla for a sophisticated party at sea or intimate wedding surrounded by family and friends, this one-of-a-kind vessel offers a unique way to experience the breathtaking sights of Los Cabos from the water! Bring your own food and beverages for the day or allow us to provide delicious catering options for you.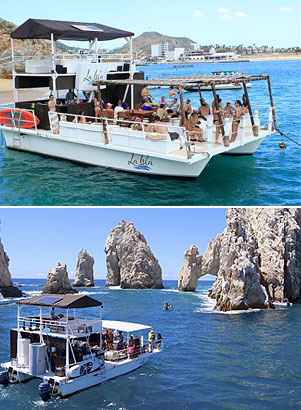 Rates
La Isla Grande Private Tour: $1000 (35 People Maximum)

Extra Hour: $80/hour

Standard Food & Beverages: $42/person (Includes open bar and assorted tacos or burritos)

Ceviche Menu: $35/person (Includes tuna tar tar, assorted ceviche, shrimp agua chile, shrimp cocktail and all the fixings)

Mexican Menu: $35/person (Includes steak and chicken fajitas, chorizo and mushroom quesadillas, refried beans, rice and assorted salsas)

Cabo Menu: $37/person (Includes Baja fish, grilled shrimp and octopus tacos, stuffed giant Catalina clams and jicama rolls)

Open Bar: $30/person (Includes a mix of beer, tequila, rum, vodka and mixers) Note: not unlimited
Contact your Cabo Specialist for complete menus and for rates and information on special decorations or catering!

Duration

4 Hours

Departure

Departure times are flexible (Note: Morning tours must depart by 11am & Sunset tours must depart after 5pm)

Departs from Dock G at the Marina, 20 yards from Lorenzillo's Restaurant

Tour Includes

Cruise around The Arch, Sea Lion Colony & Divorce Beach

SUP, Snorkel Gear and Watermat

Sound System

Chips, salsa and guacamole

Soft drinks, bottled water and ice


---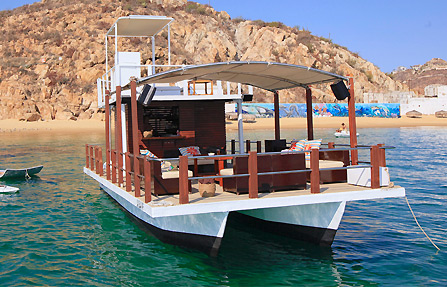 La Isla Mediana

La Isla Mediana is also a custom catamaran. This 35-ft vessel comes arranged with lounge furniture and offers one bathroom, a double deck, paddle boards and snorkeling gear. Customize your trip by choosing a cruise to Lover's Beach, a snorkeling excursion or a sunset cruise. Bring your own food or enjoy some customized catering to make your experience even more special!

Rates

La Isla Mediana Private Tour: $850 (22 People Maximum)

Extra Hour: $80/hour

Standard Food & Beverages: $42/person (Includes open bar and assorted tacos or burritos)

Ceviche Menu: $35/person (Includes tuna tar tar, assorted ceviche, shrimp agua chile, shrimp cocktail and all the fixings)

Mexican Menu: $35/person (Includes steak and chicken fajitas, chorizo and mushroom quesadillas, refried beans, rice and assorted salsas)

Cabo Menu: $37/person (Includes Baja fish, grilled shrimp and octopus tacos, stuffed giant Catalina clams and jicama rolls)

Open Bar: $30/person (Includes a mix of beer, tequila, rum, vodka and mixers) Note: not unlimited
Contact your Cabo Specialist for rates and information on special decorations or catering!

Duration

4 Hours

Departure

Departure times are flexible (Note: Morning tours must depart by 11am & Sunset tours must depart after 5pm)

Departs from Dock G at the Marina, 20 yards from Lorenzillo's Restaurant

Tour Includes

Cruise around The Arch, Sea Lion Colony & Divorce Beach

SUP, Snorkel Gear and Watermat

Sound System

Chips, salsa and guacamole

Soft drinks, bottled water and ice



---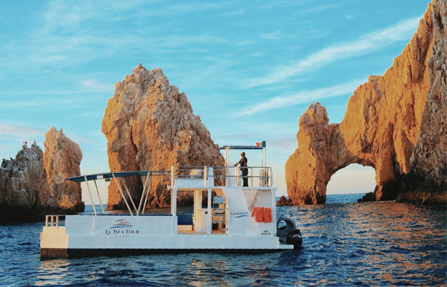 La Isla Fe

La Isla Fe is also a custom made two story catamaran. This 35-ft vessel offers one bathroom, a double deck, paddle boards and snorkeling gear. Customize your trip by choosing a cruise to Lover's Beach, a snorkeling excursion or a sunset cruise. Bring your own food or enjoy some customized catering to make your experience even more special!

Rates

La Isla Fe Private Tour: $850 (18 People Maximum)

Extra Hour: $80/hour

Standard Food & Beverages: $42/person (Includes open bar and assorted tacos or burritos)

Ceviche Menu: $35/person (Includes tuna tar tar, assorted ceviche, shrimp agua chile, shrimp cocktail and all the fixings)

Mexican Menu: $35/person (Includes steak and chicken fajitas, chorizo and mushroom quesadillas, refried beans, rice and assorted salsas)

Cabo Menu: $37/person (Includes Baja fish, grilled shrimp and octopus tacos, stuffed giant Catalina clams and jicama rolls)

Open Bar: $30/person (Includes a mix of beer, tequila, rum, vodka and mixers) Note: not unlimited
Contact your Cabo Specialist for rates and information on special decorations or catering!

Duration

4 Hours

Departure

Departure times are flexible (Note: Morning tours must depart by 11am & Sunset tours must depart after 5pm)

Departs from Dock G at the Marina, 20 yards from Lorenzillo's Restaurant

Tour Includes

Cruise around The Arch, Sea Lion Colony & Divorce Beach

SUP, Snorkel Gear and Watermat

Sound System

Chips, salsa and guacamole

Soft drinks, bottled water and ice


---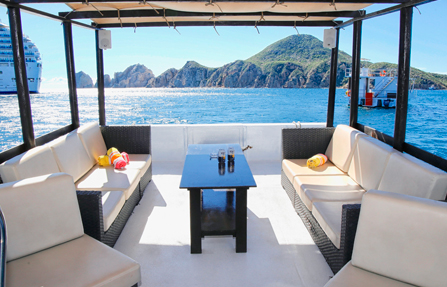 La Isla Chica

La Isla Chica is also a custom catamaran. This 30-ft vessel comes arranged with lounge furniture and offers one bathroom, an ice cooler, sound system, paddle boards and snorkeling gear. Customize your trip by choosing a cruise to Lover's Beach, a snorkeling excursion or a sunset cruise. Bring your own food or enjoy some customized catering to make your experience even more special!

Rates

La Isla Chica Private Tour: $640 (12 People Maximum)

Extra Hour: $80/hour

Standard Food & Beverages: $42/person (Includes open bar and assorted tacos or burritos)

Ceviche Menu: $35/person (Includes tuna tar tar, assorted ceviche, shrimp agua chile, shrimp cocktail and all the fixings)

Mexican Menu: $35/person (Includes steak and chicken fajitas, chorizo and mushroom quesadillas, refried beans, rice and assorted salsas)

Cabo Menu: $37/person (Includes Baja fish, grilled shrimp and octopus tacos, stuffed giant Catalina clams and jicama rolls)

Open Bar: $30/person (Includes a mix of beer, tequila, rum, vodka and mixers) Note: not unlimited
Contact your Cabo Specialist for rates and information on special decorations or catering!

Duration

4 Hours

Departure

Departure times are flexible (Note: Morning tours must depart by 11am & Sunset tours must depart after 5pm)

Departs from Dock G at the Marina, 20 yards from Lorenzillo's Restaurant

Tour Includes

Cruise around The Arch, Sea Lion Colony & Divorce Beach

SUP, Snorkel Gear and Watermat

Sound System

Chips, salsa and guacamole

Soft drinks, bottled water and ice


---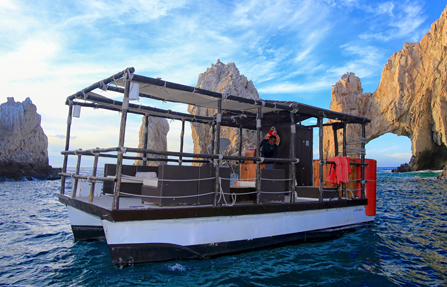 La Isla Mini

La Isla Mini is also a custom catamaran. This vessel comes arranged with lounge furniture, an ice cooler, sound system, and snorkeling gear. Customize your trip by choosing a cruise to Lover's Beach, a snorkeling excursion or a sunset cruise. Bring your own food or enjoy some customized catering to make your experience even more special!

Rates

La Isla Mini Private Tour: $240 (6 People Maximum)

Extra Hour: $80/hour

Standard Food & Beverages: $42/person (Includes open bar and assorted tacos or burritos)

Ceviche Menu: $35/person (Includes tuna tar tar, assorted ceviche, shrimp agua chile, shrimp cocktail and all the fixings)

Mexican Menu: $35/person (Includes steak and chicken fajitas, chorizo and mushroom quesadillas, refried beans, rice and assorted salsas)

Cabo Menu: $37/person (Includes Baja fish, grilled shrimp and octopus tacos, stuffed giant Catalina clams and jicama rolls)

Open Bar: $30/person (Includes a mix of beer, tequila, rum, vodka and mixers) Note: not unlimited
Contact your Cabo Specialist for rates and information on special decorations or catering!

Duration

3 Hours

Departure

Departure times are flexible (Note: Morning tours must depart by 11am & Sunset tours must depart after 5pm)

Departs from Dock G at the Marina, 20 yards from Lorenzillo's Restaurant

Tour Includes

Cruise around The Arch, Sea Lion Colony & Divorce Beach

Snorkel Gear and Watermat

Sound System

Chips, salsa and guacamole

Soft drinks, bottled water and ice


---
La Isla Whale Watching Tour

Enjoy the combination of speed, comfort, beauty, and exclusivity in the custom made whale watching boat! You and up to 18 passengers will run wild in the Pacific Ocean and Sea of Cortes searching for the world's largest mammals. Soak in the beautiful scenery and all points of interest of Cabo San Lucas bay visiting all landmarks such as The Arch, Lover's Beach, Divorce Beach and the Sea Lion Colony. Your crew will not only tell you all about the whales, but will keep eyes wide open for all kinds of wildlife. Feel the power of the 500 HP outboard engines, and find yourself flying at speeds of up to 40 knots without sacrificing your back and knees with the comfort of a suspension seat.

Rates

Public Tour: $92/Adult, $62/Child

Private Tour: $1012 (up to 18 passengers)

Duration

2.5 Hours

Departure

Departure times: 10:30am & 1:30pm

Departs from Dock G at the Marina, 20 yards from Lorenzillo's Restaurant

Tour Includes

Whale Watching around The Arch, Lover's Beach and Sea Lion Colony

Suspension seats for full comfort

Sound System

Soft drinks, bottled water and ice


---

Note: 10% Service Fee is included in the La Isla Pelicano private tour rates