ME Cabo

Cabo San Lucas, Medano Beach

4.5-STAR

DELUXE RATING

Add to Favorites
Info

Distance to Town:

0.8 miles

Distance to Beach:

0.0 miles

Nearest Marina:

0.4 miles

Distance to Airport:

27.5 miles
Property Description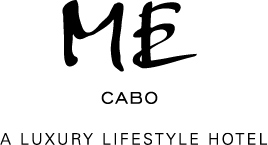 Set on Médano Beach, one of the loveliest stretches of sand in Baja, ME Cabo is a sun-lover's paradise. Inside this adult-oriented resort, you'll find beautifully appointed rooms and suites with breathtaking views of Cabo San Lucas Bay and the world-famous Land's End.
Located just a few minutes' walk from the Marina and the town of Cabo San Lucas, the ME Cabo offers easy access to the world's best fishing, water sports, eco-adventure tours, and excursions to the most beautiful spots in Los Cabos.
Enjoy its many amenities, including two swimming pools, lighted tennis courts, award-winning world-fusion cuisine in two restaurants, the internationally acclaimed Nikki Beach Club, and the exciting Passion Club, with its poolside DJ and the delightful swim-up bar. Tequila Fusion offers imaginative Mexican cuisine in a sophisticated setting along with a host of tequila-based cocktails.
Meliá recently completed an exciting renovation. Among its highlights, the hotel now features a variety of new room and suite concepts, with a compelling range of luxury amenities and pamperings 150 rooms were completely remodeled.
One major (and intriguing) addition is "The ME+ Experience" concept, which consists of 62 distinctively outfitted, premium accommodation rooms in various areas of the hotel. The ME+ rooms feature choice views, private sundecks and rain showers. In addition to elegantly upgraded guestrooms, The ME+ accommodations offer a host of VIP amenities, such as complimentary in-room breakfast, bathrobes and slippers, wireless Internet access, iPods, CD players, plasma TVs, and exclusive access to a private lounge. The ME+ rooms are adults-only.
Energy Suites are designed for guests desiring to be in the heart of the ME's action. A jacuzzi is located on the terrace outside and is shared with the next-door unit, perfect for party lovers. Plush, fashionable bedding and a spacious floorplan distinguish these exceptional suites.
A property designed for guests with truly discerning tastes, the resort even has an "Experience Manager," whose job is to ensure that the expectations and desires of each guest are fulfilled in the heightened style of a great hotel. The ME+ Experience accommodations have their own manager to coordinate VIP events and activities.
The new YHI spa reflects the ME's signature of extravagance and style, with world-class spa treatments, a hydrotherapy ritual center, relaxation center and workout room.
And of course, the captivations of downtown Cabo are only minutes away. With all these fabulous features and recreational opportunities, you probably won't have time to experience all the Meliá offers—but that just means great anticipation at coming back for another round of fun.

Member of the International Gay & Lesbian Travel Association (IGLTA)



NOTE: Resort atmosphere may not be suitable for children or families.
Deluxe 4.5 Star Rating
The deluxe rating indicates a nice and well-kept property in a good location. Furnishings and amenities are of good quality. Their ocean views may be limited. Guests can arrange for services on-site or find them nearby.


Property Amenities
140 rooms and 6 suites
All rooms have terraces
Majority of rooms have breathtaking ocean views
Rooms have 2 double beds or 1 King bed
Daily maid service
Adult oriented hotel
24-hour room service
Three restaurants
Live entertainment
Nikki Beach Restaurant/Club serving fresh sushi, seafood and ceviche in a poolside setting
Tequila Fusion Restaurant serving inventive Mexican cuisine, tapas-style small plates and a host of tequila-based cocktails.
Passion Night Club
Four bars
Two heated swimming pools with swim-up bar
Meeting room

Complete water sports and beach activities
Three meeting rooms from
442 - 1,115 sq. ft.
Four open patios for less formal meetings
Shopping arcade
Small fitness center
Car rental agency
Pet friendly ($150 + taxes, 25 lbs max)
Free wireless in-room and in public areas; Internet TV in-room ($7/day)
Member of International Gay & Lesbian Travel Association
Satellite color television with remote control
Safe deposit box in each room
Mini bar
Coffeemaker

International direct-dial telephone
Wireless high-speed Internet access
Air conditioning
An array of bathroom amenities
Guests eligible for ME+ may use the following exclusive services:
Private Check-In in the Suite.
Personalized service from the ME+ Manager.
Personalized welcome amenities.
Music system with your favorite pre-select music.
Ironing service of one item of clothing per guest.
Cocktail Party on Fridays.
Priority access to hotel facilities and bars.
Amenities for pets.
Personal "Event Planner" to organize events in your suite. DJ's and decoration at extra charge.
Special set up in the room (ME Suite upon request).
NIKKI BEACH With locations all over the world's capitals of luxury leisure, Nikki Beach is iconic for its parties. On weekends, this Cabo resort plays host to one of the most beautiful and sought after daytime party scenes in Cabo San Lucas with bottle service, dancing, DJs, and more. During the week, a soothing, hip vibe infuses the pool area. While Nikki Beach is a party destination, it is also a perfect spot for a glamorous lunch for 2, 20, or more. Hours: From 10 to 6 pm
TEQUILA FUSION Tequila in every dish? Yes, that is the thinking behind one of Cabo's best restaurants. Enjoy a sophisticated dish with a hint of the country's most beloved and iconic spirit. The spirit is infused into more than the food, the flavor is spread throughout the restaurant's atmosphere. Hours: Live Jazz music every Friday starting at 8pm. Happy hour every Thursday from 7 to 8pm. Open for breakfast: 7 to 11 am. Dinners: 6 to 11 pm
THE DECK Sun, sand, ocean waves, and the best fish tacos in Cabo can only mean you're dining at The Deck. Located in front of the hotel and just steps from the water, The Deck is the perfect option for lunch serving a large menu of sandwiches, sushi, tacos, guacamole, and cocktails. Hours: From 10 am to 6 pm

PASSION CLUB & LOUNGE Passion Club & Lounge offers an up-scale and eye-catching design, a unique setting with a refined atmosphere where delightful cocktails can be savored and visitors can dance to the renowned global sounds of House & Dance music mixed by excellent resident & international guest DJ's. Well known for hosting major trend events and the best parties in Cabo San Lucas, such as the Famous New Year Party, the Passion Club anniversary on April and the most original themed parties, Passion VIP Room has become a favorite hangout for many of Los Cabos elite and international renowned celebrities. Cocktails and beautiful people are a given at Passion Lounge. The hotel's nightclub lounge is one of the premiere Cabo nightlife destinations with an international crowd of revelers. Guests can party in the Red Room, Purple Room, or enjoy the outdoor fire pit.
THE WET BAR Infamous daytime pool parties filled with fun, beautiful people, bottles and bubbly, all make for a beach bacchanal on weekends and this water bar is immersed amongst all the revelers. During the week guests can sip the day away at this relaxed swim up bar.
MAIN BAR A solid drink and some light conversation with strangers- turned friends? This is the place to do it. ME's Main Bar serves an international menu of cocktails.
Map
About the Area: Medano Beach
The beloved beachfront of Cabo San Lucas, Medano is an energetic blend of spectacular beach, beautifully azure swimmable waters, activities and of course people. Hot beach clubs, beautiful resorts and fun restaurants line the beach. Hang out at the Mango Deck, Billygan's Island or The Office where you can enjoy happy hour with your toes in the sand. The gentle waters of the Bay are a beautiful backdrop for kayaking, jet skiing and parasailing. While soaking in the sun on the beach, you'll encounter a host of local hawkers selling anything from jewelry to chewing gum. If you're interested, bargaining is expected; if not, ignore them. If you're looking for a hot mix of action and natural beauty, Medano is the place to be. Depending on where you're staying on Medano Beach, you're either just a short cab ride or walk to downtown.
Reviews for ME Cabo
Review from Debbie

| Las Vegas, NV

We just returned from Cabo, and living in Vegas we have some of the finest hotels in the world, but I would rather stay at your resort. My room was absolutely beautiful, being within 5 steps of the pool and ocean.




The terrace off my room had a spectacular view of the ocean, and the service was 5-star all the way. My friends and I will be returning by the end of the year for a much longer stay!
Review from Christa

| La Jolla, CA

The hotel was very clean and beautiful. I was very pleased our rooms were next door to each other.
Review from Mark

| Salt Lake City, UT

We could not have been more thrilled with the villa. We loved the beachfront pool. We pre-booked 2 days of golf and a fishing charter through you and both were excellent. Thank you Marsa in reservations, you were wonderful to work with, we had an excellent vacation.
Specials
WEDDINGS AND OTHER SPECIAL EVENTS
Rates do not include taxes, hotel service charges or extra person fees. Holiday surcharges apply.