Special Offer! 20% off Last Minute Reservations 01/05/2021 - 01/04/2022
Top Villa Pick
Family-Friendly
Villa Bellissima
Cabo San Lucas - Oceanfront , Pedregal - Pacific 6+ Star Platinum Rating
8 Bedrooms

11 Bathrooms
Sleeps 9 couples or 10 singles
24,000 sq ft
Maid Service: Daily except Sundays
Villa is cleaned and sanitized by professional staff to the highest standards to ensure your comfort and safety.
Details
Superb Ocean-View Luxury Villa - Great for Events
Imagine a stunning hillside villa in the elite Pedregal community of Cabo San Lucas perfectly blending the best of modern architecture, the warmth of Baja, luxurious amenities and boundless views of the Pacific. Now imagine this outstanding setting can be exclusively yours for an unforgettable sojourn. Imagine no more; newly constructed Villa Bellissima is just such a vacation home of rare distinction.
Exceptional style and grace are clearly evident in every aspect of this sophisticated 5-level, 8BR/11BA home. The sleek contemporary architecture has been designed to maximize the impressive hillside location. Balconies and terraces invite guests to revel in the vistas. Inside, a spacious atmosphere of comfortable elegance awaits. Expanses of glass on each level flood interiors with that peculiarly brilliant Baja light. Guests will enjoy the privacy of the 8 roomy suites, each with its own balcony/terrace and inspiring ocean views. You'll also find a home theater with 112" screen and reclining seating for 12, a gourmet kitchen, an ocean-view gym and even an elevator to zip you from floor to floor. Outside, the dramatic swimming pools look out over sweeping views of the Pacific.
With a gourmet kitchen, a large separate commercial kitchen, indoor dining for 16 in the magnificent dining area overlooking the scenic main terrace, Villa Bellissima is ideal for entertaining. In fact, this exquisite property is a perfect choice for special events and can easily accommodate 150 guests for a dream location wedding, anniversary party or cocktail soirée.
Cabo Wedding Blog:
Fairytale Glamor at this Cabo Wedding
Enduring Elegance at Villa Bellissima
A Stunning Celebration at Villa Bellissima
Sweet and Stylish Destination Wedding at Villa Bellissima
FLY IN STYLE: Private Jet Charters to Los Cabos.
MAIN FEATURES
8BR/11BA
Sleeps 9 couples or 10 singles maximum
24,000 Square Feet Inside
5 Levels
Built in 2008
Primary Suite: King bed, ocean view, balcony/terrace, private bath w/Jacuzzi tub
Second Suite: King bed, ocean view, balcony/terrace, private bath
Third Suite: King bed, ocean view, balcony/terrace, private bath
Fourth Suite: King bed, ocean view, balcony/terrace, private bath
Fifth Suite: King bed, ocean view, balcony/terrace, private bath
Sixth Suite: King bed, ocean view, balcony/terrace, private bath
Seventh Suite: King bed, ocean view, balcony/terrace, private bath
Eighth Suite: King bed, ocean view, balcony/terrace, private bath
2 Rollaway beds available
Ocean-view gymnasium, including elliptical trainer and universal workout machine
Short distance to town and beach
No smoking on property
Housekeepers live onsite (separate apartment)
Chef can provide cooking services for breakfast, lunch and dinner. Rates to be paid in cash direct plus the cost of food. Arrangements for arrival dinner and breakfast to be made prior to travel; all other meals to be arranged in destination. Gratuity additional and recommended.


1-8 People: $200
9-14 People: $300
15-20 People: $350
20-25 People: $400
Bartender: $120 (rate valid for 8 hours)

Maid service Mon-Sat (Note: Maids do not work on Mexican Holidays)
OUTDOOR FEATURES
13,376 Square Feet Outside
2 Swimming Pools:


Infinity Swimming Pool with Jacuzzi (located on eastern side, 5' deep, filtration system)
2nd Infinity Swimming Pool (located on western side, 4' deep, filtration system, not heated)

Patio dining for 22
Event dining for up to 150
16 Lounge chairs
Outdoor shower
Gas BBQ
Fire pit
Shade structure
INDOOR FEATURES
Flagstone flooring throughout
Granite and Marble countertops
Gourmet Kitchen w/dishwasher
Separate commercial kitchen
Indoor dining for 16
Theater with 112" screen, electronic reclining seating for 12
Vonage Telephone + Local Land Line
Satellite TV (Size 30" to 50")
AppleTV and Netflix access
Wireless sound system
All bedrooms are iPod-friendly
DVD/CD Players
Professional size Pool Table
Fax Machine/Printer
Wireless Internet access
Elevator
Exercise equipment
Water purification system
Washer & Dryer
Den
High chair and playpen available
8 Ceiling fans
Air conditioning (Bedroom Units & Mini-Splits)
Safes
USB ports throughout
Ironing Board
Carbon Monoxide Detector
Platinum 6+ Star Rating
The Platinum rating is set aside only for properties of extraordinary opulence. Every significant feature - location, views, furnishings, amenities, condition and service - is one of ultimate beauty, classic workmanship and unequaled refinement.


TERMS AND HOUSE RULES
By booking a reservation you agree to sign our Rental Agreement within 24 hours and to all terms and conditions listed in rental agreement. Total guests at any time restricted to contract. Must disclose all guests. High School, College spring break, bachelor/ette groups not permitted without approval (fee). Excessive noise not allowed at any time. Quiet time 10pm–10am. NO EVENTS unless pre-authorized & fee paid. NO SMOKING indoors . See full
Terms & Conditions
Check-in: 3:00 pm
Check-out: 11:00 am
Minimum age of primary renter: 25
Each bedroom has an ocean view, balcony/terrace, private bath.
• Primary Suite
: 1 king
- Ocean view, terrace, private bath w/Jacuzzi tub
• Suite 2
: 1 king
- Ocean view, terrace, private bath
• Suite 3
: 1 king
- Ocean view, terrace, private bath
• Suite 4
: 1 king
- Ocean view, terrace, private bath
• Suite 5
: 1 king
- Ocean view, terrace, private bath
• Suite 6
: 1 king
- Ocean view, terrace, private bath
• Suite 7
: 1 king
- Ocean view, terrace, private bath
• Suite 8
: 1 king
- Ocean view, terrace, private bath
• Common Space
: 2 rollaway bed
Guest Reviews for Villa Bellissima
"Stunning, Rejuvenating and Epic Rockstar Villa"
Santa Cruz, California February 2020

I was blessed enough to stay at Villa Bellissima for a few days last year and it is by far the most jaw dropping vacation experience i have ever had. For pure relaxation and pool-partiers alike, the place has to be seen to be believed. You feel like you are on top of the world. The views from the pool decks (don't worry there are TWO) are absollutely stunning. Every detail has been carefully thought through. If you want to live like a literal rock star, go here. BBQ by the pool, or have Matter of Taste cater an event for you. The master bedroom is to die for. The amenities are on point. hot tub. movie theater, elevator, industrial kitchen, main kitchen and outdoor BBQ? Yes please. Watch the sea birds float by on the Baja's hot air currents. Play guitar by the pool. Or while wading in the pool. Shower outdoors, its fun! soak in the gorgeous views and the ocean air and see downtown unfurl below you as you tower above it like the VIP you are once you set foot in this awesome awesome one of a kind property. Book it now, you deserve it.
Management Response
Thank you for staying with us at Villa Bellissima - where you truly do live like a rock star! We love to see our clients enjoy EVERY amenity at our homes! We look forward to welcoming you back to Cabo SOON!
"spectacular views and layout"
Review from Coastal04064781341

Easily handles big groups and is one of if not the best sites in all of Pedregal. Perched up over the beach, perfect for whale watching and relaxing with family and friends.
Management Response
Thank you for staying with us at Villa Bellissima; one truly does feel on top of the world from this perfect location! Definitely one of the best spots in all of Cabo. We hope to welcome you back to Los Cabos again soon!

This is a fantastic villa, designed by a Mexican architect. It's long lines hug the rocky hillside. The best feature is the huge, sliding doors in the great room, that open fully to create a true indoor/outdoor experience. We had the doors open most of the time, even in the winter. (No bugs, either!) 2 infinity pools, one heated, one unheated, are beautiful with the sea behind them. Views of the sea are incredible, and it is fun to watch cruise ships arriving everyday. All the suites are comfortable and private; we found nothing out of order during our stay. The staff was friendly and helpful, and we felt pampered. Loved the ping pong, pool table, movie theater, and hot tub. 10' drive the shops and restaurants in town and access to boat trips. Erin + Francis
Management Response
Thank you for staying with us at Villa Bellissima; this beautifully designed home truly is a special spot! We hope to welcome you back to Los Cabos again soon!
Specials
12-Hour Transportation Special
Book your personal transportation service and leave the driving to us!

10 people - 12 Hour Toyota HiAce Open Service: $300.00 Promo Code: Hiace-PROMO
14 people - 12 Hour Ford Transit Open Service: $350.00 Promo Code: Transit-PROMO
17 people - 12 Hour Sprinter Open Service: $370.00 Promo Code: Sprinter-PROMO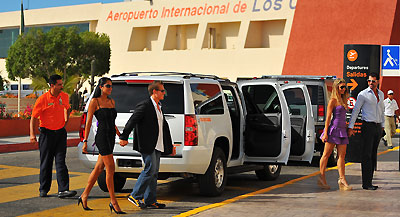 Valid 08/28/20-12/31/21 for open transportation service in destination. No itinerary needed! Service is valid for 12 hours and must be used on same day and cannot be split during stay. Gratuities are additional and recommended..
For bookings made within 7 days of arrival date. This offer is subject to owner confirmation and is not valid for re-rentals. This special is not combinable with any other promotions. Please call us for details.
About the Area: Pedregal - Pacific
The Pedregal is the 'Beverly Hills' of private residential gated communities in Cabo San Lucas. Despite 30 years of steady growth, the Mediterranean-inspired community still manages to hold onto its Old World atmosphere while simultaneously embracing the new. Built into a magnificent granite hillside surrounded by exotic desert vegetation, the area's 360 acres feature sweeping panoramic views over either Cabo San Lucas Bay or the Pacific. With cobblestone streets, fine restaurants and numerous recreational options, the emphasis is on privacy and a casual, tropical lifestyle. Exquisite showpiece homes abound. Excellent swimming is available at Mèdano Beach, less than a mile away. The Pedregal is an oasis of exclusivity just steps to all the action of downtown and the marina. The Pacific side of the Pedregal offers stunning ocean views, with whale watching right from the terrace of your luxurious private villa. The beautiful stretch of beach along the Pacific is perfect for sunbathing and beachcombing. Big Pacific waves make this beach unsuitable for swimming.
Rate Detail

3 night minimum stay required.

Additional person charge applies after 16th guest .

Holiday Surcharge December 20 - January 5.

First 2 children ages 3 to 11 stay at no extra charge.

Longterm Rental Rates available!

Contact us for discounts on monthly stays.
Best Price Guarantee
- The Best Price Guarantee allows us to match any lower published, verifiable rates for the same property, travel dates and number traveling. The Best Price Guarantee and any specials advertised on our site apply only to new reservations and is not applicable toward already booked reservations.
When you book this villa with us, you'll get $900 worth of FREE extras:
1 Hour butler/bartender service upon arrival
Free bottle of premium tequila
1 Complimentary private airport to villa transfer
Free chips, salsa fresca , guacamole and margaritas on arrival

Choice of $400
Cabo Expeditions
credit good toward select activities OR 1 free return transfer
Free villa delivery of your AVIS car rental
Free airport and villa arrival services
24/7 customer service
A dedicated local concierge during your stay
Airport transfer limited to 14 persons, upgrades available. Substitutions may apply. Free delivery valid for 3+ day Avis car rental purchases.