Hotel El Ganzo
San José del Cabo - Oceanfront , Puerto Los Cabos 5-Star Luxury Rating

Stylish Bohemian Boutique Retreat at Puerto Los Cabos
With a stylish atmosphere, creative design and gorgeous views of the Puerto Los Cabos Marina, El Ganzo is a boutique hotel catering to the cultured traveler looking for a sophisticated getaway. Located near the old fishing community of La Playita and alongside the world-class new marina, this luxurious retreat offers natural beauty, great dining, plush accommodations and outstanding service.
Evoking a modern bohemian spirit, this spectacular new hotel offers chic design and a host of outstanding amenities to make your stay unforgettable. Enjoy cocktails, fresh sushi and gourmet cuisine as you listen to live music by visiting artists. A full-service spa, well-equipped gym and a wonderful beach club round out the offerings at this hip hotel. Guest rooms offer high quality organic bath amenities, attractive design blending elegant and rustic elements, and state-of-the-art technology.
A perfect setting to simply relax and enjoy the sunshine, El Ganzo is also just a short drive to some of the area's best activities. Head into historic San José del Cabo to browse the art galleries. Enjoy world-class golf at Puerto Los Cabos. Or, head out on a fishing charter to catch a prize marlin!
Resort utilizes the highest professional cleaning standards to ensure your comfort and safety.
RESORT FEATURES
Located at Puerto Los Cabos Marina
Located on swimmable beach
Adults 18+ welcome
El Ganzo features a one of a kind artist-in-residence program that invites visual artists, filmmakers and musicians from all over the world to create primarypieces and use El Ganzo as their canvas. Artists are given absolute freedom to create works of art inspired by the property and its unique atmosphere and creative vibe
4 Floors, 69 guest rooms overlooking the Sea of Cortez
Infinity Rooftop Pool (2,013 sq ft) w/ one of a kind glassed Jacuzzi
Lap Pool (797 sq ft) located on ground floor with waterfront views
Bali daybeds surround pool
Full Service Spa (5 treatment rooms, therapy pool, sauna, steam room)
Fitness Center with Kinesis
The Underground state-of-the-art Recording Studio (1700 sq ft): Musicians from around the world come to create, perform and record their work. Guests and locals can attend El Ganzo Sessions, a free ongoing series of live music performances.
Beach Club
Full Service Spa, Salon + Fitness Center
Yoga and Meditation Classes
2 Board Rooms (360 sq ft complete with A/C, WiFi, projection screens, seats 15 people)
Wedding Services
Activity Center
24-Hour Room Service
Valet Parking
Car rental service
Airport Transportation
24-Hour Medical Service
Pet Friendly hotel (additional charge/restrictions may apply - max weight of 40 lbs.)
ROOM DESCRIPTIONS
Terrace, Balcony & Ocean View: 60 Rooms cascade three floors at El Ganzo with full ocean views complimenting each one. Sliding doors, open-air terrace space or first floor outdoor Jacuzzi provide a stunning ocean view for guests. Simple and rustic yet elegant and modern, these rooms redefine a hotel experience from the moment you walk in the door. Guest rooms are 360 square feet and offer brand toiletries, hairdryers, soaking tubs, wireless telephone, electronic wall safe, voicemail, iPad and mini-bar.
Large Suites: Two Large Suites echo the rustic simplicity of the Jacuzzi, Balcony and Ocean View rooms but nearly four times the space. The Large Suites are accented with wood grain sliding bedroom doors, patio lounge beds, three flat screen televisions, glass encased showers and a view that is unparalleled. The Large Suites offer a living room, separate bedroom, wireless telephone, electronic wall safe, voicemail, iPad, full stocked mini-bar, bath salon amenities and soaking tub. 1184-2088 square feet.


Room Amenities:
Bathrooms with shower and tub
High quality organic bath amenities
Slippers and bathrobes
Hairdryers
VIP turn down service
Wireless telephone
Electronic in-room safe
iPad (hotel directory)
WiFi
Flat screen smart TV with satellite service
Air conditioning and fans with in-room climate control
Coffee maker and fully stocked minibar
RESTAURANTS AND BARS
Ganzo Downstairs: Open kitchen restaurant with organic and fish dishes accompanied by live music. 7:00am-11:00pm
The Restaurant at Ganzo de Playa Beach Club: Grill restaurant is a 'no shoes, no problem' establishment located on a swimmable beach. This al fresco spot serves up delectable, casual fare daily for lunch. 10:00am - 5:00pm
Upstairs Bar: Located on the rooftop, offers stunning panoramic views of Puerto Los Cabos Marina, Sea of Cortez and nearby mountains
The Rooftop Lounge: Music venue dedicated to hosting open air concerts by in residence artists and a DJ Booth for special events and parties
Gachoo Sushi Bar: Featuring Japanese Cuisine and fresh ceviche daily on the rooftop. 10:00am - 6:00pm
The Container Restaurant: Located in the Marina by the Dolphin Discovery Center specializes in international cuisine for a casual breakfast, lunch or dinner. 8:00am - 11:00pm
Luxury 5 Star Rating
The luxury rating represents very high quality properties in prime locations with fabulous ocean views. Their superior furnishings and amenities are in excellent condition. These properties offer a very high level of service.


Specials

2-for-1 Activities with Cabo Expeditions
Book a resort with us now for travel by 12/31/20 and receive 2-for-1 Activities with Cabo Expeditions.
Valid for travel dates through 12/31/20. Not valid with any other Cabo Expeditions offers. The less expensive of the two activities is free.
12-Hour Transportation Special: $300
Book your personal transportation service in a 10-person Toyota HiAce and leave the driving to us!
Valid 08/28/20-12/31/20 in a Toyota HiAce for up to 10 people for open transportation service in destination. No itinerary needed! Service is valid for 12 hours and must be used on same day and cannot be split during stay. Gratuities are additional and recommended..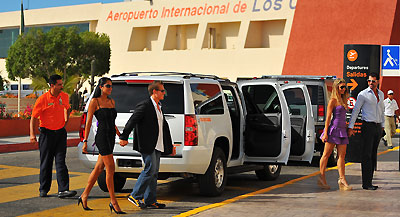 01/01/20-04/19/20:
Ocean View:
Sun-Thu: $327/night
Fri-Sat: $441/night

Balcony Ocean View:
Sun-Thu: $356/night
Fri-Sat: $470/night

Terrace Suite:
Sun-Thu: $399/night
Fri-Sat: $513/night

04/20/20-12/17/20:
Ocean View:
Sun-Thu: $227/night
Fri-Sat: $270/night

Balcony Ocean View:
Sun-Thu: $256/night
Fri-Sat: $299/night

Terrace Suite:
Sun-Thu: $299/night
Fri-Sat: $341/night

12/18/20-12/30/20:
Ocean View:
Sun-Thu: $513/night
Fri-Sat: $513/night

Balcony Ocean View:
Sun-Thu: $541/night
Fri-Sat: $541/night

Terrace Suite:
Sun-Thu: $584/night
Fri-Sat: $584/night

12/31/20-01/03/21:
Ocean View:
Sun-Thu: $656/night
Fri-Sat: $656/night

Balcony Ocean View:
Sun-Thu: $684/night
Fri-Sat: $684/night

Terrace Suite:
Sun-Thu: $727/night
Fri-Sat: $727/night
About the Area: Puerto Los Cabos
Puerto Los Cabos is one of the area's rising stars. This luxurious development is located just outside of San José del Cabo and features a world-class marina alongside the traditional fishing community of La Playita. Puerto Los Cabos features breathtaking oceanfront homes, an excellent golf course, beautiful views of the Sea of Cortez, dining, resorts and more.
Rate Detail

Rates vary based on day of the week.

Rates do not include 19% taxes, 10% hotel service charges or extra person fees.

Adults only resort.
Cancellation/Change Policy
Once a reservation is under deposit, there is no additional CaboVillas.com (ESSV) penalty to cancel or make changes to the reservation beyond any property-specific penalties imposed by the resort directly. Most hotels charge 1 night cancellation inside 72 hours, please refer to your invoice for specific penalties. Cancellation and change penalties vary by resort and dates of travel. Ask your Cabo Specialist for more details about your reservation.
Best Price Guarantee
- The Best Price Guarantee allows us to match any lower published, verifiable rates for the same property, travel dates and number traveling. The Best Price Guarantee and any specials advertised on our site apply only to new reservations and is not applicable toward already booked reservations.