Reviews For Villa Sirena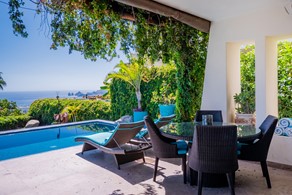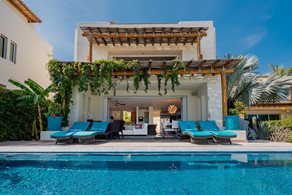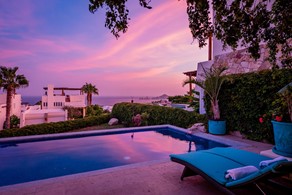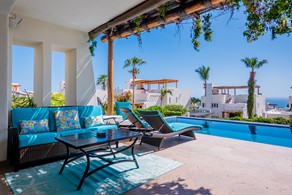 "Beautiful view for a relaxing stay in Cabo"

Villa Sirena is in a very convenient and quiet neighborhood, close to the supermarket and attractions of town but with just enough distance so that you don't get any disturbing noise.
It has a very nice view (make sure to check out the rooftop!), and it was great to have a private pool to relax in after a long day out in the Cabo sun. I would definitely recommend having your own rental car here. Thanks for a great stay!
Ales G , NYC, NY | October 2023
Management Response
Thank you for taking the time to share your feedback! We're delighted to hear that you enjoyed your stay at Villa Sirena. It's wonderful to know that you found the location convenient and the surroundings peaceful. We're glad you made the most of the rooftop view and the private pool. Having a rental car certainly adds to the convenience. We hope to welcome you back for another amazing stay in the future!
"Peaceful and Relaxing"

We loved our stay at Villa Sirena - the house was perfect to host myself, my husband, my parents and my business partner!
Perfect layout and amazing view of the arches - we were sad to go for sure!
Alicia R , Cochrane, Alberta, Canada, | June 2023
Management Response
Thank you for sharing your experience with us! We are so happy that Villa Sirena was the perfect villa for group and you enjoyed the beautiful view of Lands End. We look forward to welcoming you again for more amazing Cabo memories with us!
"Beautiful house, and amazing views!"

This house has amazing views, and plenty of space for our guests.
While we experienced poor weather, the entire Cabo Villas team did their utmost to ensure that we were safe and well taken care of. Alex Koenig was our agent and also took great care of us during the booking process, and answered all our questions. A great place to stay with a larger group. The house had an amazing view of the arches. Close to Costco, and Fresko, you'll have a great time!
MING M , Boulder, CO | September 2022
Management Response
Thank you for sharing your review with us! We're so happy to hear that you loved the villa and received excellent service from our dedicated team. We're glad Villa Sirena accommodated your group of 5 comfortably and that you enjoyed the incredible view of the arch from this convenient location. We look forward to welcoming you back to beautiful Cabo again!
"Great property! Your view is better than the pictures!"

Great property and extremely convenient to grocery stores (Fresko, Costco), restaurants, and 10 minute drive to the marina.
Quiet and relaxing community. Definitely spend a little extra $ to heat the pool to enjoy it at night. Rooftop dinners were amazing!
Jason C , Maple Valley, WA | April 2022
Management Response
Thank you so much for your wonderful feedback. We're so happy that you were impressed with the views and location of Villa Sirena. Night swims and rooftop dinners sound like the perfect combination. We hope to welcome you back for more unforgettable Cabo memories soon!
"5 Stars!"

Cabo Villa Sirena (not to be confused with Serena properties - different spelling) is a beautiful villa located in the tourist corridor between downtown Cabo San Lucas and San Jose Los Cabos.
The Villa was well prepared for our visit. The amenities were second to none. Spacious bedrooms, living room and kitchen with all of the modern amenities. An outstanding heated pool, and upstairs deck with a fireplace, cooking grille, and dining space for as many as 8 comfortably. Exceedingly attentive staff: Kim Zamora, our initial planning and pre-arrival ordering assistant, and Julie Cooper, our Villa Specialist, helped us arrange an amazing vacation. Helpful but not overbearing. Luis Alcantar was the absolute best concierge (destination specialist) we have worked with in all of our travels. His flexibility from arranging drivers on short notice, to scheduling a physician to come to the Villa for PCR COVID testing as required for our flights, to getting groceries and supplies. Finally, Luis scheduled our amazing private chef, Manuel Ek from A Matter of Taste Caterers and his assistant Marco Pedro, who prepared the most delectable and generously proportioned meals imaginable. This was truly a FIVE STAR experience from reservations to departure.
Lolita B. , Chicago, IL | March 2022
Management Response
Thank you so much for your detailed review of your stay with us at Villa Sirena! It sounds like an amazing vacation in Cabo. We're so happy to hear that you were impressed with this villa, the extensive amenities and received excellent service from our entire team of professionals along the way! We'll be sure to share your compliments with all the staff that assisted in making a memorable vacation experience for you and your guests. We can't wait to welcome you back!
"Outstanding - worth it!!!"

Excellent location, nicely equipped, nice pool and amenities, outstanding views.
We got to the place and this was exactly what we were looking for, the view was stunning, the living area was fantastic. Very conveniently located to supermarket and great restaurants. You can spend a nice vacation here, looking at the view for the roof top with the fire pit was just a dream. If you are like me whom like cooking, check the seafood provider just about half a mile from the villa, amazing! Fresko and Vinoteca are about a mile or less, very convenient, but you would need a car. Taxis and Uber and private transport - wow that is expensive - a car would be handy if you are into bringing food and drinks up to the house . Great restaurants around. We loved our stay and Cabovillas did a great job as our hosts! We will repeat here!
Rodrigo F , Mexico City, | January 2022
Management Response
Thank you for your review of Villa Sirena! We're happy that you loved the location in Cabo San Lucas and enjoyed the pool and views! It sounds like you found some great restaurants and local gems during your stay! For convenience, we offer rental cars that can be delivered to the villa from Avis car rental. We'll be happy to book a rental car on your next visit if you'd like. We look forward to welcoming you back again soon!
"Beautiful Views of Land's End: Villa Sirena"

Enjoyed my stay celebrating my 30th birthday with my girlfriends.
Really loved the welcome margaritas and the excellent service from concierge. The view is amazing from the pool. Would highly recommend.
Ashley , Alexandria, VA | May 2021
"Villa Sirena"

Great villa with a lot of space and a fantastic pool.
Alexander T , Santa Ana CA | March 2021
"Great views and fun pool"

Beautiful home in a good spot and is well appointed with everything you will need.
Kitchen has everything that a good chef will need as do the bathrooms. The view is stunning....on both levels. You can sit on the patio and porch with a book and an afternoon can slip by very quickly. Only downside was that a few things were broken in the kitchen and bath. The concierge was very quick to get people in to fix.......... We would definitely visit again!
Pam K , North Oaks MN | December 2020
"Villa Sirena"

This place is amazing the view, the concierge, their response time literally everything.
5 stars for sure highly recommended when in Cabo.
Michael W , Long Beach CA | November 2020
"Breathtaking Views! "

We went with a group of friends and the views were breathtaking, we couldn't get enough of the view you get from the terrace on the third floor.
We had a fun and relaxing time, and it is close to downtown if you want to enjoy the nightlife.
Jay and Mariana Vega , Phoenix AZ | July 2019
Management Response
We are delighted to hear you enjoyed Villa Sirena! We hope to welcome you back to Los Cabos again soon!
"We had an amazing week!"

We had an amazing week at the Villa.
We were able to get help with questions quickly and really enjoyed the house, especially the rooftop space! Thank you so much for our stay.
Ally M , Cumming GA | July 2019
"BEAUTIFUL VIEW OF THE SEA OF CORTEZ AND ROCKS"

This house had everything that you need for a nice, quiet vacation.
The views of the Sea of Cortez and the rocks were amazing. The 3rd story deck was beautiful at night. The pool was at your back doorstep. I would recommend this house if you are looking for a nice quiet vacation rental in Cabo.
cherisuarez , Houston, Texas | March 2019
Management Response
Thank you for staying with us at Villa Sirena! We are so happy to hear you enjoyed your stay. The view of Land's End is spectacular from this home! We hope to welcome you back to Los Cabos again soon!
"The home is so beautiful..."

The home is so beautiful and has breathtaking views of the ocean and lovers beach.
The pool is large and heated and the rooftop patio is the ultimate place to spend your evening watching the sunset! Spacious living area with open concept kitchen/living room/outdoor patio. The home is far up a dirt road and about a 15 minute drive to downtown Cabo. Our family loved our stay as it is a perfect vacation home for relaxing.
Ali L , Gig Harbor WA | January 2019
"Amazing vacation"

We had such an amazing time at this beautiful villa.
The pictures don't do it justice. It was for a 50th birthday party, so we had 20 something year olds along with mature adults. The villa met all of our needs. We cooked in every night and had such a blast in the kitchen. The rooftop patio with the linear fireplace was breathtaking against the evening stars. And to sit up there in the morning sun and have a cup of coffee was delightful. We will most certainly return to this lovely vacation spot.
Carole G , Puerto Viejo de Talamanca, Costa Rica | April 2016