Reviews For Villa Costa Azul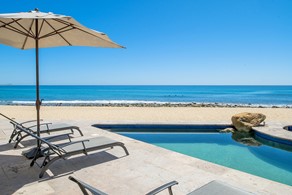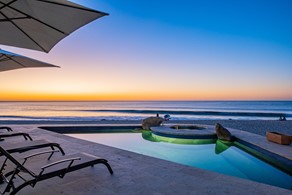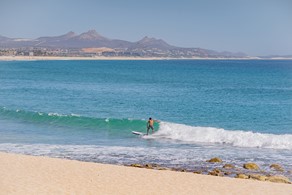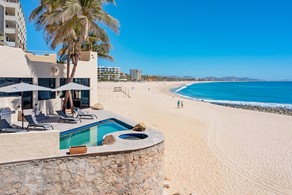 "Immersive Ocean Views!"

When we walked into the house we were immediately engulfed in the most immersive ocean view.
You feel like you are surrounded by ocean and can dip your toes in the water inside the house. To the left, miles of sandy beach running past San Jose. Straight ahead, beautiful waves and surfers riding them. To the right, rocky shore and cliffs down to Palmilla. Really spectacular view. The house is spacious, clean, and freshly updated with new counters, appliances and bathrooms (with really nice new marble showers). We couldn't ask for a better area. We do not surf but love to be in the water, and spent a lot of time playing in the waves and snorkeling on the reef out front. There were a lot of locals and tourists surfing and taking surf lessons. Locals were spear fishing on the reef too. We saw whales breaching and splashing their tails out front. It looked like mama and baby whales. You could just sit on the patio, or any room of the house, and watch them playing out past the surfers. The house is convenient to restaurants on the beach. We LOVE Pescadito Break Restaurant! So many amazing fresh seafood options and margaritas literally on the beach, only a 2 minute walk from the house! Zippers Bar and Grill next to it was also great and fun. Two great coffee shops a short walk down the beach: one with a cool outdoor courtyard, and the other called El Wine Shop, that has THE best coffee I've ever had (from Chiapas)! There are also a number of restaurants just a walk down the beach that we didn't get to try. You could walk to a new restaurant every night for weeks. All the fun restaurants and activities of San Jose are also really close and easy to Uber into town from the house. We will definitely be back next year.
Ryan S. , Newport Beach, CA | April 2023
Management Response
Wow, thank you for sharing! Your review says it all about how much Villa Costa Azul has to offer our guests. We are so glad you had a wonderful stay and we can't wait to welcome you back again next year!