Rancho Carisuva - Outdoor Tours
Rancho Carisuva offers a range of exciting outdoor tours in the spectacular desert and ocean landscapes of the Pacific coast just outside of Cabo San Lucas. Enjoy ATV tours or horseback riding accompanied by their friendly expert team. Visit the working rancho and learn about this unique ecosystem as you take in magnificent views.
---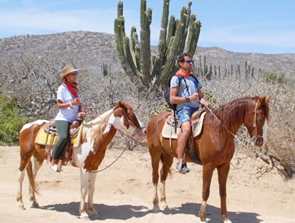 Rancho Carisuva Pacific Horseback Riding
See the splendors of Baja firsthand, while atop a majestic horse. Discover spectacular ocean-side cliffs, desert ranges, private untouched beaches and canyon trails on a Pacific Beach Horseback ride. Horseback riding is the perfect way to enjoy the tranquility of the desert while contemplating the magnificent scenery and landscape. The energetic exhilaration of horseback trailing lets you feel in touch with nature.
Learn More...
---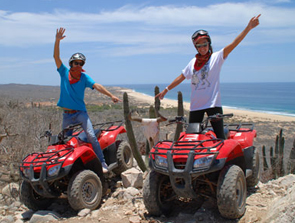 Rancho Carisuva - ATV Tours
Explore spectacular oceanside cliffs, rugged desert landscapes and canyon trails at the wheel of a nimble 450 Honda all-terrain vehicle. For those looking for a challenging and exciting ATV ride (and one with one spectacular sight after another), look no further! Your 40-minute drive from the hotel will take you to Rancho Carisuva along the mighty Pacific Ocean. At this ranch you will receive an orientation on the proper operating techniques of your ATV, as well as free time to explore a typical Baja Californian ranch.
Learn More...
All tours subject to 3.75% booking fee.