Reviews For Villa Clara Vista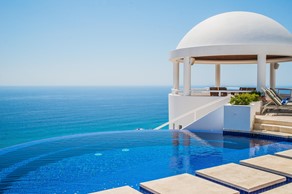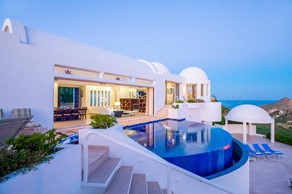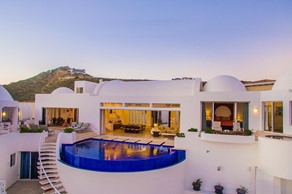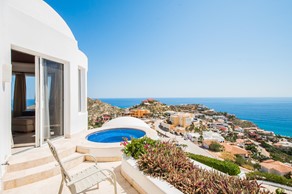 "10th Wedding Anniversary"

Fabulous!
! Stunning!! An absolutely must for anyone looking to stay in Cabo!! We have been to Cabo 7 times and were absolutely floored with every aspect of this villa and our service.
Mark B, Belle River, AZ | April 2022
Management Response
Thank you for sharing your experience at Villa Clara with us! We couldn't be happier that to hear that you were blown away by the villa and service from our team. We're so happy that your 10th Wedding Anniversary was unforgettable and we can't wait to welcome you back!
"Villa Clara Vista Did Not Disappoint"

I had originally booked the villa for my birthday in 2020.
However, I had to cancel due to the pandemic. I was so happy to be able to reschedule my birthday celebration for this year. Villa Clara Vista exceeded my expectations. The Pedregal views were amazing! We even saw a whale jump out of the ocean from the infinity pool because the views were so clear. Our concierge, Pedro, was a great problem solver. We arranged Chef Services for our dinners. Chef Wendy prepared delicious meals for us. Our Housekeeper, Senaida, kept everything efficiently cleaned. The staff was very attentive, friendly and professional. We were able to really just relax. We thoroughly enjoyed our stay there. My only criticism was not being about to use the firepit. The control valve was inside of the bottom of the pit. There was rust all around it and I didn't want to risk putting my hand in there. I would suggest the owners install an outside control valve to safely operate the firepit. Otherwise, I would definitely return to Villa Clara Vista for another stay.
Ava B, Brooklyn, NY | April 2022
Management Response
Thank you so much for sharing your feedback with us. We're so happy that Villa Clara Vista exceeded your expectations for your long awaited birthday celebration. How lovely that the whales gave you a show from the pool! It's wonderful to hear that you received excellent service from Pedro, Chef Wendy and Senaida. We're sorry to hear that you weren't able to enjoy the firepit. The valve and timer are located on the wall before the stairs. We'll be sure to show you next time. We look forward to welcoming you back for more unforgettable Cabo memories!
"BEST TRIP EVER!"

You will not regret renting this house!
! Pictures do not do this view justice. There are no words that would do it justice either. It is absolutely stunning. The staff was so helpful, easy to reach, and organized. I can't wait to find another excuse to rent this property. BEST TRIP EVER!! 10/10 recommend!
Ruth G. | March 2022
Management Response
Thank you for reviewing your stay with us at Villa Clara Vista. You're right, it's incredibly hard to capture the magnificence of the view in photos. There's nothing better than experiencing it in person to truly appreciate it. We're so happy that your concierge, Hector, was hospitable and helpful during your stay. We appreciate your recommendation and can't wait to welcome you back!
"Fantastic Property"

The setting of the house is incredible.
It's atop of Pedregal so it is a hike if you're coming up the hill but going down isn't bad. Views are awesome all day and there is a steady breeze which was nice during the day. The house itself is beautiful inside and out and had everything we pre ordered stocked and waiting for us. Ivan, the concierge is Awesome! He took care of everything we needed while we were there. The housekeeper was sweet too. She went above and beyond to keep the place spotless. The only downside was the TVs don't have any type of service to watch and the one in the master would not turn on at all. Other than that it was a perfect fit for our long weekend!
Josh R, Orlando, FL | February 2022
Management Response
Thank you for your feedback! We are so happy that you loved the views from Villa Clara Vista. Having food stocked in your villa upon arrival is the way to go! We love hearing that Ivan provided excellent service during your stay and your house was kept spotless! The TVs have a Roku system and your concierge is there to assist with any questions that may arise during your stay! Thank you for advising us of the TV in the Primary bedroom, as this is the first we've heard of it. We're glad this villa provided a perfect weekend getaway and hope to see you soon!
"Beautiful home!"

Beautiful home!
We were greeted with margaritas when we arrived at the house. The staff was extremely professional, friendly, and easy to reach. I highly recommend staying here!
Tarryn S | January 2022
Management Response
We're so happy that enjoyed your stay at Villa Clara Vista and received excellent service from your concierge! There's no better way to arrive in Cabo, then with our specialty margaritas, chips and salsa (in our very humble opinion). We'll see you again for more Cabo memories and margaritas!
"Clara Vista - Beautiful Home! "

Amazing location, beautiful home, incredible service!
! Kimberly at Cabo Villas was wonderful to work with. We planned the trip a week and a half before arriving, and she was able to help us arrange everything in time regardless of the short notice!! Super responsive, very helpful and knowledgeable. We were able to book private chef to come to the house, get some necessities as far as food and drink pre-stocked, and even arrange for massage therapist to come to the house!! We were blown away by the level of service. The house also came with a concierge, Angel, who was lovely and so very helpful. He did some grocery shopping for us while we were there, arranged transportation, and took care of everything. The whole experiences was fantastic!! Thank you Cabo Villas!!
Carolyn S, San Francisco CA | March 2021
"5 star accommodations and service!"

We stayed at Villa Clara Vista for a family/sibling reunion and were blown away by the property.
We had 5 couples with us, and the home was absolutely perfect for all of us to have our own en suite rooms. The staff from Cabo Villas was wonderful during our stay, and helped us with a couple catered meals in the home, and arranged for a spa/massage day as well. We will definitely be returning as very happy customers.
Carolyn S, Burlingame, CA | February 2021
Management Response
Thank you so much for sharing your feedback with us. We're so happy that this was the perfect villa for your family to reunite and enjoy time together. Taking advantage of our chef services and massages is always recommended to take your vacation experience to another level. We are looking forward to welcoming you back for more incredible memories together!
"Most amazing view in cabo!!"

Thanks to Jessica and her team, my friends and i had an amazing time staying at this villa.
Everything from A-Z was done ahead of time prior to our arrival with 5 star service... I would highly recommend this place!! Best chef service ever!
Henry E, Las Vegas NV | August 2020
"Expectations exceeded "

This house is amazing more than what I expected the best house in El Pedregal.
The staff is very warm and professional.. The view on this house is breathtaking it fells Luke you're on the clouds. Definitely recommend this please.
Victor W, Irvine CA | August 2020
"Upscale Cabo Villa"

I booked this facility randomly and wanted to have special 40th bday for my daughter.
There were few family members joined us from UK and Canada. this property exceeded everyone expectation and the Villa property staff was excellent. The facility layout is little different and not user friendly with kids or older people. there are lots of steps to climb to go up or down. Property layout is good kitchen - pool- dome area for eating is excellent. both Kitchen and bathroom are dated and need update for this price range property. Had fun with the family and will go again if the opportunity arrives. thanks sharon
Freedom08980453563 | April 2020
Management Response
Thank you for staying with us! We appreciate your feedback and are happy you enjoyed Villa Clara Vista. We hope to welcome you back to Los Cabos!
"When you find a place you love... you just keep going back!"

Clara Vista Villa is by far my favorite place to stay in Cabo.
We have already reserved it for next year making it the 5th year in a row. The accommodations are perfect for our large crew and everyone looks forward to this trip each year, I dare say it has become a family tradition. This year the villa had been freshly updated. Always clean with housekeeping there daily. The accommodations are great, and the infinity pool is lovely. The views of the ocean and the bay are breathtaking plus the whales were visible throughout the week this trip. I also have to mention the spectacular sunsets and sunrises, WOW! Both easy viewing from Clara Vista Villa. It is located in Pedregal, a gated community where you feel safe. Just minutes from all the fun and night life.
kimgreg0ry, Atlanta, Georgia | April 2020
Management Response
Thank you for choosing to stay with us at Villa Clara Vista! We are so happy you enjoy the home and are excited to host your group again.
"Spring Break in Paradise!"

Oh where to start.
.. Villa Clara Vista is amazing and was the perfect retreat for our family! Views of sunrise and sunset, a chef who cooked us a gourmet meal, massages under the palapa, and every room has a view! I even saw a whale breach from the shower! We spent the evenings around the fire pit enjoying the stars. It was a short drive to town, but we seldom left the villa as it had everything we needed! This is a great property with unparalleled views of the ocean, bay, and town. Very close to town, nightlife, beaches, and just about anything you would want to do! We had a blast and will definitely be coming back!
DrKristen, Roswell, Georgia | March 2020
Management Response
Thank you for staying with us! We are delighted to hear you had an amazing time at Villa Clara Vista. We hope to welcome you to Los Cabos again!
"Villa Clara AWESOME!"

We recently had the pleasure of staying at Villa Clara Vista for a family retreat.
We enjoyed magnificent sunrises & sunsets; the views were spectacular with awesome whale watching from nearly every room in the house, as well as from ample terrace space. The entire house is spacious, airy and light, with a contemporary touch to its unique architecture that brings in all the magic of the special mountain/ocean/desert vibe that personifies Cabo. Great for up to 5 couples, or a perfect family retreat complete with the kids.
RogerG1170, Atlanta, Georgia | March 2020
Management Response
Thank you for staying with us! We are so glad to hear you enjoyed your stay at Villa Clara Vista!
"Nice, but not a 6 Star property"

When we booked this property, it was listed as a 6 star property.
A star has since been rightfully removed. The location, view and architecture are amazing. That said, the property is showing its age and is very much worn and out-of-date. It is a bit misleading to say this is a 6 BR property. The 6th BR is described as a kids room with a shared bath. It is actually a tiny room with a wobbly day bed and "shared" bath means that the occupant must enter another bedroom to access a full bath. The reference to a "home theater" is also misleading as it is a basement level room furnished with a broken worn out pit of couches and an old TV that you cannot actually use because the home does not have satellite. The house does have Roku, but you can not use it because it requires WiFi to stream/work. The WiFi is extremely spotty, and even when it does work, it does support streaming. The mattresses, pillows and blankets in the home are worn and in some cases dirty. The linens and towels were new - which was nice. The home says it sleeps 14, but the highly dated kitchen is not adequately stocked for service for 14. The small refrigerator is certainly not large enough to store food for 14 people. The outdoor space is amazing, but much of it is unfurnished, so it is not really usable. I was surprised there was no safe onsite for passports and valuables. This property could be absolutely amazing, but it is 20+ years old and in dire need of updates and attention.
carrjrc, Glenview | January 2020
Management Response
We regret that Villa Clara Vista was not up to 6 star standards during this clients stay. Before they arrived, the entire home had been repainted and outside light fixtures had been replaced. All of the furniture is 5 years old (or less) and the bedding is relatively new; purchased with in the last year. The WiFi is being replaced. The 6th bedroom is listed as a kids room with a trundle bed and shared bath. The kitchen is well stocked with dishware and there is an additional set of China in the dining buffet. There is a 2500 sq.ft. deck with 8 lounge chairs and outdoor dining area.
"Stunning hill top villa"

If you're one for immaculate views of a beautiful ocean and stunning villas in a gated community this is the place to stay!
Amazing Infinity pool with top notch services to go along with it. We will be visiting again no doubt !
Curious38107204634 | November 2019
Management Response
Thank you for staying with us! We are glad to hear you enjoyed the home and hope to welcome you back.
"Beautiful views of the Pacific and Bay"

Pedregal is a great locale in Cabo to rent.
Manned, gated security keeps even Uber/Lyft drivers out unless you call from the unit's landline. That said, you're nearly a mile from the gate. And it is quite hilly. Just walking is a great cardio workout. Many Pedregal homes have breathtaking ocean and bay views. This unit has both. Our party included five couples and it was never crowded. Being met by our own concierge was great and the margaritas unexpected! At 16-18 years old, maintenance and remodeling are recommended. Furniture, kitchen appliances, wi-fi, and electrical could be updated. We couldn't get the spa to work until our last evening. We asked that the pool be cleaned. All bathrooms but the master one need more light and some type of maintenance. The side gate would not lock. Daily housekeeping was very much appreciated!
Companion759778 | October 2019
Management Response
Thank you for the feedback! We are sorry to hear that the villa amenities were not up to your expectations. We will definitely look into these upgrades. We hope to welcome you back to Los Cabos!
"STILL WISHING I WAS AT VILLA CLARA VISTA"

I don't even know where to start with this review.
From the moment we booked this house, the property managers were so helpful in assisting us with securing chefs and different excursions. But nothing compared to when we walked through the front door. THE VILLA IS SPECTACULAR. The view is unreal. The house is immaculate and open and spacious and gorgeous. I remember being a bit nervous thinking the pool wouldn't be big enough for all 10 of us, BUT IT IS! it's deceptively large and deeper than you think! The hot tub was amazing, and even though it overflowed a couple of times (not sure why), Luis, the concierge was always a text away and sent someone right away to come and look at it. We had a plumbing issue one day and Luis came to the house himself and 11pm to fix it! If you are thinking about adding chef services, we went with FresCo and loved it! Wendy is an amazing chef and my group and I still talk about Jorge to this date. He made sure we were never without a margarita or mimosa. You will not regret booking this house. I may try to book it again next year!!
monicherry1 | August 2019
Management Response
Thank you for staying with us and providing this lovely feedback! We are delighted you enjoyed your stay at Villa Clara Vista. We hope to welcome you back next year!
"Perfect escape for a girl's trip!"

Villa Clara Vista was the perfect villa for my sister's bachelorette.
We could not have asked for a better weekend, from the stunning views as soon as you enter, to the spacious layout, and amazing service. I would definitely recommend this home to all of my friends and family. The kitchen area was perfect for hiring a private chef and the dining table was grand enough for our group of 13. The location was great, too! Just minutes away from town so it was easy to go out when we wanted. Kimberly from Cabo Villas helped us plan every detail and coordinated transportation which made for a very smooth weekend. Can't wait to go back!
Pari P, Long Beach, California, United States | August 2019
Management Response
Thank you for the wonderful feedback! we are happy to hear you had great time and hope to welcome you back soon!
"Amazing view, absolutely gorgeous and spacious home."

Thank goodness for these sort of rental opportunities.
This place is like movie star stuff... or at least what I imagine movie star stuff would be like. (Though we got insight from the owners that explained the movie connections to this place and am now pretty sure I am right.) BTW - the owners are really sweet and wonderful people who know the local scene. If you rent here, please take good care of the place. They are really nice people who care a lot about the local businesses / people. The views are incredible, like sunrise over the water and sunset over the water (almost visible in March) from the same spot. The patio / pool left nothing to be desired. A big open kitchen for our friends to gather, and a enough room that we never felt like we couldn't get some space from each other. The managers/owners helped us arrange some amazing dinners made by local chefs right there in the house. Although Cabo has some great dining, those dinners were very unique, special, delicious (and surprisingly affordable). Cannot say enough good things about this place. Highly recommend.
sso1974 | March 2019
Management Response
Thank you for the lovely feedback! We hope to welcome you back to Los Cabos soon!
"Wow!"

We had a wonderful stay at Clara vista.
We were a group of 11 (40 something) women on our annual "girls trip". Perfect time of year watching whales breaching all day in the sea from the pool, patio, and even shower! We wished we brought binoculars! The house is gorgeous, clean, and modern. You'll be blown away when you walk in the front door at the breathtaking view and Infiniti pool. The home is about a 15-20 minute walk down to town, and a bit of a "butt burner" going back up. We took taxis at night going back from town which cost around $4/person. We'd like to highly recommend a water cooler in the house as constantly getting big jugs of water for a large group was a bit of a pain. The property manager was great and very helpful. We will definitely book again next year, thanks for a great trip!
lauren f, Colorado | March 2019
Management Response
We are so happy to hear you enjoyed your stay at Villa Clara Vista! The villa does have a triple filtration water purification system so no need to worry about big jugs of water. We hope to welcome you back to Los Cabos soon!
"Great house"

Great house, great views.
Andy J, Grant MN | September 2018
"Great place"

The pictures don't do it justice this place is amazing the rooms are nice and all come with their own bathrooms.
Its close to Downtown Cabo. The home is clean and spacious and has everything you need. The pool is great. I can't say enough about this place its amazing and so peaceful. It was 9 of us and it was space for everyone to do there own thing. I would go back in a heartbeat.
Michelle I, Palmdale, California | May 2018
Management Response
Thank you for your review! We are glad to hear that you enjoyed Villa Clara Vista! Come back soon!
"Daughters Wedding"

Although we were caught in a Tropical Storm during our stay in Villa Clara Vista, where we had no power or services at the house.
Management was extremely helpful and approved us renting a generator to be able to celebrate our daughters wedding. After the storm came the tranquility and a beautiful wedding we will always remember. We want to thank management for their help and support.
Daydream518246 | September 2017
Management Response
Hello, thank you for your review! We are glad that despite the weather, everything turned out beautifully! We hope to welcome you back to Villa Clara Vista in the future!
"Awesome villa with incredible views"

We had a family celebration at this villa in July.
A great location and room for 13. I highly recommend it.
Y5499NAbrians, Kelowna | July 2017
Management Response
We are so happy that you had a great family celebration at Villa Clara Vista. We look forward to welcoming you and your family back to Cabo again in the future!
"Santorini in Cabo"

This was the best location I have ever stayed at on a vacation.
The villa is on top of a hill with breathtaking views,5 bedrooms, a pool and a hot tub. The infinity blue pool and the white villa makes you feel like you are in paradise. We were a large group on a family vacation in Cabo. This villa was perfect for us as it had so many rooms and a huge kitchen. The views from the living room were beautiful. I would recommend this place for larger groups.
Sumona B | June 2017
Management Response
We are so happy to hear that you appreciated the beauty of Villa Clara Vista as much as we do! The location really cannot be beat - views are AMAZING! We were thrilled to have you and hear about your great vacation. We look forward to welcoming you back to Cabo again SOON!

Villa Clara Vista is truly a beautiful place to stay.
The views are incredible. The house is huge and very clean. The pool is actually much larger than it looks in photos. The service all around exceeded our expectations, from the booking process with Jessica, to our concierge, Giovanni, and of course our sweet little maid lady. We had a wonderful time and would definitely recommend this place to everyone. The only complaint I heard from my group was that the wifi was pretty weak and didn't work in the bedrooms.
Peg, Santa Monica | May 2017

I booked this house for my wife's 40th Birthday getaway.
We had 12 people in our party and this house more than covered our needs. The view is breathtaking, the amenities are top notch and service was outstanding. We have rented a couple homes in Cabo and this one is now at the top of our list for the next trip.
John, La Habra | April 2017
"Beautiful Views, Gorgeous House"

Place is fantastic.
Gorgeous views, amazing location, responsive staff. Wifi and sound system were awesome. I would definitely rent again!
Seth B | April 2017
Management Response
We are so happy that you enjoyed the beautiful Villa Clara Vista. It really is a special place. We look forward to welcoming you back to Cabo again SOON!
"Very nice house with stunning views"

This Villa has stunning views of the Sea of Cortez, is well decorated and has ample room for a large group.
Its only downside is that some bedrooms are two and three floors bellow the main floor.
Juan M, United States | October 2016