Reviews For Villa los Geckos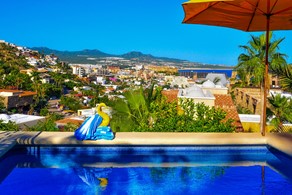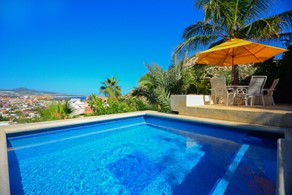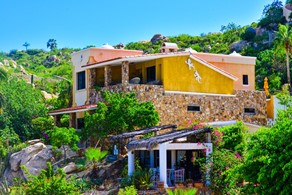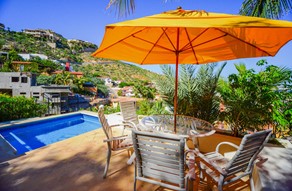 "Beautiful house at an awesome value - especially with a small group."

I spent 3 nights at Villa Los Geckos with a group of 8, and the house was perfect size for the 9 of us.
The house has everything as advertised -- great pool, fully functional kitchen, laundry facilities, BBQ pit, water cooler, and plenty of space for several people. A nice added feature is the television service, Wifi, sound system, and Netflix access. Location was great -- the community it's in (Pedregal) is in a great location and looks like it could be pretty confusing and difficult to navigate, however great directions were provided and after the first night we were able to easily direct our cab drivers to the house, even in the dark. Secure complex with check-in at the gate every time we came back added additional peace of mind and was nice to have. It is a little bit of a long walk to main attractions but not too bad - cabs are cheap enough and worth the price. All in all, I would absolutely consider this house if I were to return to Cabo San Lucas, as it was very nice and was a great value.
Kevin E, Saint Louis, Missouri | October 2014
"Fantastic House"

The house was perfect for our bachelorette party, with plenty of space for 10 girls and an easy cab ride into town and to the beaches.
The gated community made us feel very safe as well. And when I forgot my jewelry in the house, the owner personally picked it up on his next trip to Cabo and carried it back to the US for me. Excellent service, highly recommend!
Chante M | October 2014
"Best Spring Break Ever!"

We spent Spring Break at Villa Los Geckos with the entire family from ages 4 to 80 and it was perfect for all!
The house is awesome, updated and everything was in working order! The owner and the local management team were quick and easy to work with. The groundskeepers for the community were busy working every day- it was impeccable! I would recommend this house to everyone and would definitely return! Comfortable beds and great bathrooms and living spaces! There are so many outdoor areas to hang out and enjoy the surroundings! Book it and go!
A FlipKey verified reviewer | July 2014
Management Response
Thank you so much for your fantastic review of Villa los Geckos! Sleeping up to 10 adults, this four bedroom house is perfect for a family getaway! Located in the upscale gated community of the Pedregal, Villa Los Geckos comes with everything an upscale home should come with, including fantastic ocean views (even from the pool!) and an inner decor that anyone could instantly call home. We are so glad that you enjoyed your stay!

I'd like to say that it's great when a place matches all the great reviews!
! Los Geckos was exactly as advertised!! The beds were very comfortable and so much room!!! The best part is how close to the marina restaurants and shopping it is. Just a 10 minute easy walk. I would definitely stay again.
Jman, Seattle, WA | May 2014

What a wonderful property!
My 6 girlfriends and I enjoyed 5 wonderful days on Cabo and truly enjoyed the Gecko villa! Pool, Sunday BBQ , watching net flicks, dancing the night away in town , trips to the beach. Shopping, making new friends. Swimming with dolphins! Wonderful memories, supremely comfortable and lovely villa!
Irene, Renton, WA | April 2014

My friends and I went down to cabo for a guys trip and found the perfect place to stay.
The villa was immaculate and looked even better than the pictures. We were very happy with the stunning view, the large home, and how clean everything was. The house comes with everything that you need to have a great stay on vacation. The villa is in a private gated area that has security guards 24/7. It is definitely a must stay for any large groups going to cabo. I would strongly recommend it and would happily stay here again.
Stephen | April 2014

We spent Spring Break at Villa Los Geckos with the entire family from ages 4 to 80 and it was perfect for all!
The house is awesome, updated and everything was in working order! The local management team were quick and easy to work with. The groundskeepers for the community were busy working every day- it was impeccable! I would recommend this house to everyone and would definitely return! Comfortable beds and great bathrooms and living spaces! There are so many outdoor areas to hang out and enjoy the surroundings! Book it and go!
Anne | March 2014

I rented this house for my best friend's bachelorette party - and it couldn't have been more perfect.
The pictures actually don't do the house justice. Everything is up-to-date and modern. Area is perfect - safe and short cab/walk down to the marina. I would come back here all the time and recommend the stunning home to anyone!
Jess, Los Angeles, CA | March 2014

We just came back from a trip with my girlfriends.
We were able to sleep 12 comfortably. The best part is we were all able to stay in one house together instead of multiple hotel rooms. There is an amazing view and lots of common space for everyone to hang out together. The property manager checked in on us, which was very nice. We had a problem with the toilet once but they quickly came to fix it. With a bunch of ladies, we were concerned about safety, but it is definitely a safe area. The marina and downtown is definitely walking distance, but wear your flat shoes. It's painful in heels! Overall we had a great time and enjoyed the property.
Nisha | January 2014

My boyfriend and I had our families meet in Cabo for the Christmas holiday this year, four adult couples, so everyone had their own space and bathrooms.
The house was perfect, comfortable decor, beautiful balconies with a fantastic view, and the Pedregal staff were readily available to answer any questions and help with specifics about the house or any recommendations regarding fun things to do locally. We rented a car which was helpful for the parents who couldn't make the daily trek up and down the hill, cabs to and from downtown were about $10. We loved the ability to relax, grill dinner, watch a movie at night, and generally enjoy the home away from home. It was a much better place to bond and spend time as a family rather than getting a bunch of hotel rooms or feeling cramped in a condo. It was very private with beautiful detailing. Highly recommend it for a lovely, low stress family vacation!
Ankle, San Francisco, CA | January 2014

Just came back from a great fishing trip and 6 of us spent 5 nights at Villa Los Geckos.
The house was perfect with 2 bedrooms downstairs and 2 bedrooms upstairs. The location is very close to the marina and all the downtown restaurants. The pedregal community is a beautiful safe place to call home while in cabo.
Jeff, Indianapolis, IN | November 2013

Perfect house for our weekend away.
Accommodated 5 of us no problem. Extremely close to town and all amenities. Highly recommend Villa Los Geckos and one of the best values in Pedregal. Thanks!
Jordan | November 2013

We just got back from 11 day stay at Villa Los Geckos in Cabo.
The location was perfect if you want something quiet, but close enough to town. Very close to everything but far enough away from the hustle and hustle that its very quiet. Perfect for families or couples. The house was fully equipped and nicely decorated.
mshr29, California | July 2013

We spent most of time out and about, but when at the house we spent most of the time during the days up on one of the terrace patios getting sun and mornings/ evenings sitting on the covered patio off the kitchen with Cervezas and wine.
The location was very convenient, most nights that we knew we would be having a few drinks with dinner, we would walk to town and then we would end up taking a cab back which we usually got for a couple bucks per person.
Ryan | February 2013

Villa Los Geckos, located in the posh Pedregal development in Cabo was a great choice for our Christmas holiday.
The house is beautiful, well appointed, and had every possible thing we needed in baths and kitchen. There is a beautful view of the harbor from the front decks. Furniture including beds, linens, appliances were all high end. The patios provided nice shade and alternate dining and relaxing opportunities. The highest offering a stunning view of Cabo and harbor. We ejoyed being able to walk into Cabo daily. The marina lies directly across from the Pedregal development entrance. There are great restaurants and shopping close to the property in the marina. Whale watching and other cruises are also accessible in the marina. Central Cabo is only another 5 minute walk beyond the marina. It makes the Villa an ideal location. Although we found a parking structure in town, not having to deal with driving made the trip that much more relaxing. Maid service is also provided. I recommend Villa Los Geckos without reservation!
Joy, Thousand Oaks, CA | January 2013

This home is amazing.
We had a blast and are planning our next visit. You will feel extremely safe here. You can walk to marina in 10 min which has abundance of places to eat. Much prettier than pics show. House is extremely clean. Has four nice bedrooms. Easily sleeps 10 to 12. Highly recommend this property. Have to go to Ediths for dinner. Make a reservation. Always our favorite.
Derrick, Dallas, TX | March 2012

My wife and I stayed at Los Geckos for nine nights.
Although we rented a car, the location is within easy walking distance to the marina, shops and restaurants. The house is big, clean, comfortable and has Wifi - a huge plus since we wanted to stay in touch with family. There are two separate sun decks and a separate pool deck. Plus, there are several other outdoor areas for all to enjoy. From a privacy standpoint, we'd rate Los Geckos an 8 out of 10. For Pedregal, that's a great number since many homes are right next to each other. From a sun factor, we'd rate the location a 7 out of 10. The sun hit the deck by 8:30 in the morning but was behind the house and hill located behind the house by 2:00. We figured the summer months would get more direct sunlight and this would probably bump the rating up to a 9 or 10. If you are looking for a great rental in popular Cabo San Lucas, this is a very strong contender. We would definitely rent this villa again.
BakedAlaskan, Juneau, AK | January 2012

We went to Cabo as a group from work.
Villa Los Gekos was perfect. Everyone had a bed and a bathroom. We walked to the Marina and went fishing every day and cooked our catch in the well stocked kitchen at night. The views are amazing. Everything was clean and well maintained. I wouldn't hesitate to recommend Villa Los Gekos for your Cabo trip.
Greg, Calgary, Alberta CA | October 2011

We stayed at Villa Los Geckos for New Years and it really was a great choice because we got to see the fireworks over the marina!
For a group of adults who want easy access to the night life in Cabo it is a short walk into town. The dining area and outdoor dining on the patio have lovely views out over the marina and ocean. The bedrooms are comfortable and there is an ample supply of linens, towels, extra pillows etc. All the bathrooms are really great and the main master suite has a very large shower! The pool is situated for a lovely view but is a little far from the main house up a flight of stairs in the rear.
Candice | June 2011

We stayed at Los Geckos for three nights with a group of eight friends on a fishing trip.
Everyone slept comfortably, and the home was so enjoyable to be at when we returned each day from fishing. Its beautiful vistas and numerous amenities made it so comfortable that it was sometimes hard to force ourselves to leave to explore the town for dinner. Fortunately, Los Geckos is conveniently located within walking distance - 15-20 minutes - into downtown Cabo, unlike a majority of the villas for rent in Pedregal and other communities that require long transit times into town. This was also my second stay at Los Geckos, and I look forward to continuing to do so in the years to come.
Herschel, Beverly Hills, CA | June 2011
"A great vacation in an amazing villa!"

My wife and I stayed here with 4 other friends and we had a blast.
The villa was very well equipped with all the amenties (gourmet kitchen, bbq, pool, multiple decks, luxury bathrooms, internet, free international calling and much more!) The location was ideal as it had an amazing view of the Medano beach bay as well as it was an easy walking distance to town. I would not hesitate to recommend this villa to anyone wanting a truely amazing Cabo experience. Thank-you for your hospitality!
A FlipKey verified reviewer, Canada | May 2011
"Beautiful, relaxing and perfect location"

We were very happy with Villa Los Geckos.
The layout of the villa is very nice in that it provides privacy for each of the 4 bedrooms and a nice living and eating area. The view from the balcony and the area where the pool is located is very nice. You can see across the marina and the ocean -- quite lovely. The location is great for getting into the town and ease of access to everything. Our only disappointment was the pool. As it is displayed in the literature you would think the pool is right next to the house on a patio area but it is located up another flight or two of stairs and is only good for wading. The pool is not usable for swimming and is not in a good location to entertain or cook out. The umbrella was broken and the chairs were in fairly bad shape. The house itself was very nice and I would highly recommend it but if you are looking for a pool area to enjoy, this is not the place. Although we enjoyed the home I would not stay in this particular villa again due to the usable pool.
Jennifer, Texas USA | May 2011
Management Response
We provided the feedback received to the owner and were informed that the umbrella has been replaced and the pool chairs are now in excellent shape! We look forward to working with you in the future!

We had an awesome time at los geckos.
The house was very clean and comfortable for the seven of us who stayed. Beautiful views from almost every room, patios, and pool. The location was close to downtown and marina. We are already planning on our 2nd trip back to cabo and villa los geckos.
Jordan, Mission Viejo, CA | November 2010

We loved this house.
The location was perfect, the views fabulous. We went with 6 family members, ages 19 to 82. Everyone enjoyed it!
Sharon, Manhattan Beach, CA | August 2010

We loved our trip to Cabo!
! The view is spectacular of the city, the Sea of Cortez and the mountains. We had 8 members of our family on vacation and there was plenty of room for all of us. We loved the pool being on the top terrace which gave us wonderful photo opportunites out over the awesome view! We also loved sitting out on the balconies reading every morning. What a gorgeous place!!
Theresa, McKinney, TX | August 2010

We visited Villa Los Geckos with 3 other couples and had a wonderful time.
The house has everything you need and is very well located for getting to town, the marina, and the private beach in Pedregal. I would 100% advise staying at Villa Los Geckos. The neighborhood is safe and secure which was very comforting.
Jim, Santa Barbara, CA | March 2010

My family visited Villa Los Geckos for a week in early 2010.
We found this home to be beautiful and welcoming, all 8 of us had plenty of room to be together and enjoy each other's company or to have our own space as families sometimes need. An easy walk to town for dinner and a lovely kitchen to cook at home. The private beach was amazing and quite empty.
Anna | February 2010

The house was perfect for our adult group of 8!
The bathrooms were gorgeous, the bedrooms were roomy, and the terraces were private. We would walk to town for dinner and shopping, but would often take a cab home, (which was not too expensive)We had no complaints!!!! We would stay again!
Holly, Oak Brook, IL | July 2009
"Very nice accommodations... but complaints about the vacation re"

The accommodations at this house was very nice.
Lots of room and space. However, I have a major complaint about the rental company caring for this house... When we arrived we used some pre-filled ice cube trays from the freezer to make some drinks. As we were enjoying our drinks we realized that there were little fragments of glass melting off from the ice cubes! Thank goodness none of us were seriously injured from such an incident. This could have completely ruined our trip. We called the management company to complain, and all they had to say was sorry. Honestly, they didn't really seem to care or realize how dangerous such an incident was. In either case, I will think twice about staying in one of these rental homes versus a well established hotel/resort.
Phil, CA | July 2009
Management Response
We the rental agency do not unfortunately take care of the maintanence or the maid service at the property. The property manager who you reported this incident to does not work for Earth, Sea & Sky Vacations. Had we been made aware of the problem we certainly would have addressed it with the owner on your behalf and solved the issue. We inform all of our clients that we are available to them 24/7 and always hope to have the opportunity to resolve any issue that may arise. Regards, Earth, Sea & Sky Vacations

Our party of 8 had a wonderful stay in this amazing villa.
The furnishings, were gorgeous (especially the bathrooms!) and the five balconies provided amazing views. Location couldn't have been better, close to all the fun while providing the privacy and security of a gated community. Will definitely be coming back!
The Ryans, Houston, TX | March 2008

Our family of 10 had a great and relaxing time in this beautiful updated multi level home (and the bathrooms are amazing).
Room for everyone, with awesome view balconies, pool and superior landscaping. Just a short stroll to the Marina and nightlife...
Anonymous, Redondo Beach, CA | July 2007

We loved the villa.
The amenities and furnishings are all new and the location couldn't have been better. I definitely recommend this villa to anyone interested.
Cale, Scottsdale, AZ | February 2006

This place is awesome!
It's in a gated, secure part of Cabo and has sweeping views of the heart of town and the marina. The amenities were beyond what one would expect from a private rental - it was more like a 5 star hotel - but without all the people. Private, luxurious yet comfortable, and close to all the Cabo fun - highly recommended! Can't wait to return.
Anonymous, Redondo Beach, CA | January 2006