Reviews For Villa Turquesa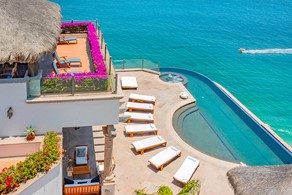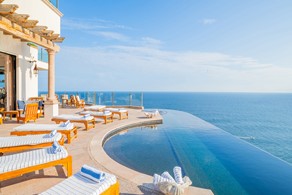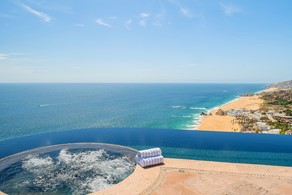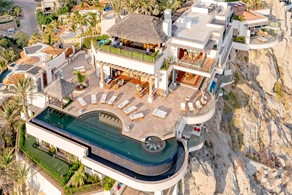 "Amazing"

Loved everything about the trip!
Mason M , Aptos, CA | August 2023
Management Response
Thank you for sharing your experience with us at Villa Turquesa! We are thrilled to hear your stay was amazing and we look forward to welcoming you for another unforgettable Cabo vacation!
"Cabo Villas / Villa Turquesa"

Cabo Villas did an amazing job planning and executing our trip.
Everything went smoothly and without any problems. The staff was fantastic and the food was terrific. The home is jaw dropping beautiful. Pictures do not reflect how beautiful this house and property truly are. We will come back soon for sure.
Douglas M , Houston, TX | June 2023
Management Response
Thank you for your wonderful review! We're thrilled to hear that your trip planned by Cabo Villas, and your agent, Kimberly, was a success. It's great to know that everything went smoothly and that you were impressed with the staff, food, and the stunning beauty of the home and property. We appreciate your kind words and look forward to welcoming you back soon for another fantastic experience!
"Better than photos!"

Everything was fantastic.
Kim was great in finding the villa and setting everything up. The villa was better than in pictures. Angel made everything easy. Lorenzo and his family were unbelievable - food was great and service was even better. All activities/rides were on time. THANK YOU for everything.
Glenn W. , Laguna Beach, CA | January 2023
Management Response
Thank you so much for sharing your positive feedback with us. We're so happy that Villa Turquesa impressed! We always strive to offer our guests an exceptional vacation experience and we look forward to welcoming you back again to Los Cabos in the future.
"Magnificence!"

Magnificent home!
Sean G. , San Antonio, TX | January 2023
Management Response
We look forward to welcoming you again!
"Perfect sendoff"

From the second my brothers and closest friends stepped through the door at Villa Turquesa it was a dream.
Had ice cold margaritas and chips, salsa, and guacamole prepared. From then on it was a dream of a weekend. Although we had so many events planned it was hard to leave the views and comfort of the this villa, my family and I will 100% be returning on our next trip to Cabo. Thank you to all the staff from start to finish!
Christopher S | September 2022
Management Response
Thank you for your wonderful review of your stay at Villa Turquesa! We are so happy that you had an incredible experience. We agree that everything about this exquisite villa is dreamlike, from views throughout, to the staff and service. We look forward to welcoming you back for more unforgettable memories with us!
"Stunning"

Hazel and Angel were very helpful and thoughtful.
Villa staff was wonderful. Villa Turquesa staff was wonderful, decor and home were stunning. Thank you!
Kristen D. , Walnut Creek, CA | September 2022
Management Response
Thank you for your reviewing your stay at Villa Turquesa. We are so happy to hear that you received excellent service from our dedicated team and the villa staff. Villa Turquesa is a stunner and we're so glad you loved it! We hope to welcome you back again soon!
"Spectacular!"

The week at Casa Turquesa was no less than spectacular.
As the organizer, I am always concerned about the details. Every small item was more than spectacular. People were met and picked up on time at the commercial airport, the private air was a joy to go through arrival and departure, chef Lorenzo's was amazing, the food indescribable, the bartender Oscar for adults and children was unmatched, and the home was without description. The owners have created a wonderful experience.
Steven B. | June 2022
Management Response
Thank you so much for reviewing your stay with us at Villa Turquesa! We couldn't be happier to hear that you were at ease as the organizer and you were blown away by your vacation experience. The attention to all the details at Villa Turquesa truly makes it a stand-out. We look forward to assisting you with your next dream vacation in beautiful Cabo!
"Amazing Property!"

3rd time staying here.
Amazing property and Amazing team! Cant wait to bring back my friends and family!
Erfan Michael T , Encinitas, CA | May 2022
Management Response
Thank you for reviewing Villa Turquesa! It truly is unparalleled and must have made a lasting impression for you to book again and again! We're so excited to welcome you back for your third unforgettable Cabo vacation with us at this very special villa!
"4 days at the Villa just wasn't enough"

Our stay at the Villa was fantastic overall.
We had a party of 15 plus people and I dont believe we even took advantage of all aspects of the property. The only real negative was the length of time it took to get on property once you entered the neighborhood but other than that - it was amazing. You all have an incredible staff and we were accommodated every step of the way. We look forward to coming back to Cabo and staying at the venue once again!
Alan Day , Alexandria, VA | August 2021
"EVERYTHING was over the top !!!!"

Villa Turquesa.
..the crown jewel of El Pedregal was the perfect setting for my 60th birthday party with 22 of my guests. i hadnt shared a picture with any of them and watched their surprised faces as they walked into the villa and experienced the house and saw the view! Every detail of the villa was very well thought out as were the incredible furnishings, coral collections and beautiful folklore artifacts in very corner of every room. Each room was stunning...linens, towels and even room personalized robes !! To top the trip off was the incredible staff...led by Lorenzo who has been the chef for over 15 years. We also used some outside help for the party that included flowers, entertainment and party decor. The Trip will live on in the memories of the guests as a once in lifetime trip !!! This is a 6 star villa with a full staff of super friendly professionals.
Steve F | May 2021
Management Response
"We are so happy you chose Villa Turquesa to celebrate your birthday! It really is the crown jewel of Pedregal. In addition to a stunning view and an incredible staff, it boasts a putting green, shuffleboard and theater room as well! We hope to welcome you back again!"
"Spectacular! Book this villa!!! Major respect to the staff who take care of your every need!"

We were invited to a dear friend's 60th birthday celebration which had to be postponed on more than one occasion due to COVID-19.
Let's just say we were so glad it was postponed and not cancelled. The trip was help in mid May 2021 for 23 guests and we arrived in Cabo San Lucas in small groups. From the moment we arrived at the villa we were overcome with how enormous it is and the location was simply spectacular. The villa is located high on a cliff top (what it took to construct this villa is mind boggling) and the photos on the website do not do this villa justice. The home was enormous, much larger than we imagined it would be. So much detail has been put into the design and styling of this home, each room is very different than the next and someone with a great amount of design skill, taste and knowledge of Mexican culture, customs and design worked very hard to create this masterpiece high on the cliff top. The cliff top location is located in El Pedregal which is a very exclusive neighborhood that's very centrally located in Cabo and would be considered the Beverly Hills / Malibu or Bel Air of Cabo San Lucas. This location is where celebrities and CEO's make their vacation palaces come to life. The villa is at the very top and end cul de sac of the drive to the top of El Pedregal neighborhood. Now back to the design: with every corner you turn or step you take, another high end designer piece or wall art or ceiling treatment greets you. There was no expenses spared in the design of this home. Every bedroom has it's own name and even the towels in the bathroom of each ensuite bedroom / bathroom, are embroidered with the name of that bedroom. And you don't get 2-4 towels in each bathroom, there are baskets full. Same goes for the pool area, there is the most adorable wooden donkey sculpture that sits as a piece of art and is filled with the most luxurious pool towels you'd ever want. On the pool deck there are at least 10-12 chaise lounges, a pool swim up bar, multiple seating areas for watching the ocean waves that crash 1000 feet below you. The setting is spectacular. There is enough ro
Ron F , San Francisco, California | May 2021
Management Response
"Thank you for the wonderful review! We are so happy to hear you enjoyed your stay at Villa Turquesa and hope to welcome you back again soon."
"AMAZING!!!!"

To everyone who had a part of making our trip to Casa Turquesa special I wanted to say thank you!
Everything was wonderful! The house, staff, tequila tasting, A matter of Taste's dinners, the decorations, massages, yoga, golf, Chef Lorenzo, and workouts were all amazing and top notch. Thank you so much for making my husband's 40th birthday one he will never forget!!
Alex I , Dallas TX | January 2021
"Stunning ocean front home in Cabo"

This home located in the Pedregal in Cabo was breathtaking.
We watched the whales migrate by while we sipped margaritas from the infinity pool. We had a large group and the home is so large that we didn't feel crowded at all. So much space and areas to relax. Our group enjoyed massages on the rooftop palapa. We hired chef Lorenzo to cook some meals for us and he was excellent as was the house staff. All of our needs prior to and during our trip were taken care of on the spot. We so loved our vacation here that we will be back! It was a great place to celebrate my husband's 50th birthday!
Seema C | May 2020
Management Response
We are so happy to hear you loved Villa Turquesa! It really is one of Pedregal's shining stars. We hope to welcome you back soon!
"Couples Trip"

We had a wonderful time at Villa Turquesa.
Cabo Villas make the entire process seamless - from booking to arrival to dedicated concierge during the stay to departure. The home is incredible with limitless common space, great bedroom suites, and amazing views throughout the house. The home easily accommodated nine couples and we made full use of the pool, terraces and exercise room. The location of the home provides the best of all worlds. It is located on a cliff with unobstructed views of the ocean and it is a short walk to the beach or into town. The house is impeccable and the staff wonderful. We have been many times and will return again.
Mobile615678 | February 2020
Management Response
Thank you for staying with us! Villa Turquesa is one of the jewels of Pedregal. We are delighted to hear you had a wonderful time. We hope to welcome you back to Los Cabos soon!
"Villa Turquesa is exquisite! "

I've been blessed enough to have stayed in luxurious places in the past.
Villa Turquesa tops them all. The owner's attention to detail in the architecture and decor are not lost on me. Chef Lorenzo's meals are excellent and the service truly great. Thank you for facilitating such a wonderful vacation (which I do not want to end). Your coordination to make my trip special is very much appreciated. I will absolutely be back to Villa Turquesa with my daughter and extended family. It's far too special to say a final goodbye.
Monica L , Northville, MI | August 2019
"A retreat full of fond and funny memories"

The pictures of this house, if anything, are insufficient.
The open floor plan worked beautifully, and was maintained wonderfully. We want to back when it is warmer.There is a prevailing wind toward the house. Walk to the beach and to town is good exercise!
AnnsleyS2 | March 2019
Management Response
Thank you for staying with us at Villa Turquesa! Being right over the beach on the cliff will bring some wind, which is a relief during the warmer months. We are happy to hear that this majestic villa did not disappoint and hope to welcome you back soon!
"Jan 19"

Incredible home.
Fantastic views. Immaculately maintained. We were joined by eight other couples for three nights. The common areas are spacious, the pool area provides ample lounging and all the bedrooms allow for privacy.
Mobile615678 | January 2019
Management Response
We are delighted to hear you enjoyed Villa Turquesa! We hope to welcome you back to Los Cabos soon!
"Corporate Retreat #Spectacular #Luxury #Cabo #VillaTurquesa"

We booked this Villa Turquesa in Cabo San Lucas through Cabo Villas.
The villa is even better than the pictures, which are pretty amazing. We booked for a corporate retreat as the rooms had both king and rooms with double beds. I worked closely with Kimberly Zamora our Cabo Villas specialist, and she was fantastic! I ordered pre-stocked F&B items and then set up catering for breakfast, lunch, and dinner through FresCo. by EAT Cabo, and WOW their staff was fantastic along with the food. We booked a private tour and group dinner at Flora Farms, which I highly recommend. Kimberly (and her team) helped with every detail of our trip, from transfers, offsite activities, getting me specific details about the villa, she did it all. We especially appreciated the Cabo Villa team for their hard work to get our executives out early due to the impending arrival of a hurricane. We had a great experience from initial inquiry to departure from Villa Turquesa, and would highly recommend it and CaboVillas.com!
LavishTravelMaven , Miami, Florida | August 2018
Management Response
Thank you for the wonderful review! We strive to make sure our clients have the best vacation experience possible. We are so happy to hear you had a great time and hope to welcome you back to Los Cabos soon.
"AMAZING, BOOK IT NOW!"

My wife and I booked Villa Turquesa for our wedding and we are SO glad that we did.
We hosted a wedding with 60 guests at the villa and we stayed there for a few nights before and after our wedding. We really cannot fully express how wonderful the entire experience was. The pictures on cabovillas.com are gorgeous and they still do not even do the villa justice. It does not get any better than watching the sunset at Villa Turquesa! The views from every single room are breathtaking, and the decor and architecture are stunning. Every person that we worked with at the villa or through booking with Cabovillas.com was so helpful, accommodating, and wonderful. When you arrive at Villa Turquesa you are greeted by a concierge with fresh margaritas, and they are available to assist you with anything that you need during your entire stay. We would recommend hiring a bartender to make drinks at the swim-up bar while enjoying the amazing views from the infinity pool. While you are at the pool or in the bathroom you are watching whales jumping in the ocean, which is something that never gets old! There is a completely private outdoor shower off of the master bath and a steam bath in the master bathroom that was so nice to use. Also, there is a full gym and sauna, all of which is in pristine condition. The list of immaculate amenities goes on and on! We have already booked it to go back next year to celebrate our anniversary and we cannot wait to stay there again.
Brenna L | March 2017
Management Response
We are so happy that you had an incredible event at Villa Turquesa. It truly is a magnificent place to celebrate such a memorable occasion. We were thrilled to be part of your special day. We look forward to welcoming you back to Cabo again SOON. Congratulations on your wedding!
"Villa Turquessa is an amazing house that is luxuriously furnished with spectacular sunset views overlooking the Pacific"

The Villa Turuessa was truly breathtaking.
We took our extended family on a vacation and fell in love with the house. The nine spaciously and well furnished rooms were an added surprise for all of our guests. The sounds systems throughout the house allowed us to enjoy to a variety of music whether we were relaxing in the living room, eating dinner or enjoying the magnificent views form the pool. The daily house service was an added benefit as they also provided timely support for questions and recommendation for Cabo activities. The house is located near the top of the Pedregal subdivision and is positioned on the cliffs which overlooked the Pacific Ocean. The pool was definitely an epicenter for our visit as we spend many an afternoons in the spacious pool along with the swim up bar and the attached hot tub. Having the poolside bartender available is highly recommended. We also made arrangement to have all of the breakfasts cooked every morning which is a great way to start you day. The well equipped kitchen was wonderful so we even had the cooks prepare a couple of gourmet meals. The dining room is equipped with sliding doors and located on the main floor which proved some amazing views and great photos. Cabo is a wonderful destination with plenty of outdoor activities and it was a treat to always return to a beautiful home. This is a highly recommended destination and we look forward to returning in the near future.
Allan T , North Houston, Texas | May 2016
"Exceptional Luxury House for Large Group Stay!"

This house could not be better for a large group vacation to Cabo!
LIKES: - AMAZING views from all over the house and the pool and patio - On-site and very helpful concierge assistance during stay - Easy booking of high quality in-house spa treatments - Exceptional chef-quality kitchen - Beautifully furnished and large spaces for group gatherings on patio and in living areas - Gym with nicer equipment than most hotels! - 8 of the 9 bedrooms are perfectly well-suited for couples, with high quality linens, beautiful furnishings and clean bathrooms with modern fixtures. - Great stereo system and reliable wi-fi throughout the house TIPS: - You must book Chef Lorenzo to cook meals / bartend while at the house! He is reasonably-priced, service-oriented and an amazing cook! - The house would be great for a family / group of families with the media room, bunk room, pool, etc but I would not bring young children due to cliffside location. DISLIKES: - None! The house is literally perfect for a large group of friends or a group of families.
Lumbergh_Bill , Austin, Texas | June 2015
Management Response
Thanks so much for sharing your detailed feedback with us about your wonderful vacation at Villa Turquesa. This spectacular cliffside villa in Cabo San Lucas is one of our very finest vacation rentals, offering breathtaking ocean views, unparalleled luxury and beautiful details and artwork throughout the spacious 15,000-square-foot layout. There are few places like it in the world! We're thrilled to hear you had a fantastic time and that our team took great care of you during your stay. We look forward to the opportunity to helping you arrange a return trip to Los Cabos in the future.

Awesome property!
Super nice and comfortable.
Phil , Laguna Niguel, CA | March 2014
"Life moves pretty fast...if you don't stop and take a look aroun"

"Life moves pretty fast.
..if you don;t stop and take a look around you could miss it!" Ferris Buehler Villa Turquesa with your best friends and family constitutes "taking a look around," and living life to its fullest potential. Thank you to Cabo Villas for making Don Julio Smooth Sailing out of a trip of a life time for 22 friends! Brandon Tesmer
Brandon Tesmer , CA | April 2013
Management Response
Thank you for your great review! We at Earth, Sea & Sky Vacations are glad to see that Turquesa fit all of your needs! Turquesa is a beautiful and expansive villa with 9 bedrooms that sleeps up to 20 adults + 8 children, making this a great villa for large groups!
"Fantastic"

For the past 15 years our group travels once a year for a little fun and sun.
This was our 4th trip to Cabo and the best one ever. What a great place.
A FlipKey verified reviewer , Indianapolis | March 2012
"Turquesa"

Turquesa is an amazing home - very warm, personal and welcoming.
This home was clearly built and decorated with love and with the idea of welcoming friends and family - it has none of the sterile coldness of some vacation rental properties. The Pedregal location is great - wonderful views, very secure, close to the town. The house staff is efficient and unobstrusive. The home has space for everyone to enjoy - media room, mutliple patios, indoor and outdoor dining, exercise room, suffleboard and more. It truly is a wonderful, well thought out and executed home. The only drawback to this home is the wind. Thw breeze off of the pacific can be quite strong and there is very little to break it. This can make being out near the pool outright impossible at times. That is the only drawback to this otherwise luxurious and lovely home.
A FlipKey verified reviewer , Dallas | August 2009