Reviews For Villa Cristina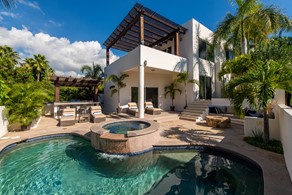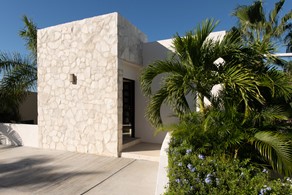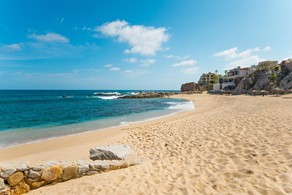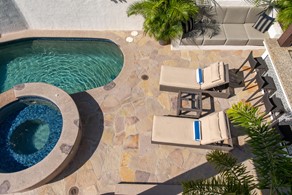 "THIS is the place to stay!"

This is the perfect place to stay.
Everything was perfect the pictures do not do it justice. We went as a family with children and the experience we had was incredible. The concierge, Mariana, was great and helpful in every which way. The drivers, the chefs, were amazing. THIS is the place to stay. If and when we come back, we would want to come back here.
Stephanie E. | June 2023
Management Response
Thank you for your wonderful feedback and review of Villa Cristina! We're thrilled that your stay was perfect and the villa was even better than the photos. We are delighted that you and your family had an incredible experience and received exceptional service from our entire team along the way. We hope to welcome you back for more beautiful memories in Cabo with us!
"Beautiful Villa"

Our house was beautiful and our host, Hector, was amazing.
He helped us with anything we needed around the clock. Thank you!
Samantha G , West Hempstead, NY | March 2023
Management Response
Thank you for reviewing your stay! We're so happy you loved Villa Cristina and received excellent service from Hector. Our team is here to assist so our guests can relax and enjoy vacation! We hope to welcome you back soon!
"Great place, great staff"

This is our second time staying here at Villa Cristina.
The staff is very attentive and very responsive. We had a problem with the water pressure (no water!) and they had someone out there within 30 minutes and repaired it completely within an hour. Amazing service, great location, and great people.
Michael C , Pasadena, CA | December 2022
Management Response
Thank you for sharing with us! We love hearing from guests and are so happy that you loved Villa Cristina enough to stay twice! We're glad to hear that your issue was quickly resolved and you had a wonderful stay with us. We hope to welcome you back for a 3rd time at Villa Cristina!
"Better than expected!"

The pictures of the house do not do it justice!
This house was better than we could have ever dreamed for our family of 6 to enjoy a week in Cabo together, and still have plenty of space to spread out. The pool was used daily, and the private beach at the end of the street was never packed. Alexandria was a life saver helping to plan the trip before we left, and Pablo was always available to help once we got there. There is also a large supermarket you can walk to, which makes cooking at the house easy if you don't get a chef or catering package. We will definitely be back!
Connie D , Longmont, CO | July 2022
Management Response
We truly appreciate your wonderful feedback of your stay with us at Villa Cristina. We are so happy that you loved this villa as much as we do. The beach down the street is a great perk when staying here. We're so glad you received excellent service from our incredible team throughout your experience with us. We look forward to welcoming you back to beautiful Los Cabos again!
"Gorgeous property!"

We would definitely stay here again.
Charlotte M. , Winnipeg, CA | March 2022
Management Response
We're so happy to hear that you enjoyed your stay at Villa Cristina and thought the villa was beautiful. We look forward to welcoming you back!
"First Class"

Myself and the crew thoroughly enjoyed your property.
The first class customer service leading up to our arrival date was great and the concierge service once we arrived and throughout the trip was even better.
Bazaar C. | February 2022
Management Response
Thank you so much for sharing the feedback on your stay at Villa Cristina. We are happy to hear that you received exceptional service from your agent, Nik, and concierge, Roberto. Our team is here to make your vacation experience seamless and we're thrilled you had a nice stay!
"Excellent"

Concierge Pedro was especially helpful and professional
Benigna | January 2022
Management Response
Thank you for your review! We love sharing our guest satisfaction with our team and are so happy that Pedro exemplified what Cabo hospitality is all about! We can't wait until your next visit!
"Villa Cristina"

The house was even nicer than the pictures.
It has all the amenities that anyone could need.
Monique M , Fort Lauderdale, FL | November 2021
Management Response
Thank you for your review! We're so happy that the villa was even better in person and had everything you needed! We're so happy you enjoyed your vacation with us and look forward to welcoming you again!
"Stylish Villa with Private Pool: Villa Cristina"

House was very spacious and our family really enjoyed the pool/jacuzzi.
It's a short drive to downtown area, but very nice beaches to visit nearby. Luis was very helpful during our stay and gave us some really good recommendations on dining. We were greeted with margaritas and chips with salsa, that was a plus.
Maria , San Diego, CA | September 2021
"Stylish Villa with Private Pool: Villa Cristina"

The villa looked even better in person it was so nice and clean my concierge Ivan was super helpful and answered all my questions i would definitely book again Cabo villas
Brianna , Mesa, AZ | June 2021
"Perfect vacation spot"

This was an absolutely beautiful villa.
There was plenty of room for several people to stretch out, relax and enjoy the home. We had the pantry and refrigerator stocked by a local company before we got there and it was wonderful. While we were there, the Covid pandemic was still underway and no restaurants were open. We had plenty of food for breakfast, lunch and dinner. We would take drinks and food daily down to the pool area and typically grill out for lunch. I would highly recommend getting the skirt steak if you have a company stock it with food. It was absolutely amazing! There are lots of stairs in this home so be aware of that. Regardless of whether you go outside or inside, to get from the top level to the pool area, you will climb/descend approximately 30 steps. The steps outside are pebbled to prevent slippage. The entire inside of the Villa is tile, so you need to be cautious if you have socks on or your feet are wet. Definitely familiarize yourself with where all of the steps are, so you do not trip. At night, we would leave a couple of lights on throughout the Villa, especially on the staircase, to prevent anyone from slipping/falling if they got up during the night. There are extra bath towels, beach towels, blankets, and pillows in the closets of bedrooms one and two. The Villa also has a washer and dryer with detergent and dryer sheets should you decide to do laundry while you are there. The kitchen was fully stocked with cookware, utensils, glassware, storage bowls and some seasonings. The bar area at the pool also has plastic plates and cups, as well as a blender and some grilling utensils. To the left of the grill there is a small sink which is really handy. There are speakers throughout the house that you can download an app and play your music on (Sonos). Within the app, you can control which room/rooms you want it to be played in. We would take the speaker from the master bedroom off of the pool area daily down to the bar and play music outside. The pool & hot tub we
KyGurl89 , Harned, Kentucky | July 2020
Management Response
Thank you for the wonderful review of Villa Cristina! We are delighted to hear you enjoyed the home.
"You will love this property!"

You will love this property.
It's gorgeous and well stocked. The outdoor kitchen and grill were phenomenal. Short drive to town and major beaches.
Julie D. , Westfield, IN | July 2019
Management Response
Thank you for the lovely review! We are delighted to hear you enjoyed Villa Cristina. We hope to welcome you back to Los Cabos soon!
"Comfortable, updated and amazing service!"

This spot was perfect for 4 guy friends to have a getaway to Cabo.
It was our first time in Mexico as well, so it was nice to have a place to call home. The amenities in the house were excellent. Cold A/C in every room, Sonos system across the property, nice kitchen, plenty of bathrooms and sleeping space, and updated condo. The pool and spa were great, and the outdoor kitchen was a really fantastic spot to hang out. The fire pit was on every night for ambience! Kim, who helped us book this place was absolutely fantastic, responsive, and was always in touch when we needed. Our concierge, Hector, absolutely made this place. I couldn't recommend him more, as he made sure to get us where we needed to be, and anything we needed to make sure our stay was comfortable and provided for. If I ever go to Cabo again, I'm going to be in touch with him for sure. The best part? Even during the tropical storm that hit while we were there, there was no shortage of service to get additional towels and anything we needed. The ONLY things that could be better, but we knew going in and can't change, are the fact that they are definitely strict with the music off at 10pm outside (understandable!) the drive into town is about 10-15 minutes by taxi, so can start to get pricey after a while. The other thing was the name of the Villa is confusing to everyone down in Cabo. If you tell people Villa Cristina, they think you're in the Pedregal community, which is on the other side of the Marina/downtown area, so we had some confusion there with the chef we had come. Turns out this place is in the Cabo Bella community. Once we figured that part out, it was smooth sailing. Hands down, this place was great, and so glad I booked it. I think next time we'll try staying downtown to see what it's like since there were only 4 of us, but man, we were so happy.
whataboutr0b , Huntington Station, New York | June 2018
Management Response
Hello, thank you for your great review of Villa Cristina! We are glad that you enjoyed the villa!
"Villa Cristina 8/8/17-8/12/17 - Girls Trip"

I really enjoyed my stay at Villa Cristina.
From the moment I walked in I was in awe of the property! The pictures do not do this place justice!. When we first arrived Hector had drinks and salsa dip ready on our arrival. These were the best margaritas I've ever had! The house was very techno and Hector did a great job explaining everything. Villa Cristina is in a private community, so I felt very safe. The private beach was not far from the villa, so we jogged there every morning. Downtown is not far, so you can arrange for cab services to pick you up from the villa. The group I was with liked riding the $1 bus downtown, which I wasn't a fan of because there is no air conditioning on the bus. I would like to add that there are a lot of steps in the house, so if someone has knee problems this may not be the house for you, because all the rooms are downstairs. Overall, this villa exceeded my expectation. Book with CaboVillas.com and ask for Jessica Felts she was awesome! I cannot forget to add that Tino and his wife Mariah (property manager, and house maid) made our stay extra awesome. Tino was very helpful throughout our entire stay. I would definitely come back to Cabo and book this Villa again.
Jesikadenise , Birmingham, Alabama | October 2017
Management Response
Hello Jesika! Thank you so much for your review, we are so glad that you really enjoyed your stay at Villa Cristina! We look forward to welcoming you back in the future!
"Another Great Visit"

This was our second time to stay at Villa Cristina.
We stayed here last year and liked it so much that we came back with the family in tow. It is located in a very quiet and gated neighborhood. We enjoyed watching and listening to the many birds while having coffee on upper patio every morning and relaxing in the pool in the evenings after a full day of sightseeing and excursions. It is also just a short drive to several great restaurants (Puerta Vieja, Sunset Monalisa), Walmart and of course downtown Cabo. This is a great place to stay.
ronniep90 , Orange, Texas | August 2017
Management Response
We are so happy that you once enjoyed another stay at Villa Cristina. We agree, the location can't be beat! We look forward to welcoming you back to Cabo again SOON!

Six of us stayed in Villa Cristina for 5 days and were sad to leave.
The house was a million times better in person. Each room was extremely clean and comfortable. We could've easily stayed another week! The villa is outside of downtown Cabo, but we loved how easy it was to go to town. Hector was awesome as well! Very attentive. There are also buses that run right outside of Cabo Bello, (the neighborhood where Villa Cristina is located) and it made it so easy to get to town. We loved our stay at Villa Cristina and would come back in a heartbeat.
Todd , Kelso | April 2017
"Come Relax and Enjoy"

We rented this villa for five days.
It was as described. Beautifully decorated with places to gather together and places for peace and relaxation. We especially enjoyed the pool, hot tub and fire pit. You should be aware that there are several levels to this villa and therefore many stairs. If you are not able bodied, the constant up and down could be a problem. In one of the bedrooms, one would have to describe the mattress as crunchy. The bathroom door that was shared by two bedrooms was a bit sticky and locked on its own. Minor problems. The villa comes with a full sound system. We found that there were so many remotes to activate lights, fans, air conditioners, it could be a bit confusing. We did have to call management to get the sound system working properly. Hector, the concierge, was very helpful. Maid service is every other day except Sunday. We only had maid service on one of the days we were there because of our arrival and departure dates. The villa has a view of the water. The beach is a bit of a walk from the villa. We would rent this villa again.
Grace O , Yorktown Heights, New York | December 2016
"Girls Vacation!"

Great place!
Only thing I would add are rugs on the steps. I noticed that once we would get out of the pool and dry off, we would still track water inside the home; leaving the bare floor VERY slippery. It could lead to someone taking a nasty spill. Another thing, I noticed was that the shower water would never get hot. Lastly, placing tv's in each of the bedrooms would be great. The house is very techy with remote powered AC units. Bluetooth speakers are throughout and on the terrace of the villa which can play your favorite hits from the iPod that COMES WITH THE VILLA! We only experienced one technical difficulty which was an AC leak in the master suite. No worries! That was taken care of within hours of us reporting the issue. I will def book Villa Christina again.
Ashley J , Maryland | August 2016
"Great House in a Quiet Neighborhood"

Villa Cristina is located in the Cabo Bello neighborhood a few miles outside of downtown Cabo San Lucas.
If you are looking for a quiet place away from the hustle and bustle then this is the place to stay. The best part is that is is only short drive to downtown Cabo and even a shorter drive to Walmart if you need food or supplies. The house is very spacious and includes a washer/dryer, wi-fi, pool, hot tub and an outdoor grill area. The private neighborhood beach is not too far away. I would recommend driving as it would be too far to walk. You will also need to give the gate attendants some type of photo ID to get in and out of the neighborhood. Our concierge was Giovanni. He was great and always answered our calls and text and was able to help us with restaurant reservations and other activities. He also makes a great margarita. Can't wait to return to Villa Cristina and Cabo San Lucas.
ronniep90 , Orange, Texas | July 2016
"ABSOLUTELY AMAZING!"

The villa was amazing.
..Hector was even more amazing! Anytime we needed anything he was willing and ready to provide the assistance we needed! The villa was close to downtown, Walmart, the beach, everything. I will definitely be back!
Dede D | June 2015
Management Response
Thanks so much for taking the time to share your feedback with us! 3-bedroom Villa Cristina is definitely an excellent choice for a vacation in Los Cabos with a very private pool terrace and a great location just a short walk to a lovely beach! We're so happy that you enjoyed your stay and that it was everything you expected. We love helping clients plan their dream vacations in Cabo and look forward to helping you plan a return trip.
"Incredible property for an incredible price"

This was a great find!
The property is well kept, clean and spacious. It is true to the pictures, in fact the pictures do not do it justice, particularly the pool/hot tub/fire ring area with the covered barbecue area! US based satellite tv, sonus and wifi make the brief time you will be inside enjoyable. The master suite is large with a large dressing room and bathroom. The other bedrooms are also of good size but share a bath. Each room has its own access to the pool area. The area Cabo Bello is private and secure. The property has ocean views but is a 5 minute walk to the areas private beach. The rental comes with airport shuttle. We had an Avis rental car delivered to the property but frankly 20 dollars brings 4 people to downtown and you can walk to the market across the highway so car is not entirely necessary. Maid service is every other day and very competent. The concierge Hector was a big help. I highly recommend Cabo Villas and this property.
MACOLEMAN0 , Bozeman, Montana | March 2015
Management Response
Thanks so much for sharing your feedback with us, we are so pleased to hear that you had a wonderful time at Villa Cristina! This villa is a favorite of guests seeking comfort and privacy in a convenient Corridor location. Our visitors always enjoy the fact that they can easily take a stroll from Villa Cristina to a lovely beach. We're glad to hear you were able to enjoy the many excellent amenities offered by this villa. We are looking forward to helping you plan a return visit to Los Cabos!
"Amazing family vacation at Villa Christina (CaboVillas)!! Can't wait to go back!!"

My family and I (5 total) traveled to Cabo San Lucas for the first time last November and stayed at Villa Christina through Cabovillas.
We were originally scheduled to travel in October but due to a record-setting hurricane we had to change our travel dates. Cabovillas and our travel specialist Amber Pearman were amazing to work with through the villa booking and re-booking process. Of course it's your worst fear when planning to travel internationally that some natural disaster will ruin your trip--but the Cabovillas website and Amber did a great job of keeping us updated on the hurricane damage and helped us to reschedule our trip. Amber handled all of our villa needs including rental car, food packages, airport transfers, and all of our little questions along the way! We never waited more than 24 hours for a response from her and when we got to Cabo San Lucas the villa by far exceeded our expectations! Not only were the pictures of Villa Christina accurate but the amenities included far surpassed our expectations (wifi; surround sound stereo; stocked pantry & bar; beach and surfing supplies; beautiful cookware; gorgeous and quiet neighborhood with private beach--most day were were the only family on the beach). We ended up having the best 8 day vacation we've ever had and plan to go back to Cabo and stay at Villa Christina!! Thank you again Amber for helping to make our family vacation so amazing! We also highly recommend Villa Christina if you are looking for a modern villa in a quiet neighborhood close to downtown Cabo.
Nikkia W , washington, dc | February 2015
"Beautiful Private Villa!"

What a lovely place: spacious, beautiful and private.
Amazing pool, wonderful deck and air conditioned bedrooms. The caretakers were incredibly helpful, ready to provide whatever was needed. A great, relaxing vacation in a lovely location!
JBobK , Seattle, Washington | April 2014
Management Response
We are very happy that you enjoyed your stay at Villa Cristina. With a wall surrounding the property, you get complete privacy while outside, and a gorgeous inner decor allows for a very comfortable and elegant stay while inside.