Reviews For Villa Bellissima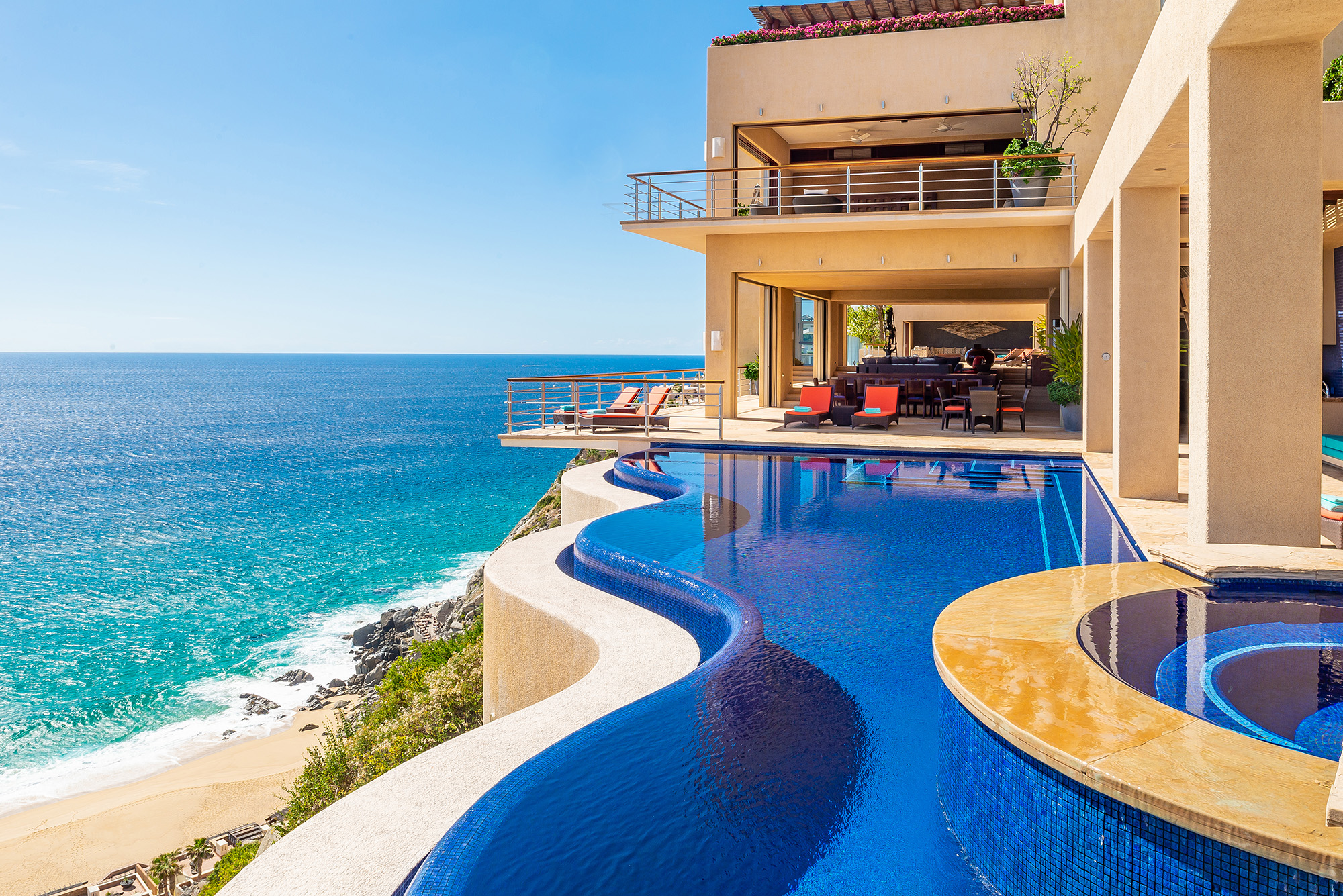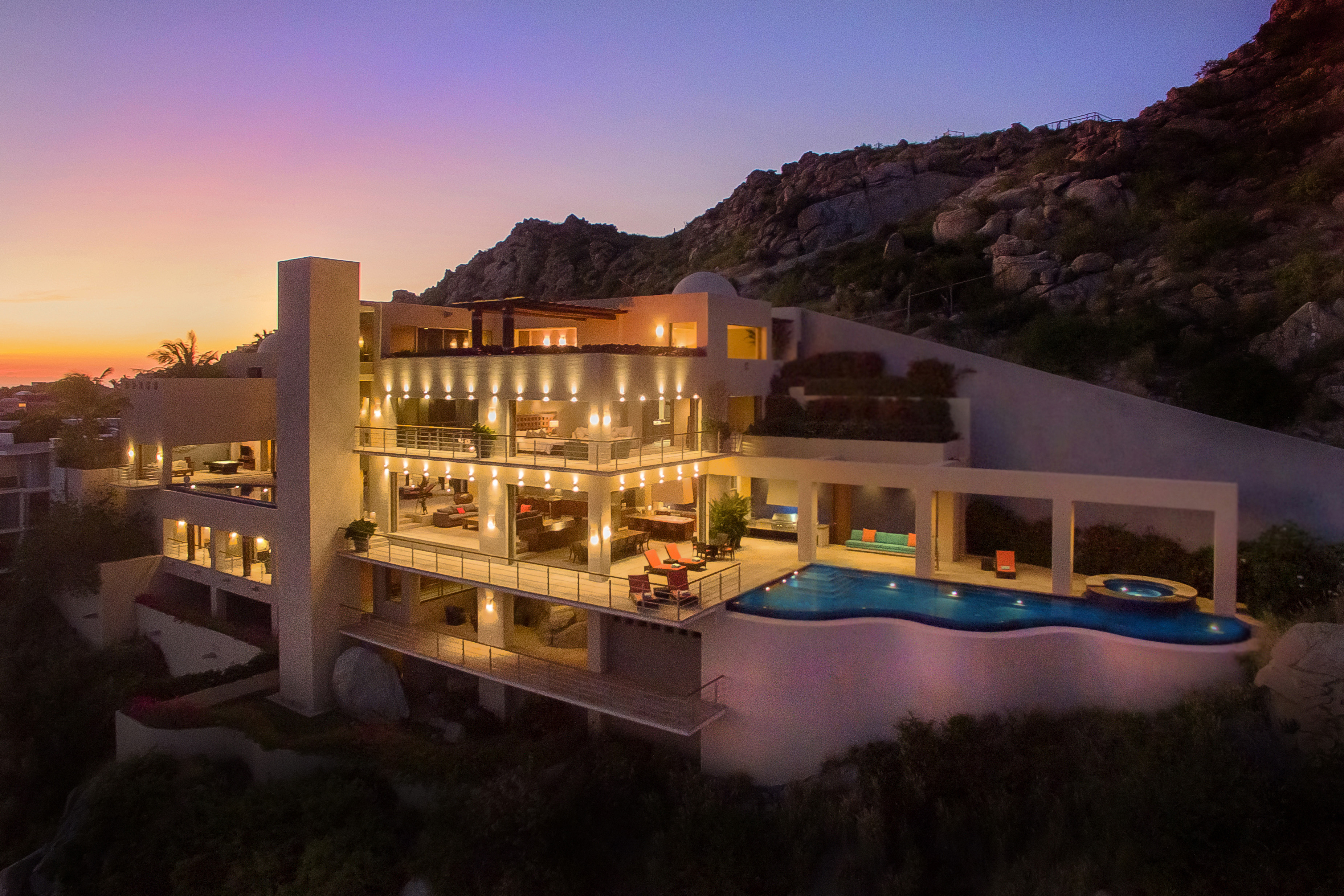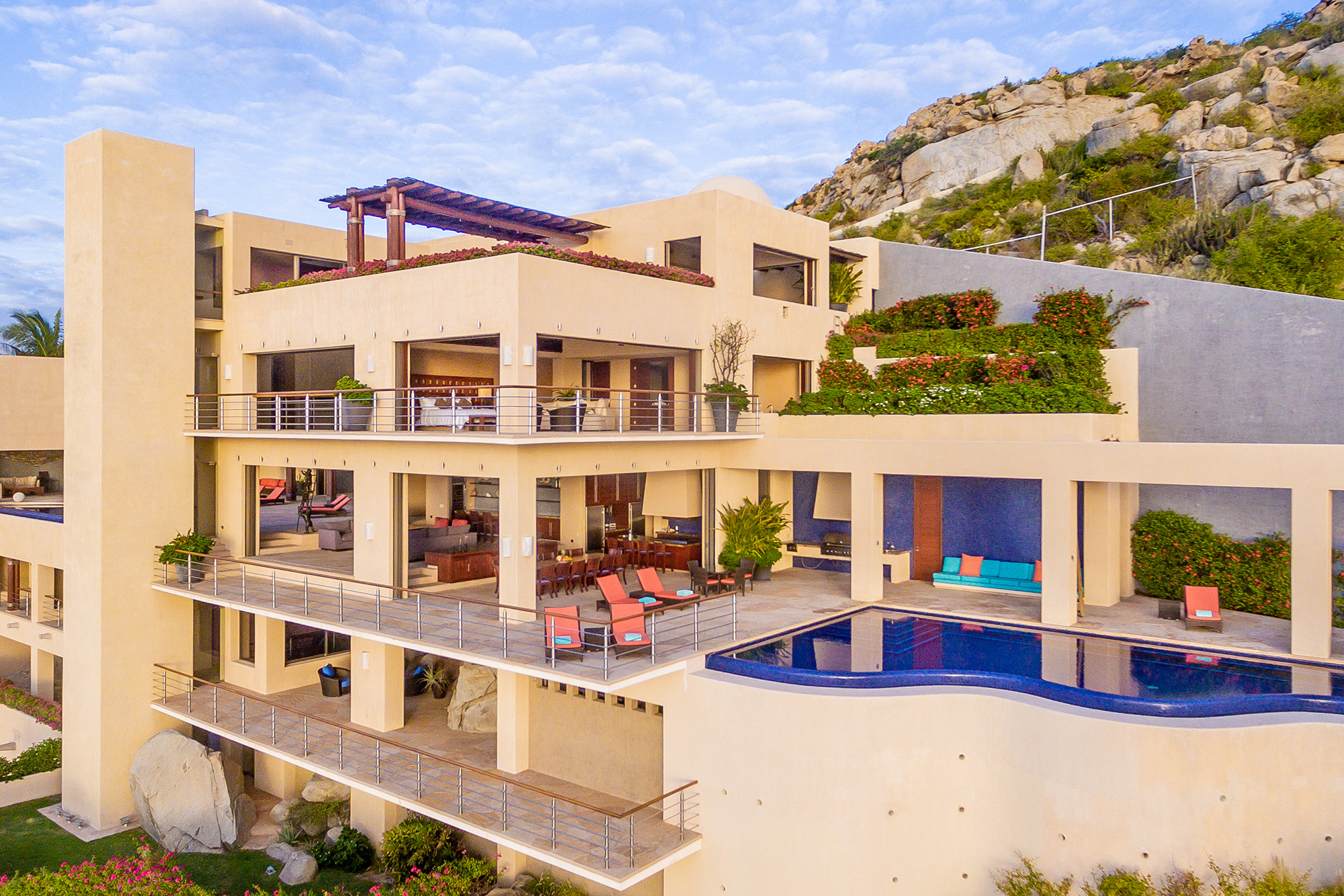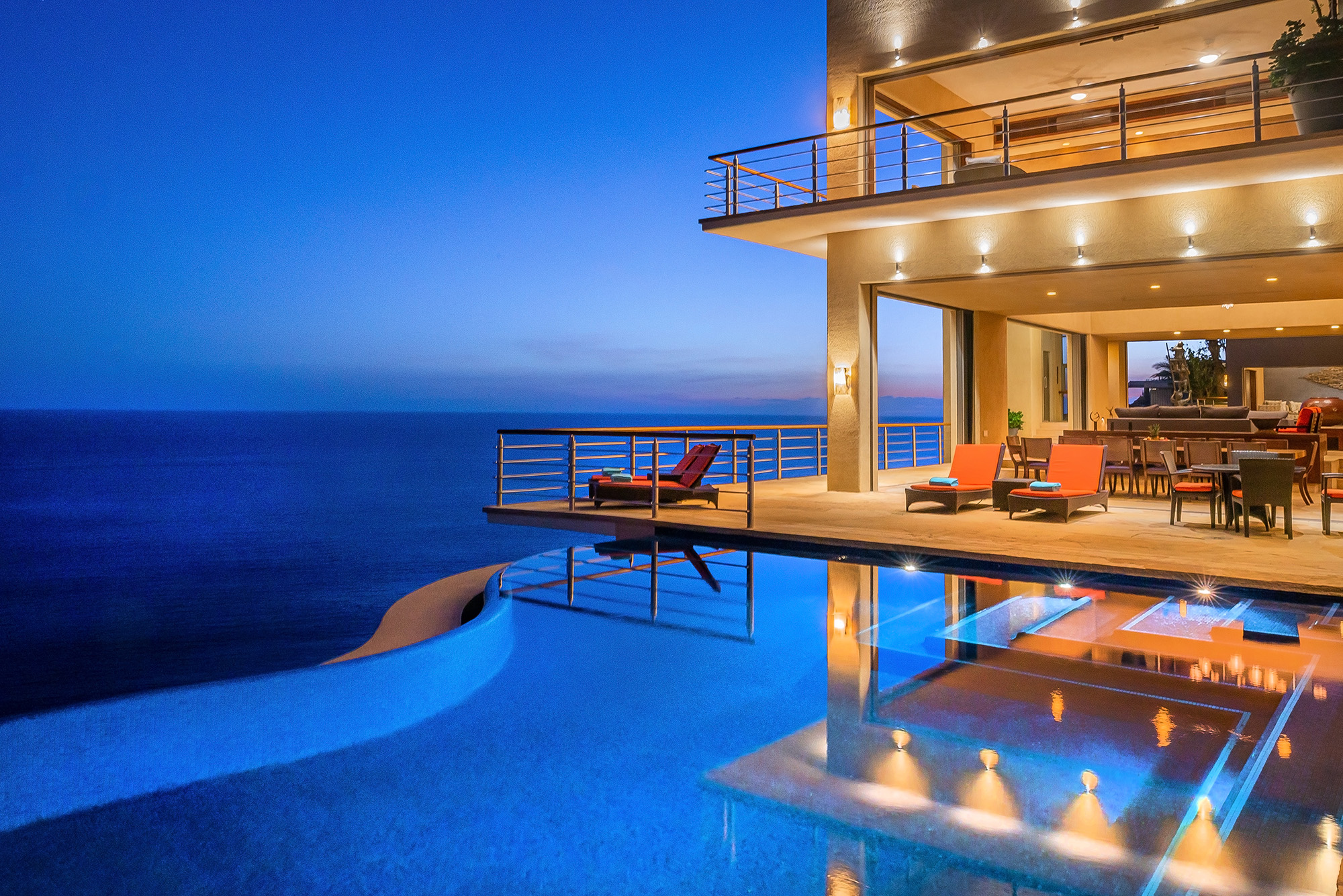 "Stunning, Rejuvenating and Epic Rockstar Villa"

I was blessed enough to stay at Villa Bellissima for a few days last year and it is by far the most jaw dropping vacation experience i have ever had.
For pure relaxation and pool-partiers alike, the place has to be seen to be believed. You feel like you are on top of the world. The views from the pool decks (don't worry there are TWO) are absollutely stunning. Every detail has been carefully thought through. If you want to live like a literal rock star, go here. BBQ by the pool, or have Matter of Taste cater an event for you. The master bedroom is to die for. The amenities are on point. hot tub. movie theater, elevator, industrial kitchen, main kitchen and outdoor BBQ? Yes please. Watch the sea birds float by on the Baja's hot air currents. Play guitar by the pool. Or while wading in the pool. Shower outdoors, its fun! soak in the gorgeous views and the ocean air and see downtown unfurl below you as you tower above it like the VIP you are once you set foot in this awesome awesome one of a kind property. Book it now, you deserve it.
RyanP1654, Santa Cruz, California | February 2020
Management Response
Thank you for staying with us at Villa Bellissima - where you truly do live like a rock star! We love to see our clients enjoy EVERY amenity at our homes! We look forward to welcoming you back to Cabo SOON!
"spectacular views and layout"

Easily handles big groups and is one of if not the best sites in all of Pedregal.
Perched up over the beach, perfect for whale watching and relaxing with family and friends.
Coastal04064781341 | February 2020
Management Response
Thank you for staying with us at Villa Bellissima; one truly does feel on top of the world from this perfect location! Definitely one of the best spots in all of Cabo. We hope to welcome you back to Los Cabos again soon!
"unequaled cabo villa"

This is a fantastic villa, designed by a Mexican architect.
It's long lines hug the rocky hillside. The best feature is the huge, sliding doors in the great room, that open fully to create a true indoor/outdoor experience. We had the doors open most of the time, even in the winter. (No bugs, either!) 2 infinity pools, one heated, one unheated, are beautiful with the sea behind them. Views of the sea are incredible, and it is fun to watch cruise ships arriving everyday. All the suites are comfortable and private; we found nothing out of order during our stay. The staff was friendly and helpful, and we felt pampered. Loved the ping pong, pool table, movie theater, and hot tub. 10' drive the shops and restaurants in town and access to boat trips. Erin + Francis
Erin C | February 2020
Management Response
Thank you for staying with us at Villa Bellissima; this beautifully designed home truly is a special spot! We hope to welcome you back to Los Cabos again soon!
"Relaxing and breathtaking"

This is by far the most relaxing place to visit.
..breathtaking views and great hosts.
David Y, Chino Hills, CA | December 2019
"Wish I Could Stay Forever!"

I booked Villa Bellissima for my wedding in Cabo and it did not disappoint.
We had a wonderful time at the property and our concierge - Luis was extremely helpful. All the guest (i.e.146 people) who attended the wedding enjoyed the Villa and had nothing but positive things to say. For any future brides wanting to have their wedding at Villa Bellissima, while the site mentions that the Villa can host a wedding for 150 seated guest or 200 standing, I would not go over 100 guest if its in your control. Nevertheless, myself and everyone who stayed at the Villa had a great time. Hope to be able to come back in the future.
Tomara J | June 2017
Management Response
Congratulations on your wedding. We were so happy to host it at the beautiful Villa Bellissima. We are thrilled that you enjoyed everything! We look forward to welcoming you back to Cabo and Villa Bellissima again in the future! Cheers!
"Exceeded all expectations"

Stayed at Villa Bellissima for a bachelor party.
The guys loved it and I made sure that their every desire was taken care of. As always the staff (especially Nik) gets an A+ for their attentiveness to detail. If you have never stayed here, you need to do it once! Unforgettable!!!
Sue B | June 2017
Management Response
We are so happy that you enjoyed the spectacular Villa Bellissima. It is true, everyone should experience this place at least once in their lifetime. Nik and the entire Cabovillas team look forward to welcoming you and your group back to Cabo again SOON!
"Most luxurious villa you will ever stay at!"

The villa in absolutely insane!
Situated at the top of the hill, it boasts the most spectacular views of the ocean and the cliffs. The indoor is absolutely gorgeous and immaculate. With many art fixtures and very tastefully done overall. I do not think it is designed with small children in mind and I was often scared for mine. At least there was a full move theater room to take care of that issue. It was enormous and at time I actually found myself getting lost! After three days there we finally figured out the placement of our room. There were many details of the villa that were superb, for example the glass ceiling shower with steam room. Amazingly comfortable chase loungers by the pools. Kitchen appliances and grill. My only complaint, and more of a personal preference, I guess, is that the rooms did not feel luxurious and cozy. The master suite was stunning and the master bathroom large. The other rooms, however, felt like small hotel rooms. The closet was in the bathroom. I felt like my clothes were constantly getting wet since the shower was so open. And speaking of the shower, I did not like the shower head whatsoever, the pressure was not as strong and without the handheld it was hard to wash shampoo out of hair. There were no bathrobe or slippers, as there are in other villas we stayed at in Cabo. My biggest issue with our room was that our AC was not working! We slept with the sliding door open and it was generally not a problem, but was surprising nonetheless. The staff seamlessly moved through the rooms cleaning and organizing. It's like they were there but never in the way. Overall it's a once in a lifetime type of experience that everyone should have!
IrinaB960, Philadelphia, Pennsylvania | July 2016
"Breathtaking Dinner Party"

This spectacular home will remain in our hearts & memories forever!
Treated to first class service & cuisine this vacation rental is simply stunning! Perhaps one of the best views of Cabo San Lucas California Sur, Mexico!
bcrs1, Edmonton, Canada | April 2016
"Absolutely awesome. You will regret it if you pick another Villa"

Without reservation, we highly recommend Cabo Villas agency if you are renting a villa in Cabo, planning any activities such as a fishing trip, catamaran cruise, dining or doing all of the above while getting married!
We had a small wedding ceremony packed between a family reunion/vacation over New Years in 2015. We are so glad that we contacted Amber Pearman at Cabo Villas. Amber took care of EVERYTHING. We rented the Villa Bellissima which is a magnificent 24,000 square foot villa in Pedregal. The villa is mind blowing and all of our guests (and my husband and I) were speechless at how incredibly amazing the villa is and how lucky we were to have rented it. It was definitely a bucket list house. Amber provided a list of caterers, wedding planners, photographers and helped find restaurants and boating adventures for us. I would not change a thing and think Amber did an amazing job helping us plan our wedding and holiday. Amber is super professional and was extremely responsive every time we called or emailed. In planning the rest of the holiday after the wedding, Amber listened carefully to our needs and desires and worked tirelessly to put together an itinerary that suited us, meanwhile generating a mix of activities and perspective of the places we wanted to visit. During the trip, there was not a misstep; everything ran like clockwork, while allowing you to make adjustments as you experience the reality of the places and pace. Amber had all of our transportation arranged and she was more organized than us!!! Amber has the patience of a saint, is extremely helpful and very knowledgeable about Cabo. Thank you Cabo Villas for making the trip a once in a lifetime absolutely amazing experience
Jessica N, Houston, Texas | January 2016
"My husbands favorite home in Pedregal, perfect for entertaining large groups"

We have had the fortune of staying at several homes through Cabo Villas.
Bellisima is my husband's favorite. We found that the the open living area along with two pools and a game room is ideal for entertaining large groups. This property has such amazing views as well. You will not be disappointed. The only reason I did not rate this property a 5 (although my husband would disagree) is because the bedrooms feel more like hotel rooms than rooms in a luxury home. However, you are rarely in your room so it isn't of the utmost importance.
kelly b, Dallas, Texas | March 2015
Management Response
We appreciate your feedback and are delighted to hear that you enjoyed your stay at spectacular Villa Bellissima. With over 24,000 square feet, two swimming pools, stunningly designed living areas and gorgeous Pacific Ocean views, this villa rental in Cabo San Lucas is truly a modern masterpiece of architecture that is in a class of its own! As you mention, the plush bedroom suites evoke the feeling of a resort which is a great feature for large groups traveling together. This villa is a favorite of our guests for destination weddings, group vacations and special celebrations. We are looking forward to helping you plan a return visit to Los Cabos and making it an outstanding experience!

I had been looking at several Vacation Villa's in Cabo when I came across Villa Bellissima in Pedregal.
I contacted Nik at Earth Wind and Sky Vacations and he was really knowledgeable about the villa and services offered there. Nik arranged private chef's from "Matter of taste" catering that were absolutely amazing. We had 11 people in our group and everyone raved about the private chef ( I strongly recommend them). The Villa is massive you really don't get a true appreciation for how grand it is until you check in. We were welcomed by a representative of Earth Wind and Sky and the house manager is such a nice guy. The staff in the villa are also amazing you never hear them and they keep the place spotless. We used both pools one heated the other not and spent many hours just taking in the view. The bbq is huge and works great if you want to enjoy some burgers etc. I spent 3 days at the Villa before heading down to Capella for another 4 days ... truth be told I should have just stayed at the Villa it blew Capella away. Nik also arranged a Cadillac Escalade Limo from Golden Nugget limo's which was also very handy. If you are looking at entertaining 10 to 16 people you can't go wrong with Villa Bellissima we are already looking at coming back in November.
Duke, Vancouver, BC Canada | August 2014
"Best House in Pedregal"

The house is really like a small hotel.
Gorgeous setting. Amazing views. We loved it. Having a butler each day was a good decision! Great for a group of friends or couples.
A FlipKey verified reviewer | June 2014
Management Response
We are so glad that you enjoyed this house and have booked it again for another stay in 2015! Villa Bellissima is an absolutely fantastic choice for a romantic getaway or a medium-sized group of family or friends.

Cabo and Villa Bellisima were absolutely spectacular.
Everyone really enjoyed their time. David, Victor and his team, and all the house staff were just AMAZING! And the crib and highchair worked perfectly! e will also be back!
Channon, Plano, TX | February 2014

Beautiful place, beautiful view, very luxurious, great staff who met all our needs.
perfect for a large group getaway. chef services were excellent. will highly recommend.
Namrata, Roslyn Heights, NY | July 2013

First time to rent a villa and i have to tell you that these people are professionals!
!! The villa was amazing, the staff was amazing!!!!
Charles, Colleyville, TX | June 2013

My group of people absolutely loved Villa Bellissima.
Some of them had been there the previous year so were well prepared for a superb experience. The first-timers walked around in shock and awe at the beautiful villa and great staff.
Stan and Sue | March 2013
"Best vacation ever."

The place is stunning, the staff are great, and I came back so relaxed.
I barely wanted to leave the villa: The biggest problem we had was deciding which pool to lounge by!
A FlipKey verified reviewer, Los Angeles | November 2012
"Absolutely Perfect"

The villa was amazing.
Could not have had a better view, or have been set up any better for our group. the 2 infinity pools are stunning and the bedrooms are great for a large group. The location at the top of Pedegral is fantastic (close to town). The chef and house manager are both so friendly and very helpful. Could not have been better.
A FlipKey verified reviewer, Los Angeles | March 2012
"A birthday celebration"

Villa Bellissima is a spectacular villa overlooking the Capeella Resort and both the Pacific Ocean and the Sea of Cortez.
Its amenities and attention to detail are remarkable. Sixteen people can stay there in complete comfort and never get in each others way. They will also never want to leave. A special mention to Raul (who lives on site) and his staff. It takes a special ability to keep the house in such good order without being in the guests way. A special mention as well to a Matter of Taste. They provide service and meals equal to the best in Cabo San Lucas. Use them if you can.
Sunrise, BC | November 2011
"Fabulous!!!"

Just recently returned from 4 days in Cabo at Villa Bellissima.
Can I just say wow! Even better in person! The views are breathtaking! So easy to relax while hearing the waves crashing on shore day and night. We had perfect weather. The service was perfect! We ate in 3 nights using their recommended chef services. The food was great plus the wait staff was spectacular. I can't find any faults with this house or our stay there. Anything we needed or requested was taken care of immediately. We will definitely go back sometime. I have to say it's been kinda difficult to get back to reality back at home. Would definitely recommend this villa to anyone interested.
Chanel Reid, New Mexico | November 2010
"The incredible villa Bellissima"

Upon arrival to our VILLA BELLISSIMA IN PEDREGAL, CABO SAN LUCAS, we almost fainted from how gorgeous it was.
This place is surreal and it took us a while to adjust as we walked around with our jaws completely to the ground...WOW WOW WOW!!! Villa Bellissima has both mountain view and ocean view! Right below the villa is Capella resort, which in itself stunning! Its simply wonderful. There was 18 people in our group and during our whole stay (4 nights) we all had something to do and did not overwhelm each other or felt crampt. We hired Metter of Taste for our cooking and catering needs. HIgly recommend them!!! We had no shortage of delicious food and drinks! The staff was very attentive, friendly and professional. We held our wedding reception and ceremony on the premises and had 30 people attending as well staff of 20 people. We could have easely doubled the numbers of guests without any problems. This villa is a great choice for a large family getaway as well as special occiasion venue. Special thanks to our coorditor Marsa, Earth, Sea and Sky, and the owner of Metter of Taste, Julian, who made our big day unforgettable!
Anna Bolotina, IL | April 2010
"Nicest house in Cabo"

My friends and I just spent four days at Bellissima and were blown away.
Everyone in our group is accustomed to experiencing the best of the best, but even this group was thoroughly impressed by this villa. The staff, lead by Raul, was wonderful. The house was immaculate and had views that were breathtaking. I can't say enough, other than we plan on coming back. The pictures are impressive but nothing compared to what you see when you arrive.
A FlipKey verified reviewer, Ohio | February 2010
"best view of the ocean"

Having spent a week here, I was truly blown away.
Most of the walls can slide out of sight, leaving you bathed in fresh air and light (Land's End and the surrounding beaches are right there below you). The stylish architecture kept me busy taking pictures. Despite feeling secluded and private, it was a quick hop to the local beaches and downtown restaurant scene. Highlight: while sipping a margarita in the hot tub, I watched a school of thousands of bat rays in the ocean below jumping nonstop for hours (no idea why they do this...). Quite a sight!
lagyulassy, California | November 2009
"Be the King of the hill!"

This place was amazing - it combines a unique location with a breathtaking view overlooking land's end with spacious luxury, and yet maintains an intimate feel.
I will definitely be coming back. The rooms manage to offer spectacular views, yet offer complete privacy. It was quite an incredible experience to swim in the infinity pools overlooking the "luxury" resorts down below, where the mere mortals go for vacation! Only 5 minutes drive from the heart of downtown, yet the location is shielded from the noise to offer some tranquility. One of the most memorable moments was all of us lining up at the balcony to watch giant schools of hundreds of bat rays jumping 6 ft into the air in the pacific ocean just below the villa.
A FlipKey verified reviewer, Salt Lake City | October 2009
"An oasis of art and luxury"

Our mid-July one week vacation at Villa Bellissima in Cabo San Lucas, Mexico was more than a dream come true.
It was an inspiring and truly unique experience for all of us. Overlooking the granite cliffs of Land's End dividing the Sea of Cortez and the vast Pacific oceans, the first impression of the Villa is that it is not just a beautiful elegant luxury spa but in fact a living architectural work of art. With its open sliding glass walls in the living and dining area only the structural beams define imaginary boundaries between the many different spaces. The soothing sound of breaking waves, the cool gentle sea breeze and ever changing natural light bathe every room. The sense is of wide open but carefully thought out spaces that blend naturally into the rugged granite and ocean front surroundings. The furniture is unique and hand crafted from exotic hard and heavy African ebony wood. Original paintings and sculptures are placed to complement the varied views and take advantage of the natural light variations throughout the day. I especially loved the two infinity pools that blend in continuously with the vast Pacific horizon. From any point in the pools you can look through the building that seems to float in the air without weight. Unlike the hot bustling Cabo San Lucas a few hundred feet below on the other side of the mountain, the Villa is a peaceful oasis with its ocean breeze insures perfect temperature day and night. I spent the whole week in a bathing suit enjoying going barefoot over the smooth sandstone floors between the pools, the workout gym room, the billiard room, the plush movie theater, the vast dinning area, and the many varied sleeping areas where friends and relatives were dispersed. We were especially spoiled by sleeping in the top floor "queen bedroom" that had its own large terrace area from which we could observe the sunrise over the Sea of Cortez and the southern constellations at night. It felt like an exotic Egyptian palace room.
Miklos, New York | October 2009
"Absolutely stunning!!! Every detail of the place is sexy and lux"

Villa Bellissima is always impeccably clean and the in-house staff are friendly and helpful.
The view is SPECTACULAR (hordes of bat rays can be seen jumping- during their meals- in the ocean). The furnishing is of the highest quality-- both inviting and luxurious. Rooms were super comfortable. Best memories were just goofing off in the pools next to the amazing scenary. Also, distance to city center perfect: easy access and yet still feels like your private dream villa.
katica, california | October 2009
"Heaven on earth!!"

I stayed at Villa Bellissima for a week in July and I can honestly say that it was top notch in every way.
When I walked through the front door I was blown away by the villa's decore and amenities. The view was breathtaking from anywhere I stood. There is so much to do there that there was never a reason to leave the house. From working out in the gym, lounging in the pool, watching movies in the theater, playing pool in the game room, to relaxing with a book - there is nothing the house does not offer. Anyone lucky enough to stay here will have an amazing time and will not be disappointed. AMAZING!
Tricia, CA | October 2009
"Amazing!"

I was speechless when I walked in, there are no words that can explain Villa Bellissima.
Its paradise but more than that, it is magical, very hard to leave, my breathe was taken, it was the best vacation I have ever experienced in 30 years! The house is absolutely worth the price you pay! Amazing!
A FlipKey verified reviewer, Pleasanton | October 2009
"The Best"

Wow, wow, wow.
That would be the best way to describe it. What a place. The fire upstairs next to the jr Suite, the two pools, the master, which is the room we stayed in, wow. The theater, the whole place is just unbelivable. I stayed at several palces in Cabo,in fact all over the world, and by far the best, what a place. The view, the living level, with two pools, I could go on and on. The place is jast fantastic, we will be back, thank you. Andy H
A FlipKey verified reviewer, California | October 2009
"We had a great time!!"

Hi we went to Cabo to celebrate my husband's birthday and we had a blast the house is perfect !
!we stayed at Condominio Pedregal our house was villa bellissima i think is biggest house in cabo i got lost few times inside the house not a joke the house is gigantic they have an elevator with 4 floors, twoo swimming pools, gim etc... anyways i would spend many more days there !!
A FlipKey verified reviewer, Houston | September 2009
"The BEST of Cabo"

We stayed with our family at Villa Bellissima for President?s week in February and couldn?t have had a better time.
The house was phenomenal, with commanding views of both the Pacific Ocean and Cabo San Lucas bay. Every morning we could sip our coffee and watch the sun rise, follow fishing boats as they rounded Lands? End heading out for shoals in the Pacific, and see the cruise ships entering their port-of-call. During the day, we all relaxed on the lounge chairs while our kids ran back and forth between the two infinity pools. Town was close by and so were the beaches, but we preferred being at the house. One of the nicest features of the house were these huge glass walls that folded back into pockets so we could open up the house and have that indoor-outdoor expanse across the main floor. The exercise room was incredible too, as I could sit on the bicycle and watch whales playing in the waters right below. In the evening, we had the choice to watch a movie in the theatre or start the fire pit upstairs and gaze at the stars. Needless to say, we hardly left the Villa and can?t wait to come back. If you are looking for one of the finest homes in Pedregal, this is the place!
kathrynvs, CA | April 2009