Reviews For Villa Las Rocas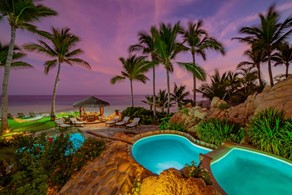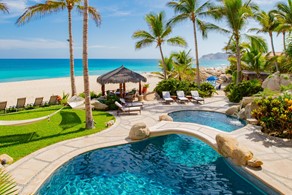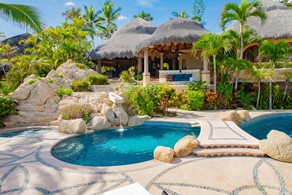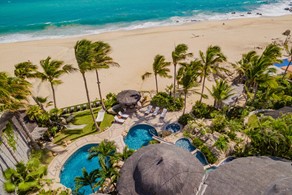 "Best Vacation Ever!!"

Our entire family had the trip of a lifetime!
And it was due to the efforts of so many wonderful people! We had to extend our trip due to COVID to this year and I can honestly say it was so worth the wait!! Kim, of Cabo Villas helped in the planning efforts prior to our vacation and everything was seamless and perfect! Upon arrival, we were greeted with the most amazing staff and Villa Los Rocas took our breath away! It was truly amazing and accommodated our family of 14 perfectly! It was Mexican-style themed decor and beyond beautiful! The setting gorgeous! Lucero and Rudolfo were the most amazing hosts and we were served wonderful meals prepared by them! Felipe, Mary and Martha were such pleasant staff that also provided us with their services. We had the best drivers to greet us and outside activities that were all set up by Giovanni of Cabo villas. Everything was timely and perfect! I cannot rate this entire experience anything but perfect and highly recommend to anyone who desires the trip of a lifetime! Thank you to all that made this trip the most memorable experience ever!! We will be back!!
Steven L, Liberty Lake WA | April 2021
"Las Rocas Birthday Celebration "

Pictures do not do this Villa justice!
The staff, amenities, location, and property are second to none. Thank you to Lucero and Rodolfo for keeping us well fed, the staff for taking care of our every need, and Luis for all his help. We couldn't have imagined a more beautiful place to celebrate a 50th birthday with family and friends!
Stephanie S, Cheyenne Wells CO | January 2021
"Could not ask for more"

The only issue I have with our trip to Villa Las Rocas was that it was supposed to be a "once in a lifetime trip for my wifes' 50th.
Problem is, that there is now not only a new standard to base any trip off of but she also wants many more "once in a lifetime trips to Villa Las Rocas. Every single thing was to perfection. We even named a new prinicpal in our business the "Aldair Effect" for customer service. The man is a customer service and blender master. Rolofo and Lucero were so amazing and kind that I felt guilty evertime i asked them for something. The only reason that I would not recomend the Villa is so that there remains availability for us to return again some day.
Maps03186938925 | November 2019
"40th Bday"

From the moment we entered the property every expectation was met and then exceeded.
Las Rocas is a first class beachfront property set up for large groups to celebrate lifes great moments. The grounds are constantly maintained and the service again was top notch. i cant wait to come back and relax!!
Mike B | February 2019
Management Response
Thank you for staying with us at Villa Las Rocas! We are so happy to hear the home exceeded your expectations. We hope to welcome you back to Los Cabos soon.
"Incredible"

Paradise!
16 men in one house and the next morning before we awoke the house was spotless again. Concierge Giovanni took great care of us! Pictures don't do justice to how amazing the villa was in person.
Cruiser523946 | September 2018
Management Response
Thank you for staying with us at Villa Las Flores! We are glad to hear you enjoyed your stay.
"PARADISE"

Villa Las Rocas is simply paradise.
This is the 3rd time we have been here, and we would not stay anywhere else in Cabo. We came with a group of our closest friends, and had an amazing time! The rooms are all spacious and comfortable with spectacular views. The staff is extremely friendly and hospitable. The food service was all very healthy and delicious. We had the most relaxing time at the pool and beach. I highly recommend this location...it's paradise!
525tatumh, Costa Mesa, California | October 2015
Management Response
Wow, we appreciate your great review of your stay at Villa las Rocas! This property is truly one of our most unique beachfront estates in Los Cabos and has the ambiance of a luxurious, private resort that you can share with your closest family and friends. Whether you choose to take a long walk on the beach or relax around the beautiful swimming pool, Villa las Rocas is truly a one-of-a-kind vacation retreat. Thanks for sharing your feedback about this property and the wonderful staff! We are ready to welcome you back for another unforgettable stay in the future!
"Heaven on Earth - The Perfect Place"

This house is as good as it gets if you like to relax on the beach or poolside.
The staff is fantastic and knows when to come around but is always available if you need them. The house is perfect for a large group of friends or a large family. The owners are really easy to deal with and the location is halfway between the airport and downtown Cabo. All around an incredible time and we can't wait to go back.
Matt T | August 2015
Management Response
Thanks so much for your wonderful review of Villa las Rocas! This beachfront estate is truly one-of-a-kind and has the feeling of a private luxury resort - as you mentioned, it's perfect for big groups or families looking for a special setting in Los Cabos for their getaway! We're so happy to hear you can't wait to come back. When you're ready, our team is here to help you plan another amazing vacation!
"Amazing Time"

This is the third time that my wife and I have stayed at Villa Las Rocas and it has been an amazing experience every time.
The private villas are very comfortable and spacious. The pool and grounds are beautifully maintained and manicured. The onsite crew is very helpful and their is an abundance of amazing food at each meal and the bar is always stocked. We enjoyed listening to the waves crash as we walked on the beach and lounged by the pool If you are looking for a great trip where memories are made this is your place.
Jason H, Costa Mesa, California | July 2015
"ocean front Estate on the cabo shores---amazing!!"

such an amazing visit.
located a few feet from new montage resort and palmilla resort. private waterfront and great pool, bar, and tons of space. loved how close it was to surfing at zippers, golf at los cabos, when not relaxing at the compound :) Rodalfo and the team catered great meals too-authentic mexican feasts...so many good things to say.
691caseyu, Newport Beach, California | July 2015
"If your turning 40, 50 or 60 round em up and come here"

This is not a house.
It's a (1.5 acre) beachfront private resort. We had 6-7 couples last May for 6 nights and had the best time. He left the compound for some golf and ATV tours but the best times were at the upper bar and beach side palapa. The staff provided excellent in house home cooking and one night we brought in a chef, complete with his entourage for the super special night. The compound offers everything needed from meals to SUP's, to kayaks and masseuses brought on site. So much different than any place in the Cabo area which is probably why it was built in like 1988--the staff told me and I'm not to far off. Also--the pictures and 360 tour (which is what grabbed me) didn't even do it justice. What a jewel!!
A FlipKey verified reviewer | July 2015
Management Response
Thanks so much for your excellent review of your stay at Villa las Rocas. As you mention, it's hard to describe how unique this property is - and it does truly have the feel of an exclusive, private beachfront resort. In short, it is an amazing location for a special group vacation or celebration in Los Cabos, with individual casitas, sparkling swimming pool areas, scenic terraces, Sea of Cortez views, and a palapa-shaded dining areas all spread out over 1.6 acres fronting a gorgeous beach. We agree with you that this estate is a jewel like no other in Los Cabos! We're thrilled to hear that you had an unforgettable time and we look forward to helping you plan a return visit in the future.
"Incredible!"

We had the vacation of a lifetime at Villa las Rocas.
I don't even know where to begin. The estate is located on a very private beach with the water just steps from the villa. The views were spectacular. All of the casitas are very private, spacious and comfortable with their own patio areas which allowed our very large group privacy when desired. I can't say enough about the staff. Lucero and Rodolfo and their crew were wonderfully accommodating. They prepared breakfast and lunch for us everyday and we would also enjoy drinks and snacks at the pool bar every afternoon. We can't wait to return for another holiday!
A FlipKey verified reviewer, San Diego | April 2014

I just returned and I'm already planning a trip back!
This beachfront private estate was a perfect getaway for our girls trip. From the moment we arrived, the staff was extremely friendly and helpful. The location was great and exactly what we wanted - we played on the beach during the day and then enjoyed the Cabo nightlife! The Spanish architecture style resort is beautiful and each villa is spacious and authentic making it a perfect Mexico destination. You must try one (or several) of Rodolfo's famous margaritas!
Christy | January 2014

Can't wait to visit this paradise again!
Gorgeous view, private, clean, first-class accommodations. Amazing staff prepared fresh and healthy meals and cared for our every need. Short trip to downtown Los Cabos for night-life. Highly recommend, you won't be disappointed!!
Brooke | January 2014

This is a beautiful estate, with traditional decor and breathtaking scenery just outside of every window.
Step right out of the pool and onto the white sand beaches. Truly the best part of our stay was the personal care and attention we received from Rodalfo and his wife Lucero. They prepared the most amazing meals and paid attention to all of our needs. I cannot wait to return. The only reason I don't think it would be a good place for young children is the surf break can be severe at times and there are no life guards around the pool or beach.
Megan | January 2014

I stayed here for a girls weekend and it was amazing!
We were treated like royalty by the wonderful staff. The meals were all delicious and the staff was so sweet and helpful. The beach is gorgeous and the water was the perfect temperature. No one wanted to leave! The rooms were large and very comfortable. We are already planning our next getaway!
Meghean | January 2014

Such a unique property.
It was beautiful and had all the convienences of home and none of the burdens! Rodolfo and Lucerna prepared delicious and healthy meals for us. The yummy margaritas were flowing, and the beach seemed almost private! We saw about 10 people on the beach total in 3 days. Whales, turtles....what more could you want?! This place is a gem!
Kathy | January 2014