Reviews For Hacienda Villa 11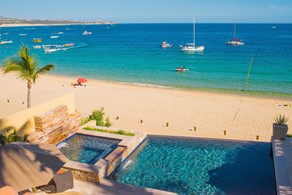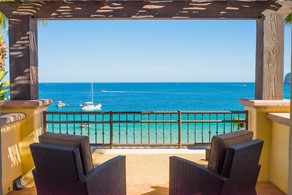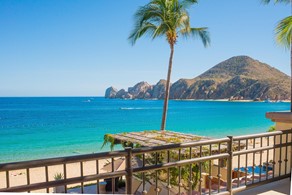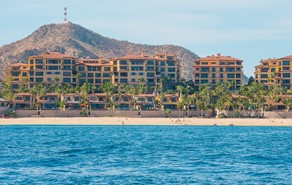 "Amazing House and Location"

We had an absolutely amazing stay.
The location can't be beat. The house was perfect for our group. Cabo Villas did a wonderful job coordinating excursions and our help around the house.
Matt E , San Clemente, CA | August 2022
Management Response
Thank you for sharing your experience with us. We're thrilled to hear that you had an incredible vacation and that Hacienda Villa 11 was perfect for your stay. The location is a stand-out, with Medano Beach steps away! We're so happy our team was helpful in assisting with an unforgettable vacation and look forward to welcoming you back!
"Hacienda Villa 11"

The property was beautiful, the location is great (as long as you don't mind listening to the party places down the beach).
And for 40K a week things should work! Such as the ceiling fans (when we arrived there were no batteries in the remotes) the safes didn't work and the outside door to our pool area didn't lock. There were unsavory people sleeping on the beach right outside our villa, so it would be nice for the extra security of a locking door that worked. So, for the amount of money they charge these things should be fixed. On the other side, the customer service was great!
Brenda Y , Grants Pass, OR | December 2021
Management Response
Thank you for your review of Hacienda Villa 11. We're so happy that you enjoyed the villa, location and customer service. We appreciate your feedback on the issues mentioned and will be addressing them to avoid problems in the future. We hope you had an amazing vacation despite the few inconveniences. We hope to welcome back to Cabo again!
"the villa was amazing. The crew exceeded all our expectations and could not have been more helpful."

Security was amazing.
everyone was super helpful. The onsite chief was great and made our stay. Great home with fantastic location for family travel. Just wish we could have stayed longer. Jessica was super helpful and took care of all our needs. See you next year!
Greg T | July 2020
Management Response
We strive to create the best possible experience for our guests! We are delighted to hear Jessica was super helpful and that the staff exceeded your expectations. We hope to welcome you back to Hacienda Villa 11 soon!
"Awesome Location"

If you like Cabo San Lucas, its tough to beat a beach front villa at the Hacienda Beach Club.
We stayed at Villa #11, which is a 4BR villa with full kitchen, patio, private pool, etc. Your Villa looks out over Medano Beach and Lands End, the most incredible view! You have your own private access to the beach. Location is unbeatable, walk out the back gate of the resort and you are at the world class Cabo marina...with plenty of shopping, bars and restaurants. Downtown Cabo is less than a mile walk and its safe to walk at any time. We have stayed at different resorts in Cabo, but keep coming back to Villa #11.
gregpitts , Atlanta, Georgia | July 2017
Management Response
We were thrilled to welcome you back to Hacienda #11. We agree, you can't find a better location if you want to be in downtown! We look forward to seeing you again in Cabo soon!
"Great location and nice villa."

Great location, which is within walking distance of the marina.
Four couples rented a beach front villa. The view is incredible and you can not beat having your own private pool and private walkway to the beach. Weather is always nice (but hot) in the summer. Ocean is cool in June, but warms throughout the following months. Overall, the experience was great. The particular unit our group stayed in could use a little updating (appliances, AC, Dryer, sound system, etc..) are all showing signs of wear. Maintenance calls were placed daily for these things that either didn't work or quit working. More of a nuisance than anything.
gregpitts , Atlanta, Georgia | July 2016